Creating binge-worthy episodic content with Nuke
Episodic content is fast becoming a cornerstone of our viewing habits. With streaming sites and on-demand content becoming more popular, our appetite for episodic shows is growing at an extraordinary rate, making way for bigger budgets and viewer demand for more spectacular, film-grade visual effects (VFX).
For over a decade, Nuke's robust, flexible and scalable toolset has been a central part of creating episodic VFX, from invisible effects to large-scale sci-fi and fantasy productions. Nuke has been helping artists to tackle the unique challenges that come with creating TV shows, from shot management and high resolutions like 4K and HDR to time-saving features. 
Let's explore how Nuke's powerful visual toolkit continues to enable artists and studios to bring their incredible ideas to life, amidst the challenges of episodic content creation. 
Increasing VFX demands
One of the key differentiators between episodic television and film is the sheer amount of content that is needed. Compared to a film, with a two-hour run time, a season of television with eight or more hour-long episodes is the equivalent of four feature films, with time scales and budgets often significantly smaller than for a feature film. So, it is vital that VFX teams are able to work as efficiently as possible when creating episodic content. 
A prime example of an episodic VFX epic is The Mandalorian, the latest in the Star Wars franchise, and one of the most talked-about TV shows of the past year.
One of the VFX teams involved in producing this visual marvel was ILM, encompassing thousands of VFX shots and pushing the confines of TV content. They equipped themselves with Nuke and were ready to bring this world to life.
One of the key Nuke features that aided their production was Live Groups. This container node allows multiple artists to work on different parts of the same shot, without the need for rendering, which on a VFX epic like The Mandalorian, proved to be hugely beneficial.
"Nuke's LiveGroup feature enabled us to do look development on the fly and have multiple artists pick up the resulting script updates immediately," Peter Demarest, Compositing Supervisor, The Mandalorian, tells us. "This saved precious hours in turnaround time, which is accounted for in minutes when deadlines are approaching."
That's also why Nuke comes equipped with an open and flexible architecture. With a C++ SDK, Python API and tools like BlinkScript, Nuke allows nearly limitless customization, from deep integration within a VFX pipeline to generating entirely new tools. 
Nuke's robust Python support is highly valuable for automating repetitive tasks, especially for those tackling episodic productions. That's why it was one of the key features the ILM team used on The Mandalorian, Compositing Supervisor Peter tells us:
"Another powerful aspect of Nuke is the Python API which allowed us to build show-specific tools for The Mandalorian," he explains. "We were able to leverage Nuke's powerful framework to push through a large volume of shots quickly. This, in turn, freed up time for polishing which is particularly important on streaming projects which are typically produced on much tighter timelines than feature work," he continues. 
Collaboration is especially important in episodic content, as it's increasingly common that more than one VFX studio will work on a TV show, or even a single shot, at any time. This means all teams need to work with a tool that allows them to collaborate together easily. Nuke's scalable and visual node graph makes collaboration between facilities easier as everyone is working with the shared language of Nuke.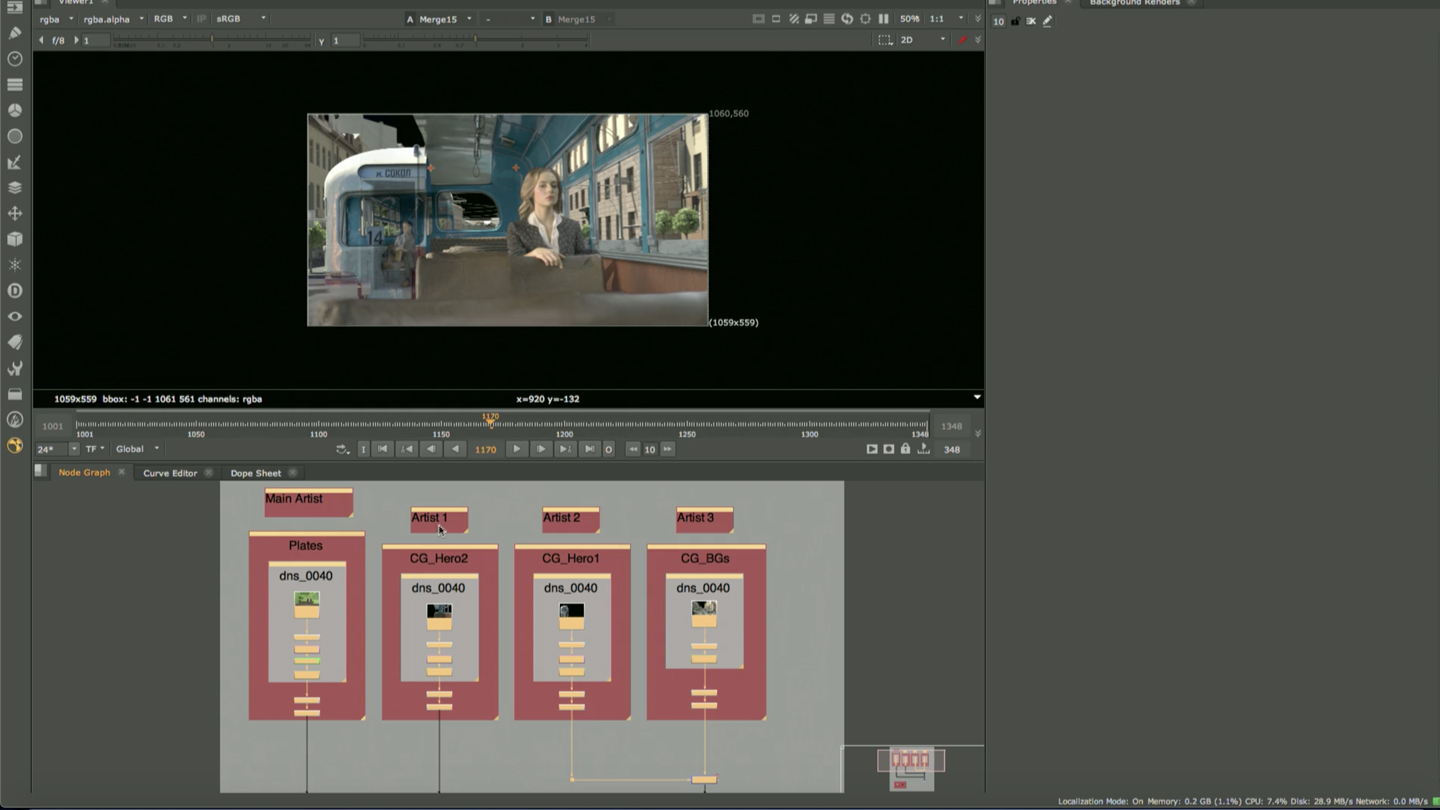 [An example of Live Groups in Nuke 11.3]
Tackling high resolutions, from 4K to HDR
Beyond the volume of work being created, there are also improvements happening in broadcast and internet infrastructure and display technology—from TVs to tablets and smartphones. These advancements are challenging content creators to deliver higher resolution and HDR content to deliver a more cinematic viewing experience at home. 
Nuke's resolution independent processing makes it well suited to the challenges of working efficiently at 4K, giving studios the confidence to tackle high-resolution projects. This trend calls for larger file sizes and data, and means artists have to work around the constraints that working with high-resolution brings. 
Outpost VFX, the well-known global studio based in the UK, Montreal and Singapore, is no stranger to these tall asks of VFX in episodic productions, or the troubles that come with working in 4K. 
"Episodic content is generally all done in 4K and HDR," Filip Sustek, Digital Effects Supervisor at Outpost, tells us. "Nuke's ability to handle basically any file regardless of the resolution is crucial to this." 
Filip continues: "Nuke's timeline and caching systems have evolved so much that they allow artists to work interactively in 4K without losing time [...] or their sanity waiting for scanlines to come down."
High Dynamic Range, or HDR, is the latest trend for enhancing the visual impact of video content. But, not all devices or monitors can display HDR in the same way. As a result, conscientious color management is needed to ensure that the creative intent is maintained throughout a project and the resulting content looks good on any device. 
Nuke's support for industry standards, including OpenColorIO and ACES, plus its robust color management workflows, make it the cornerstone of many pipelines creating HDR VFX content. 
Netflix is currently one of the leaders in the move to 4K and HDR content, and in 2019, it welcomed Nuke into the Netflix Post Technology Alliance. The PTA is a group of products that meet the technical and workflow standards for creating Netflix content and are committed to the highest levels of innovation and support.
Nuke has been recognized a part of the streaming service's workflow and has been used on shows like The Umbrella Academy, Weta Digital's Compositing Supervisor on Season 2 of the show, Paul Raeburn tells us:
"The most powerful thing about Nuke is its flexibility. It gives us the ability to pivot on workflow and technical delivery requirements with minimal effort, allowing us to focus on crafting a convincing story and building beautiful images."
All this together, alongside its intuitive node graph, features and timeline, give artists all they need to handle large volumes of files and data, whilst also offering the increased flexibility required to create great content. 
Crafting realistic universes
Modern episodic content often comes with a unique set of challenges differing from production to production. From beloved fictional lands to tragic historical disasters, it's the creative team's job to bring these universes to life, and make the audience believe what they're seeing is real—week after week.  
Creating such breath-taking visual effects requires artistry and skill. Nuke's ethos has long been to allow artists to manage all the technical and creative aspects of their shot, giving them fine control so they can iterate quickly and achieve pixel-perfect results. Nuke includes more than 200 nodes that offer a wide range of functionality from core compositing tasks, to motion vector-based workflows for advanced cleanup, 3D camera tracking and complex retiming. 
In addition to its robust 2D toolset, Nuke includes a true 3D environment with fast 3D projection workflows, support for deep compositing and a native particle system, it gives artists the flexibility to quickly iterate within the composite.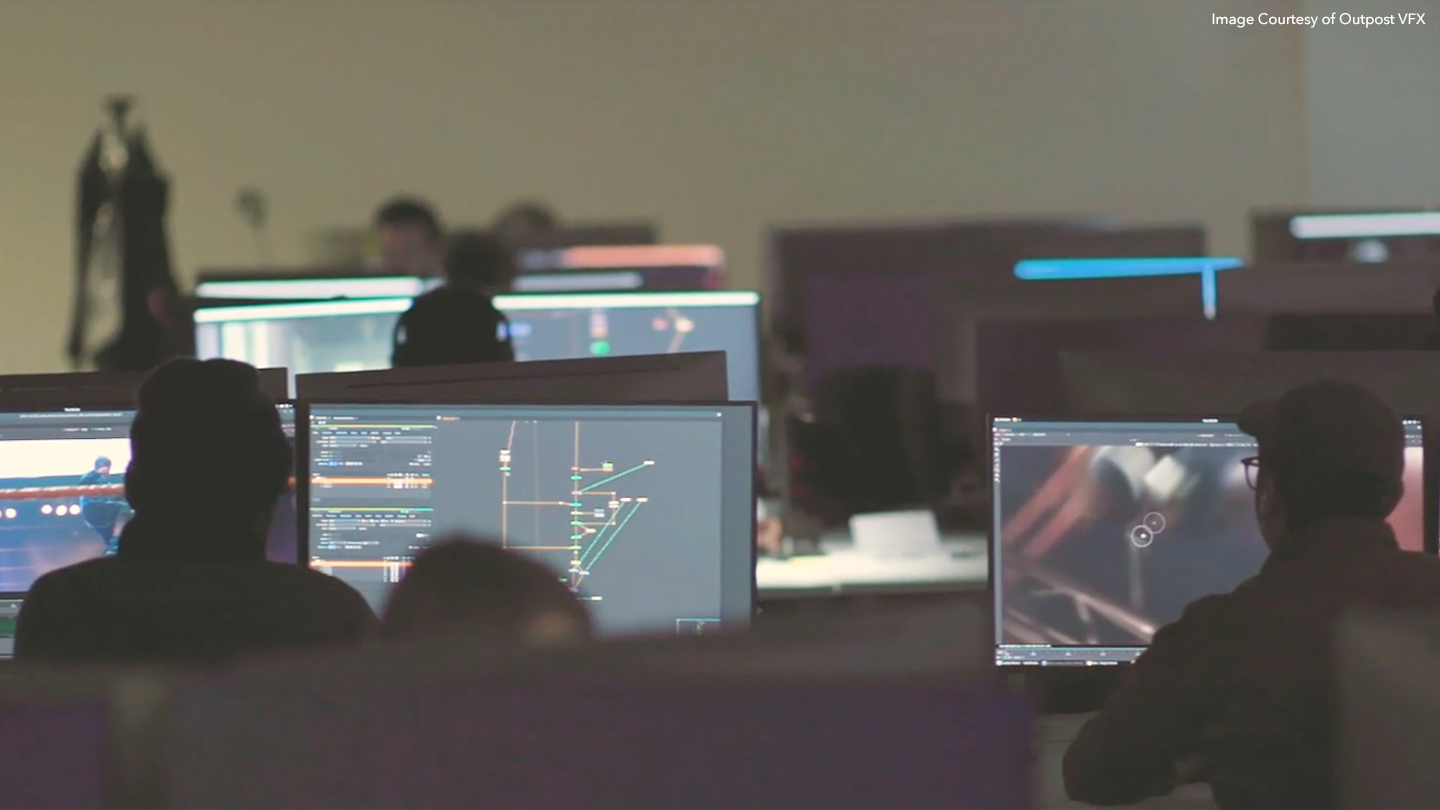 Nuke's deep compositing system allows elements to be rendered without predetermined holdout and then layered together in the comp with greater flexibility, deferring decisions until seeing all of the elements are in the context of the final image.  
"Having such a complete and technical set of native tools from the get-go is something that allows small companies, without a big Research and Development team, time to focus on the more artistic side of compositing," Carlos Trijueque explains. "But also gives them the possibility to easily create new tools as simple or complicated as you need."
Of course, all of this would come to nothing if it wasn't for the powerful creative minds of VFX artists, and their ability to create realistic and awe-inspiring VFX. Nuke aims to empower these artists and ensure they can do their jobs as easily as possible without the added stresses of software limitations. 
Streamlining the review process
Nuke Studio combines Foundry's conform and review tool Hiero, along with NukeX, to provide a consistent review process across teams. In a suite that is integrated with their wider VFX team, the consistent viewing environment between the Nuke family editorial and review tools means artists can easily manage their projects and ensures the whole team can be confident they're looking at the same image.
"Nuke Studio gave us the ability to have multiple versions of the comps for each shot in the timeline and quickly compare between them," Carlos Trijueque, Head of 2D at El Ranchito tells us. "Creating mini cuts for in-context review was a breeze, making the job of selecting which version or versions present to the client an easy task." 
Nuke gives artists an ecosystem that goes from conform to creative management to review—offering an efficient workflow straight out the box. It gives artists the power to be creative and experiment with their shots, creating new tools easily when they need to. Adapting to your pipeline, Nuke ensures artists can create their best work even under the time constraints of episodic content. 
Innovating the future
It's clear that the demands of episodic content are only going to increase. With more streaming platforms emerging, TV shows are set to get more epic than those previously, with more and more high-end VFX being used in an attempt to stand out from the crowd.
While Nuke has made significant progress since its conception two decades ago, the Nuke team is far from finished, especially with the impending tribulations of episodic content. It's vital that Nuke continues to develop alongside the ever-changing VFX industry, innovating with current trends and giving artists all the tools they need to combat the pressures of episodic content. 
We are truly honored to have won an Engineering Emmy, and cannot wait to see the exciting developments taking place in Nuke's future, or the breath-taking visual effects artists will create with it. 
We'll leave you with the kind words of Javier Rocco, VFX Supervisor at El Ranchito:
"We can't imagine working on VFX without Nuke. I don't think any other software has this impact on the industry. The combination of having very strong native tools and then the possibility to customize it in the way you need, is something that makes it [Nuke] unique." 
Want to discover Foundry's Emmy-award winning toolset?