Creating a pixel art world with Nuke Indie
When Jesus Garrido and Daniel Benítez started Mucho Pixels in their free time, they had no idea what it would become. 
What started as a hobby—a way for two passionate creatives to experiment with mixing pixel art over real images—after just two years turned into a high-profile entertainment brand with a large following. 
Now, Mucho Pixel's main goal is to become the benchmark for pixel art products and content for new generations. But to bring their vibrant creations to life, they needed software they could rely on. Having worked with Nuke for fourteen years, it was Jesus's tool of choice, and with what seemed like an intervention of fate, Foundry released Nuke Indie a few months after they launched. The tool was exactly what they needed and brought the power of Nuke Studio to these two artists.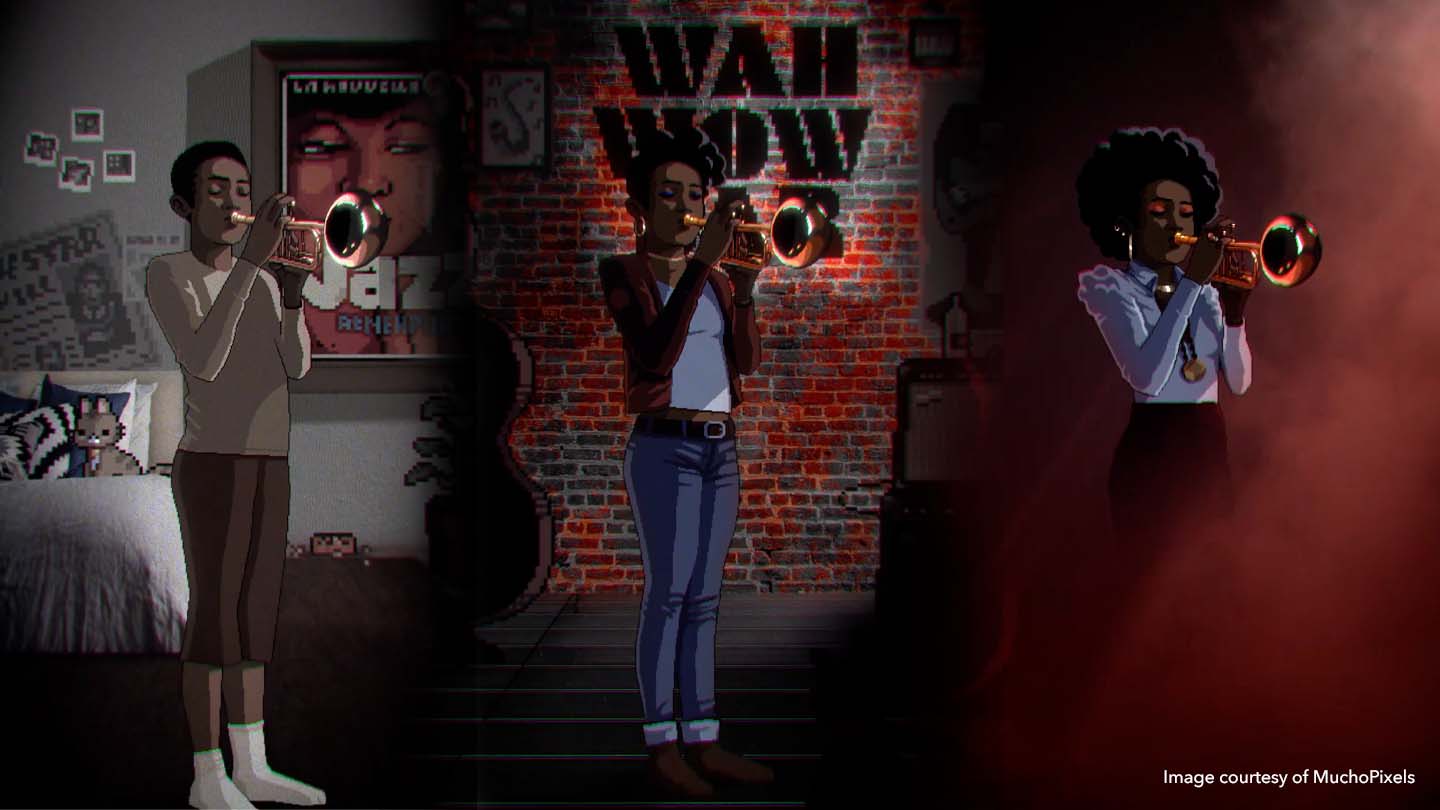 Getting pixelated 
With Daniel's experience in video game development and Jesus's in digital effects, the two bring a unique style to their productions. These skills are an essential part of Mucho Pixels as they not only produce video games but the assets for creating them and the audiovisual elements, which is also the spearhead of their brand.
"For the first time, a pixel art profile turns to the production of audiovisual clips," Jesus tells us. "By using advanced digital compositing techniques our viewers will be surprised by a myriad of pixelated elements that coexist with reality."
Every project starts in a similar way. The duo chooses a theme which they then try to conceptualize an idea from, and come up with a concept for the overall shot they want to create, planning the camera movements, characters, story, etc. Once they've looked for references and pictures for the background, the two begin to work in parallel with one another. Daniel turns to the pixel art and Jesus begins compositing using Nuke Indie.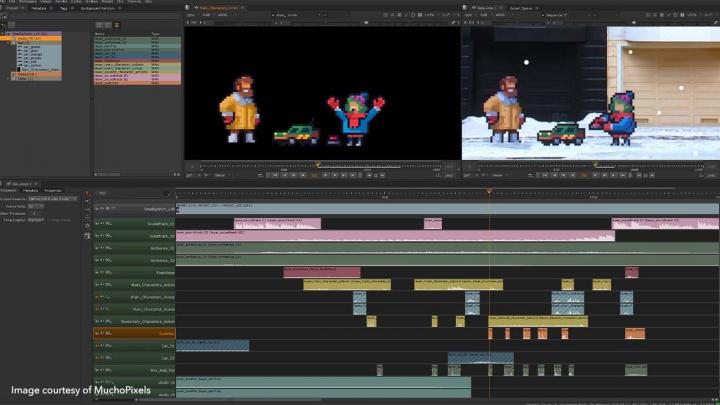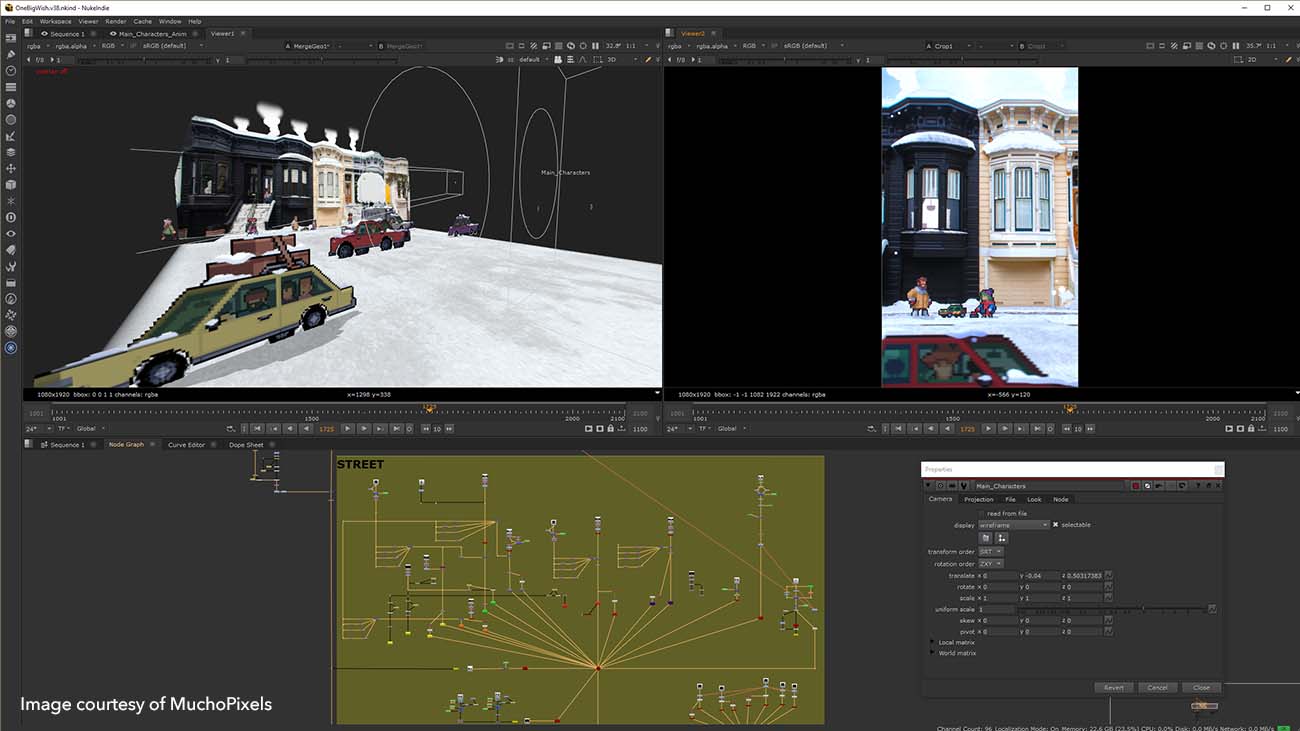 "I use Nuke Indie for all the integration and final rendering," Jesus tells us. "If it's an animated video, I start to create the environment, projecting the different parts of the image into geometries and extending the areas where we need a bit more information, so when we move the camera we have the correct parallax and the image will behave as it should." 
"Once I have the pixelated assets, I color correct and relight them just using roto shapes, so they stick to the bg correctly," he continues. "One last pass with the different filters, opticals, chromatic aberration, lens distortion or grain is always necessary for that final integration, to make sure all the different elements blend together. Nuke Indie is also great for the final assembling of the image, adding the audio we want or cutting the shot If it needs some editing."
As Jesus comes from an editorial background, being able to see the whole Nuke Studio timeline, and also having the ability to edit and play with the audio is a major selling-point for Nuke Indie, offering a more streamlined way for Mucho Pixel's to create their work. 
And the results speak for themselves. Since starting Mucho Pixels, Jesus and Daniel have created some fantastic pieces of work, but when asked for their favorite, their first poster, RocketCoaster, comes out top.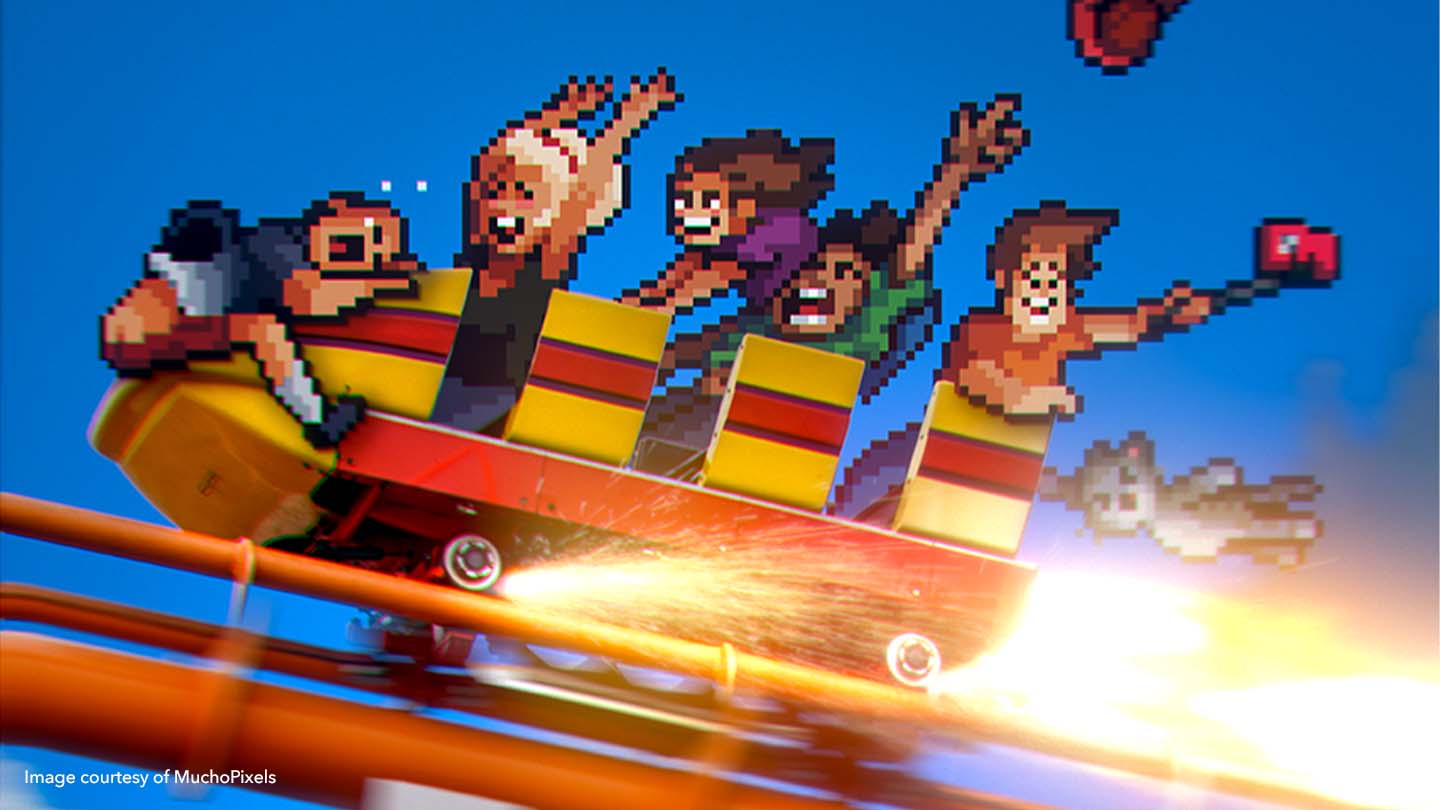 "I think it really represents Mucho Pixels. The mixing of Pixel Art with real elements and a touch of madness," Jesus tells us. "I also really love our clip Jazz Life. It was one of our viral videos. It's difficult to show a story in 15 seconds but I think we really nailed it there. It got more than 200k views in a very short time and how the community was talking about it was so lovely to see."
The future is 8-bit
For Jesus and Daniel, the benefits of Nuke Indie allow them to continue to make the content they love, easily and has been a huge asset to their brand. 
"With Nuke Indie, I have everything I need in one package," Jesus tells us. "I can comp, edit and add the audio track. This helps me follow the music much better and, if we want, can add sound effects, which is key to the way we produce some of our videos."
With that said, Jesus leaves us with some much needed advice for those in a similar position to when he and Daniel started Mucho Pixels. 
"If you are a solo artist and you want to have the most powerful compositing software in the industry, [Nuke Indie] is definitely a must and as I mentioned before, you have access to pretty much all the tools you need for your comps."
Create breathtaking images at an accessible price