How Studio Ghibli added an extra dimension to Earwig and the Witch
© 2020 NHK, NEP, Studio Ghibli
Studio Ghibli shed light on Nuke's use as part of their first feature-length 3D animation
Instantly recognisable, whimsical and endlessly endearing: just a few words to describe the animated creations brought to life by Tokyo-based Studio Ghibli.
Established about 35 years ago, the studio is distinguished for its traditional 2D animation of hand-drawn movement. Notable films and fan-favorites include Spirited Away, Howl's Moving Castle and My Neighbour Totoro, whose titular character stands as the studio's friendly mascot, making its logo all-the-more recognisable. 
New to Studio's Ghibli catalog is Earwig and the Witch. Focusing on three main characters—a smart and clever 10-year-old girl Earwig, the witch Bella Yaga and Mandrake —this latest release from the studio deviates from the 2D animation style that marked its earlier titles, standing as Ghibli's first feature-length 3D animated film.
Foundry's compositing tool Nuke is no stranger to the nuances of both 2D and 3D animation, and enjoyed extensive use on Earwig and the Witch to help create an unprecedented release for Studio Ghibli.
We caught up with Mamoru Takahashi, lead lighting and compositing artist and Yuichi Yamamoto, lead compositor for insight into the creative process behind Earwig and the Witch, and how Nuke supported the team as they dove into uncharted territory.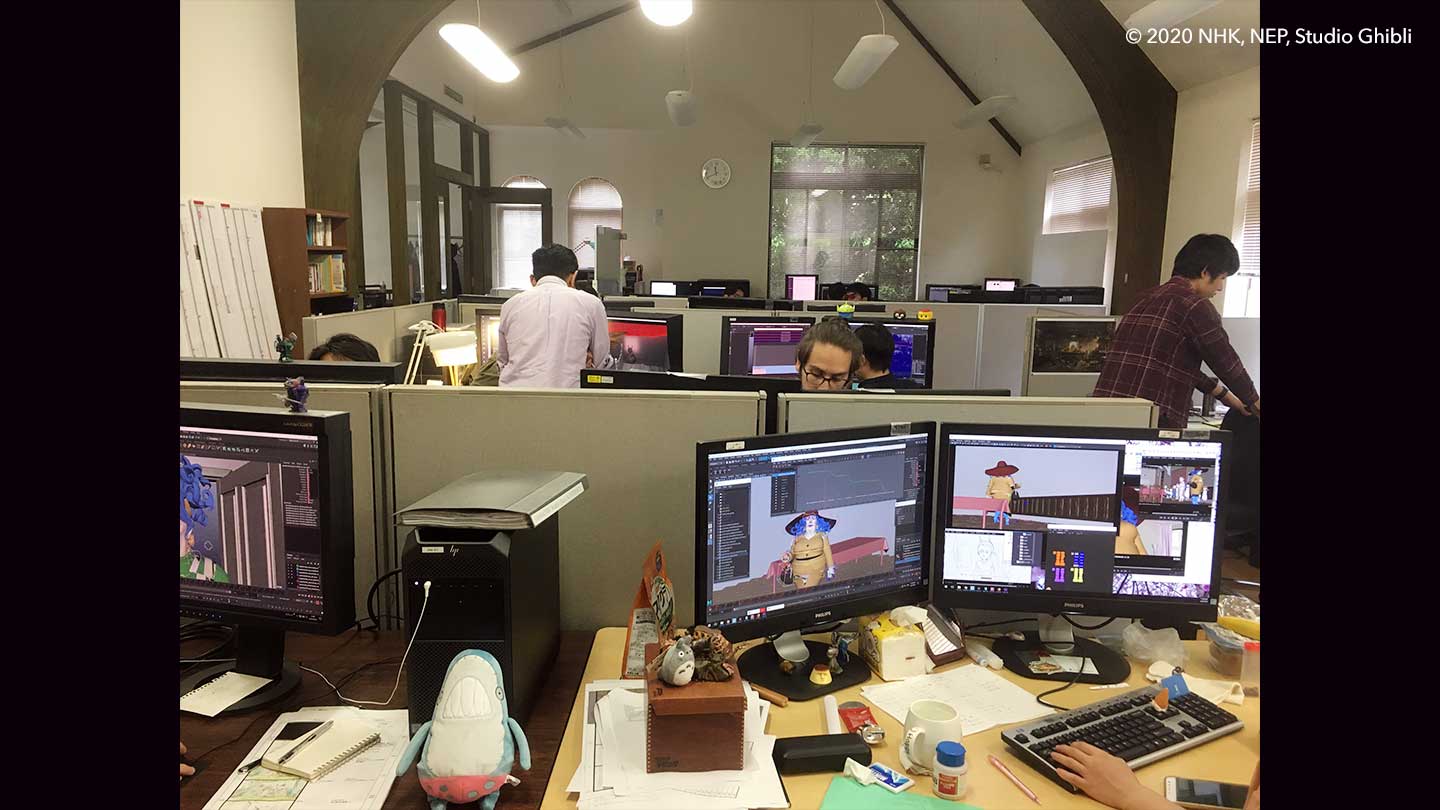 Snapshotting the production process
Behind Earwig and the Witch was a team of six in-house artists—including Mamoru and Yuichi —covering look development, lighting and compositing, alongside external partner companies. Under the direction of Goro Miyazaki, 1054 shots were produced for the film.
"In all of these 1054 shots," Mamoru comments, "we used Nuke to composite each layer of materials exported from Maya, such as backgrounds, characters, shadows and effects, to create final shots. The final image creation and color correction was done keeping in mind that it will be shown in theaters. The director would check the output from Nuke, and if approved, it would be on screen."
Talking about how Nuke is used in general across the team, Mamoru continues: "It was very common throughout the project to have different artists working on both lighting and compositing respectively."
Working in Nuke, collaboration wasn't a problem for the team. "It's really useful to be able to share templates created using python across the project just by pressing one button," Mamoru explains. "This allowed any artists to assemble composites according to certain rules and we were able to have a consistent look across the film."
Diving into this a little deeper, Yuichi Yamamoto, lead compositor, sheds light on the nuances of this creative, collaborative process.
"It was important for us to be able to adjust the lighting in Nuke to balance the entire sequence," he tells us. "We have developed a tool that automatically outputs the elements required for compositing at the time of rendering in a DCC tool, and we have made it possible to output layers divided into characters, backgrounds, and other elements, and further divided into Arbitrary Output Variables (AOVs)."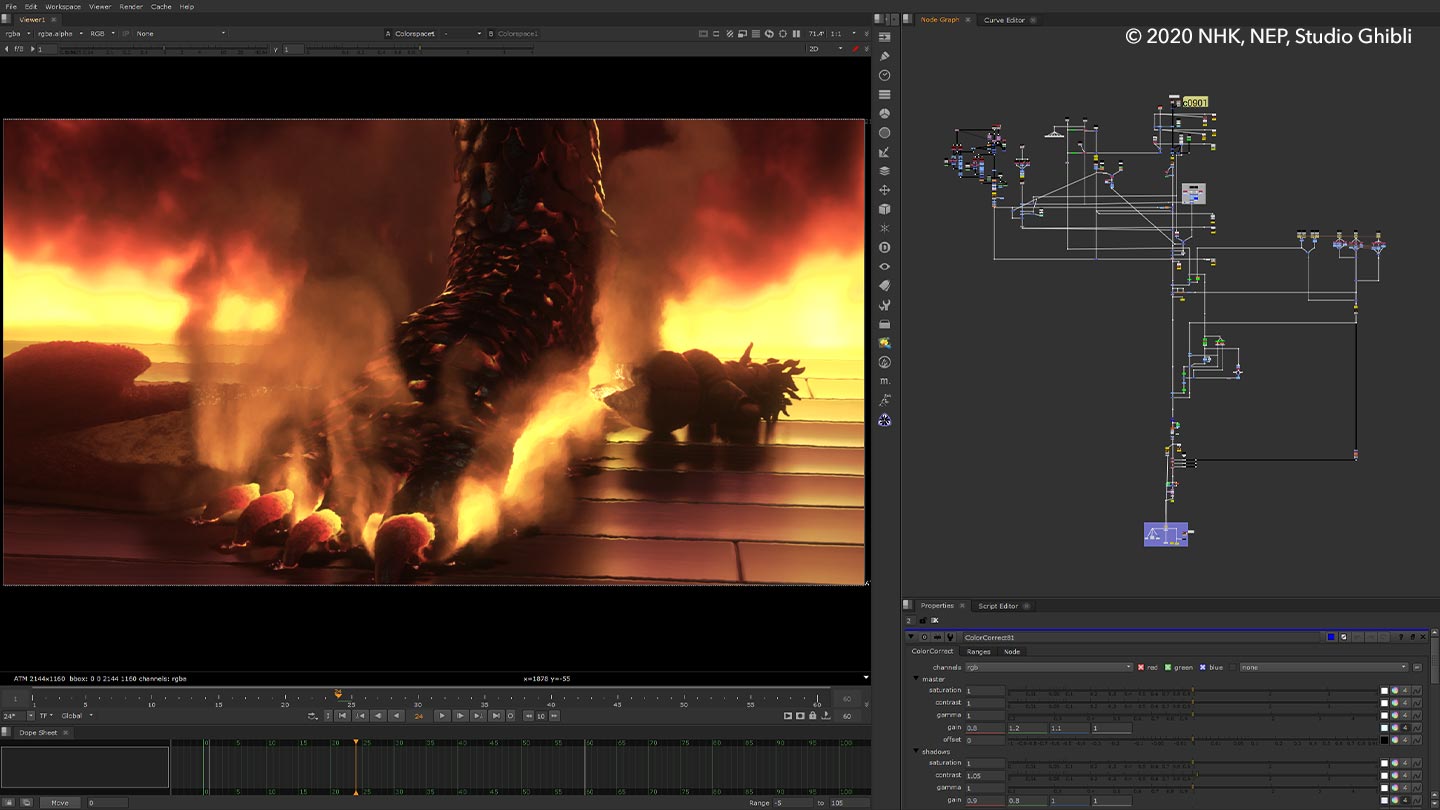 Keeping costs down and quality high was another priority for the studio, as Yuichi explains: "By templating reconstruction of multi-channels in Nuke, and dealing with shots with tools such as ReLight, Cryptomatte, STmap, and ZDefocus using AOVs, we were able to reduce rendering costs and explore various approaches to improve the quality of the entire sequence."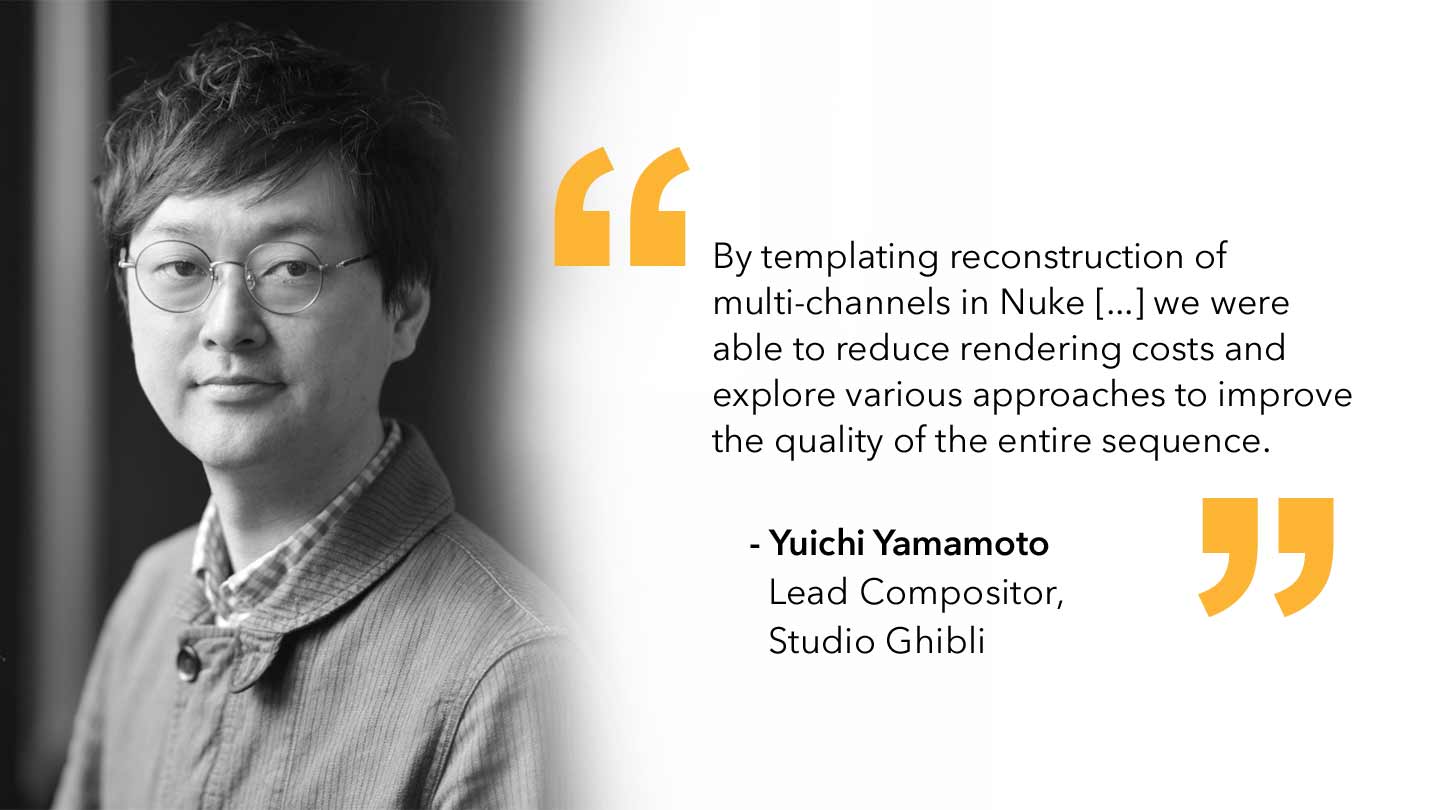 As for any production, time was of the essence for Studio Ghibli on Earwig and the Witch, so Yuichi went about trying to save it. "Disk transfer speed was another important point for us because of the large number of layers of material," he explains. "Pre-rendering and localization to fast local disk made it easy to experiment and iterate, which improved the quality of the work."
Diving deep into the third dimension
Given that this was Ghibli's first 3D feature-length production, we were keen to find out scenes or sequences which the team had to approach differently in order to achieve the desired result. 
Yuichi is quick to lend his thoughts "A variety of approaches were needed to express Mandrake's feelings," he comments. "For the scene in which Mandrake's eyes appear in red on the wall, in order to give them shape, a wide variety of the looks were created and iterated using Warp or projection in Nuke to get closer to what the director wants."
"For his other emotional expressions, we also iterated the impression of color and how the effect looks in Nuke to have different variations, which worked very well."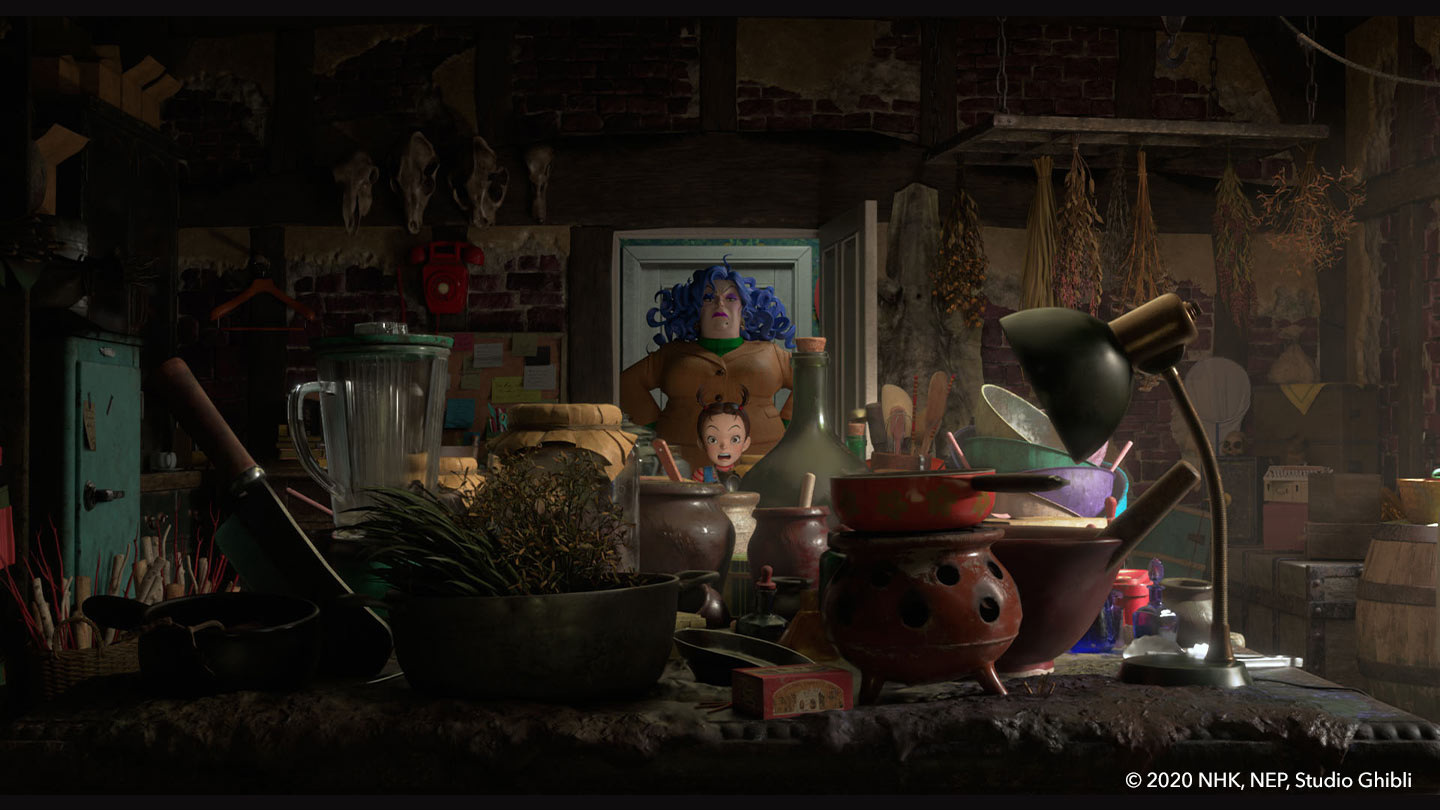 But what new compositing techniques did the team deploy in such scenes, and beyond—across the entire film?
"I tried to reduce the number of times I had to go back and forth between Nuke and Maya when balancing background lighting of key shots as a reference for the sequence," Mamoru Takahashi, lead lighting and compositing artist, explains.  "I rendered the CG material for each light and wrote out the file of information about colors and intensities of each light."
"Then I rebuilt the beauty in Nuke and loaded each of the light information files. The color and intensity of each light were controlled by adjusting the values of Gain and Multiply of the Grade Node. After obtaining the director's approval, the color and intensity information of the light was exported from Nuke to a file, which then was imported to Maya so that the light information would be updated."
Features first
Citing color correction using Cryptomatte, Roto and AOV materials as key Nuke features that supported the creative process behind Earwig and the Witch, Yuichi Yamamoto believes each to be very effective in raising the level of quality of scenes.
"Nuke's greatest strength is its ability to composite in 3D scenes," he continues. "By sharing cameras with a DCC tool and importing objects such as .abc and .fbx to create a 3D environment in Nuke, you can iterate all kinds of expressions without having to go back to work with a DCC tool, resulting in a more efficient workflow."
Meanwhile, Mamoru Takahashi is no stranger to the compositing tool, having tried and tested it for over a decade. "I've been using Nuke for ten years and have experienced many different features, and if I just name one useful feature among many, it would be node sharing," he comments. "It's no exception for Earwig and the Witch. You just can copy and paste shared nodes to your shot and then immediately start adjusting from there—immediately being the key word here."
Speaking of the awesome power of automation, he continues: "[Nuke] allows you to build scenes systematically using python or expressions and semi-automate tasks that don't need to be manually completed."
"As a result, you will have more time to focus on the artwork, reduce unnecessary mistakes and ensure consistent quality throughout a project. In this project, I worked alone on readjusting over 1,000 shots in Nuke in about two months for HDR showing, which I think would be only possible with Nuke."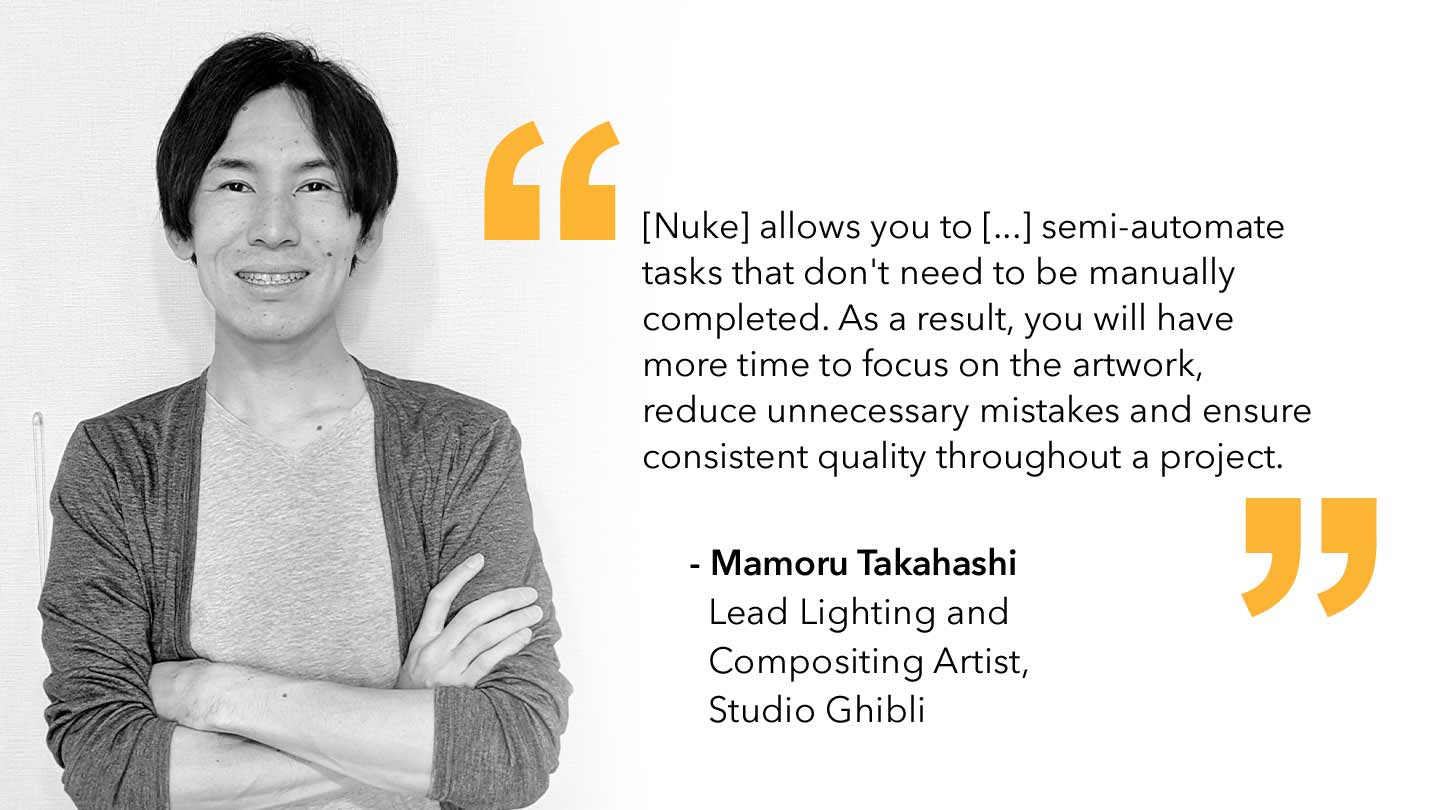 The right tools for the job
Given the mercurial nature of modern animated productions—particularly as studios look to scale up and down depending on project, both from a resource and compute perspective—it's important that modern tools adapt to a studio's set up and workflow, and not the other way around.
This is a requirement recognised by Ghibli, who happily finds Nuke fits the bill for Earwig and the Witch . "Nuke is flexible enough to adapt to the project size and environment," Mamoru comments. "Even if there are rules that need to be shared with external companies, or if the time frame is tight, it is easy to build an environment that fits those situations. Also, I can optimize my individual job by customizing it with a little ingenuity gained through my work, which is also a great advantage for me."
Yuichi Yamamoto expands on this point, citing Nuke's ubiquity across visual effects and animation: "Nuke is a proven toolset in the production of 3D CG animated feature films both in Japan and globally, and many production studios use it. When you need to start organizing a team for production like Earwig and the Witch, it's a great advantage to have many talented artists who have a good understanding of the workflow using Nuke."
Try Nuke for 3D animation