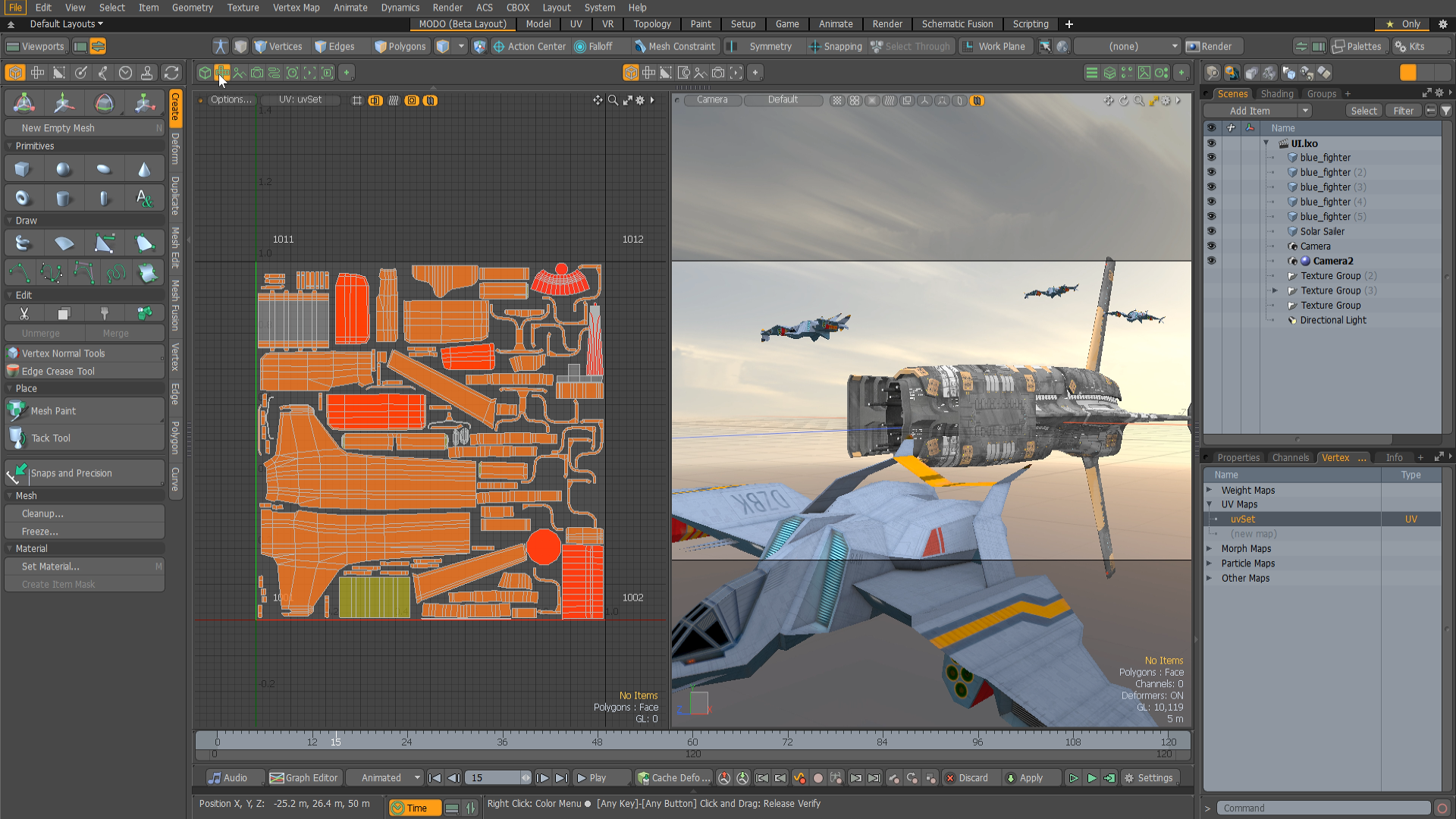 Integrated VR Viewport
The new integrated VR viewport allows you to connect to a VR headset and view and adjust your model within a virtual environment. This release focuses on Item transformation, scene layout, and design review. A number of key Item editing tools are available, including move, rotate, scale, instance, duplicate and transform reset. There are also snapping options and action centres available, allowing you to accurately move objects around in your virtual environment.
Rendering and Rigging
The Advanced Viewport has seen significant improvements, allowing you to render more complicated material setups directly in the viewport and make changes in real time. With Group Masks fully supported, you can mask multiple material layers and render highly complex, multi-layered material setups. There's also full support for group blending modes and opacity changes, resulting in little difference between the representation of a material in AVP and in Modo's native renderer. Other rendering improvements include the addition of a Film Roll channel, which allows you to animate a two dimensional roll of the camera relative to the camera's film offset channels: useful in 2D animation pipelines.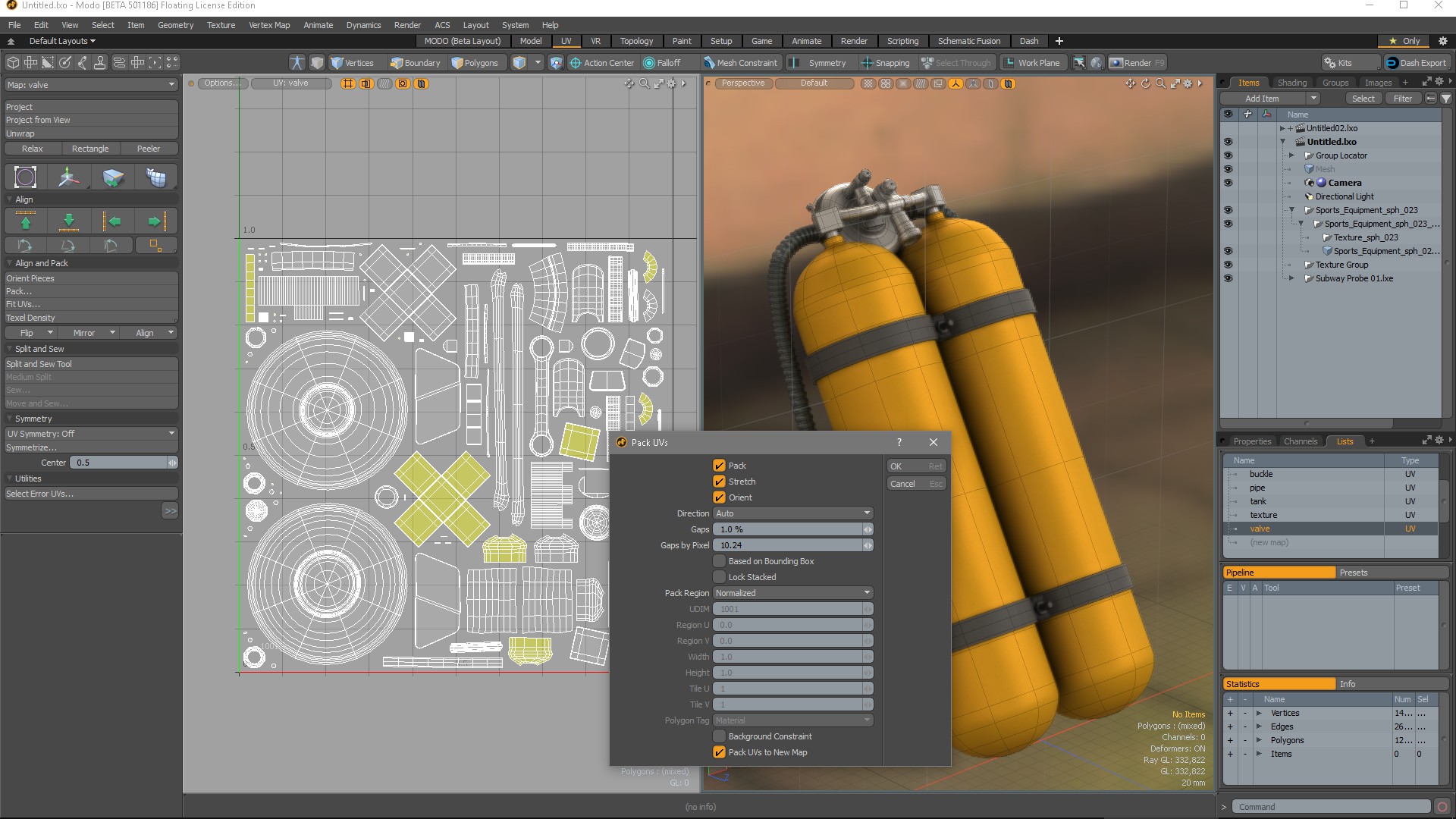 UV tools and MeshFusion
A major update to the UV Pack command brings a new algorithm that provides faster Packing times. The distance between UV islands and UV border can now be more accurately controlled with the Gaps by Pixel Option. There is a new option to Pack to a new UV map, preserving the original. And a further major addition is the ability to Pack based on Polygon Tag, which gives the ability to pack UVs to separate UDIMs based on that tag. Additional settings have been added to MeshFusion Surface Strips, giving you greater control over the generated topology.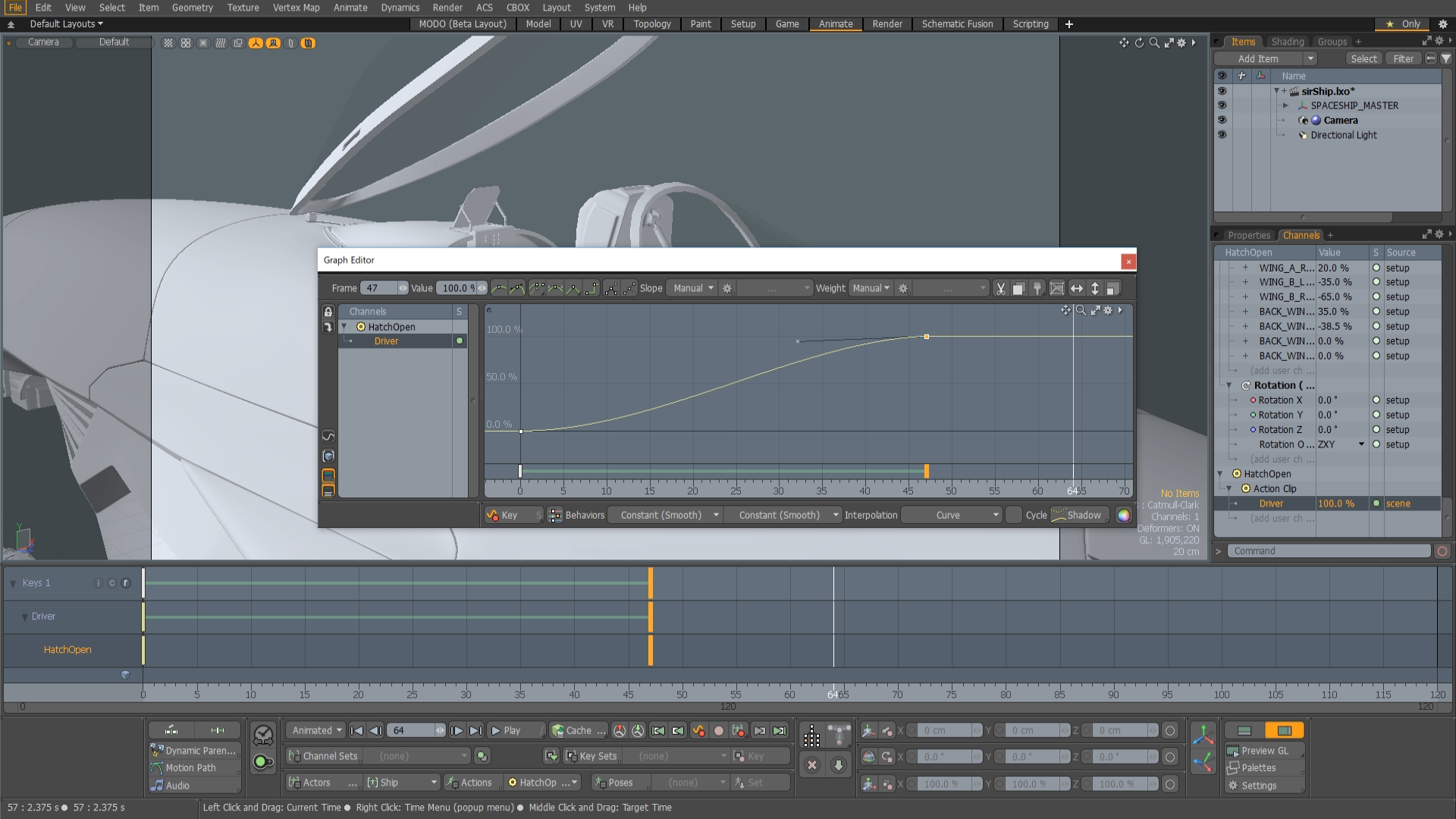 Animation
Modo 12.1 introduces animation workflow enhancements designed to speed up the keyframing process and reuse keyframe data. Driven Actions add the ability to reuse, retime and rig action clips in a scene, allowing you to fully utilise Actions for the first time. There's a new default key slope type, providing smoother interpolation between keys, vastly reducing the amount of key adjustment required whilst animating. It's now much easier to manipulate multiple keys in the Gradient Editor using the new Box Transform Tool. The Mini Gradient Editor brings a number of improvements including the addition of a menu that allows you to save and load presets.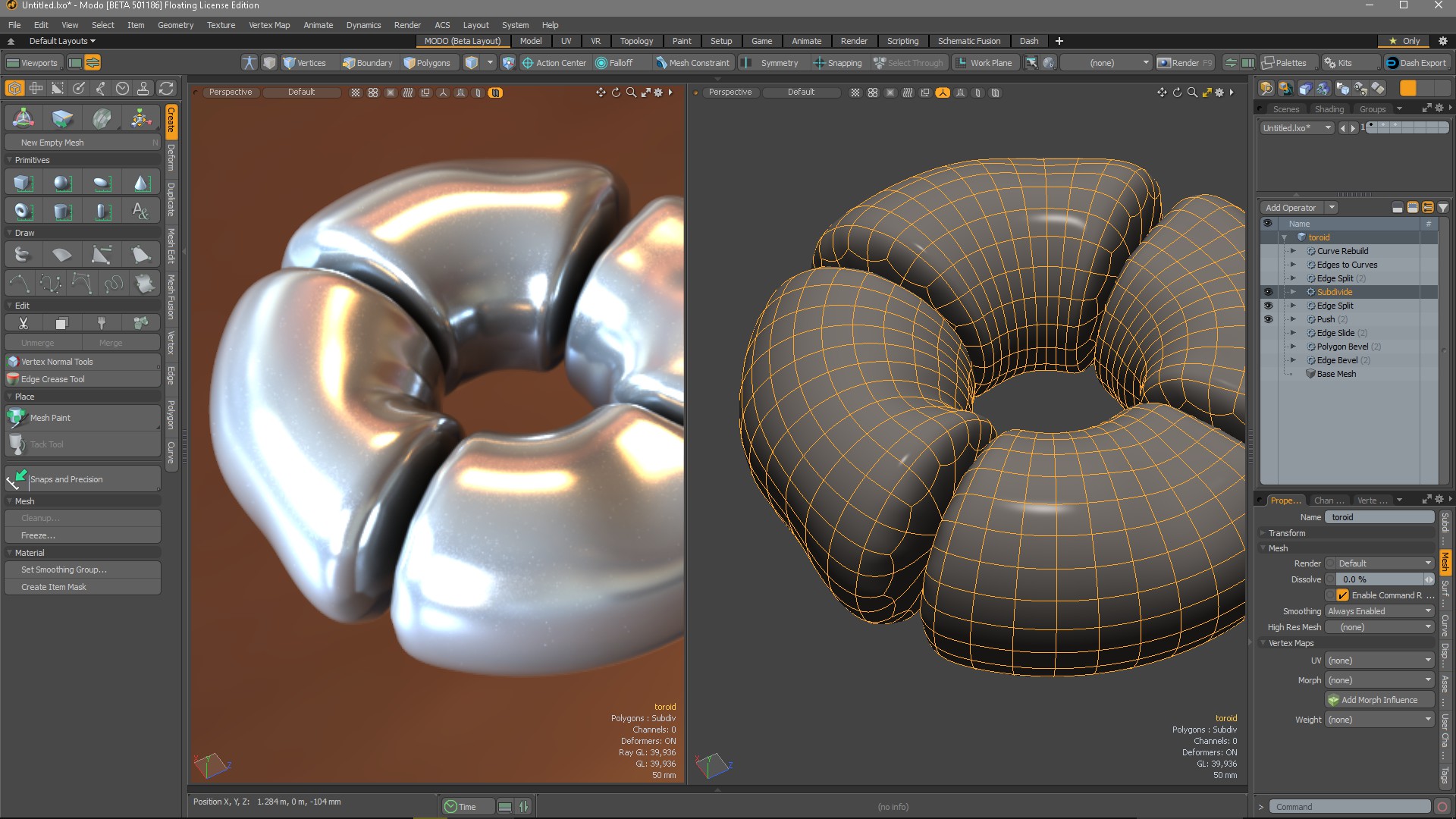 Procedural Modelling
Modo's procedural modelling system continues to improve, with a range of new Mesh and Selection Operations. The 'Surface Constraint' mesh operation is a procedural version of the Background Constraint, which allows you to procedurally constrain geometry to another piece of geometry in the scene. Other key additions include the Convert Selection, Select Connected, and Select Loop selection operators, and the Edge Slide, Push, Edge Split, Polygon Merge and Polygon Unify mesh operations. Watch our videos for a full run-through of all these new features!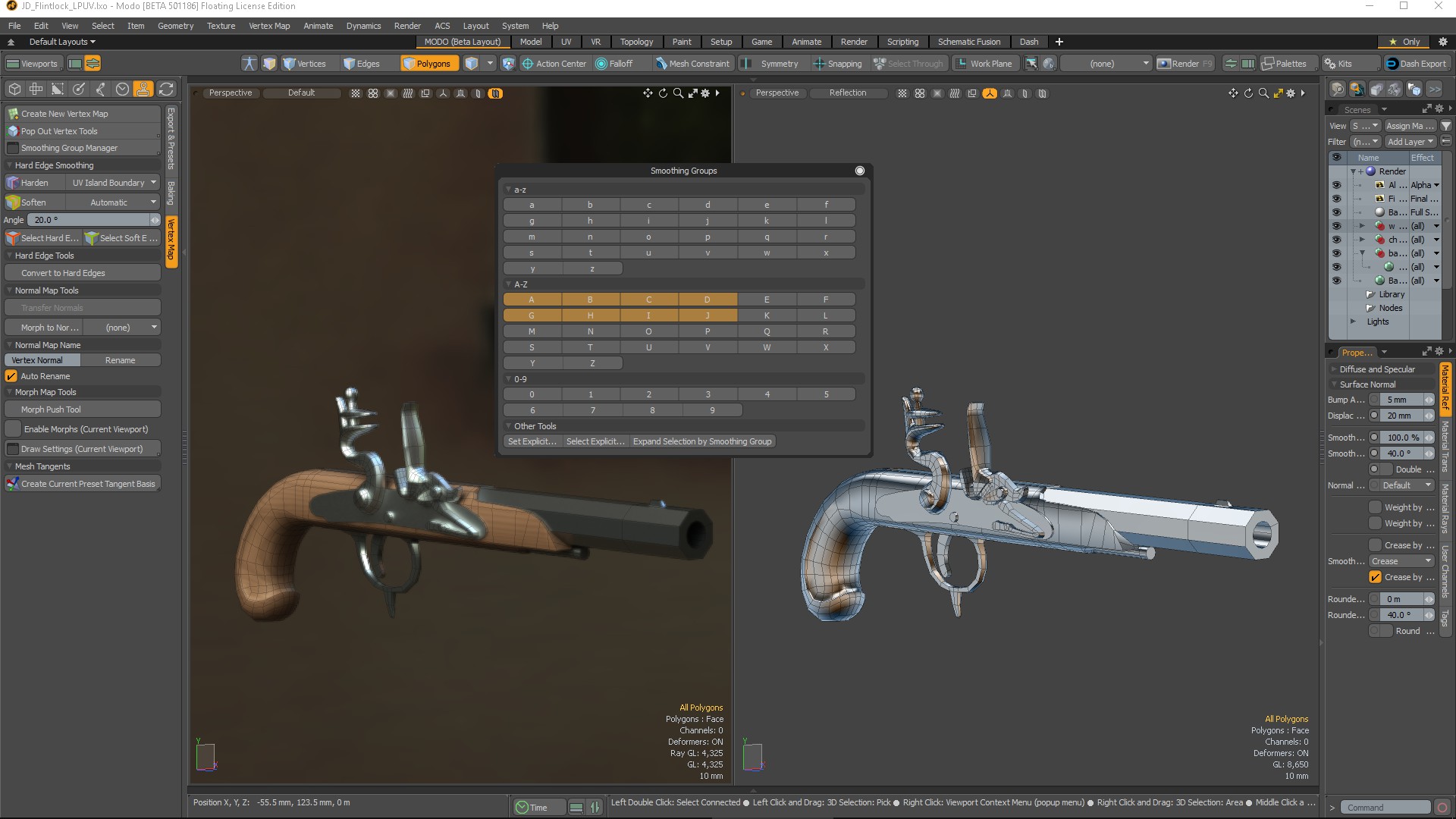 Direct Modelling
Modo 12.1 brings significant improvements in editing and defining vertex normals. The Vertex Normal Toolkit has been updated to make it simpler but with more options for hardening or softening by specific component, by endpoint, by angle, by polygon boundary, UV boundary, and UV island boundary. There's a new Smoothing Group manager: a UI for defining and visualizing the groups within which polygons exist. The vertex normals of a model are stored as part of Modo's native smoothing rather than a separate vertex map, so models can now be freely edited and deformed without adverse effects on smoothing. A variety of new options for controlling surface normals have been included as part of Material Properties. And there are options for controlling the effect of smoothing groups on a per material basis.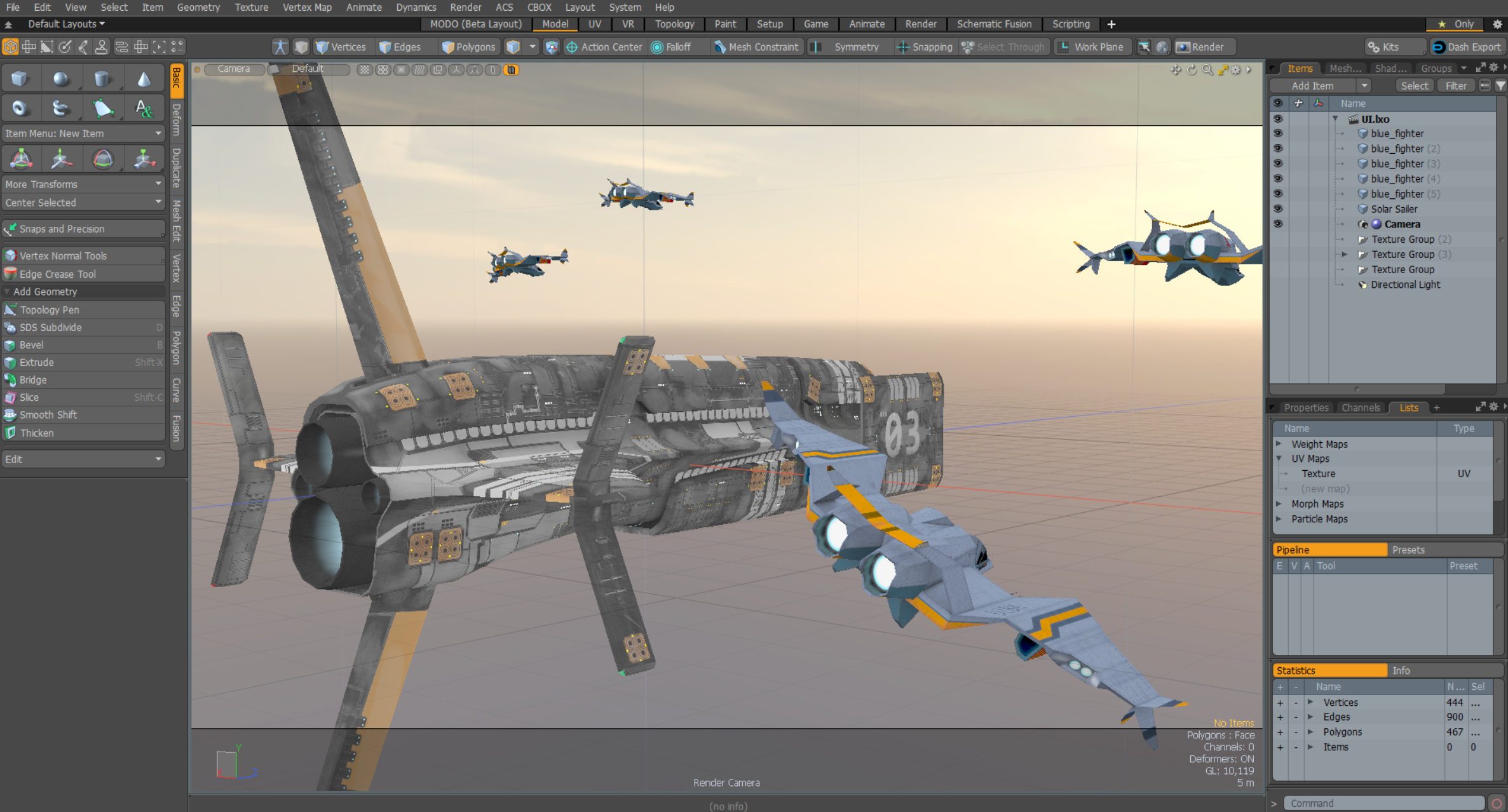 UI Improvements
Modo's UI has been tweaked: To allow faster access, the tool palette buttons can now swap the tool palettes directly in the form. It's now possible to toggle things like background mesh visibility, item drawing, weight map visibility and distortion directly in the 3D viewport, making these options easier to find and giving a clear visual indicator of their state. The Modo modes form includes a set-up mode button, render button, and nested center and pivot mode buttons, allowing for further consistency between layouts. And all KITS now exist in a KITS popover form, accessed via the KITS button in the top right of the UI. Modo also comes with a new Beta layout, showcasing a number of new UI concepts for working in a single layout.