The power of the Nuke 13 series
Who said thirteen is an unlucky number? The Nuke 13 series meant breaking the boundaries of creativity, empowering you—the artists—and your pipelines, as well as accelerating creativity with new tech and upgraded workflows.
Every release in this series introduced new features in line with the ever-changing demands of the visual effects (VFX) industry and brought improvements to user experience meant to streamline your workflows and facilitate collaboration while working remotely. 
Before we move on to the Nuke 14 series, let's follow Nuke 13 series' journey and discover why Nuke, our post-production powerhouse, is still your go-to industry standard!
Nuke 13.0—designed to empower
In the first release, we introduced two major features designed to allow you to visualize and see your final results faster (closer to the final pixel), as well as enhance review workflows for teams so they can collaborate effortlessly.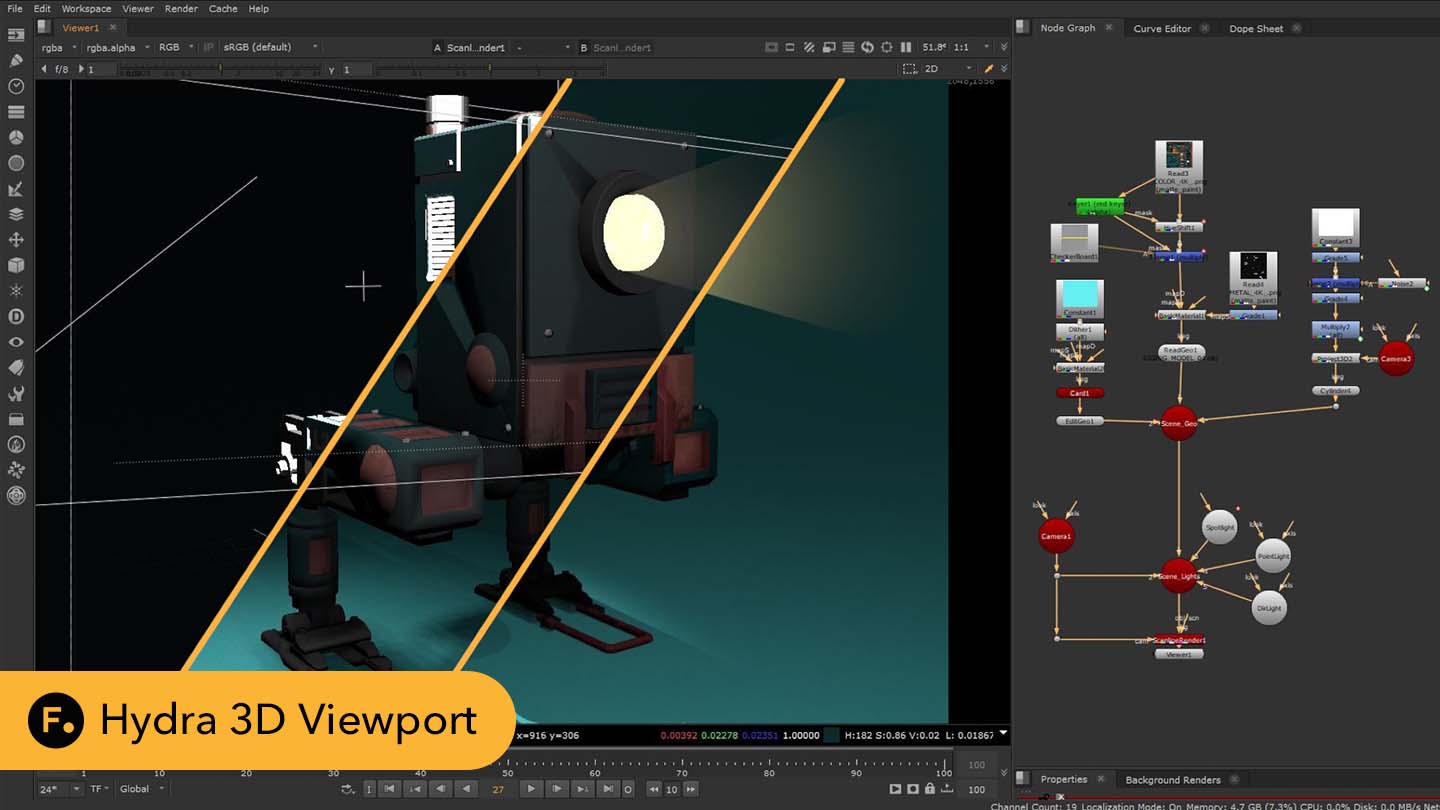 The introduction of Hydra support within Nuke's 3D viewport makes it easier for you to attain an improved quality image much closer to the rendered version of your output. The new Hydra-powered 3D viewer uses hdStorm as a viewport renderer, making the 3D viewport experience almost identical to the output from the Scanline Render. You also don't need to worry about uniformity as the 3D viewport was built to be consistent with other applications using Hydra.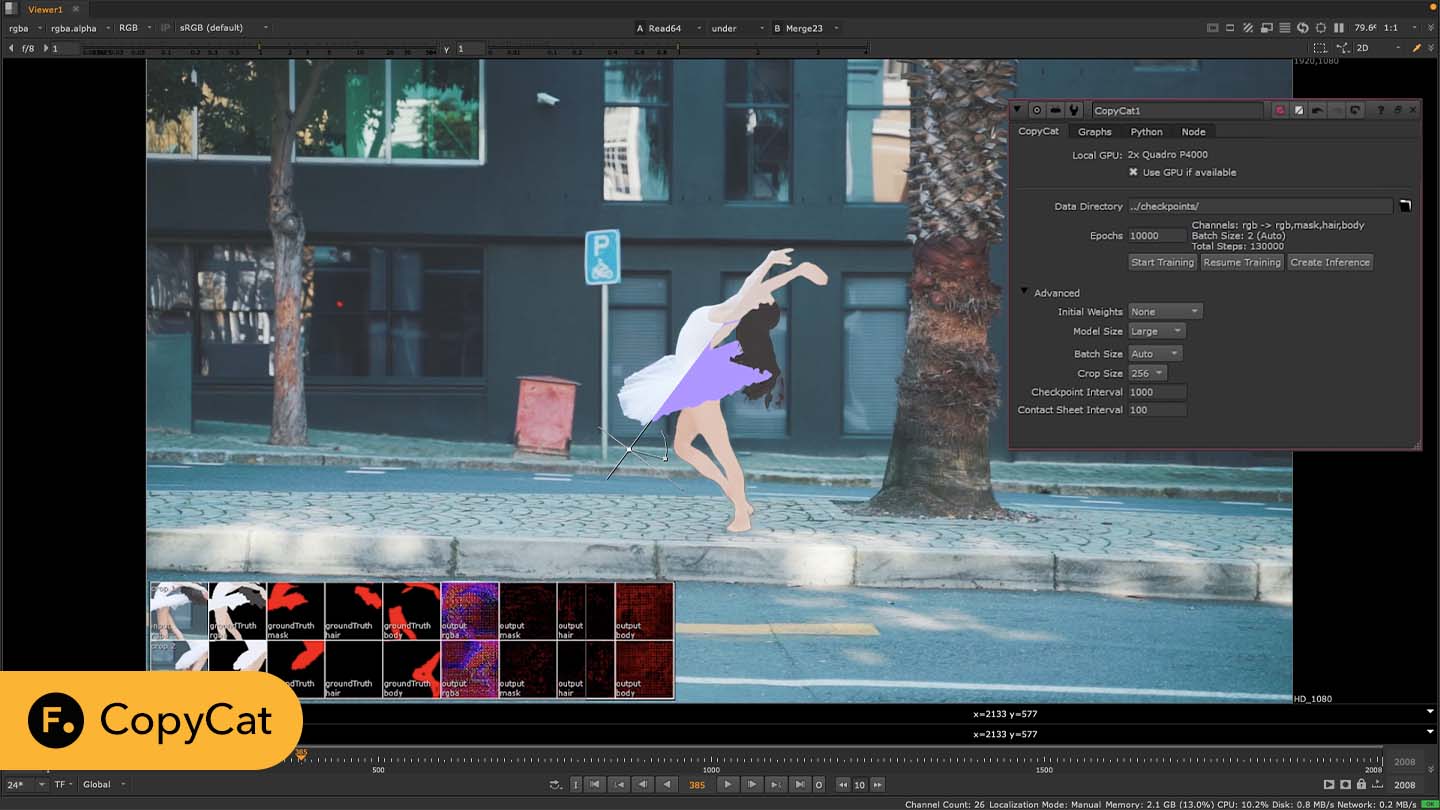 With the machine learning and AI developments taking the stage in the media and entertainment industry, one of the stars of the Nuke 13 series was the new suite of machine learning tools in NukeX with the CopyCat and Inference nodes. Created for you to make the most out of the power of machine learning, this toolset allows you to create and apply your own high-quality sequence specific effects. By using only a small number of reference frames in a sequence, the CopyCat node gives you the freedom to train neural networks to automatically complete tasks such as tracking marker removal, beauty work or garbage mattes, and ultimately to train a network to clone this effect. 
The recipe is simple: input a selection of the original frames along with your choice of their appearance, and hit 'train'. The CopyCat node is correlated to the Inference node as the latter runs the neural networks produced by the first. After CopyCat has trained a network, it saves as a .cat file. This file can then be loaded in the Interference node and applied to the rest of the sequence or even a different one.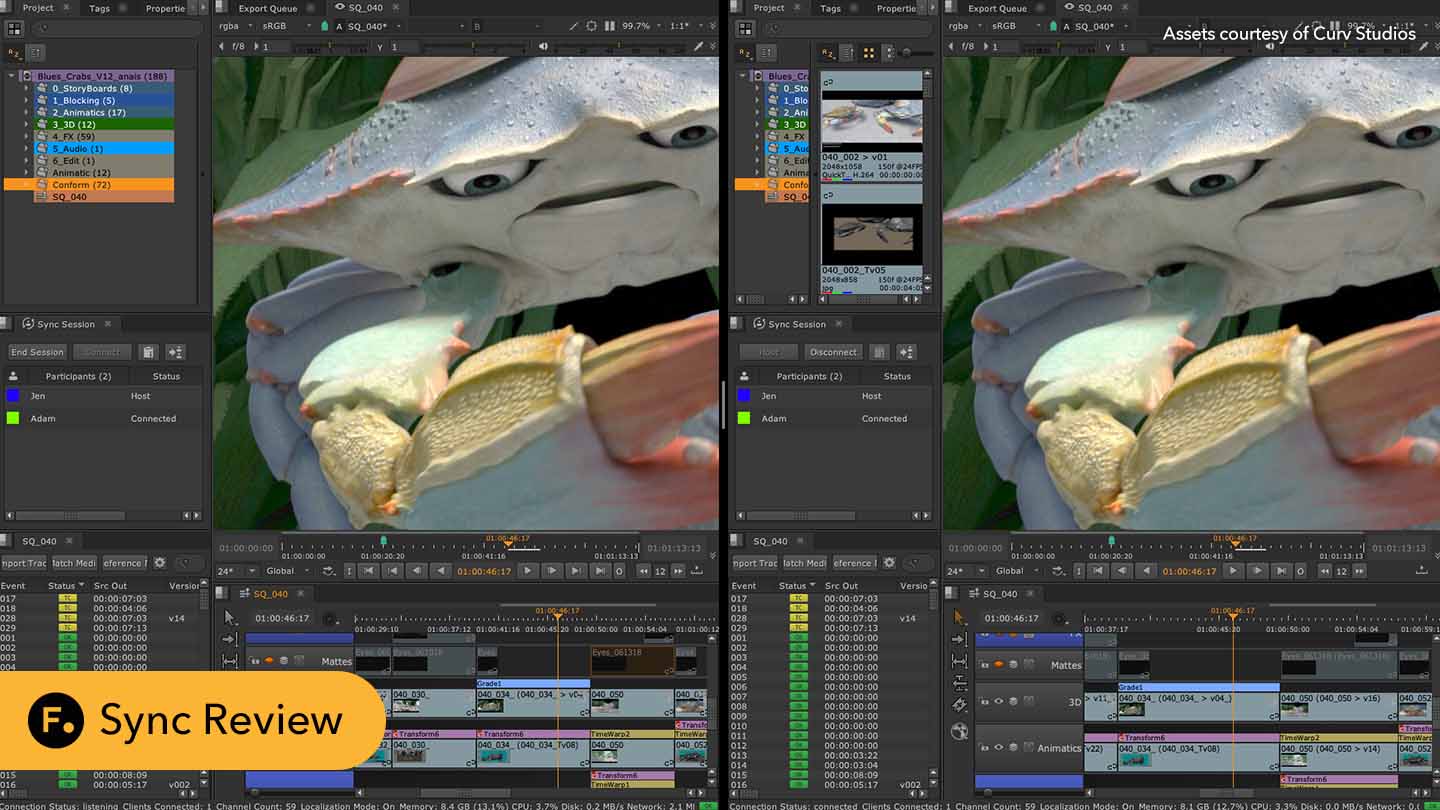 Sync Review was extended to offer you a brand new approach in collaborating, giving teams the flexibility of reviewing either together or remotely, and working to put together the pieces of the same puzzle—the final image. With unlimited sessions of Nuke Studio, Hiero or HieroPlayer, teams are able to collaborate and review projects in context, as well as sync all the actions needed in a review session. From annotations to editorial changes, Sync Review makes sure your teams are in sync.
Nuke 13.1—taking user experience to the next level
Nuke 13.1 continued the work started in Nuke 13.0 and focused on improving user experience and reducing pipeline friction by introducing a new node designed to streamline your real-time projects.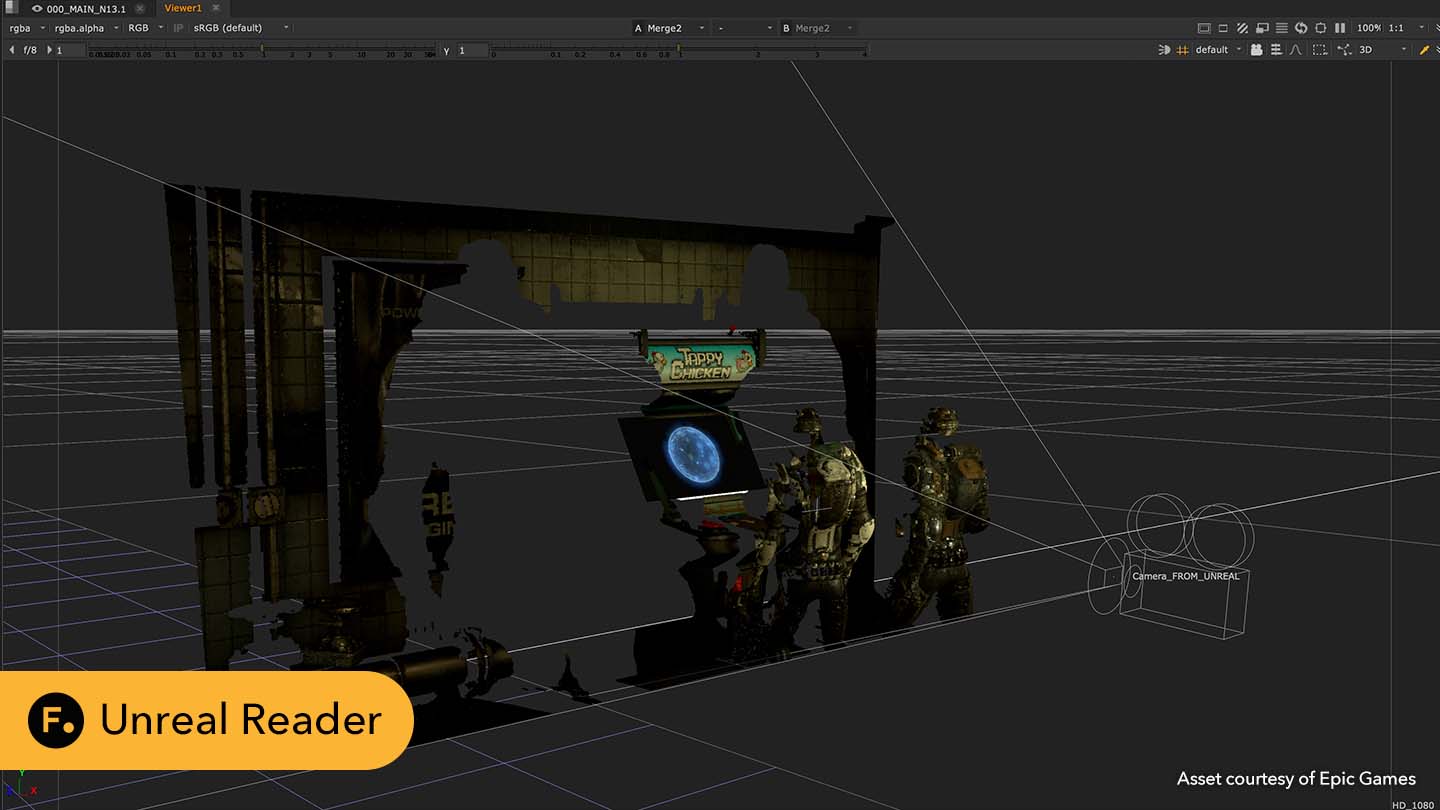 The UnrealReader node was added to give you the ability to quickly get image data, utility passes and sync cameras from Unreal in NukeX. With a symbiosis between the efficient real-time rendering and the flexible Nuke node graph, the UnrealReader offers you the control to request the data you need. What's also great about this node is that you are able to see the latest Unreal changes in your Nuke script by using the live link. Doing previsualization or virtual production? Or perhaps final pixel rendering? The UnrealReader node supports you. Add it to your script and bring the power of NukeX to your real-time projects.
Improvements of 3D user experience had one goal: making it easier and quicker for you to move geometry in Nuke's 3D space. Nuke 13.1 saw several enhancements to this—from the improved controls for the 3D pivot point and upgrading the 3D transforms handles to the ability to manipulate geometry in object, world or screen space. The actual change in your user experience? You can easily place geometry wherever you want inside Nuke. To further improve your user experience, our Nuke team also added a choice of hotkeys that fulfill DCC standards, as well as a new toolbar that allows for geometry transformation tool selection. This means no interruptions in your workflow when moving between Nuke and your chosen DCC.
The machine learning toolset also saw improvements so you can keep making the most of the power of machine learning. The Inference node welcomed new support for third-party PyTorch models enabling you to use a plethora of image-to-image PyTorch networks and bundle them up into tools that you can share with your team. The CopyCat node was also updated so that it works better on a range of resolutions, being capable of producing faster and more accurate results with less trial and error. 
Nuke 13.2—the last one
The last release of the Nuke 13 series focused on upgrading workflows and introducing new tech meant to advance your creativity. With three new features crucial to a streamlined workflow and with even more updates to the machine learning toolset, this release encapsulated the artists' current needs and dares to meet them while also thinking about their future needs.
Top-down rendering brings to the table a new rendering architecture for Nuke—instead of rendering the graph scanline-by-scanline on demand, it renders it node by node from the top of the graph down. Nuke is then able to cache its data more efficiently and reduce thread synchronization issues for faster rendering. The results speak for themselves: there was an average improvement of 20% and some of the scripts performing 150% faster. Top-down rendering saves you time as you don't need to wait for heavy or complex scripts. It also gives you full control over how and when you choose to use Top-down rendering depending on what your scripts need as you can enable it in the script project settings as an environment variable or by using the Top-down flag.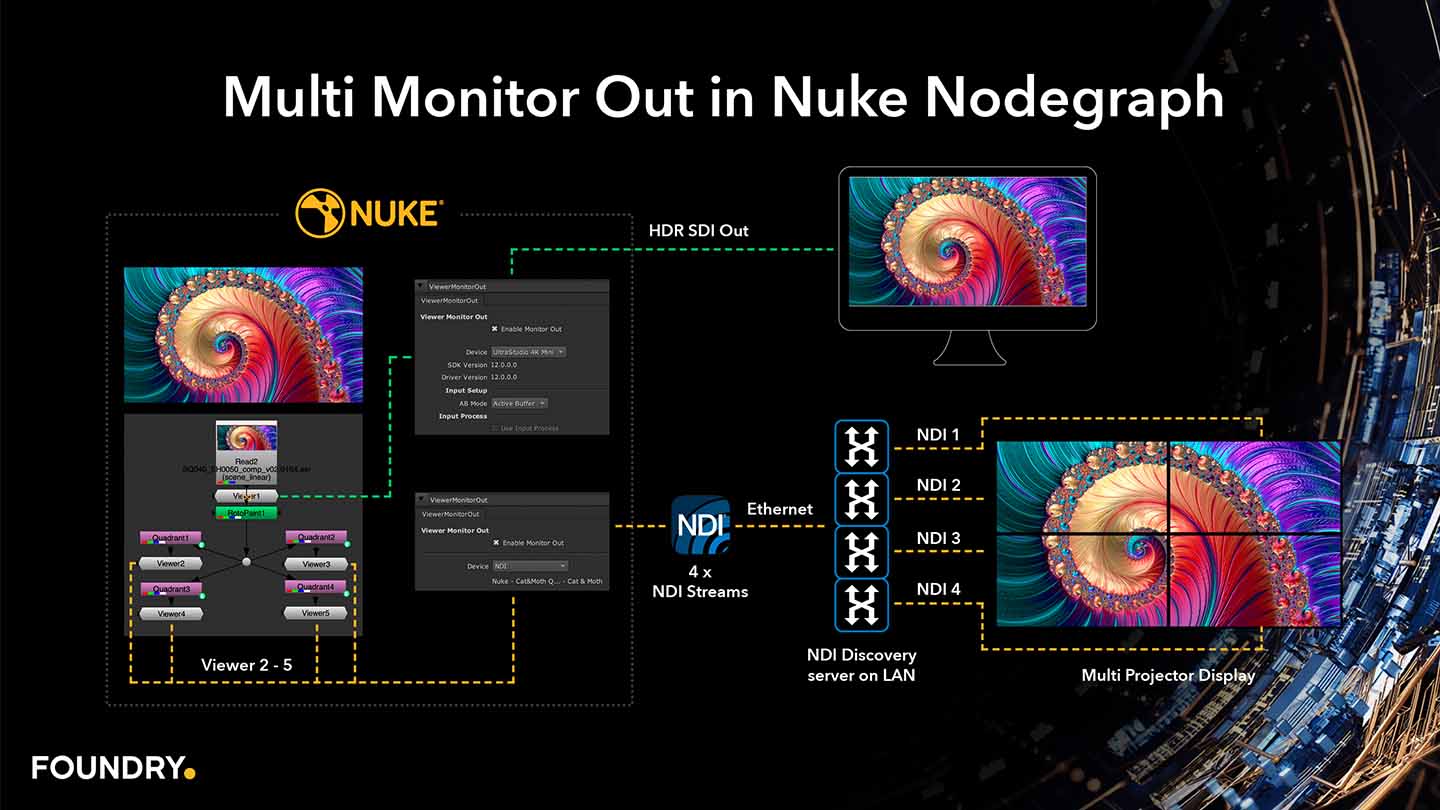 Sharing the Nuke viewer content for review is now faster and easier with NewTek Network Device Interface (NDI) being now part of Nuke. With just one click, NDI makes it possible for you to share and stream your Nuke viewer content to anyone on your network. The best part? It all happens in real-time. There is no limit to how many visual ideas you can share simultaneously and, with the Multiple Monitor Out functionality and NDI support, you'll have control over how and what you share.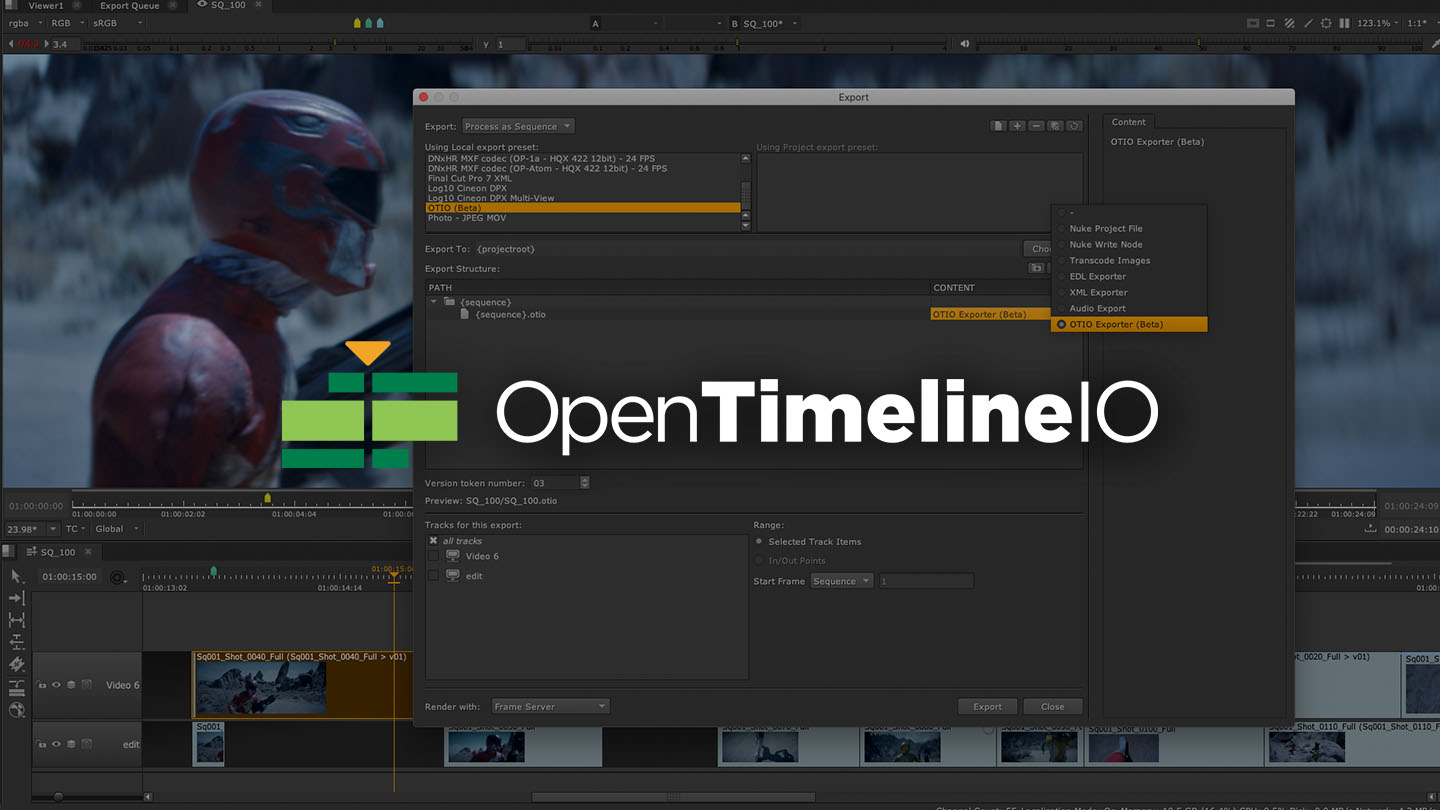 Developed at Pixar and with amazing developments made by ASWF, OpenTimelineIO (OTIO) support was added to Nuke Studio and Hiero so you can manage the import and export of clips, tracks, transitions, and linear retimes. At its core, OTIO was designed thinking of the future and now represents the "on-trend" choice of moving your editorial data throughout the pipeline, be it carrying the editorial cuts as they evolve or creating playlists for reviewing your shots throughout your shots.
Advancements in the machine learning field are continuously happening, therefore updates to the machine learning toolset were made to ensure we are up to speed with your needs. The CopyCat node saw improvements of the single GPU speed up to 30%, while multiple GPU support made it possible for you to speed up training using all GPUs at the same time or to run different training sessions on each of them. 
In Nuke 13.2, we break limitations so you can have the most efficient and powerful training. That's why you can now train more than four channels so that you can train more advanced model datasets or even train one network for multiple use cases. There is also no maximum number of training images that you can use and you have the ability to train on headless Nuke with the -X flag.
Dare to guess what's next?
That's a wrap for the Nuke 13 series! It comprises the introduction of new technology in line with the latest developments in the VFX industry, as well as the improvement of user experience. With all three releases bundled together in the most performant Nuke version as yet, artists and teams are able to achieve the final pixel-perfect image, a more streamlined workflow, say goodbye to pipeline friction, and welcome powerful real-time projects.
But what comes next?
Juan Salazar, Nuke Director of Product, tells us:
"We are very excited to start the Nuke 14 series. As with the Nuke 13 series, Nuke 14 will start with a strong core base that will evolve with each release. We'll be continuing our efforts to reduce pipeline friction by updating to VFX Reference platform 2022. We know that there is more work than ever, so we are looking at bringing greater efficiency to artist workflows with the continued development of our machine learning tools and the UnrealReader node, along with one of the biggest changes to Nuke in the last ten years. We can't wait to build a better Nuke together throughout the Nuke 14 series!"
Want to make the most out of the latest release?