How Rocket Science VFX amplifies their review workflows on episodic content
Using Nuke Studio to streamline episodic review workflows.
Episodic content is on the rise with bigger and better shows being released every month. With this comes added pressure for visual effects (VFX) studios to create content that tops what has come before, while also managing shorter schedules, tighter budgets and the recent shift to working from home (WFH). 
To get high-quality VFX for episodic content, it's important for studios to have the right tools and processes, something Rocket Science VFX (RSVFX) has mastered.
Established almost twenty years ago by Tom Turnbull and Anthony Paterson, RSVFX has become a household name in the industry with their portfolio including Halo, Wednesday, Locke and Key, and the Emmy nominated series The Boys.
"Our vision was to create a studio that focuses on the science and technology that propels creative ingenuity in visual effects creation," Anthony Paterson, Partner and Executive VFX Supervisor, tells us. "With our eye on partnering with the top visionary filmmakers and work, both in television and features, that speaks to that mission."
With such drive and ambition for their projects, it was vitally important for RSVFX to have a review workflow they could rely on. As many members of the team are long supporters of Foundry products, to them, adopting Nuke Studio was a logical progression of their workflow to ensure they maintained efficiency. 
"At the time of Hiero's release, there was nothing quite like it available," Steve Elliot, I/O Supervisor, explains. "We were using a combination of Apple Compressor and some DPX handling plugins to generate image sequences for our artists from source footage. Hiero offered greater control and automation over everything from folder structure to batch naming, so it was a significant upgrade over the manual methods we were using. Our use of Nuke Studio was a natural progression from using Hiero."
"Like most, we are a Nuke-based studio, so seeing a version of the software that had a timeline and could switch to Nuke for compositing in one package was appealing," Tom Plaskett, VFX Supervisor, adds. "Nuke Studio has a great versioning feature and the ability to instantly update on the timeline. We can easily switch between all versions with a pop-up menu without making a bunch of new tracks on the timeline which is efficiently helpful. Nuke Studio has also allowed us to set up and edit, process our plates, do daily reviews, slap comp temps and deliver QuickTimes all in one package."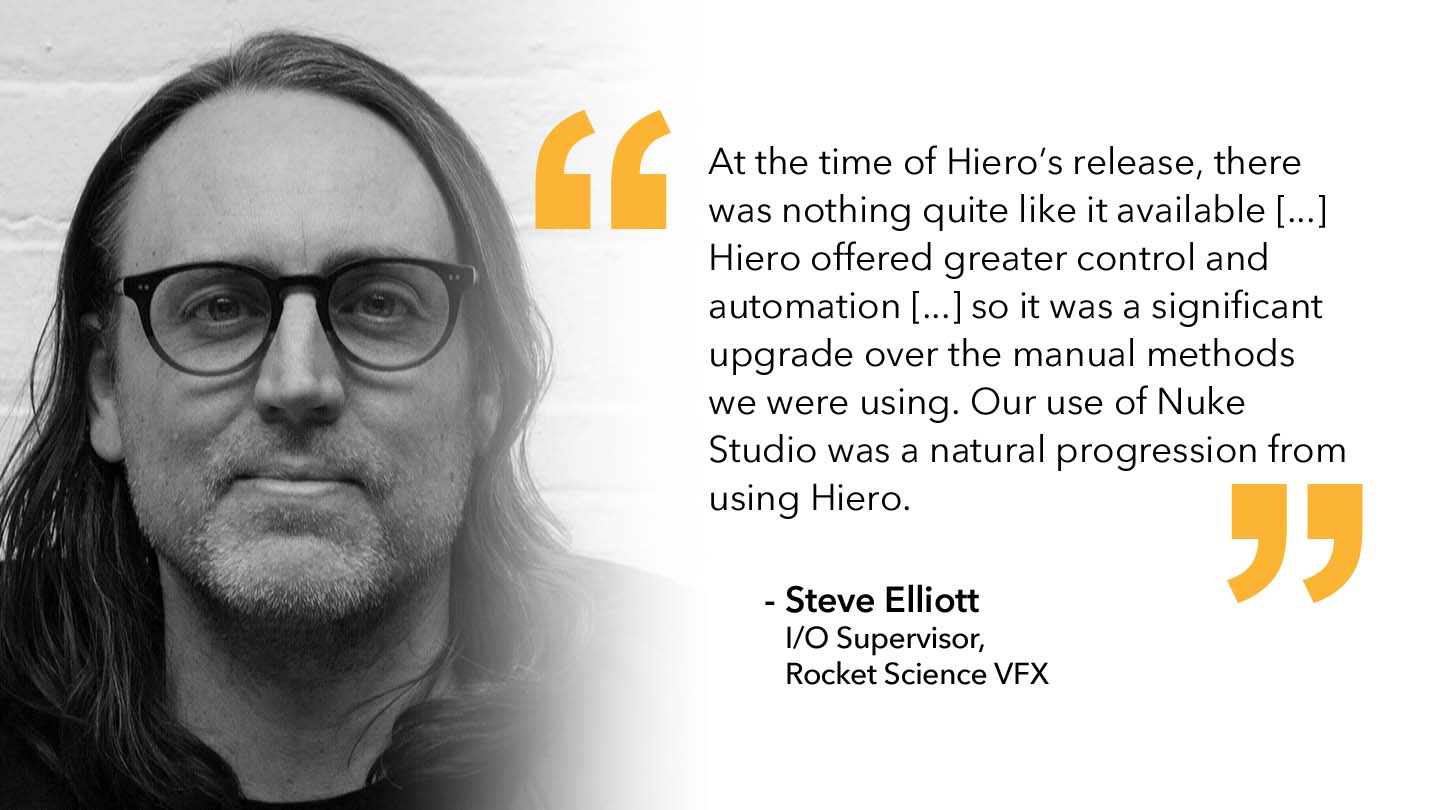 Establishing high-powered episodic workflows
With episodic content at the top of their roster, RSVFX needed a workflow that was straightforward but effective. Thankfully, they often receive their episodic turnovers in stages so they can easily ingest their edits, conform their plates and apply the Color Decision List (CDL) and Lookup Table (LUT) info before beginning to introduce shot versions.
"Nuke Studio is instrumental in these early stages when we need to ensure we're matching color and cut duration so that our team gets off to a good start," Steve tells us. 
"Lining up the plates with the edit and applying the color information can all be done in Nuke Studio. We will create multiple tracks for each department's versions that we can switch to on the fly when reviewing. Since we have a timeline set up with all the latest versions from each department, we can also export our edits with the most up-to-date content for review if we are not able to be in a screening room," Tom adds. 
Of course, with any production, there are intricacies that all studios must tackle. With the growing popularity of big-budget, CGI intensive shows, having to complete complicated shots is something RSVFX is no stranger to.
"The complexity of shots is always increasing and the time to do it is generally shorter than a feature schedule. We need to be organized and on top of all the moving parts," Tom explains. "Nuke Studio helps keep all the departments up to date—maintaining an edit with versions from Layout, Animation, FX, Compositing as well as export. It helps keep us versatile throughout the creative process with the ability to do slap comps to get ideas across."
"Keeping organized and juggling multiple episodes can also be a challenge. We create individual projects for each episode and can quickly navigate back and forth amongst them. We lay out the projects in a consistent manner so our timelines are efficient and familiar for all users." Steve continues.
Production Management is key in these times. With multiple vendors working on different shows and having numerous shots to work on, there are always dozens of different parts that need to be managed and organized for the production to run smoothly. 
"Being able to utilize the productivity that Nuke Studio affords in our pipeline helps to set up our shows for success and continues to ensure a collaborative review process, especially when we needed to pivot to a fully remote workflow," Anthony tells us.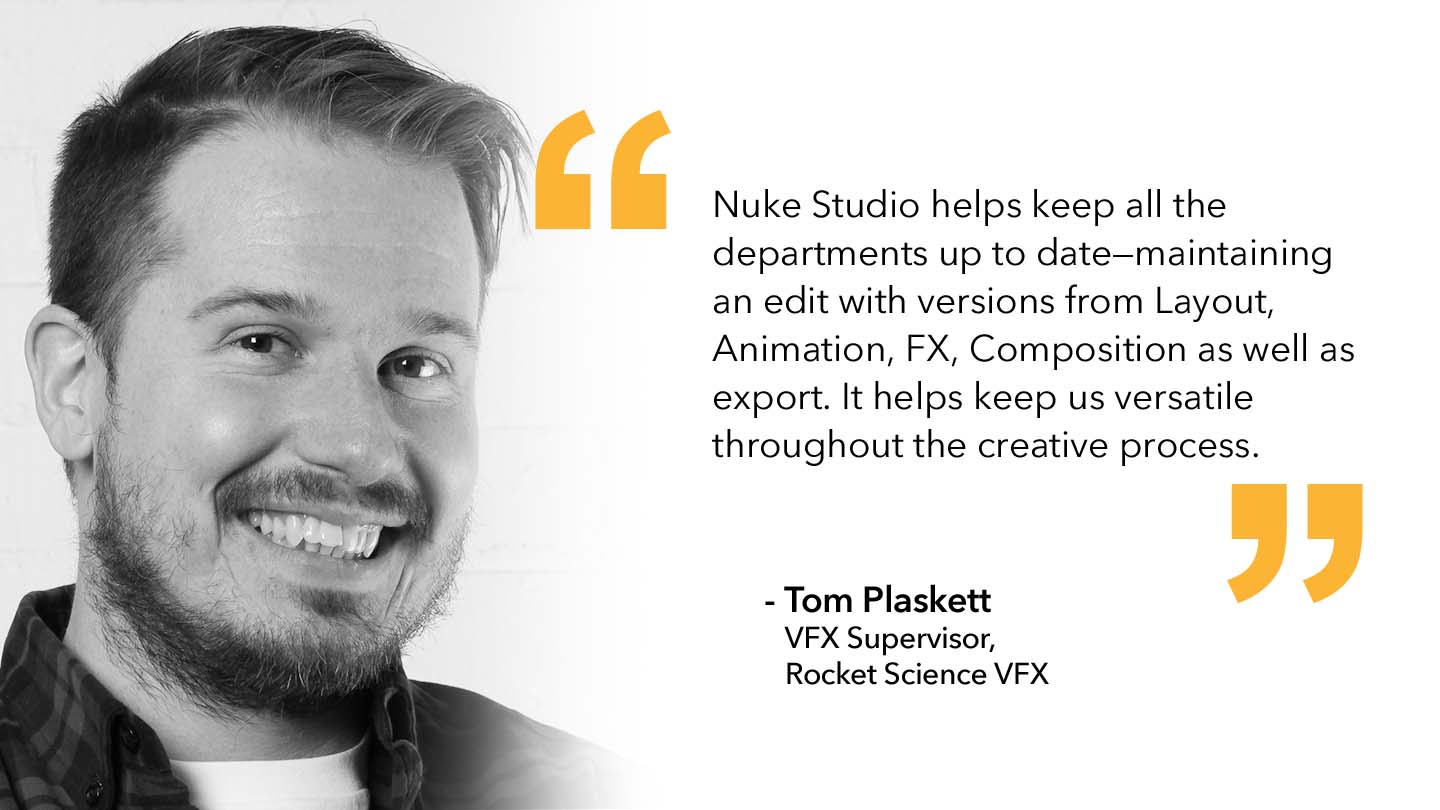 Adapting to unprecedented circumstances 
At the beginning of 2020, many studios found themselves having to pivot to WFH and quickly get accustomed to a new way of working. Flash forward two years, and many are still working with these remote setups. 
"Working remotely has had an impact on our screenings as a group. We still keep our Nuke Studio timelines up-to-date, but we've found that exporting video files for use in our online conferences is the best method for presentation. Sharing one's screen can be a bit laggy depending on each individual's internet connection, so rather than playback from Nuke Studio we have opted to export from it, in any number of formats," Steve explains. 
"I like to switch over to NukeX when viewing things in high res so I can do quick tweaks on versions to see how my notes will affect the shots," Tom adds. "NukeX is heavily used by artists in the studio as we work with live-action plates. The Lens distortion features, retiming and grade matching are a must-have."
Thankfully, for the team at RSVFX, having Nuke Studio meant they were able to quickly adapt to the new WFH work style and have found that since the initial transition not much has changed for the artists reviewing their work remotely.
"We can point our artists to a project file to check out and because everything is on the studio servers, we all have access to it. We review on our monitors, scrutinizing more closely at the frame level for final delivery and in-studio with Covid protocols. Steve tells us. "It's an adaptation that I would imagine the whole industry has needed to adjust to during the pandemic." 
A streamlined review process
Nuke Studio gives studios the chance to work on dynamic timelines so they can ingest into their workflow, something RSVFX finds useful when they're reviewing episodic content. 
"Most frequently, productions are supplying us with EXR frames from the start, with a few supplying the raw camera clips," Tom explains. "Nuke Studio easily handles the conversion to frames. We also shoot a lot of elements internally and we will use nuke studio to process our footage and ingest into the production pipeline."
"We utilize Nuke Studio for lineup and conform. It has powerful ingest tools that we exploit whenever needed. Nuke Studio enables us to handle the post process easily should a project require it," Steve adds, and that's not all. 
"The ability to quickly perform color grading and colorspace conversions in the timeline is a huge bonus. The retime controls are quick and intuitive, and—it may seem almost too simple—but the ability to toggle between frame number and timecode in the viewer is an asset that is missing in other NLEs."
The versioning tools inside of Nuke Studio are some of the most used amongst the team at RSVFX. Enabling them to quickly locate and display all available versions of a shot without manually hunting around on the network. This cuts down on the number of track items, keeping the timeline clean and organized.
"The versioning is hands down the greatest feature. I love that I can switch to different versions of a shot with a push of a button without having to dig through a folder structure. I also like that you can push out Nuke scripts to the artist that will have all the nodes used from the timeline. Any artist working on those Nuke scripts can have their renders sync to the timeline," Tom tells us.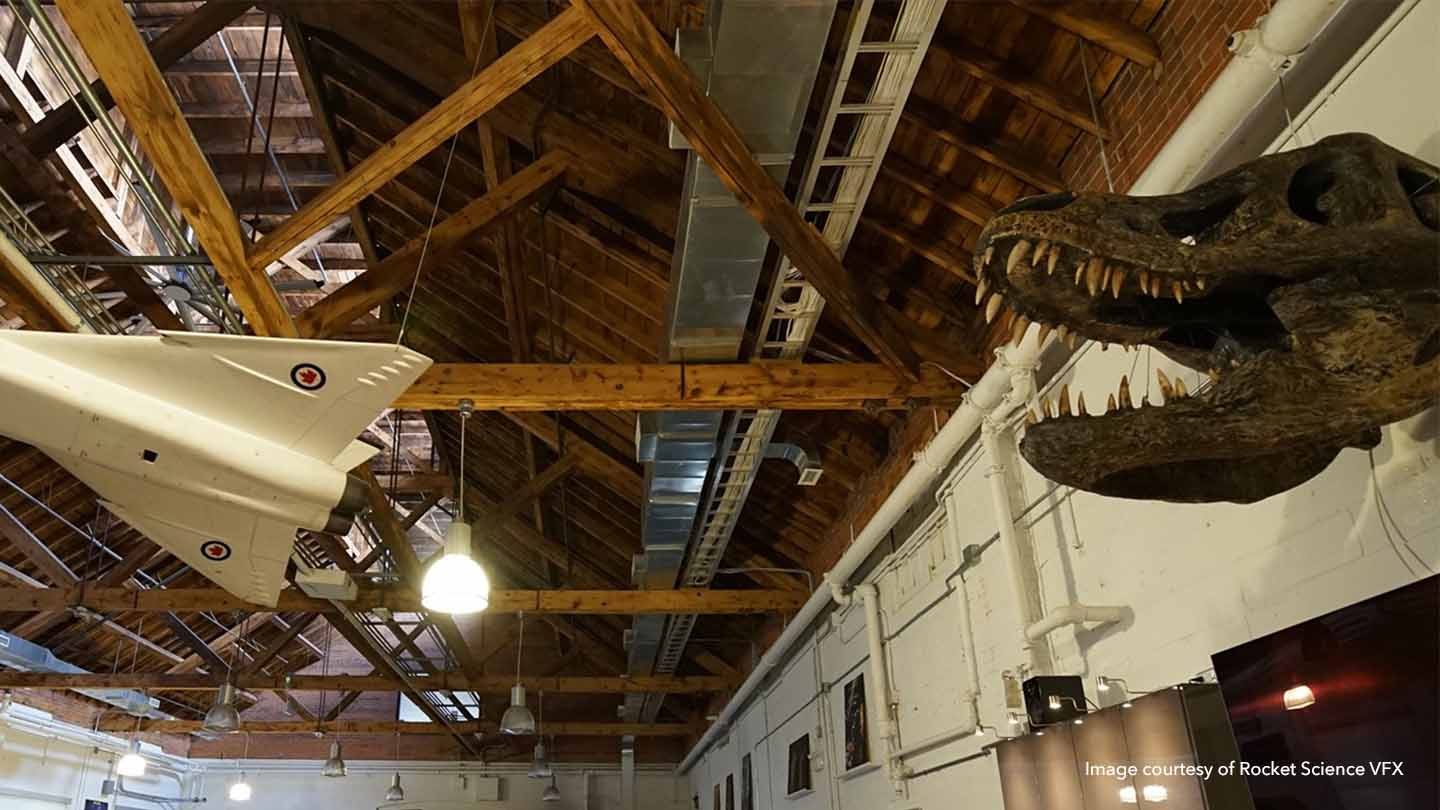 Features to power efficiency
"Nuke Studio is an intuitive application that new artists pick up quickly. The floating license model works well for accessing projects from anywhere in the studio and in these times it's perfect for a remote workflow. Nuke Studio's feature set is specifically designed for VFX so you don't need to hunt for controls that are either not included in other NLE's or hidden away in deep menus. " Steve tells us. 
"Nuke Studio has a lot of features out of the box, which is a good fit for a boutique studio like RSVFX. We can install the program and start reviewing it right away. We needed a tool that could handle different color pipelines, importing and exporting media, managing a timeline, and reviewing multiple renders in one place. Nuke Studio checked all these boxes." Tom tells us.