Colorway AR: your doorway to the future of digital design
The use of virtual reality (VR) and augmented reality (AR) in product design has been gathering steam in recent years, and for good reason.
Instead of working with graphical elements on a screen or page, designers can instead get an idea of how their creations sit within the physical world through immersive tech, moving the needle that bit further along the review and decision-making process. 
Companies such as Augment and Mojo have already found great success in using AR apps and other sources of digital content to bring their design ideas to life. In 2018, Foundry set out on a similar journey.
November marks the end of Colorway AR, a 21-month innovative research project led by Foundry, in partnership with The Footsoldiers—one of the largest independent footwear design consultancies in the world.
The project aimed to provide a way for designers and creative professionals to view objects in AR before physical sampling occurs, saving time and resources whilst speeding up review processes.
This is made possible through use of an IoS app complete with a dynamic one-click solution, built over the course of the project and incorporating visualisation technology from compositing tool Nuke.
Using the app, designers and creative professionals can rotate their asset, zoom in and out, change materials and colors in real-time before projecting it on any surface and viewing it through the 'magic window' of their tablet screens. Those involved in the review process can then walk around the asset to get a feel for its color, shape and size in a real-world context.
Whilst the app is still a proof of concept and not yet commercially available, the potential for immersive developments like Colorway AR are beyond immense. As Colorway AR nears its end, we take a retrospective look at the project, and what it means for the future of digital design creation.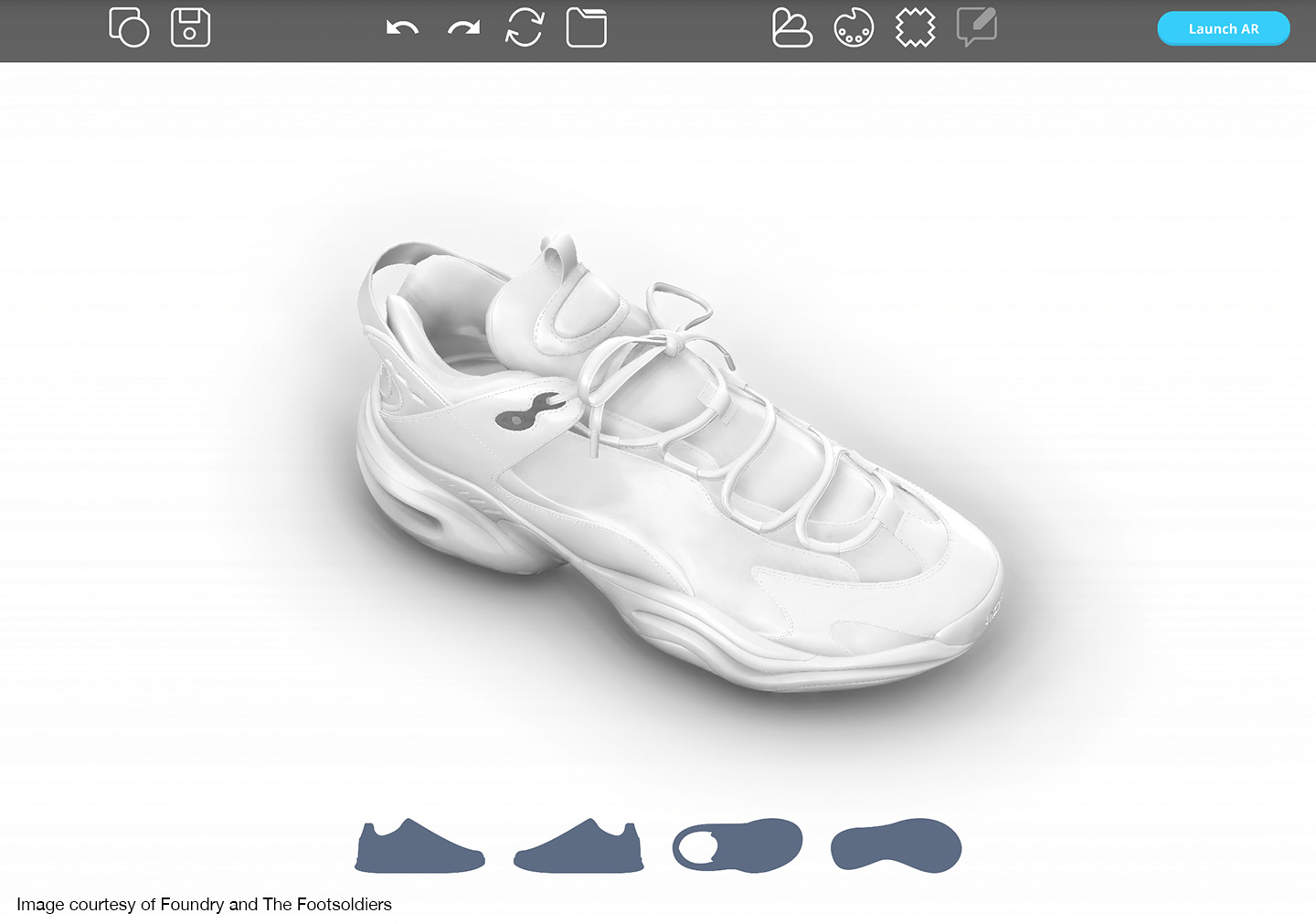 Back to basics
The tech, tools and people behind Colorway AR were vital in seeing it through to fruition.
Foundry's design department specialize in allowing companies that design physical products to visualize these in a photo-real manner using 3D modelling tool Modo. Popular with footwear companies such as Nike, Adidas and New Balance, Modo empowers each to produce a digital twin of their shoe without the need for physical prototypes, reducing material waste and speeding up the design iteration process.
Any assets from Modo are typically exported by rendering them in Colorway's DCI file format. It's then possible for designers to test different color, material and lighting combinations inside Colorway in real-time without re-rendering through a simple drag and drop model. It's a bit like paint by numbers, allowing for an immediate photo-real representation that enables color and material designers to iterate very, very quickly.
Colorway AR takes this a step further by offering this same iterative creative process on a tablet. Users can launch the easy-to-use app, import their data from Modo, change the look of the asset in real-time and press an AR button to immediately see the shoe in a real-world context—on a desk or on the floor, for example, or even on their own feet, with the natural lighting environment to match.
Changes can be made on the fly through the app based on immediate feedback, and viewed through the tablet in what becomes a portable, interactive and efficient review process.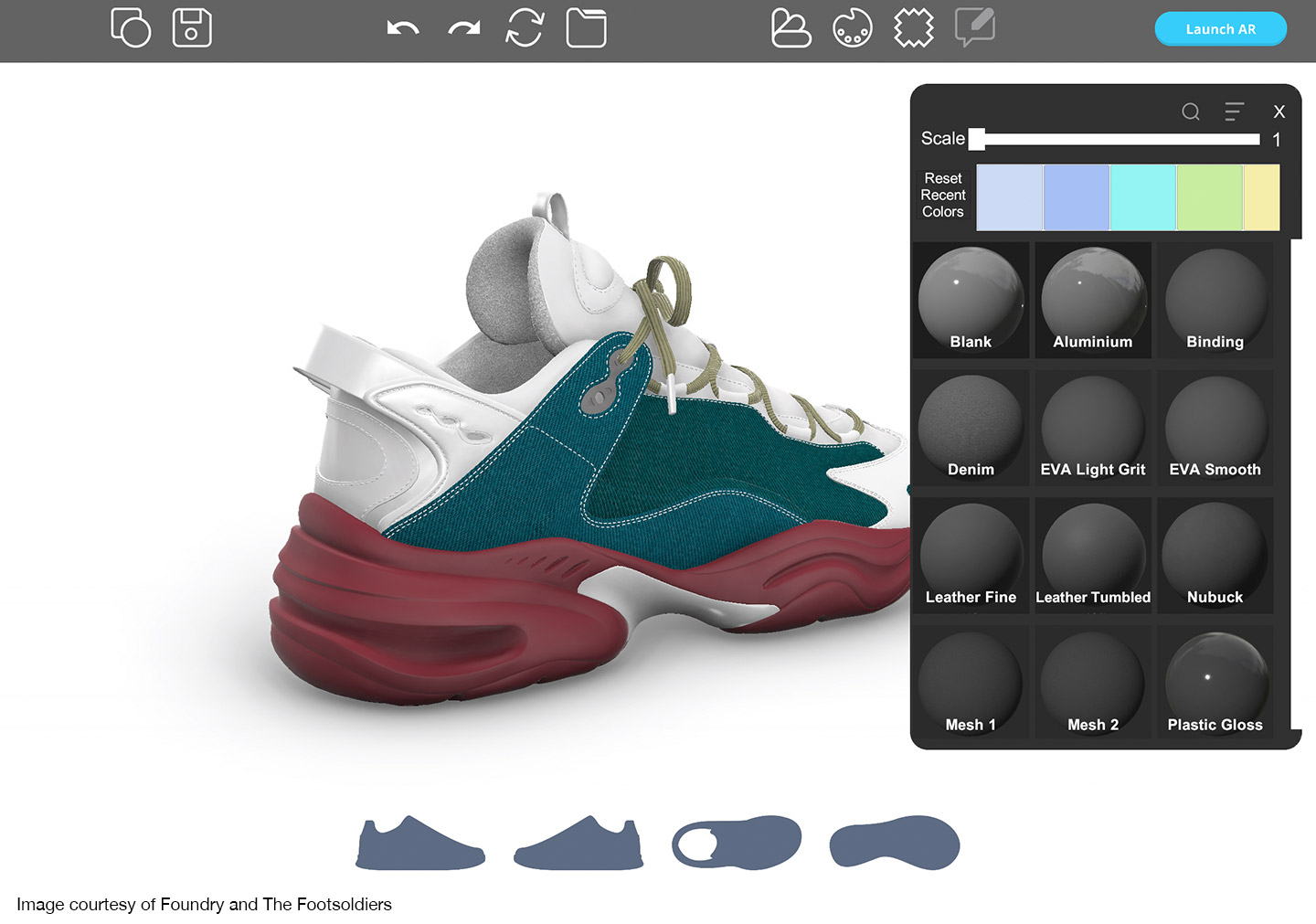 A match made in heaven
Contributing to the design and development throughout the project was creative consultancy The Footsoldiers. In return for helping guide the application's design and providing test assets, The Footsoldiers had unrestricted usage of the app to take it, play with it, and give Foundry's research team invaluable feedback on what they thought worked well and what didn't. 
As Foundry's Head of Engineering—Digital Design, Jon Attfield was heavily involved in the Colorway AR project and worked closely with The Footsoldiers throughout these feedback sessions.
"Our original idea for the way you apply colors to materials was a blended mechanism, which wasn't intuitive to the designers and to The Footsoldiers," he comments. "They definitely helped us see and change that along with additional changes to the UI that made it more design friendly."
"I'd say that The Footsoldiers' feedback has been invaluable to the progress of developing the application. Without them we wouldn't be halfway as far along, basically."
This same sentiment reflects Foundry's broader goal of working more closely with our clients. Engaging in a two-way collaborative process as in the case of The Footsoldiers and Colorway AR not only introduces another avenue of expertise, but also enables us to gain first-hand insight into how a blue-sky idea practically translates to real-world application in working businesses and studios.
Paying dividends
Alongside the benefits felt by working with an external partner, the Colorway AR project helped the team reap certain rewards closer to home.
"[ColorwayAR] allowed us to explore the space for real-time graphics within Colorway," Jon comments. "We've learnt to start building 3D data and information into the Colorway data pipeline, and that's something that we're moving forwards with."
"I can certainly see the potential for Colorway in the future to have a 3D render, as well as the 2D render, because this project has forced us to make decisions that see just how close we can get to that photo-real finish in real-time."
"Having 3D in the application allows you to move the shoe around, and to actually produce new images with that shoe, whilst doing as many material and color changes as you want," Jon continues. "We definitely started to think about that more seriously."
Insights like the above prompted further thought into 3D UX with application to 2D users—a combination that doesn't always marry well due to a difference in workflow, and uncharted territories made up of new angles and views in a 3D environment. 
The team behind Colorway AR worked hard to find a solution. Jon comments: "We restricted the ways you could move the camera, so you could rotate around the shoe, and move up and down a little bit. And it would always keep the shoe center field of view, so it doesn't go off the side of the screen."
"Working out those interfaces for 2D designers has been traditionally very hard, but Colorway AR allowed us to experiment within that space. It's certainly given us more insight into the way these applications should work."
The result: a more familiar design environment for 2D designers, and a more streamlined creative process in which any potential UX or technical issues are ironed out so the designer can focus on being creative.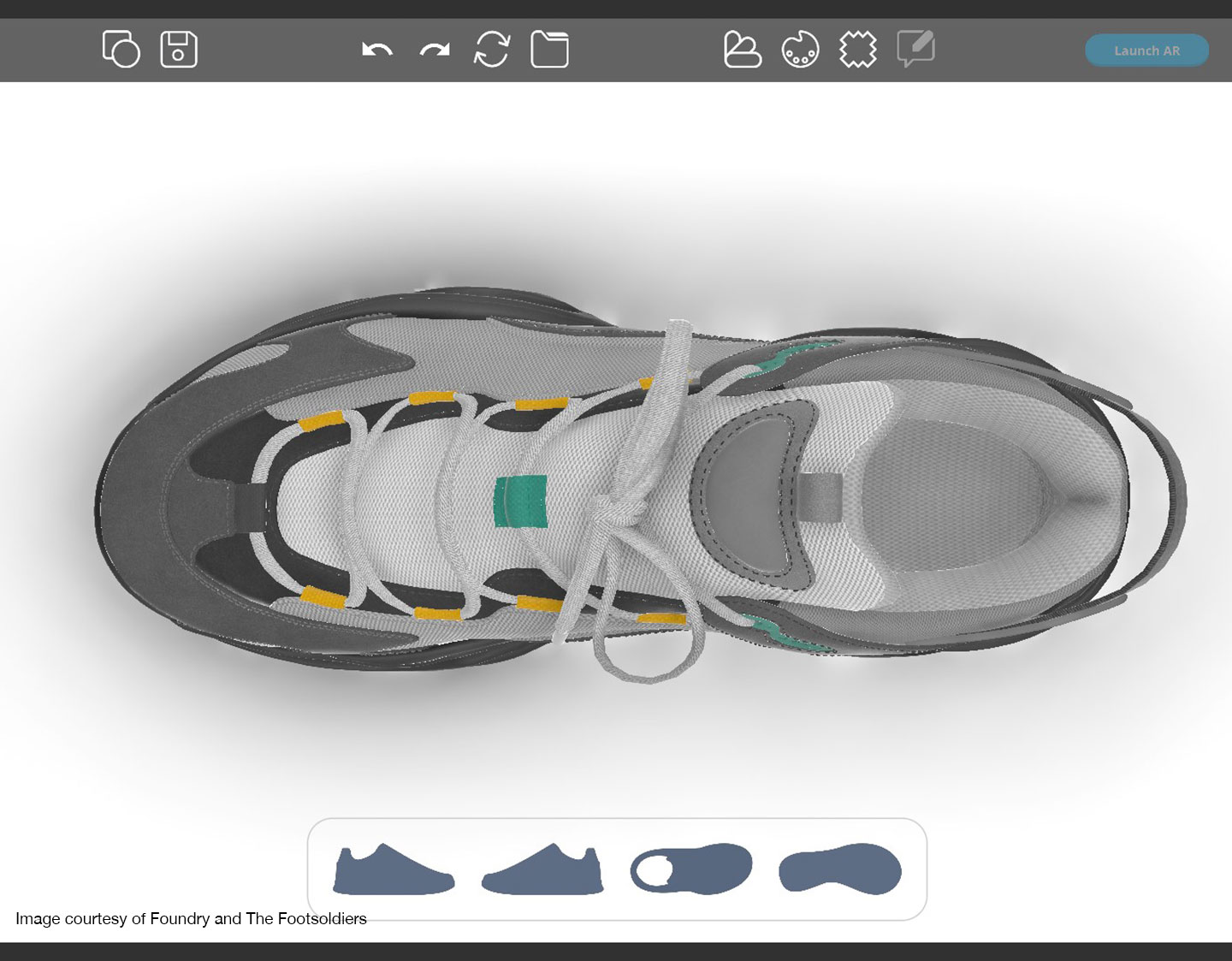 Designing the future
Stepping back slightly, the concepts, ideas and key takeaways of the Colorway AR project can unlock a huge amount of potential for the wider design industry.
The success of the project goes some way in proving that immersive technologies, such as augmented reality, will be the cornerstone of the next revolution in the creative industries.
Time to market reduction, a quicker, live review process and inherent sustainability gains for a greener planet are just some of the benefits that underpin Colorway AR—and, by extension, projects and initiatives that similarly use AR as part of the design visualization process.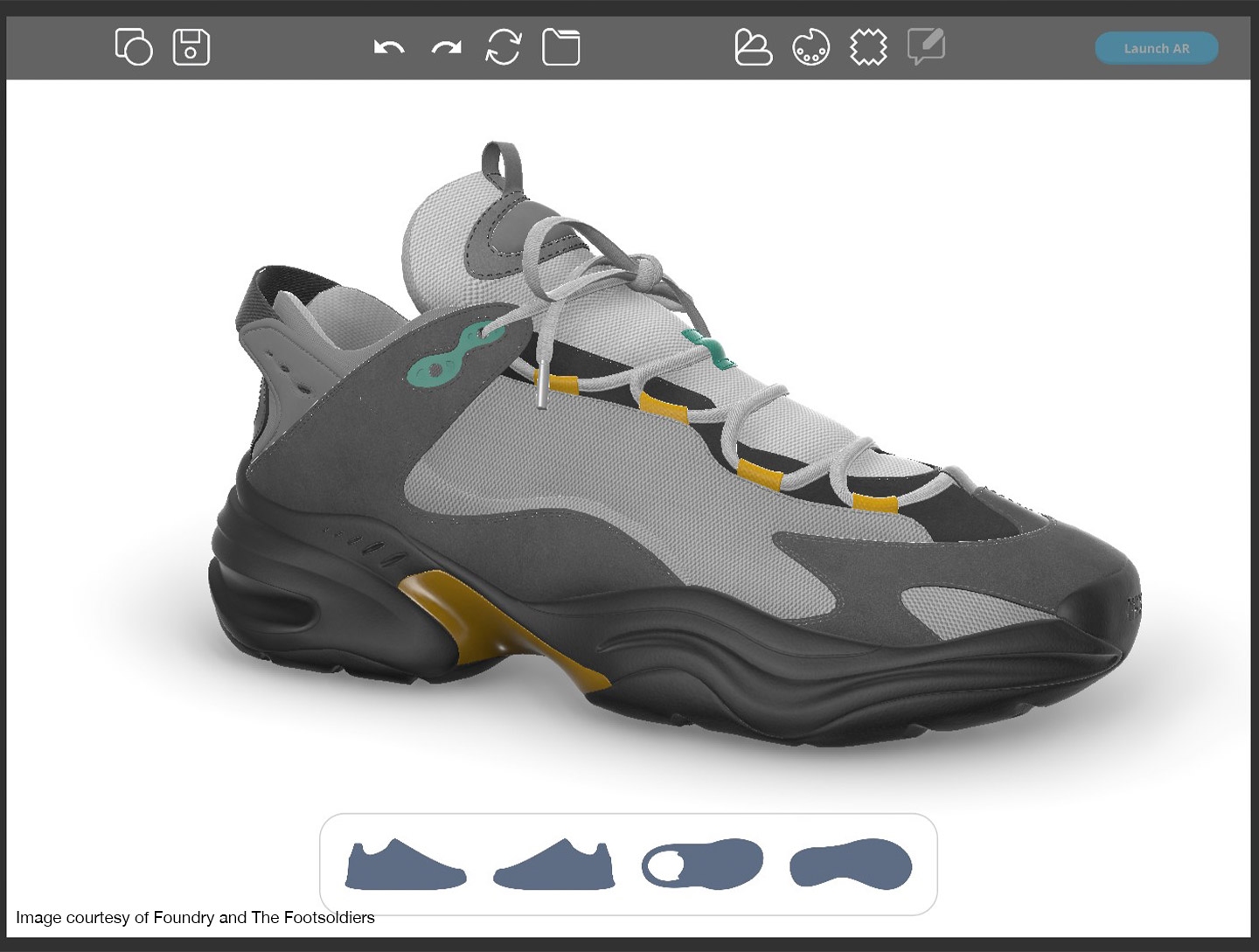 The ability to showcase designs that could be projected right in front of their creator is going to speed up the whole design process, speeding selection and reducing the amount of sampling.
The challenge lies in unpicking what is typically a difficult technology with AR—but this is something that the Colorway AR project set out to overcome, to happy results.
Speaking of using AR experiences and technology in a tablet format—a combination which was fundamental to the project—Jon is quick to point out the benefits.
"Having watched designers at The Footsoldiers with this application, they pick it up amazingly quickly," he comments. "It's immediately obvious what you do with it. And because they're in that pen and surface environment, they feel at home. By giving them a physical interface like that, there's been less friction in getting them up and running in no time at all."
Ultimately, AR has the potential to save creative professionals vast amounts of time during the design process, made abundantly clear through the Colorway AR project. Combined with something portable and ubiquitous like a tablet, and the results speak for themselves. 
Creatives, watch this space—the future of digital design is immaterial, and it fits in the palm of your hand.
Discover how Colorway can speed up your design process