Tor Frick: Design Without Limits
Discover why Modo remains an essential part of Tor Frick's modelling toolset
Throughout more than a decade of AAA game development, Modo has been a constant in Tor Frick's life. Regarded as one of the leading artists in the industry, Frick has used Foundry's creative 3D modelling software since the very start of his career.
Today, Modo forms the heart of the art pipeline at Neon Giant, the studio that Frick co-founded in 2018, where the improved modelling tools and Radeon™ ProRender GPU render engine in the new Modo 13 Series – backed up by AMD's powerful Radeon™ Pro Duo graphics cards and massively multi-core Ryzen™ Threadripper CPUs – help him meet the often brutal development schedule for the company's debut game: an as-yet-unannounced cyberpunk title.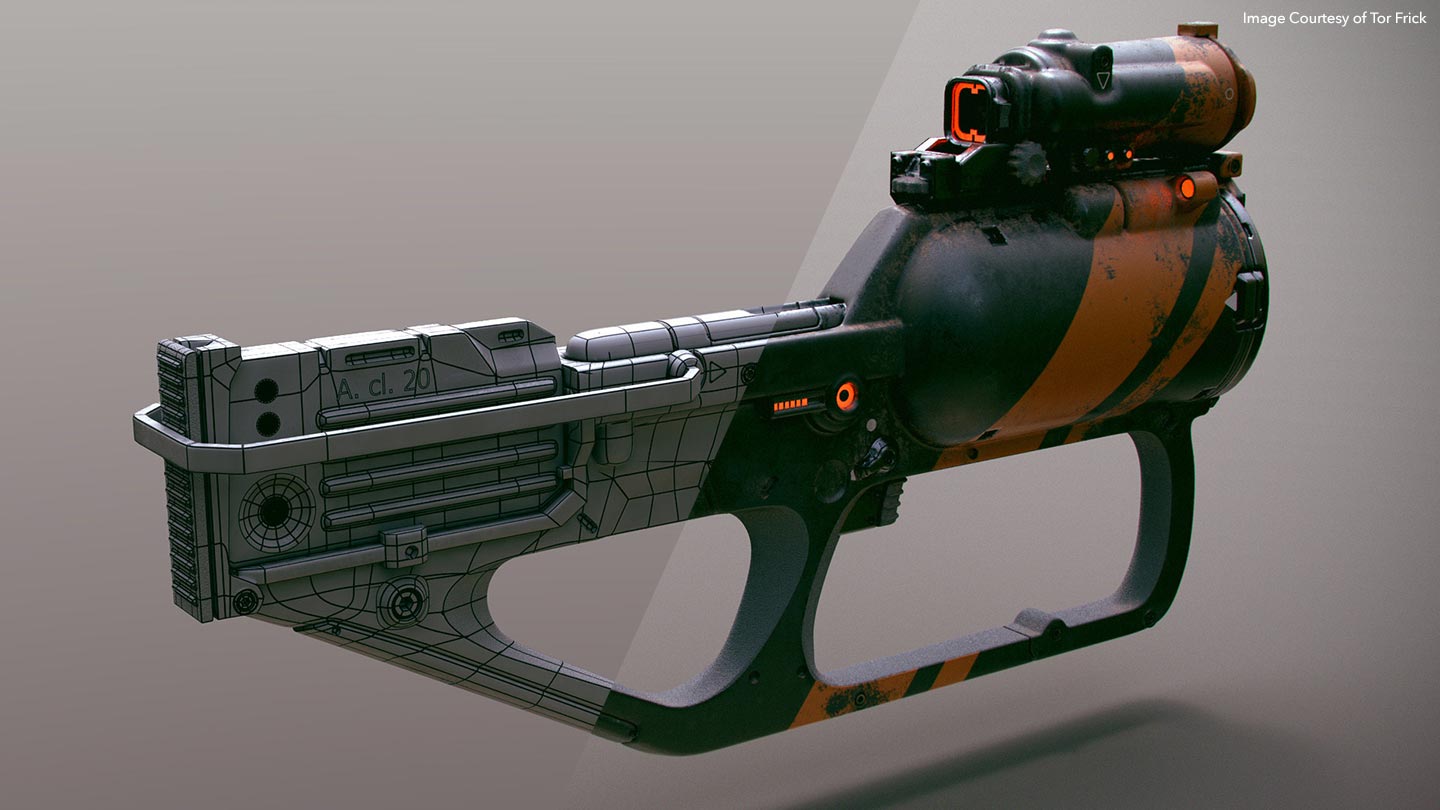 Modelled in Modo
"We're doing pretty much all our modelling in Modo, from weapons and characters to [entire] environments," says Frick. "Modo is well suited to game art because it's so easy to swap between different types of modelling, like subdivision surfaces and low-poly work. It's all seamless."
Frick, who describes his long-term goal as "to blur the line between concept art and production art" also uses Modo in his wider role as Neon Giant's art director, using the software's procedural modelling tools and non-destructive Boolean system to quickly explore designs for new assets.
"You can drag things around [on screen] and come up with whatever crazy mechanical shapes you want," he says. "At the end, you get a very clean result that you can put directly in-game."
Neon Giant now uses the Modo 13 Series, our current cycle of updates to the software, in production, with Frick praising the changes it brings to the direct modelling toolset, particularly the new Find Shortest Path Selection tool and improved handling of falloffs. "Anything that speeds up core modelling workflows is great for me," he says. "Before, I didn't dare to design things as complicated as I do now because they would have been too hard to model."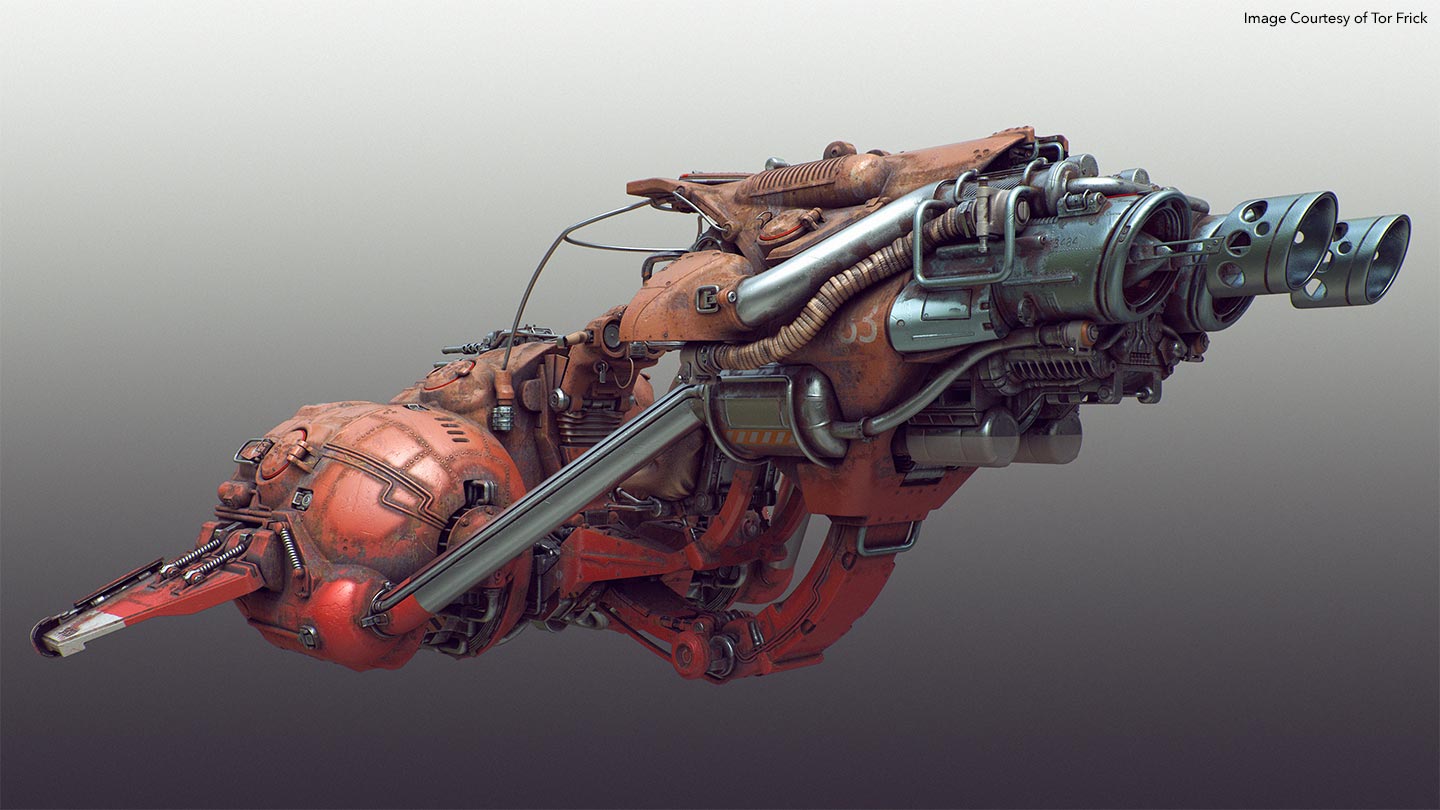 AAA design from an indie team
Frick describes the experience of going from a large studio to an 11-person startup as "fantastic, but terrifying", with Neon Games' founders striving to apply AAA standards of quality to a project with much more limited resources.
"As a smaller team, you could just build fewer assets," he says. "But in our case, we're doing the opposite – we're just trying to make everything really, really quickly. I don't think I've spent more than a couple of days on any model in the game, from the very first idea to the finished product."
Modo's fast, flexible modelling workflows help Frick to stick to this punishing development schedule, day in, day out.
"We need a phenomenal number of assets, so we've built our art pipeline around that," he says. "Pretty much that entire pipeline revolves around Modo. It's at the heart of everything we do."
See Tor Frick and Neon Giant's work at artstation.com/snefer and neongiant.se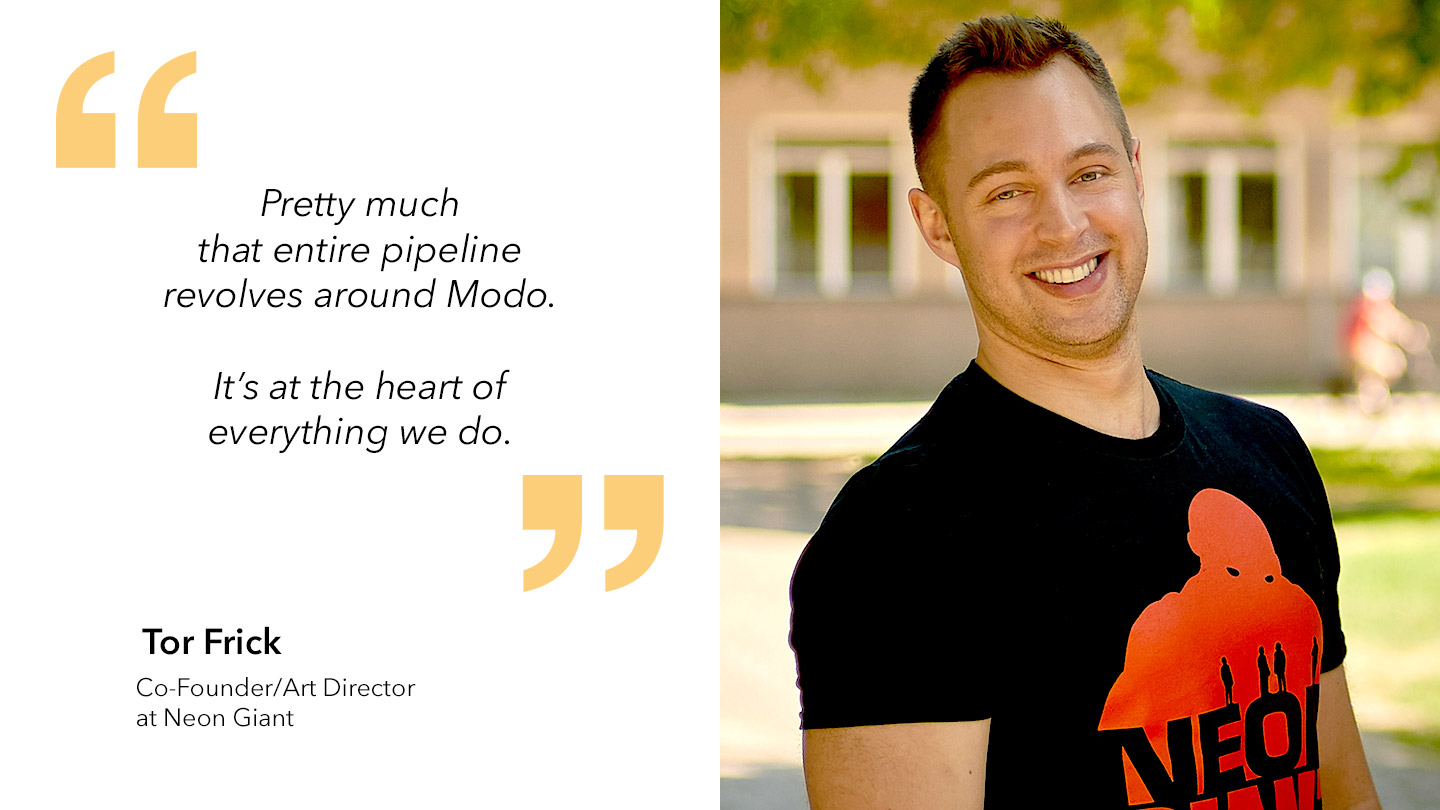 Making games great with Modo
Artists like Tor need consistently high-quality tools and software to support their game development efforts. That's why we're committed to optimising and improving Modo frequently - leaving no stone unturned, and no bug unfixed.
The Modo 13 series sees speed boosts and new tools to help artists create more complex models. Artists can expect increasingly significant improvements in performance during this release cycle - particularly when working with the kind of assets that Neon Giant creates in production. The process of converting mesh geometry into a surface that can be drawn to the screen is now up to four times faster, really accelerating animation playback.
Artists can also make better use of the power provided by high-core-count processors like AMD's Ryzen™ Threadripper™ CPUs thanks to optimised multi-threading. The speed boost makes it possible to manipulate complex meshes with multiple deformers interactively in the viewport.
Modo's modelling tools continue to evolve, with a new Tool States Presets system enabling artists to save and reuse custom settings, and updated options for creating bevels, selecting and thickening geometry, and for transferring vertex information between meshes.
MeshFusion, Modo's real-time Boolean system, can create surface strips from curves, while the procedural modelling toolset offers a range of Mesh Operations, including Curve Sweep and Flip UV.
Further down the production pipeline, animators can make use of a Morph Container system, which enables morph relationships to be created independently of meshes, making it easier to transfer sets of corrective blendshapes from one character rig to another.
Modo's Advanced viewport provides unmatched support for progressive anti-aliasing, raising frame rates when navigating complex scenes, plus improved display of ambient occlusion, shadows and area lights. In addition, the software can import and display many shaders in AxF format, X-Rite's popular standard for exchanging material data between CAD applications.
Want to see how Modo can make modelling easier for you and your team?