Best practices for your lighting pipeline
Previously, we looked at how to deploy Katana into your workflow and how the lighting and look development tool can help to remove pipeline friction. In this article, we'll continue exploring the toolset and explore the best practices and features to help you to further optimize your workflow. 
Before starting deployment, it's important to consider the flow of your project through departments in a way that can take advantage of the opportunities provided by Katana. You want to ensure you're optimizing staff time so artists can work on more shots and effectively utilize lighting across all projects, scenes, and sequences. 
To do this, you can ask yourself these two key questions: 
How many people do you need in your lighting team? 
What is their inventory flow from upstream departments? 
Working with department supervisors and maintaining scheduling best practices is crucial to fully realizing the potential of Katana in your pipeline. It's common that we hear about studios being able to use less staff than expected, even on their first show. With all this in mind and so many things to consider, how exactly do you prepare your studio for Katana deployment? 
Prepping your pipeline
The length of time it takes to get Katana set up in a pipeline depends on how complex your existing pipeline is and what needs to be changed. Some studios, like  FutureWorks, have produced their first project within the first month of adopting Katana whilst others have taken longer to get to this stage. It is all dependent on your setup, workflow, and pipeline, but there are things that can help speed up this process and make the transition easier.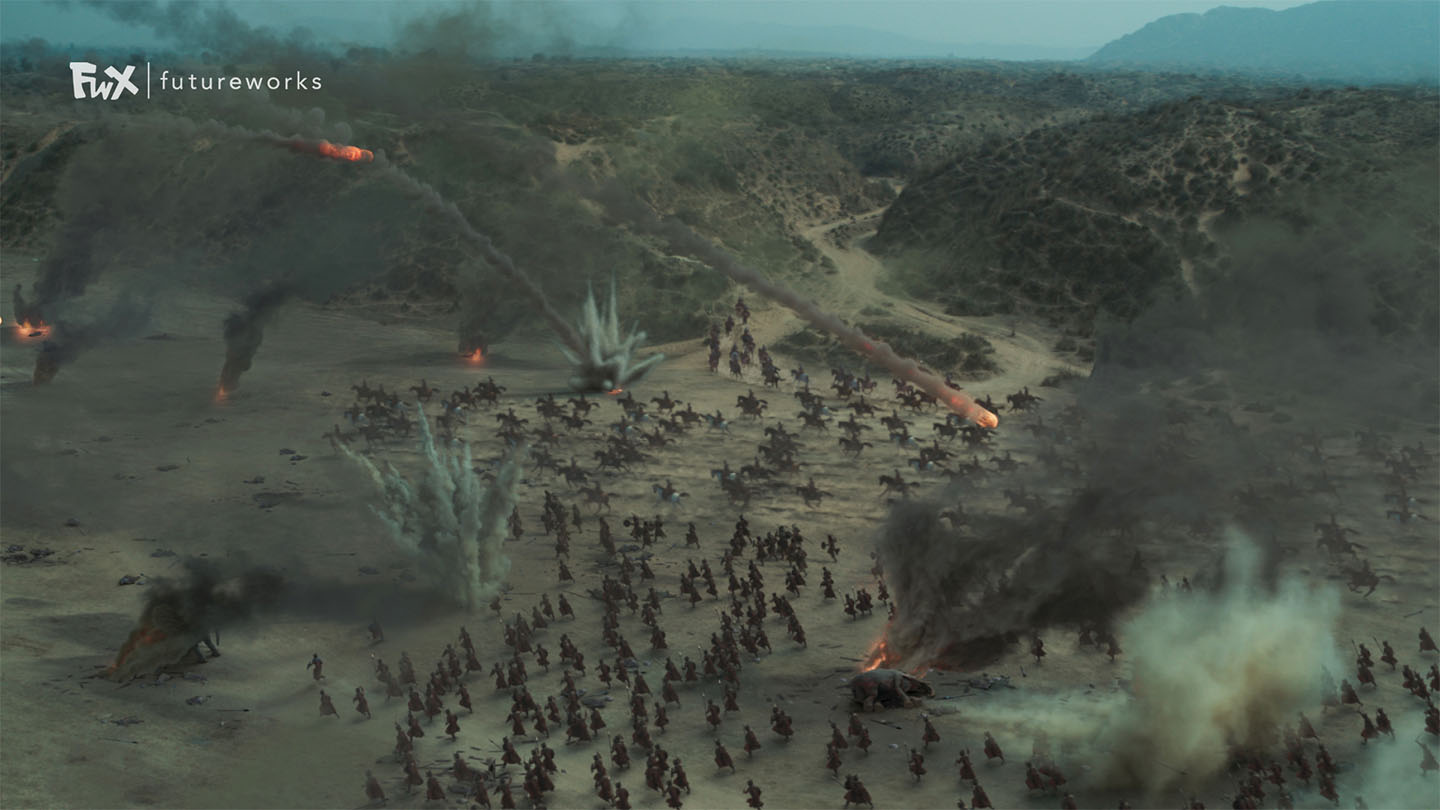 If your pipeline uses geometry caches to feed the lighting pipeline, alongside rich metadata and tagging to communicate information about render layers, shaders, etc, this can make the transitioning process quicker and easier. It also helps if a pipeline has shot production organized in hierarchies to facilitate turning over large chunks of inventory that allow artists to build momentum—something that Katana is extremely adept at handling. With this, it's good to think about the handoff between departments as well as managing the inventory delivery from upstream to downstream departments and vice versa. It can also be useful to have a separate look development manifest file and scene layout manifest file.
If you don't yet do geometry caching, USD comes as a convenient solution. It provides a way to robustly and scalably interchange and augments arbitrary scenes composed of many different assets. And if you're not ready to adopt USD, Katana has its own separate look development manifest file called the Katana Look File to facilitate this. 
For those studios that don't do any of the above, the adoption of Katana will be slightly slower but you'll still be able to get the full benefit of the software once the integration has happened.
Guiding you out of darkness
When you're all set up and ready, you can start enjoying the toolset and experiencing all the features it has to offer. In our latest release, Katana 5.0, we improved upon our artist-friendly lighting tools and established features to ensure that users had the best experience while using the tool.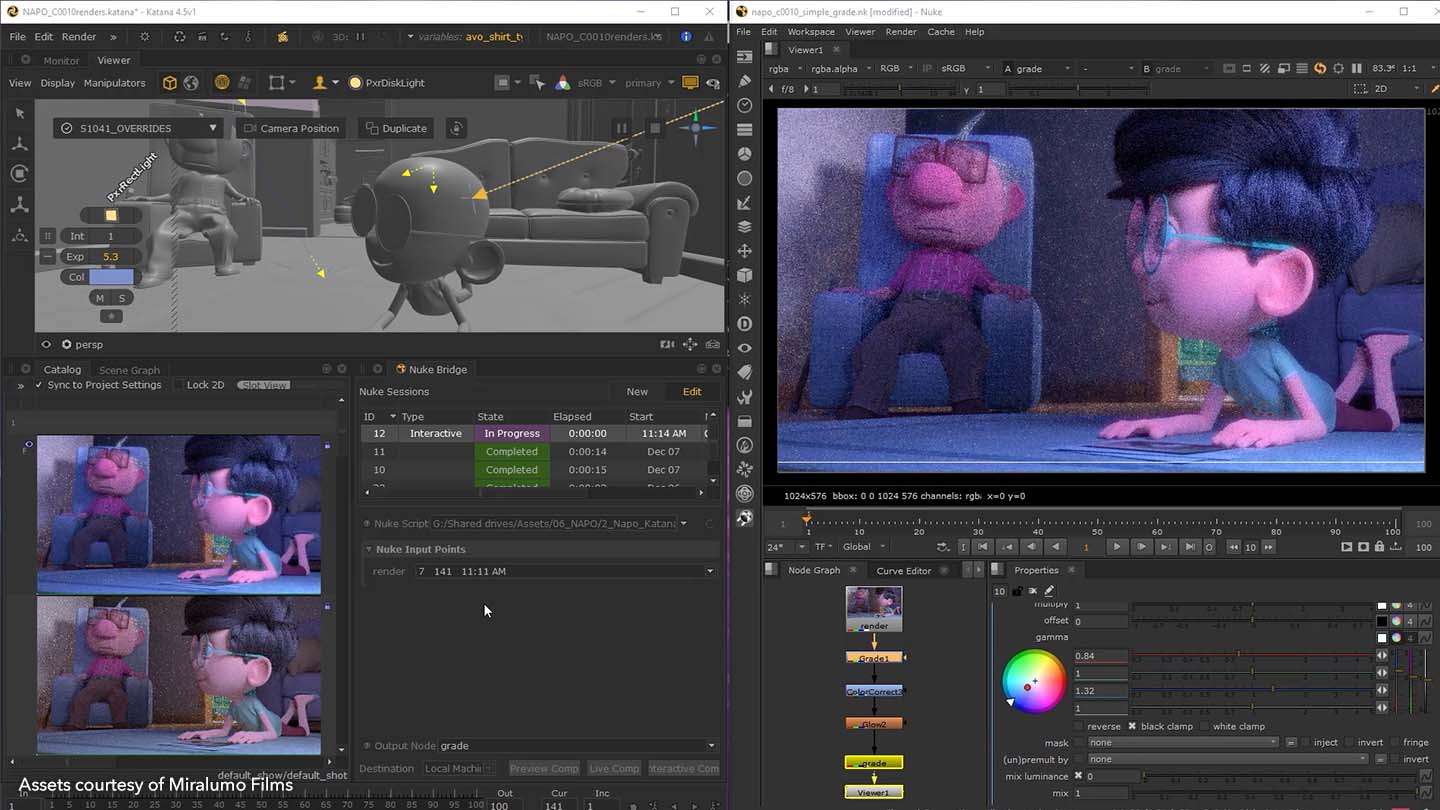 This included the Nuke Bridge which allows artists to see their work in context of a Nuke render in a feat of pipeline interoperability. Renders from Katana are live-streamed to a running version of Nuke as part of a full comp environment either on a local machine or sitting on a farm. Being able to see a composite from Nuke directly inside Katana empowers artists to create with clarity and confidence, and to know that what they're getting is accurate for their needs—quickly and efficiently.
Katana is also continually evolving its USD capabilities including its Hydra viewport, powered by USD tech. It provides artists with a rich level of fidelity for impactful interactive feedback. The USD import and export nodes allow studios to use USD in production with Katana, enhancing flexibility and collaboration. The source code for the USD plug-in is also open source. 
What's more, Katana's scalable interactive rendering capabilities give artists formidable creative workflows for any pipeline. Foresight+ allows you to simultaneously render multiple images as you work across multiple shots, frames, or assets from within one Katana project file. The additional horsepower of networked machines provides faster renders and scalable feedback, and the added knowledge that you're making all the right choices. Foresight+ also enables artists to see every change made that influences all their shots in a sequence, live, inside Katana, without having to wait, raising the quality of all shots.
It's time to deploy 
With all the information you've gathered from this series, it's now time for you to begin your consideration and decide whether to deploy Katana into your pipeline. The first step can be a scary one, so if you need extra assistance please don't hesitate to reach out to a member of our support team who will put you in touch with the right person for you and your studio. 
Want to try Katana first?