Animation studio? Here's how your review process could be more efficient
It's no secret: countless rounds of review and iteration as part of the post-production process cost time and money, both of which are in short supply.  
A rock-solid review process is therefore essential to the smooth running of any production pipeline—not least animation, with its typically lengthy rendering times and onus on creating content from the ground up.
Foundry's family of editorial and review tools—made up of Hiero, HieroPlayer and Nuke Studio—work together to mitigate the challenging pace brought on by animated productions, making the whole process more streamlined. Just ask Tokyo-based animation studio Polygon Pictures, who uses node-based compositing tool Nuke alongside Hiero and HieroPlayer for an efficient review process that ensures projects meet deadlines and client demands.
Any changes or edits made in any one of the three tools can be reflected in the pipeline, avoiding round-tripping between packages and instead empowering artists to work in a holistic review environment across different stages and styles.
But what specific features make these tools an essential review tool facet in any animation studio's arsenal? We sat down with our resident Hiero expert Juan Salazar, Senior Product Manager - Timeline and Story to find out.
Timelines: keeping animated projects on-track
The power of Foundry's family of editorial and review tools lies in their shared timeline. We've already covered why working in context on a timeline hugely benefits the review process, but it's especially important in animation, where continuity is a must.
Where in traditional visual effects the continuity is usually sorted on set—live action characters typically start in the same position between shots, and objects stay in the correct place—artists working in animated productions are instead recreating that from scratch from sequence-to-sequence.
These same artists need to know in the previous animated shot the CG character finished in a certain pose—with their hand in the air, for example—and animate the next shot accordingly. Having access to a shared timeline facilitates this holistic view of the creative process and makes continuity between shots that much easier to achieve.
"Timing naturally feeds into this," Juan comments. "As part of the review process and to ensure that all shots feel seamless, an artist might ask things like: is the timing of the shot correct? Does it feel like it's moving at the right velocity or not?
"Working on a timeline means that you can stretch the shot or read time to get the right answers to these questions, and communicate this onto the wider team so everyone's on the same page."
Versions and Snapshots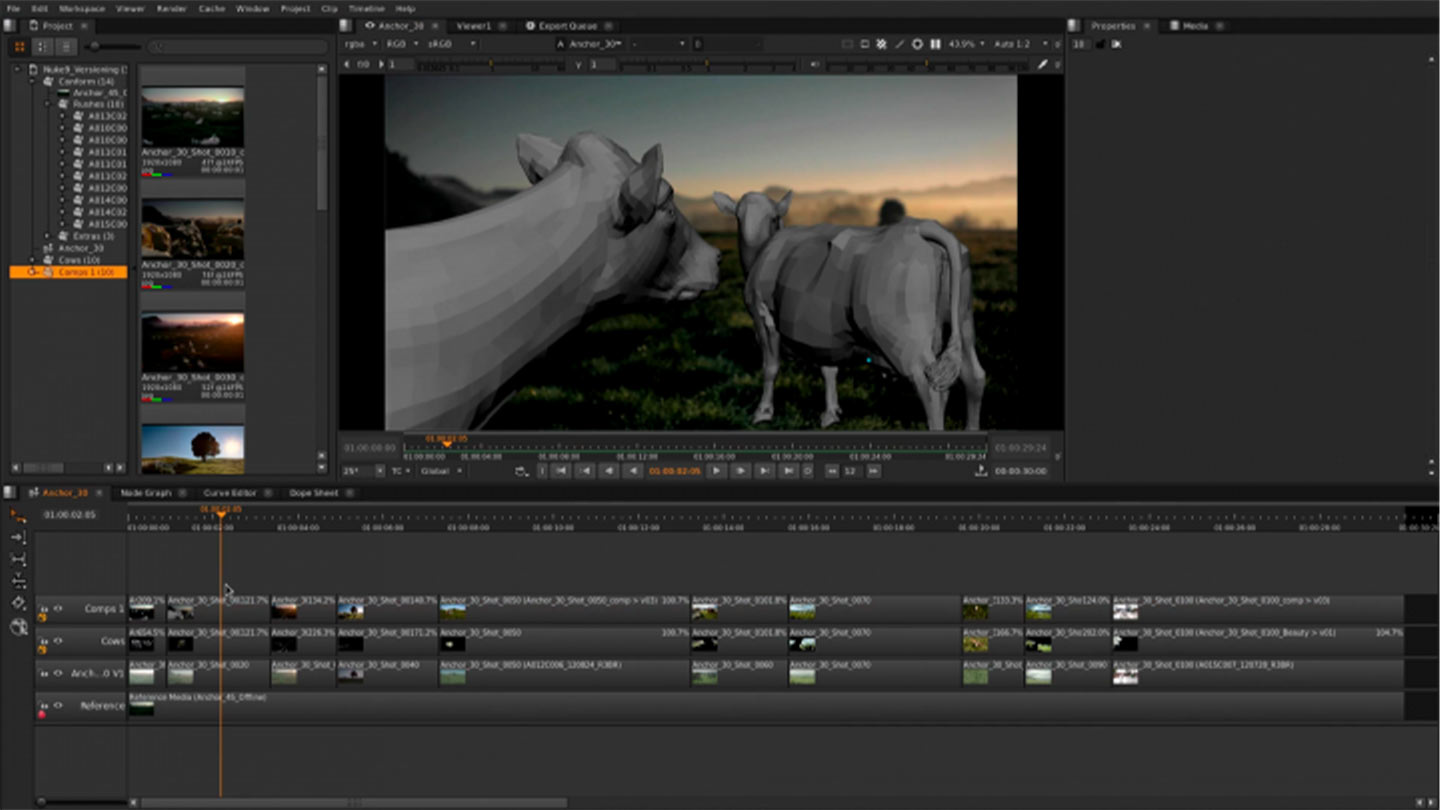 Alongside the benefits of timeline review, Hiero helps manage your animated projects via a robust versioning and snapshot system. Versions and Snapshots can be used in Hiero to record the different states of your workflow as you progress, in addition to the regular project save and restore options.
As children of clips, Versions can be added to source shots to allow greater flexibility in your workflow. You can have any number of Versions per shot as long as they follow the correct naming conventions, and cycle through them quickly using keyboard shortcuts. Bring new versions of shots into the timeline and swap between them quickly and easily.
This capability makes comparing and reviewing work at different stages, and work done by different artists, much simpler for unbridled creative collaboration.
Speaking of versioning, Juan explains: "You can go back to the animatic, right down to the layer—to the blocking of the animation. You can go between different stages very easily because of the Version reference. Essentially, you have a reference of all the stages across the animatic and can refer to things that have come before."
"Coupled with Hiero's timeline, you can easily track and compare everything—say, for example, two sequences with the storyboard—whilst doing that all in one place, and in context of the entire animatic."
Snapshots, meanwhile, are time-stamped copies of a sequence, allowing you to save its current state without the inconvenience of saving the entire project, thereby accelerating the entire review process.
Channels
Alongside Versions and Snapshots, Juan also lauds channels as being a crucial part of efficient review sessions.
Digital images generally consist of the four standard channels: red, green, blue, and alpha. Nuke allows you to create or import additional channels as masks, lighting passes, and other types of image data, before reviewing these in Foundry's family of editorial and review tools.
"Whilst most editorial packages provide the ability to review RGB channels, you typically then have to check these in another software package or asset manager to make sure the files were rendered correctly," Juan explains. "You end up in these different places, doing different types of review."
"With Hiero, you're reviewing channels in a single place. You can check all the passes in HieroPlayer and Hiero with the channel views. You make sure everything is correct, review it in real time—plus playback—and review the shots in that sense."
It's worth noting that a Nuke script can include up to 1023 uniquely named channels per compositing script. Multiple render passes from a 3D scene can be stored within one image sequence in your composite before being reviewed on the shared timeline across Hiero, HieroPlayer and Nuke Studio.
The power of Python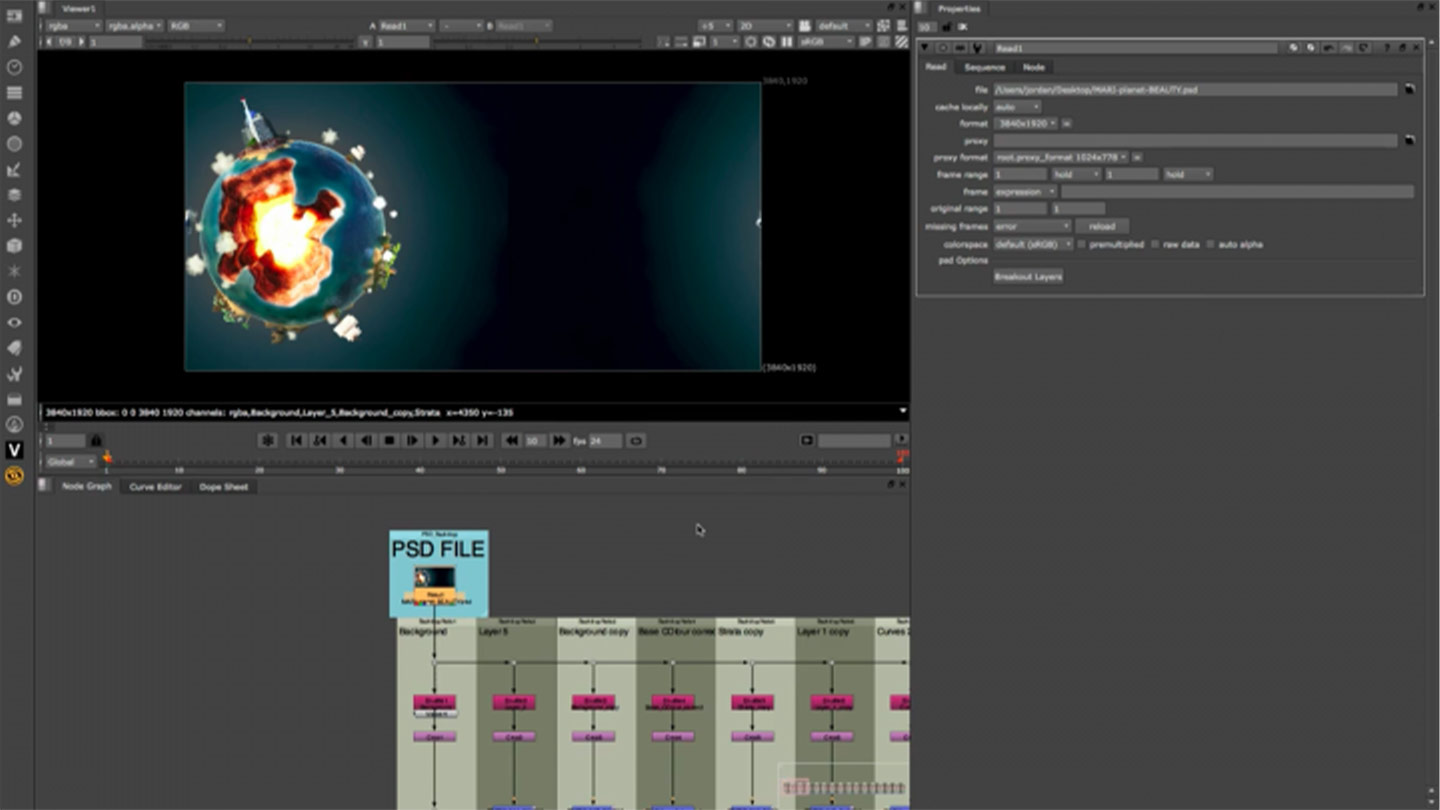 Underpinning Hiero's open and flexible software architecture is its Python scripting engine, providing a vast number of routes for customization.
Available across the entire Nuke family, the Python API unlocks unbridled potential for developers as part of the review process, allowing them to manipulate the underlying data in a Hiero project and to manipulate Hiero's user interface. It allows rapid development of everything from custom exporters to custom user interface panels within Hiero to communicate with asset management software. 
Users of Python additionally benefit from a vast array of prebuilt modules, including tools for XML reading, database access and much more.
As Juan explains, using Python, "you can make your own implementations of how you communicate edits and changes into the rest of the pipeline"—perfect for animated projects in which communication and collaboration is key to achieving a pixel-perfect end result.
This same sentiment is reflected in Juan's final thoughts on the matter.  "The bottom line is—the better your review sessions are, the easier communication becomes across teams, and the faster you get to a final image."
Discover how Foundry's Editing & Management solution can support your review process on animated projects