Katana pipeline deployment: key considerations, benefits and best practice
To meet and exceed the demands of today's rapid production cycles—often accelerated by an increasing appetite for episodic content—artists need tools that can break barriers to ensure their throughput remains sky-high.
This has clear ROI advantages for visual effects and animation studios, wherein ROI becomes synonymous with efficiency. And even though efficiency may mean one thing to a producer, and another to an artist, the underlying principle remains the same: to be able to do one's job better.
This same principle is what drives the team behind Katana's ongoing development here at Foundry. Recently released Katana 4.0 stands as a shining example; its pioneering new features like Artist-focused Lighting Tools, Multiple Simultaneous Renders, and Networked Interactive Rendering ensure that look development and lighting artists working in Katana can complete more high quality work faster than any other tool. The sheer power of Katana means that it can handle huge scenes without the help of additional resources. Load times for a Katana project file are measured in seconds, not minutes.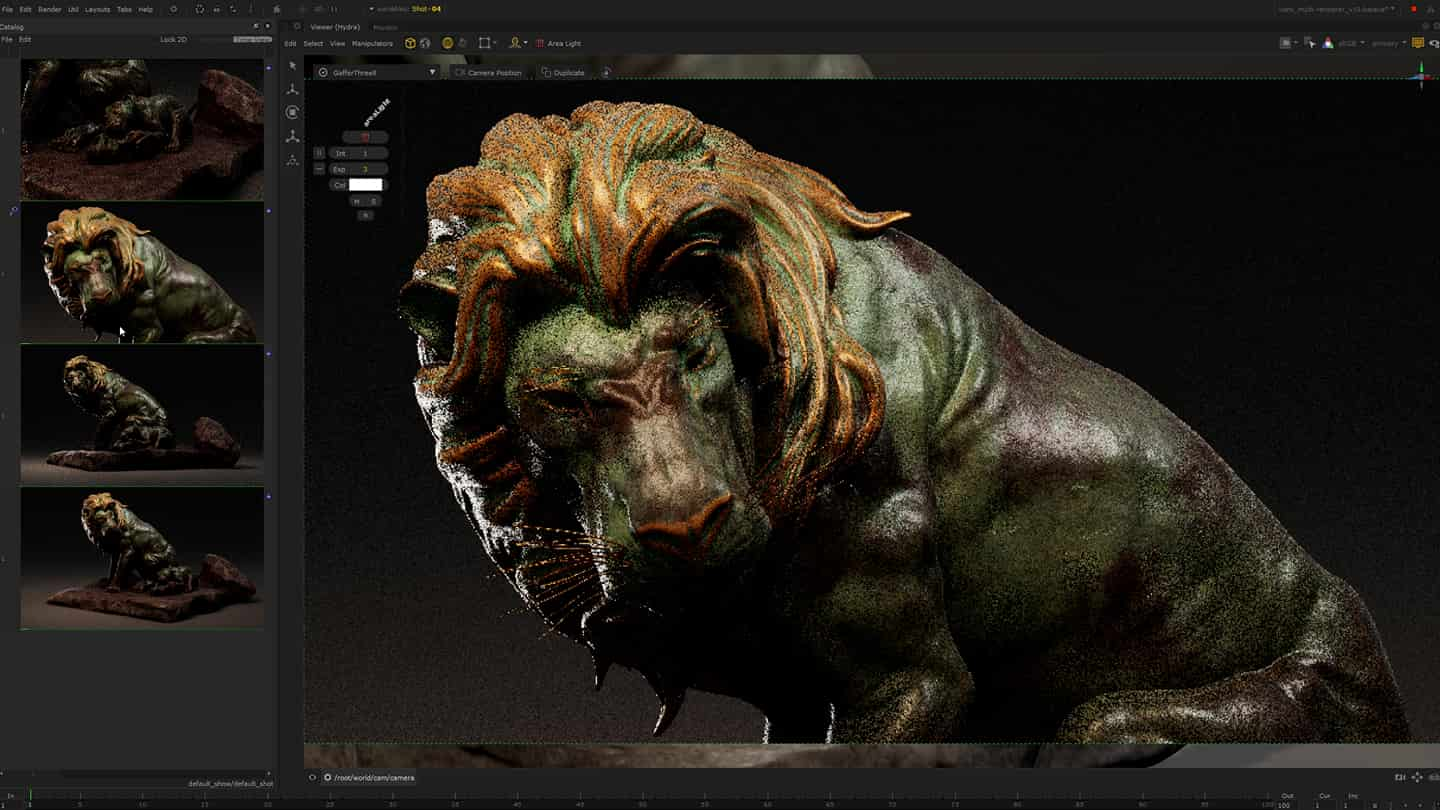 For artists, efficiency in this sense boils down to more creative freedom. It means that they're given more time to fully explore the work that they've signed up to do—whether that be look development or lighting—and can spend more time completing tasks they love. They're not managing crazy load times or ironing out technical glitches. They're spending their time being creative.
For studios, a pipeline with Katana naturally leads to an ideal-sized team of the best artists, with heightened satisfaction and productivity levels. But also, with Katana in their pipeline, it's likely that these same studios will experience longevity gains, whereby Katana's ongoing development consistently provides new ways for studios to work faster and more efficiently. Katana doesn't stagnate in a pipeline—it dynamically flows and adapts along with the studio, supported by features like Katana 4.0's Foresight Rendering and Artist-focused Lighting Tools to level up a pipeline .
With all that being said, adopting Katana for look development and lighting may seem more of a pipe dream than a reality for most studios, as technical and resource barriers make its integration a daunting prospect. But it doesn't have to be.
In this article, we take a real-world approach to the hows, whats and whys of a successful Katana pipeline integration. We'll talk through practical considerations—such as who needs to be involved, and how much time needs to be invested for those looking to deploy Katana in their pipeline—and what needs to happen to make the efficiency gains highlighted above become a reality for your studio.
Who needs to be involved?
Pertinent questions any studio should ask themselves when beginning the process of Katana pipeline adoption include: who will spend the most time in it? Who will need to learn the most? And who needs to just be aware?
For context, artists who only have to work in a Katana pipeline can be trained in a day, with most people becoming very comfortable navigating the tool in their first week. However staff that need to make pipeline choices and teach others will need a little more time to get up to speed, especially if they're new to Katana.
With this in mind, who are the key players, or the 'tip of your spear', who need to understand the most?
Crucially, pipeline developers and technical directors will serve as the lifeblood of getting Katana set up in your pipeline, and should be involved immediately in the integration process. Meanwhile, CG supervisors also need to thoroughly understand the ins and outs of a Katana integration, as they will serve as the bridge to your clients, creative stakeholders and internal teams.
Department supervisors and leads—specifically, look development and lighting—need to also buy into Katana, along with supervisors from other departments including modeling, texturing, and compositing as these all overlap with Katana's capabilities. For example, the modeling department needs to know what hooks they're going to have to provide in order to facilitate look development in Katana to its greatest capacity.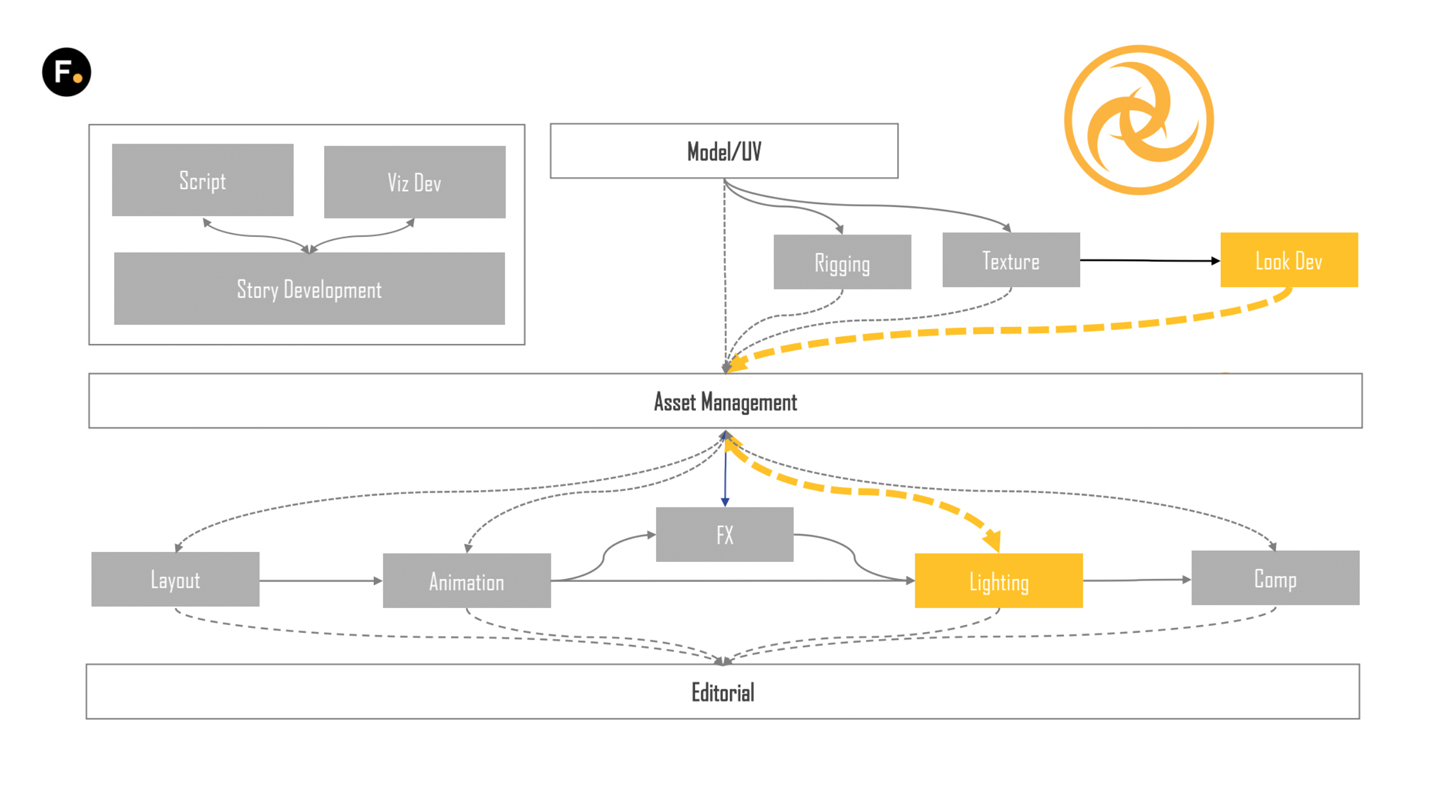 Next, there needs to be a group of people that will be trained in Katana. This typically comprises of look development and/or lighting artists, effects artists, render wranglers and so on. This group needs to understand how to work in the software. They may not necessarily have a say in how the pipeline is set up, but they need to know what's expected of them, what choices have been made, and why.
How do they pull in the material? Where do they publish it to? How does Katana typically work with another tool they're using? Once these sorts of questions have been answered, artists working in Katana can be up and running in a matter of days, and some may even contribute shots on day one. They have the template already set up, they've been told which nodes and tools to use, and they can get underway immediately once Katana is set up and plumbed into a pipeline.
Finally, there are those involved that don't need to know the inner workings of Katana, but nonetheless have a strong impact on how successful Katana can be as part of your pipeline. These include producers and production management, your internal creative team, and possibly even your clients—having enough inventory turnover from clients to you means that you can have enough content in your pipeline to really take advantage of the benefits of Katana.
Circling back to producers and production managers, a key point to note is that if staff in these roles are not guiding the flow of a project through departments in a way that can take advantage of the opportunities provided by Katana, then the whole pipeline misses out on some potential efficiency gains. Questions to ask include: how many people do you need on your lighting team? What is their inventory flow from upstream departments? Working with department supervisors and maintaining scheduling best practice is crucial to fully realising the potential of Katana in your pipeline. It's a common theme that we hear about studios who used a lot less staff than expected even on their first show.
How should you prepare your pipeline?
We've talked people—now let's talk pipelines.
In terms of timings, the length of time it takes to get Katana set up in a pipeline depends on how complex the existing pipeline is and what needs to be changed. Some studios have produced their first work within the first month of adopting Katana; others have taken several months to get to this stage. 
Having the 'ideal' pipeline for transitioning to Katana will make the whole process quicker and easier. Typically, this is a pipeline that uses geometry caches to feed the lighting pipeline, along with rich metadata and tagging to communicate more information about what render layers you expect an asset to go into, what shaders get applied to it, and so on. 
The ideal pipeline also has shot production organized in hierarchies to facilitate turning over large chunks of inventory that allow artists to build momentum—something Katana is extremely adept at handling. This involves thinking in terms of the hand off between departments—what shots might they need first?—and also deftly managing the inventory delivery from upstream to downstream departments, and vice versa.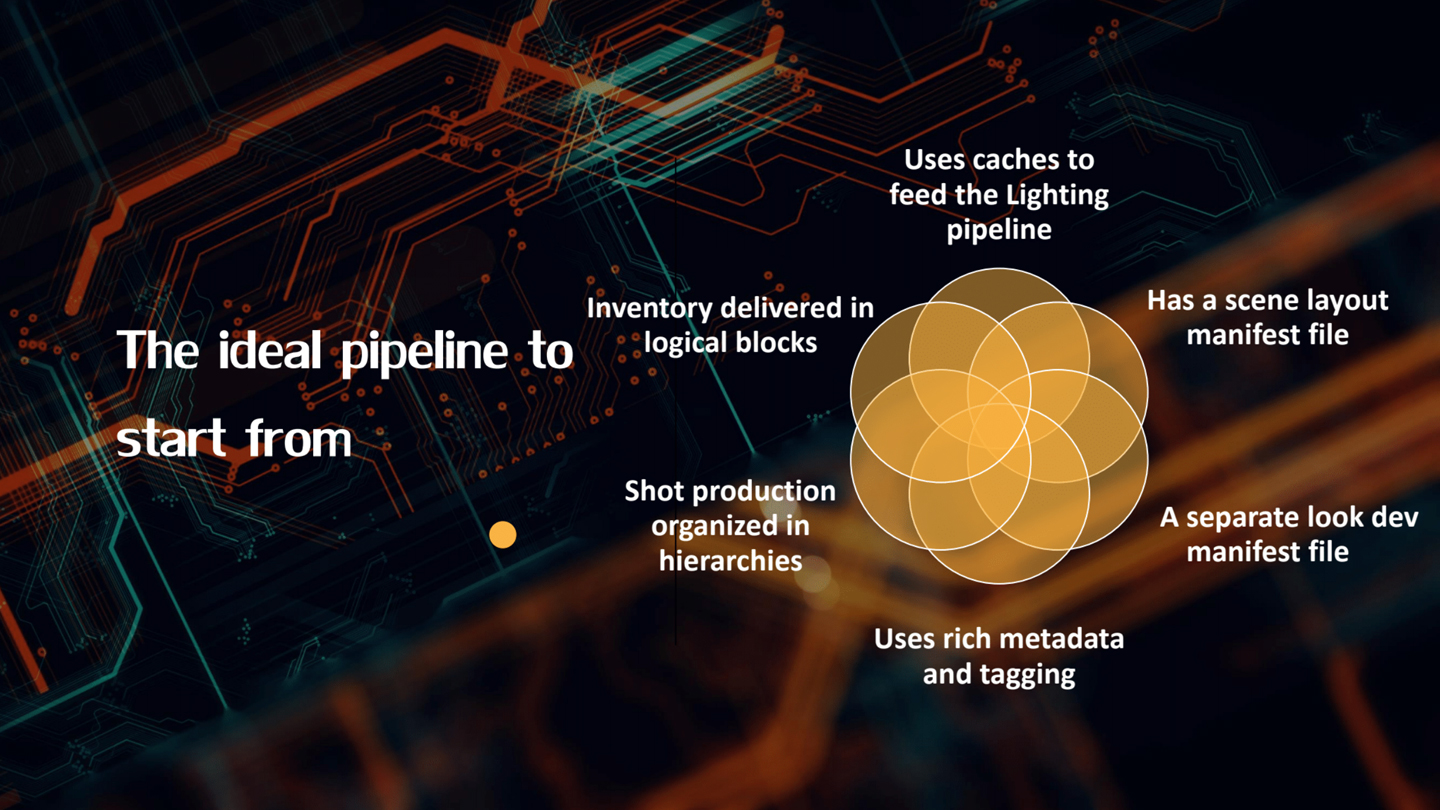 Studios with the most ground to cover in order to get their pipeline Katana-ready include those who don't yet do geometry caching, instead staying within the closed ecosystem of their specific DCC and sharing its native file format. Universal Scene Description (USD) comes in particularly handy as a solution to this, providing a way to robustly and scalably interchange and augment arbitrary 3D scenes composed of many different assets.
USD files cover the description of the actual layout of a scene, whilst UsdShade covers look development through masterful layering of metadata., If you are not ready to adopt USD, Katana has its own separate look development manifest file—called the Katana Look File—to facilitate this.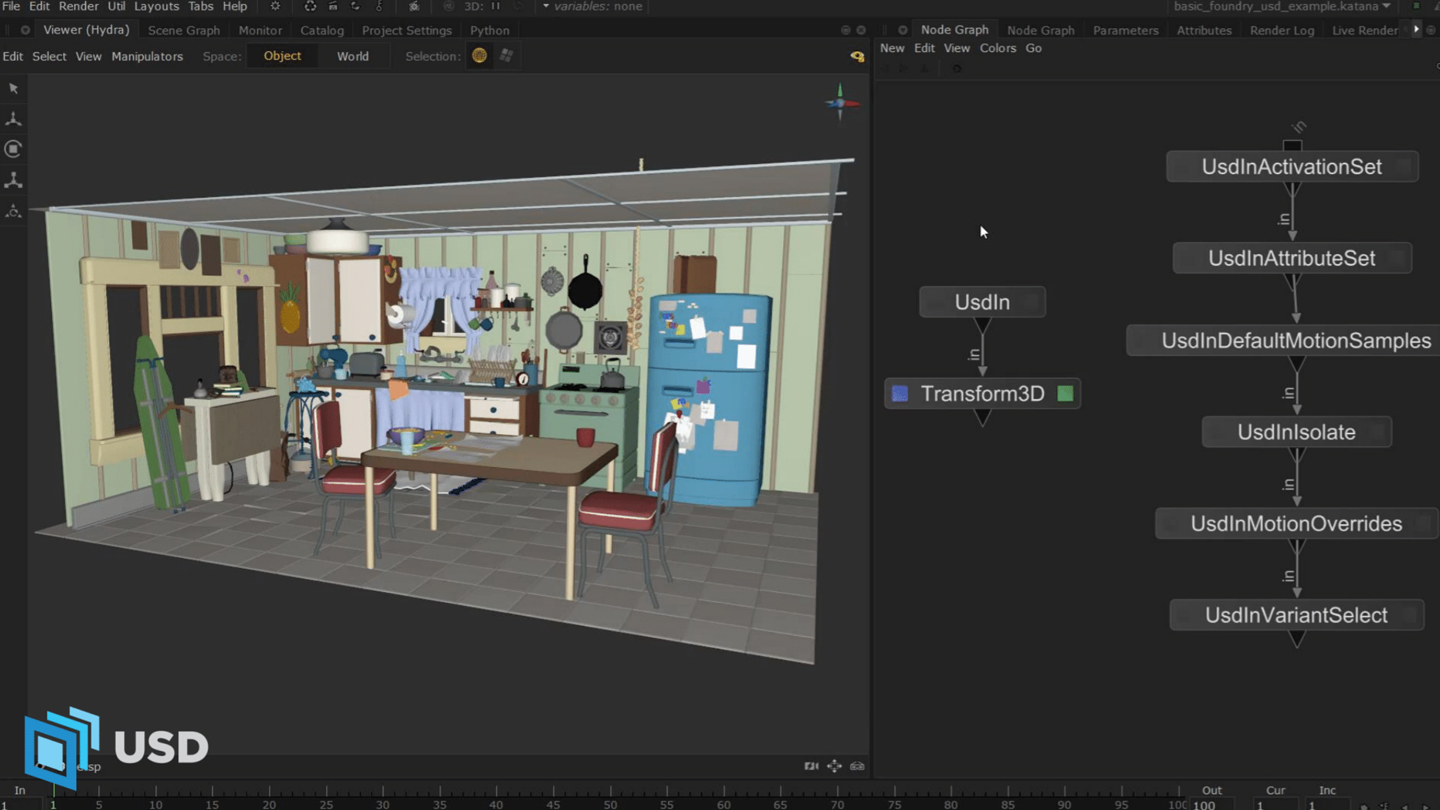 Stepping back slightly, studios that don't make use of geometry caching, USD, and don't think in terms of sequence based shot hierarchies will have to think harder about the changes that need to be made in order to adopt Katana. The good news is that you don't have to think about your entire pipeline; there are only really two places in the pipeline that you're looking to change and insert Katana—look development and lighting.
In the case of the former, Katana kicks in after you've finished painting rough textures and shaders, and when you're instead beginning more refined three-dimensional look development.
In regards to lighting, shot production takes place in Katana, using Look Files or USD Shade data that can be stashed into your asset management system to be traded back and forth between look development and lighting teams for seamless creative collaboration between the two.
Whilst this is a very simplified view of these two workflows and how they interact, we nonetheless hope that it makes the prospect of integrating Katana that little less daunting, as there are only two main parts of your pipeline you'll need to focus your attention on.
Next steps
Hopefully, this article gives you a more well-rounded picture of the realities and advantages of integrating Katana into your pipeline. For a deeper dive into the above, watch Jordan Thistlewood, Director of Product—Pre-production, LookDev and Lighting, cover everything you need to know in our Katana Deployment Essentials webinar. 
Interested in taking things further? Our resident Katana experts are always on hand to discuss how best to get Katana up and running in your pipeline—simply request a callback.
Otherwise, try Katana for yourself to see the potential it unlocks for your creative workflow.