Getting magical with REALTIME and A Discovery of Witches
Image courtesy of REALTIME
REALTIME brings witches to life using Foundry tools
The witching hour is upon us as the smash-hit TV show A Discovery of Witches releases its second season—the perfect distraction from the mundane day-to-day.
But with great witches comes an even greater pressure to produce high-quality visual effects (VFX). 
Tasked with creating this magical marvel was REALTIME. With a background in cinematic game trailers and automotive CG work, the studio has moved into TV VFX in the past few years—and what a great project to add to their new repertoire.
With Nuke and Mari in tow, the VFX team set about bringing this witchy world to life. We spoke to Sue Land, VFX Supervisor and Head of 2D, and Jason Swift-Clowes, Senior Modeller at REALTIME, to discuss how they created the enchanting VFX of A Discovery of Witches and the challenges of creating episodic content. 
Finding Nuke's inner witch 
Based on the All Souls Trilogy by Deborah Harkness, A Discovery of Witches season two sees protagonist Diana travel back in time to learn about her magic and how to control it. This meant REALTIME had to get creative about bringing the witchy elements to life and making them as believable as possible. 
"In the last 18 months," Sue tells us, "our VFX work for TV episodic dramas has seen us create three dragons, design a lot of magic, simulate rotting bowls of fruit, levitate eggs and, for good measure, conjure up a smoky ghost. Our daily conversations are as diverse as how does a witch access memory, to how does a Fire Drake land, and often enacting this out on zoom."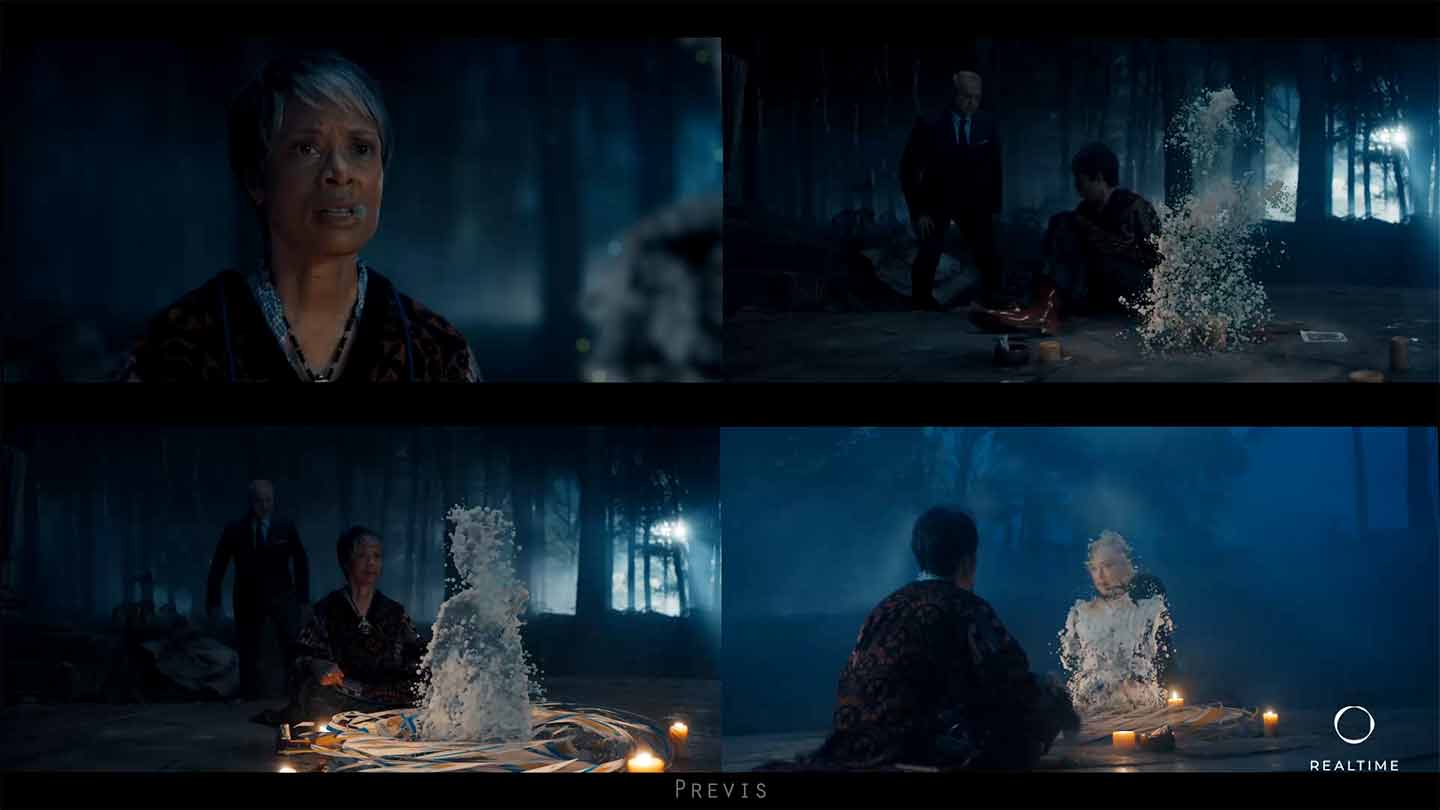 With The Discovery of Witches being an episodic project, the team faced challenges with the volume of data and material that was generated in a short space of time. To manage this effectively, REALTIME needed a robust pipeline that pushed the work forward and allowed the creative process to evolve through the project.  
To ensure this and create the perfect all-around magical experience, Sue and the REALTIME team turned to Nuke, Foundry's compositing toolset.
"Nuke was used [...] for all the roto, clean up and comp work," Sue tells us. "Some post-viz was also done on Nuke, the levitating egg and the snake on the slipper sequences, for example. [...] Nuke was also responsible for some pretty heavy manipulation of those passes, either because of a creative need for maximum flexibility or expediency." 
Thanks to Nuke's robust pipeline, the team was able to create a workflow that would not only save them time but also enabled them to maximize their organization and keep track of their data—all of which is vitally important on an episodic project.
"We used a combination of Shotgun, Hiero, and Nuke to streamline the more mundane parts of the production process," Sue explains. "This reduced human error and gave us more time for the fun part—making cool visuals." 
"Consistency is also a big part of an episodic project, either throughout a season or over multiple ones," Sue continues. "The ability to set up a master workflow for a specific scene or spell which can be rippled out to multiple artists ensures a baseline consistency for the current and future seasons."
With Nuke and Hiero in the fold, the team was able to build the pipeline they needed to get the work done. The ability to import and export cameras in solid formats into other software meant they could use more time to finalize their images and ultimately make them more beautiful—one of the team's main aims. But that wasn't all: 
"Nuke's suite of keying software makes the often painful process of pulling a key much easier. Plus, Nuke's 3D ability is also a really useful tool to have in comp's back pocket; I love the camera tracker," Sue tells us.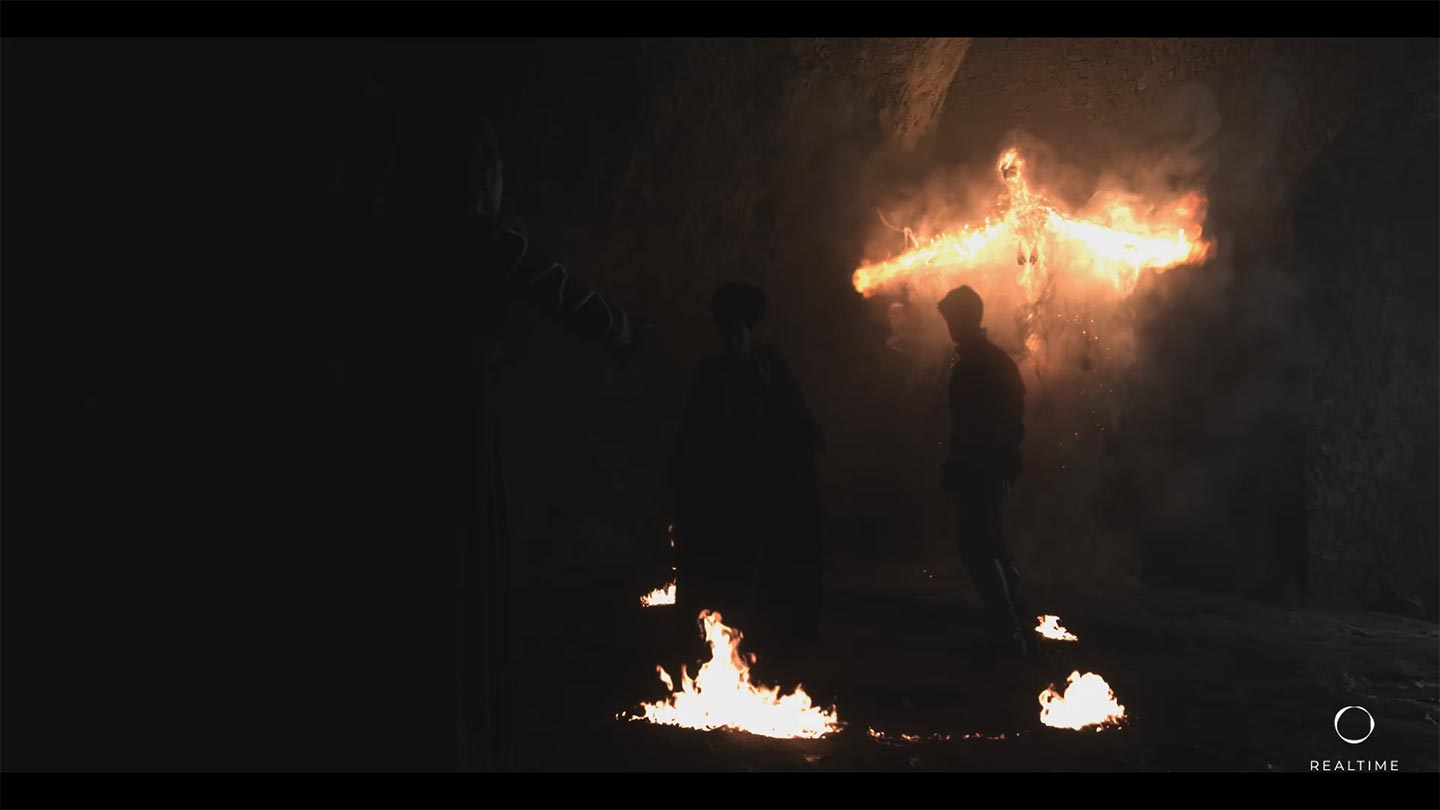 "It's fair to say that Nuke is pretty much the industry standard for compositing high-end VFX work. On episodic work, where there are often multiple vendors, it makes sense if certain software packages are common to all VFX suppliers [...] and having the ability to exchange scripts cuts down on duplication of work, saving precious time in post," Sue continues. 
Painting a mystical snake
Nuke wasn't the only tool that the REALTIME turned to for this project; they also used Foundry's 3D texture painting tool, Mari, to help craft the morphing snake seen in the series. We caught up with Senior Modeler Jason Swift-Clowes to explore just how they did it. 
Using Mari to project a detailed photo reference taken from set onto the snake model, Jason and the REALTIME team were able to get a seamless match with what was shot for the show. 
"Projecting the detailed photo reference onto a non-matching model would have been difficult without the use of Mari," Jason tells us. "The main advantage of Mari in my current workflow is the ability to paint across multiple Udim pages with ease and speed."
And when it came down to the finite details for the snake model, Mari was on hand to help Jason achieve the realistic look of the snake.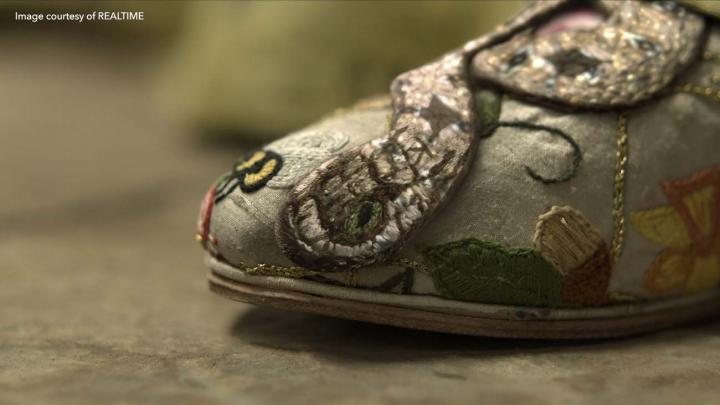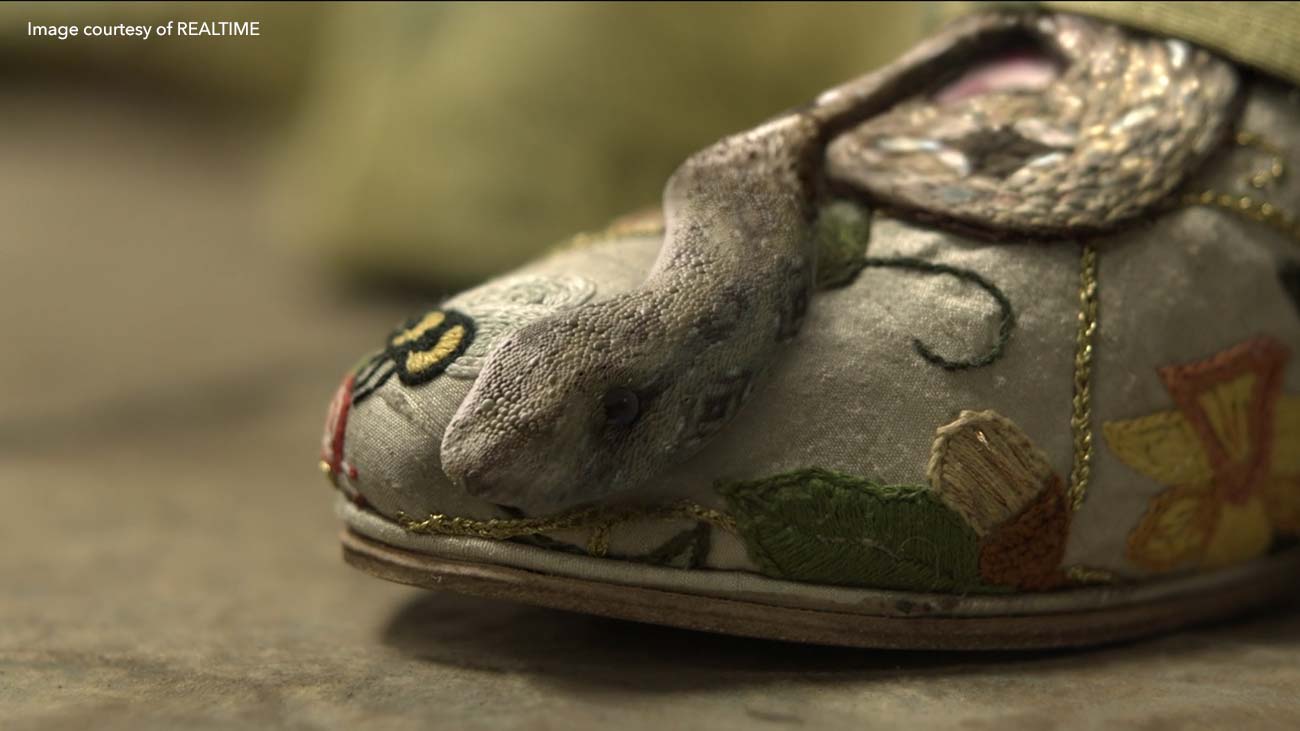 "I used the Paint Through tool, the canvas brush, and various procedural tiles to add the fabric patterning and noise—It gives a great base very quickly through layering."
This ability to line up camera projections and quickly paint masks and apply tiling maps made Mari the perfect fit for the finite details of the snake. Using Mari and Nuke, REALTIME seamlessly crafted the magical elements needed to get the show's witchy feel. 
Working on episodic content
"Episodic TV is the USP [unique selling point] of the streaming services," Sue Land tells us. 
And she's right. At the moment, episodic TV and on-demand sites are on the rise, allowing viewers to binge-watch entire shows over a weekend. With A Discovery of Witches being an episodic show, Sue is well aware of the changing landscape the industry is currently facing. 
"As it still takes the same length of time to produce a new season, it stands to reason that more shows need to be commissioned," she tells us. "So, we're starting to see multiple shows of similar subject matter available, quenching the viewer's constant thirst for new material."
"With the advent of COVID and the resulting multiple lockdowns around the world, this need has grown. People have had more time to watch these long-form shows and try out unfamiliar ones. Undoubtedly this has had the effect of speeding up the growth and popularity of the episodic format."
But, why is our appetite for episodic content continuing to grow so rapidly?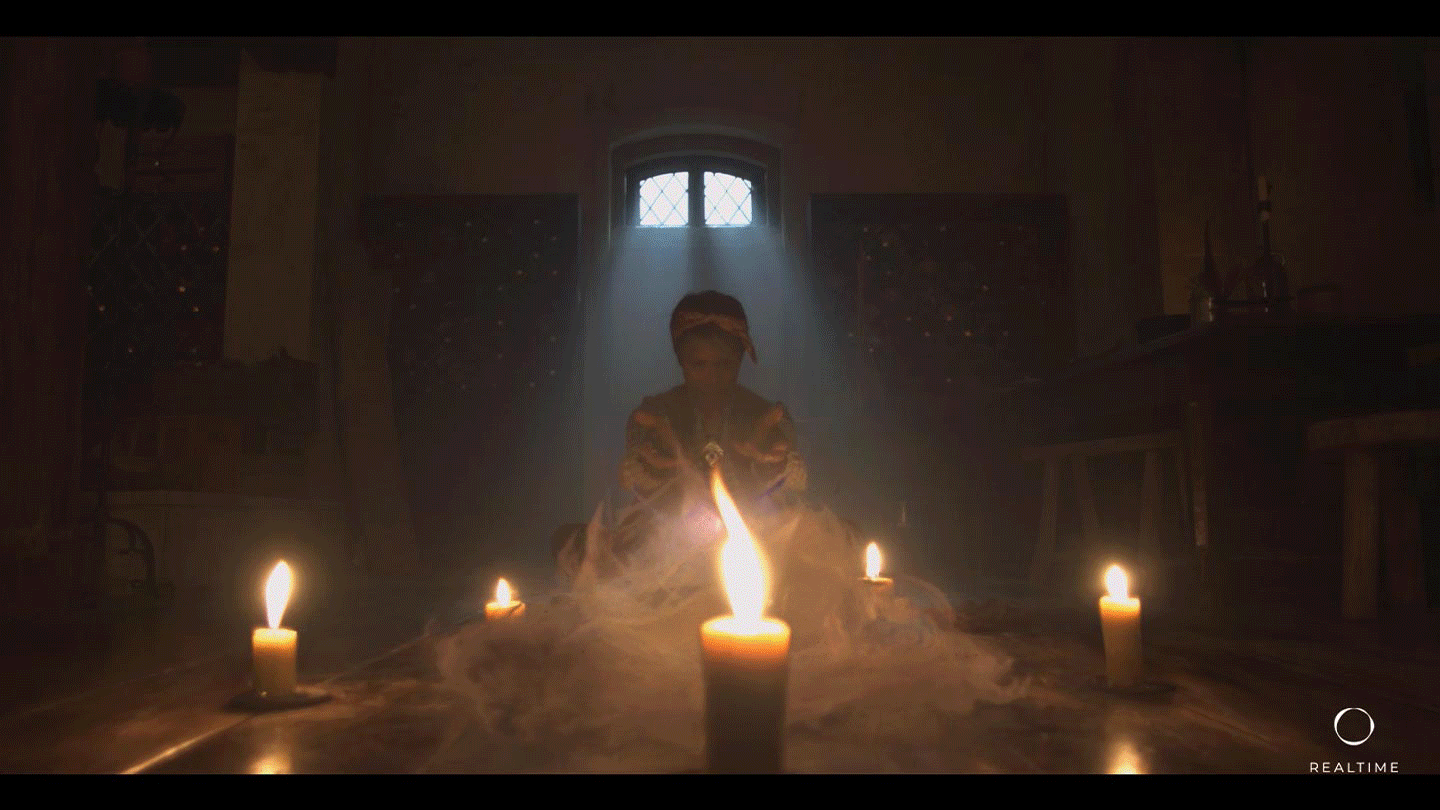 "The confidence is growing for the format, particularly over the last year," Sue tells us, "and improvement is being seen in these areas. In terms of content, episodic TV allows for an in-depth exploration of the narrative material visually and a two-hour film simply doesn't have the scope [...] Previously unsuitable material is now perfect for either the limited or long-running episodic treatment." 
Episodic content is a good means of escapism, especially in times of COVID-19, and shows like A Discovery of Witches transport us to new, magical worlds. Thanks to all the awesome VFX work that goes on behind-the-scenes studios like REALTIME, we can fully immerse ourselves and enjoy witchy content we never knew we needed.
You can watch season two of A Discovery of Witches on Amazon Prime. 
Or, if you want to make magic of your own
Get a 30-day free trial of Nuke