Image courtesy of Mike Campau
Looking for inspiration? Check out these 5 unique 3D art projects
Art, in its most powerful form, comes from a place of passion. A deep-seeded spark ignited within its creator, forged from a diverse melting pot of influences and life experiences, then shaped into something entirely fresh and wondrous. Digital tools have empowered today's artists to express themselves in exciting new ways, as is evident by the sheer breadth of impressive work flowing from the online creative community.
Beyond admiring the diversity of artistic expression on-tap among digital artists in the industry, it's equally fascinating to hear the stories and ideas driving their creativity. Here's a closer look at five talented creators from our community and the inspiration behind some of their visually captivating work.
"Generation Gap" (Mike Campau)
Nostalgia can be a potent force for driving creativity and evoking an automatic response among others who share similar past experiences. For long-time digital artist Mike Campau, fond memories recently proved a perfect muse for "Generation Gap," a series of meticulously 3D modeled retro-themed image recreations from his childhood years.
Between keeping busy with commissioned gigs, ranging from design work for high-profile brands to celebrity clients, Mike often carves out time for personal projects to experiment with new techniques and image styles. Tinkering with digital lighting plug-ins to simulate use of color gels in a lit studio environment, he was struck by the unique contemporary retro effect this produced. This nudged him down the rabbit hole of re-discovering iconic images from his younger days, unearthing a goldmine of inspiration for what would become the "Generation Gap" series.
"It was a fun concept to try and create these objects from my childhood and bring them back to life in the computer," he says. "All of these images reflect some part of growing up in the 70s and 80s, everything from collecting Garbage Pail Kids stickers to my school lunch boxes."
Mike's research for the project rekindled a flood of nostalgia, including memories of many old favorite toys and gadgets he had long since forgotten about. "Generation Gap" was originally meant to be a series of only four or five images, but he had so much fun diving in that he couldn't help but just keep going with it. While he's moved on to other projects for the time being, Mike plans to eventually revisit his list and add to the series.
"It's been pretty amazing how people from around the world have related to this series," he says. "I had no idea kids across the globe were playing with the exact same things in the 70s and 80s as I was."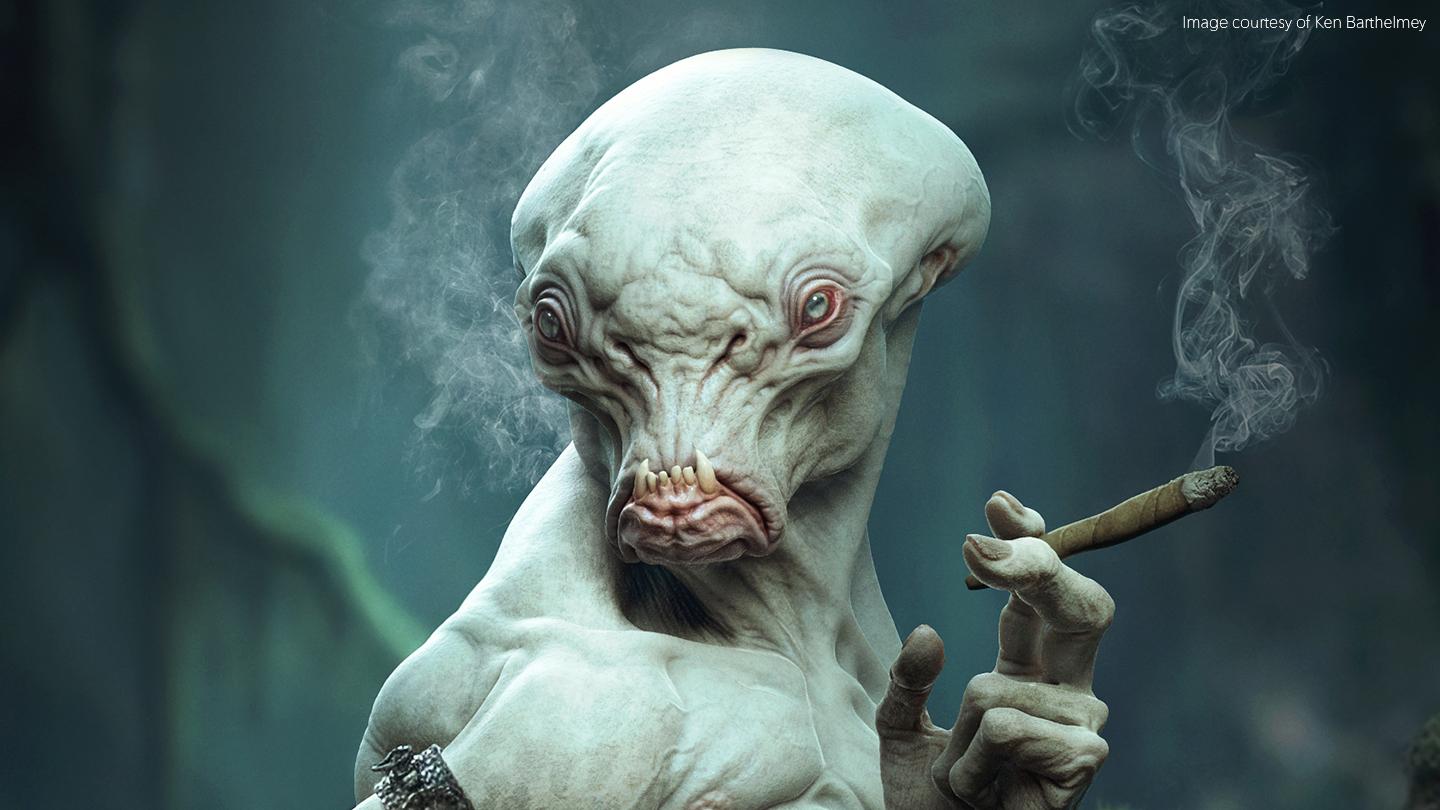 Crafting gruesome fantasy creatures (Ken Barthelmey)
Making hideous and horrifying monsters for a living sounds like a dream job—and it is for artist Ken Barthelmey, who has designed creatures for a range of film projects, including The Maze Runner trilogy. Exploring the otherworldly valley between full-blown fantasy horrors and nature's own real-world creatures, Ken's sci-fi designs border on the delightfully unsettling.
As one might expect, sci-fi and fantasy films have played a big role in influencing Ken's works as a creature and character designer. Film-industry innovators like James Cameron, Stan Winston, Rick Baker, Ray Harryhausen, Ralph McQuarrie and others have left their mark over the years.
"Since childhood, creature designs, especially in movies, have always been intriguing to me. Seeing something new that you haven't seen before, something scary but also somehow beautiful, fascinated me. It's fun watching these things. It's pure creativity," says Ken. "For me as a kid, it was always the best part in each film. I remember, each time I saw a film, I tried to sketch the monster on paper afterwards."
This was good practice, he says, as it led to him eventually coming up with his own creations and pursuing creature design as a career. Beyond the impact sci-fi films have had on his work, Ken finds using reference imagery from animals makes for more interesting and compelling monstrosities.
With his "Beast" character, for example, references from frogs, snakes, and geladas helped him settle on the final design. "Smoker," featured in Ken's The Art of Character Design tutorial, was crafted using hairless gorilla imagery, pictures of "Snowflake" the albino gorilla, and even bulldogs for anatomy reference.
"Most of the time I get my inspiration from nature," says Ken. "Using reference photos from real animals is always a great help in order to come up with realistic and believable creature designs."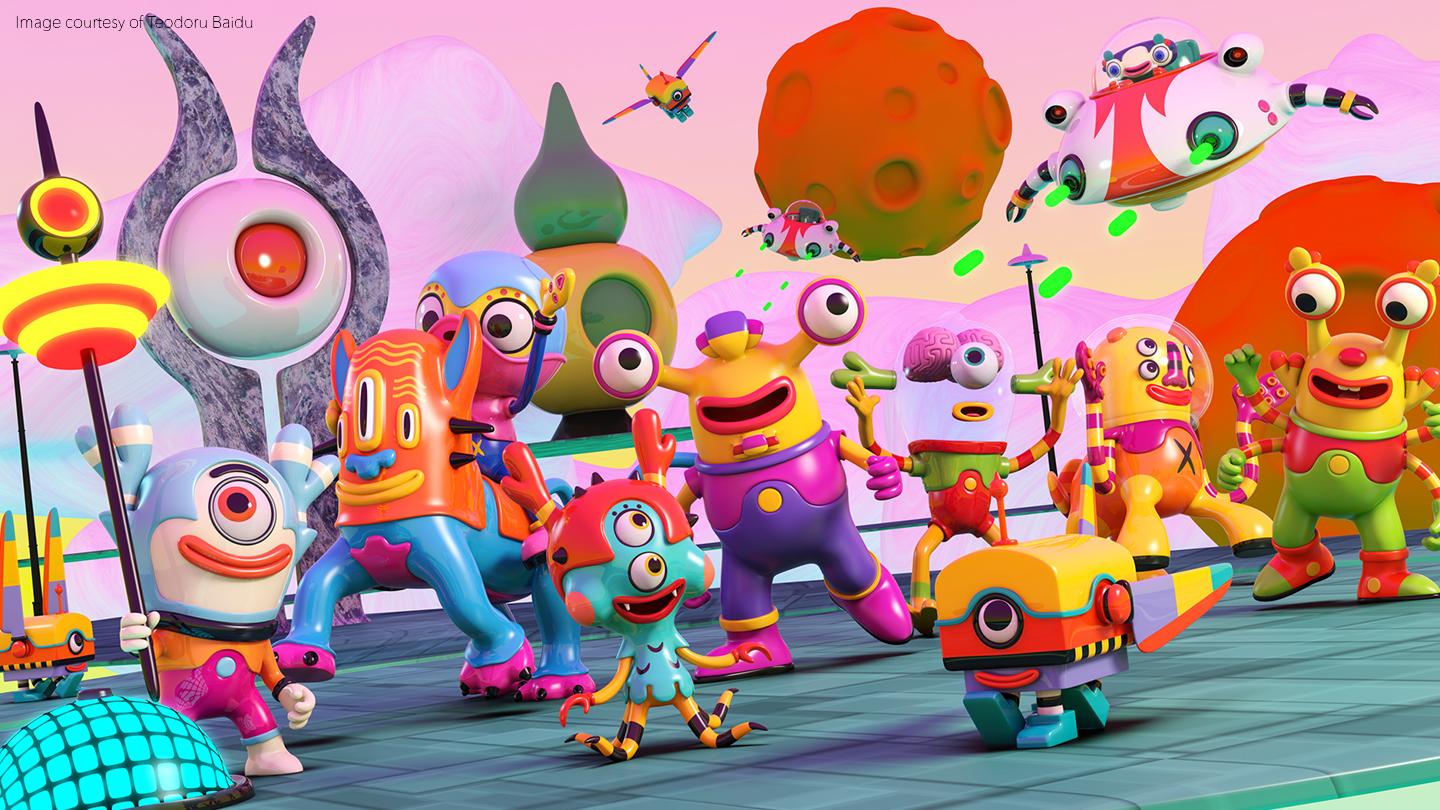 A bizarre, colorful realm (Teodoro Baidu)
From Saturday morning cartoons to classic video games, pop-cultural references are on parade throughout the bright and colorful worlds created by designer Teodoru Baidu. Take a closer look, however, and you'll see that these vibrant settings and gleeful characters are more than a little off-kilter—and that's entirely by design. Extra eyes, occasionally severed limbs and little nuances of subtle miscreance pop just below the surface of each scene's candy-coated exterior.
"Even if my cheerful, bizarre, and colorful characters in their fantastic environments seem to be a little menacing sometimes, they are friendly in the end," says Teodoru, whose creations look as if they might jump off the screen and come to life at any given moment.
Most of Teodoru's characters start out as traditional 2D sketches, though he uses a variety of mediums—3D, vector, collage, mixed media, photography and even physical toys—to bring these eye-catching scenes to life on the screen. Classic early-era Disney art, and the works of cartoonists like Max Fleischer, Ub lwerks and Grim Natwick have been huge influences on his work, though Pop Art and Surrealism also factor heavily into his design aesthetic.
"Anything could also be a trigger for an idea for a new character. It could be music, a movie, books, games, magazines or toys," he says. "Vintage toys are another one of my my major influences. I have a big collection of Vintage Rubber Toys that is still growing with each visit that I make to the flea markets in Vienna and the cities that I visit."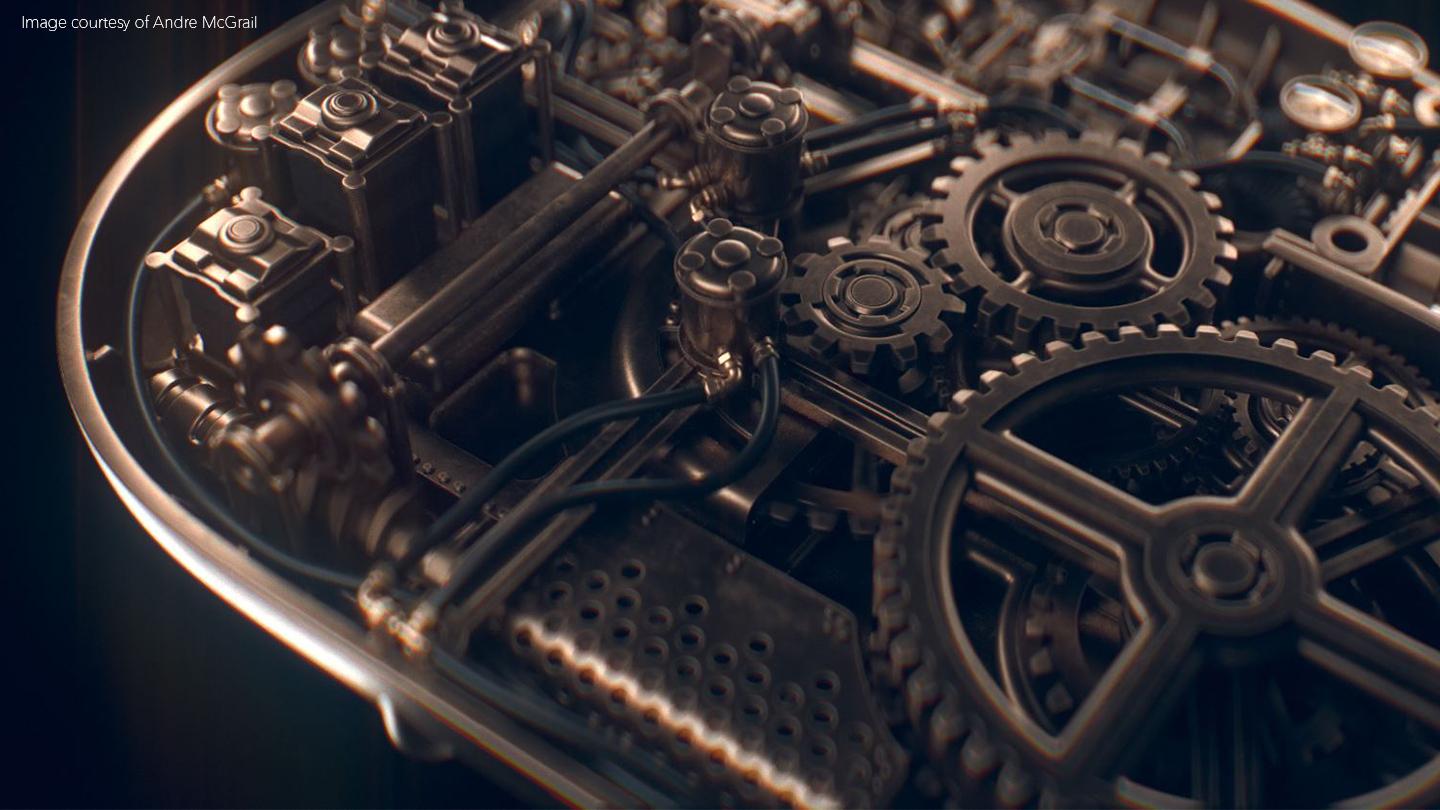 "Somewhat Damaged" (Andre McGrail)
The darkest corners of the imagination can bear alluring creative fruit with the right atmosphere and attention to detail, as Andre McGrail's ongoing work-in-progress short film, "Somewhat Damaged," amply proves. Skeletal statues peeling off their flesh atop a sprawling fountain, trees draped in illuminated lights and a lone centipede slithering across the grim landscape are only a few the striking design elements found in this macabre work.
"A lot of the themes in the film come from past experiences and moments in my life," says Andre. "Although there is a very dark undertone to most of the imagery, there is a certain beauty in it all."
For over two years now, he's gradually chipped away at piecing together individual elements and refining the polished look of each shot for the short personal film project. While the visual direction of the piece has evolved over that time, Andre says the general feel and meaning behind each shot is still the same.
Thematically, a core source of inspiration behind the piece comes from Nine Inch Nails and Tool—two distinct bands known for their dark visual imagery and heavy sound. In fact, the films working title is actually based-on the NIN song of the same name. Besides gravitating towards things with a darker mood, Andre finds the griminess of the scenes and shallow visual focus of both bands' videos a compelling style. Music isn't the only prime influence on the project, however.
"My two favourite artists of all time: one is Salvador Dali - his surreal imagery brings you into unique and strange worlds filled with illusions and deformations. The other is H.R. Giger. I remember the first time I watched Alien and was both fascinated and terrified for the first time I'm my life," says Andre. "Eventually, I delved deeper into his paintings and illustrations and was hooked to the grotesque, sexual and mechanic feel to it all."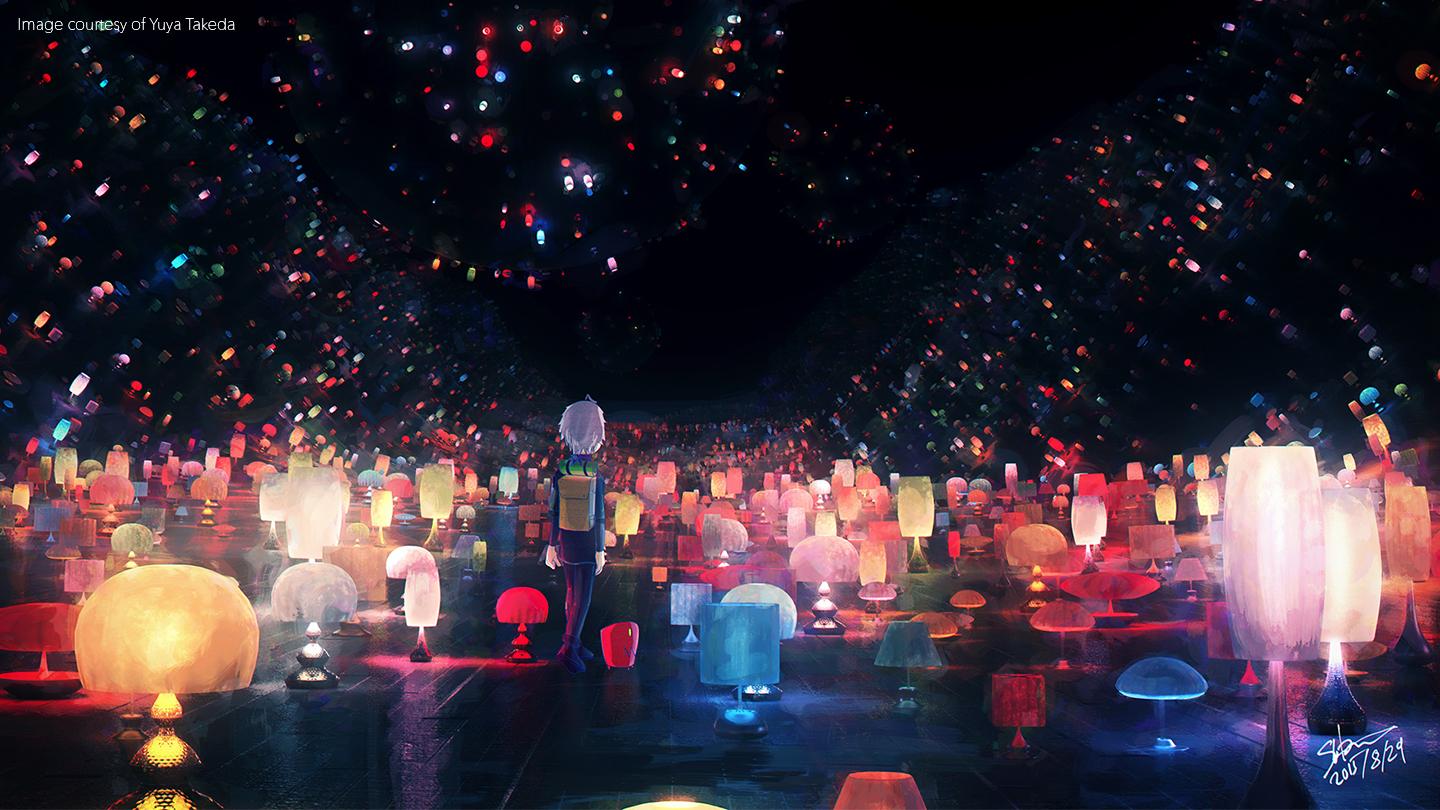 "SideTrip" series (Yuya Takeda)
Telling a story without the use of any words is no simple feat, but the lush, imaginative futurescapes and charming characters of the "SideTrip" series evoke an immediate sense of place, wonder and purpose. From his teen years, Yuya Takeda kept notebooks full of elaborate ideas for a complex story-driven project revolving around surreal and abstract scenery.
"Many of these stories revolved around fantastical scenery, anything from surreal to abstract. The difficulty was simply that I couldn't make many of them at that age," he says. "And as much as I've tried, I could never get into the scope of painting entire scenery let alone doing full 3D scene productions."
It wasn't until later on in life, after he pursued a career in motion graphics design and 3D art, that Yuya finally found a way to give life to his abstract stories. He started the SideTrip series in October 2014, which initially began as a three-hour 3D art idea, then spawned into a month-long scene production. Over time, he's continued to expand on the series with new installments as time allows.
"The entire story revolves around Azure, a boy who seems to be lost in the surreal universe of 'lost things', constantly traveling, and the so-called 'Alex' a red, bucket shaped god of concealment or hiding," Yuya explains. "The story is told in no particular order image by image and it stems from my childhood dreams."
Many of the scenes in SideTrip have a video game-like visual quality to them, which draws you deeper into what's happening each scene. Despite that, Yuya admits he's never been much of a gamer, and that's more of a coincidence than anything. Instead, his bigger influences come from Kenji Miyazawa's Night on the Galactic Railroad, Kino's Journey by Keiichi Sigsawa and Ghibli films, among other sources.
"I always drew from background art more than anything. I was always obsessed with detailed background images seen in animated films and other genres, and I've felt the drive to create scenery more than characters," says Yuya.
Want to find out how these artists created each piece? Get the behind-the-scenes insights here.