An inside look into Polygon Pictures' efficient review process
(C)Tsutomu Nihei, KODANSHA/BLAME! Production Committee
From episodic to feature films, Tokyo-based digital animation studio Polygon Pictures use Nuke, Hiero and HieroPlayer to work smarter
For a studio like Polygon Pictures (PPI), a stringent, streamlined review process is key to ensuring the success of their projects and productions.
Established in 1983, PPI has since become one of the largest digital animation studios in Japan, with over 300 creators working together including Silver Ant PPI Sdn. Bhd., a joint-venture studio in Malaysia, to create cutting-edge digital content across film, TV,  video games and VR experiences. 
The studio's founding mission—'to do what no other has done, in unparalleled quality, for all the world to see and enjoy'—resonates throughout its most notable projects, including Knights of Sidonia, DRIFTING DRAGONS, BLAME!, TRANSFORMERS: WAR FOR CYBERTRON TRILOGY: SIEGE, and Star Wars Resistance.
While production cycles for content like the above are becoming ever-more rapid amidst increasing calls for quality, now more than ever do studios need a concrete way of reviewing their work to accelerate production processes, and align teams and artists on concurrent projects across multiple mediums.
These same needs are something that Sasa Hiroaki, PPI's Editor and Lead Visualization Artist, is very familiar with.
 "For CG television series, more than 300 in-house artists and external partner companies create a large number of shots every day," he comments. "We need to put them accurately into multiple different timelines in projects for each episode we are working on and review them quickly with limited time and human resources. And by iterating on this, those shots can be put together into one animation."
We've already written about how working in context through a timeline approach to projects harbors a huge amount of potential for teams looking to work faster and more efficiently.
PPI stands as a shining example of how this way of working pays dividends in helping its creators and artists navigate the challenges of animation production. The studio uses node-based compositing tool Nuke alongside editorial and review tools Hiero and HieroPlayer for an efficient review process that ensures projects meet deadlines and client demands.
We caught up with PPI to explore the inner workings of their review process and how it helps to mitigate the challenges of a shot-heavy production schedule.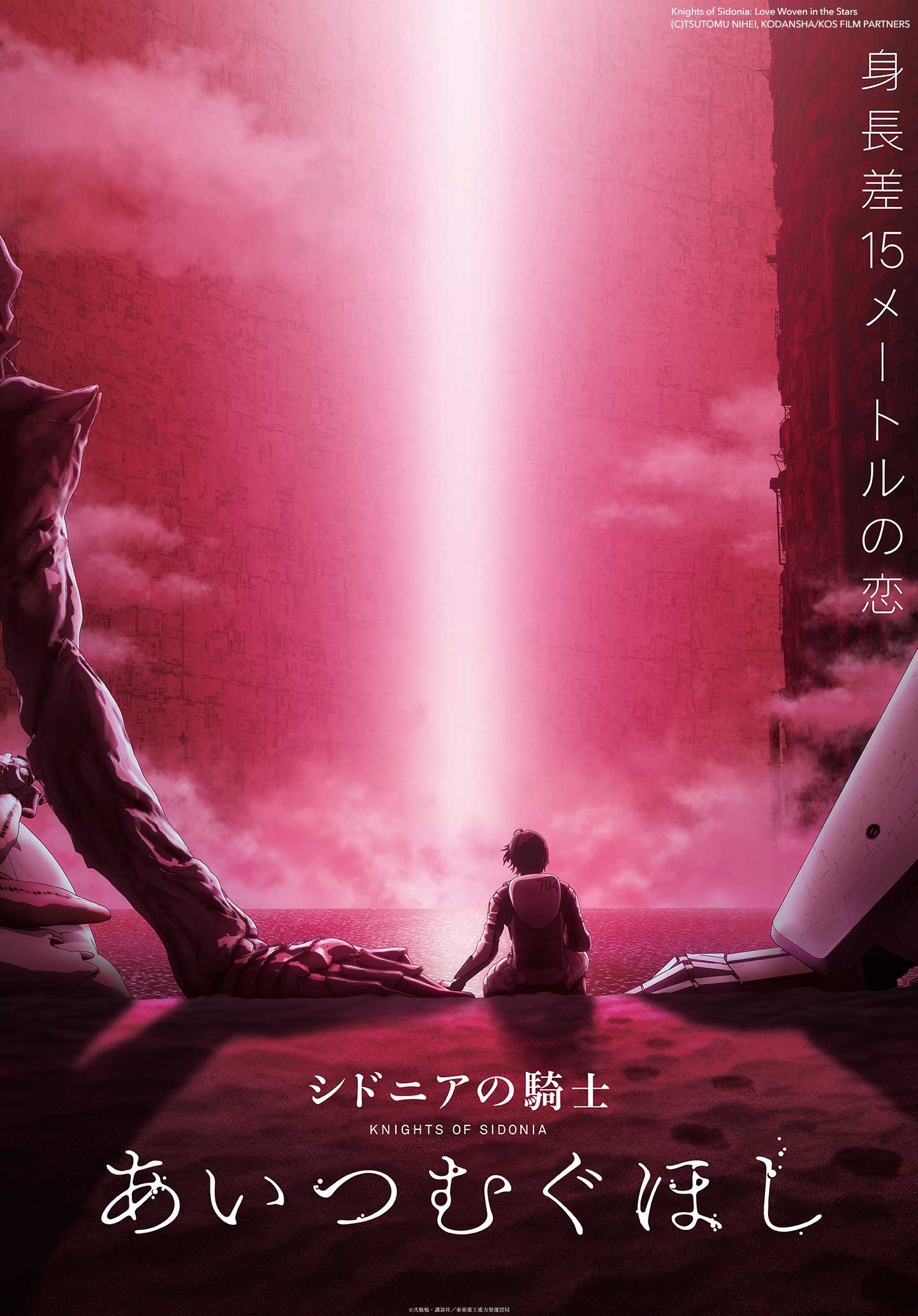 Every inch the Hiero
With a background in motion graphic design, compositing, timeline management and editing, Sasa Hiroaki's experience and five-year tenure with PPI makes him well placed to provide insight into how his team use Nuke, Hiero and HieroPlayer in conjunction with each other to navigate large amounts of shots per project.
"We use Nuke to comp characters in each shot into background images, and FX or HUD are imported to different Nuke files and shared on the pipeline to make it easy to comp them using Nuke eventually," he tells us.
"Hiero is used to place movie clips exported by artists on the timeline according to the edit information and the movie on the timeline is output to an external monitor for directors and supervisors to check the final result. HieroPlayer is used for all project members to see the production progress of each shot using the timeline created in Hiero."
Used alongside other tools such as Shotgun, RV, and the studio's own in-house review tool, PPI's review process becomes a truly formidable facet of their production workflow.
What's more, Hiero and HieroPlayer's use as part of this process isn't just limited to Nuke artists, as Sasa explains: "All project members, which means all artists involved in every production process such as layout, animation, FX and comp, directors, producers and coordinators use HieroPlayer. Base timelines are created by editors using Hiero and they are updated according to the progress of production processes. Directors and supervisors use the Monitor Out feature of Hiero to review the result."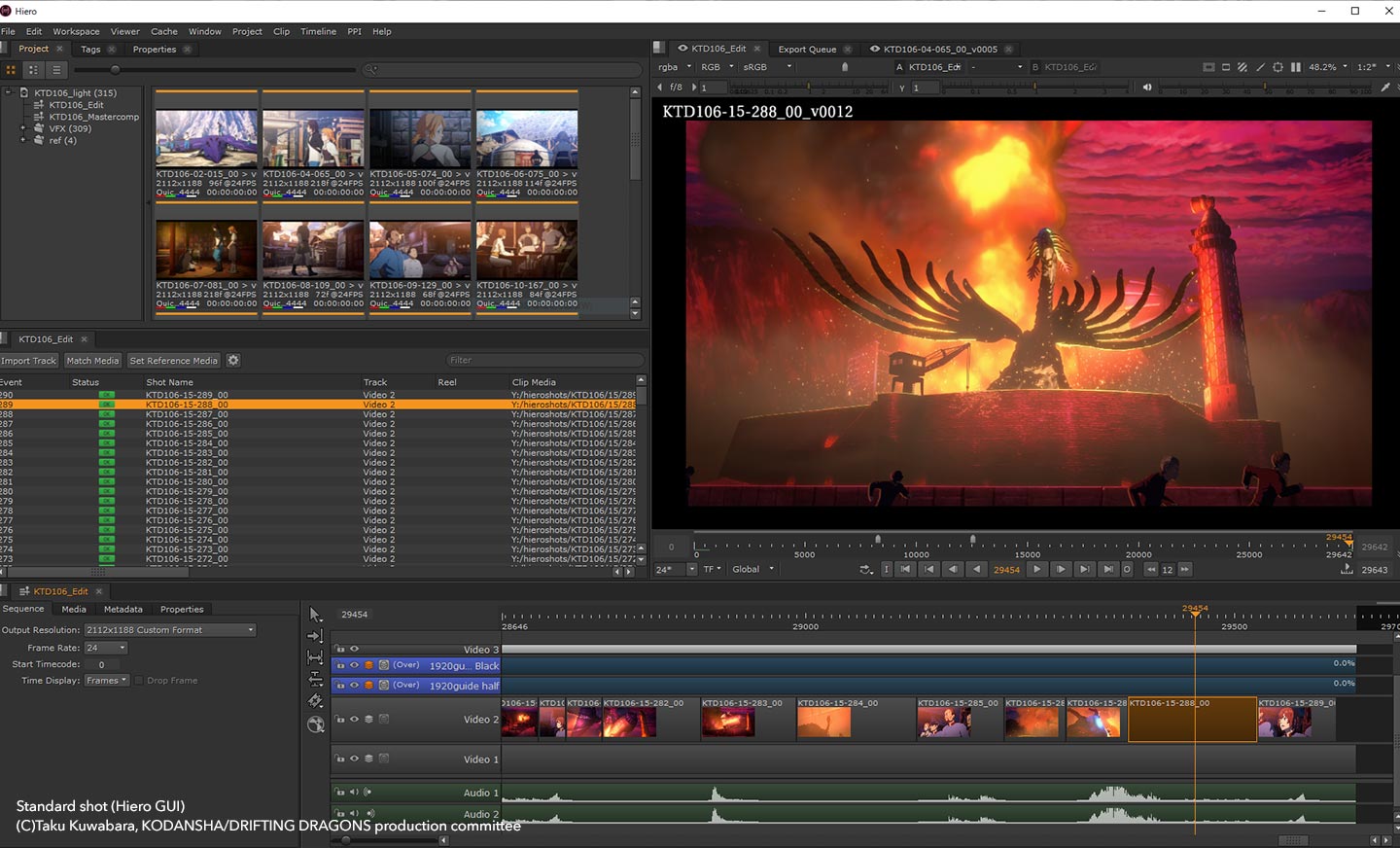 But what exactly does PPI's review process look like, step-by-step?
"First, each artist reviews their single shots, then in a sequence," Sasa tells us. "After that, their supervisors review a series of shots submitted by each artist in a sequence. When enough shots are approved by supervisors, the shared project timeline is updated and reviewed with a director."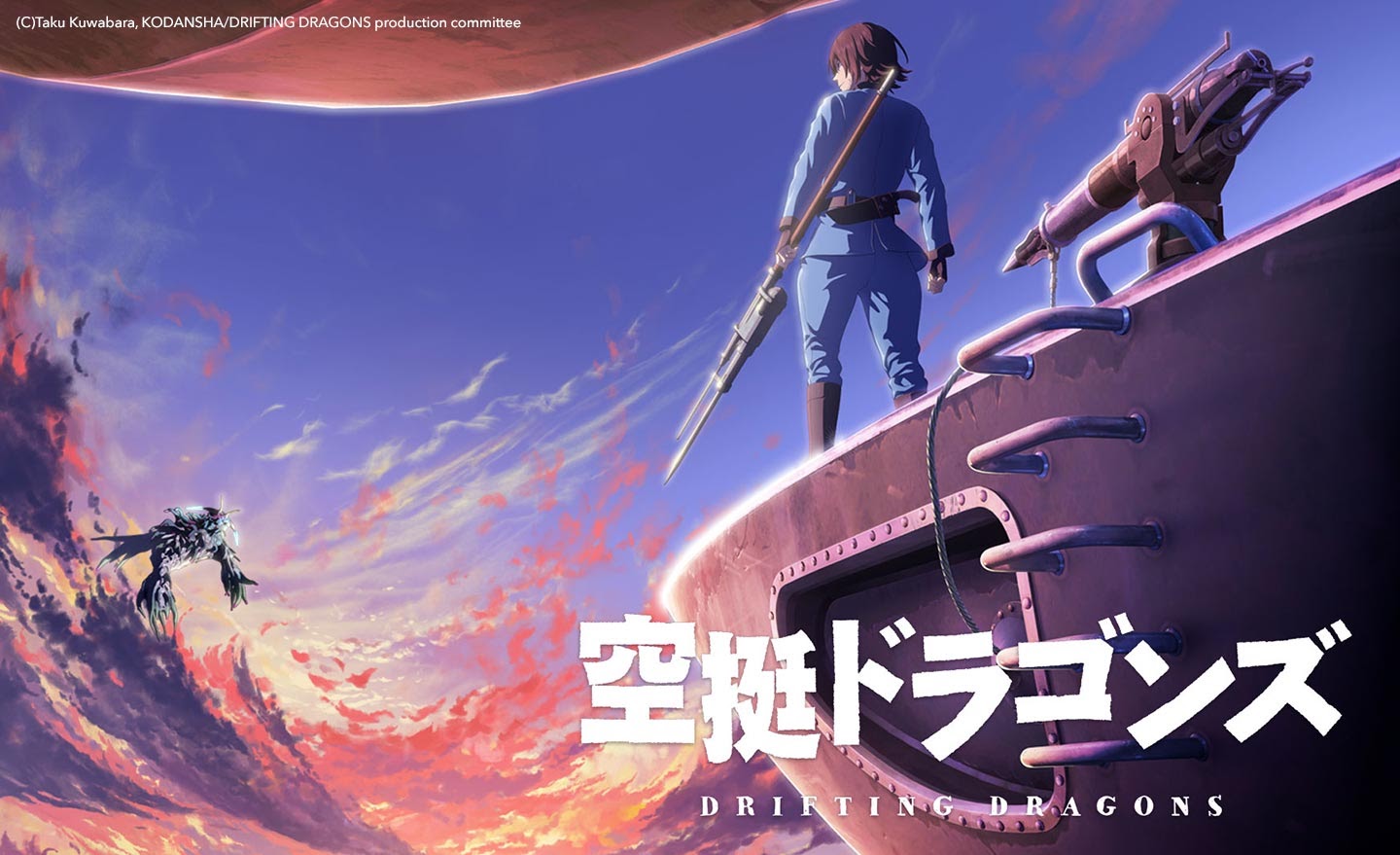 Diving deeper into PPI's use of timelines, Sasa explains how these were generated in Hiero and HieroPlayer.
"We build timelines for production review in Hiero based on the edit data of nonlinear editing software used to create animatics. The edit during production is reflected in Hiero and sent back to nonlinear editing software via XML for offline editing at the end of production."
Yoshihira "Tady" Tadahiro, Director of TV series Drifting Dragons for PPI, expands on this further: "Timelines for production are built based on image data written out of Toon Boom Storyboard Pro (storyboard tool) and XML. We sometimes edit prescored data later using Premiere, and that audio track data is also integrated into the timelines."
He continues: "When a timeline requires any creative revisions at the request of producers during production, we sometimes export movie data during production and the latest edit data from Hiero to change or update them via any external tools such as Premiere and Storyboard Pro. It is the biggest advantage that we can export shots even into offline or finishing systems to reflect changes during production on the pipeline. We can easily move offline to online."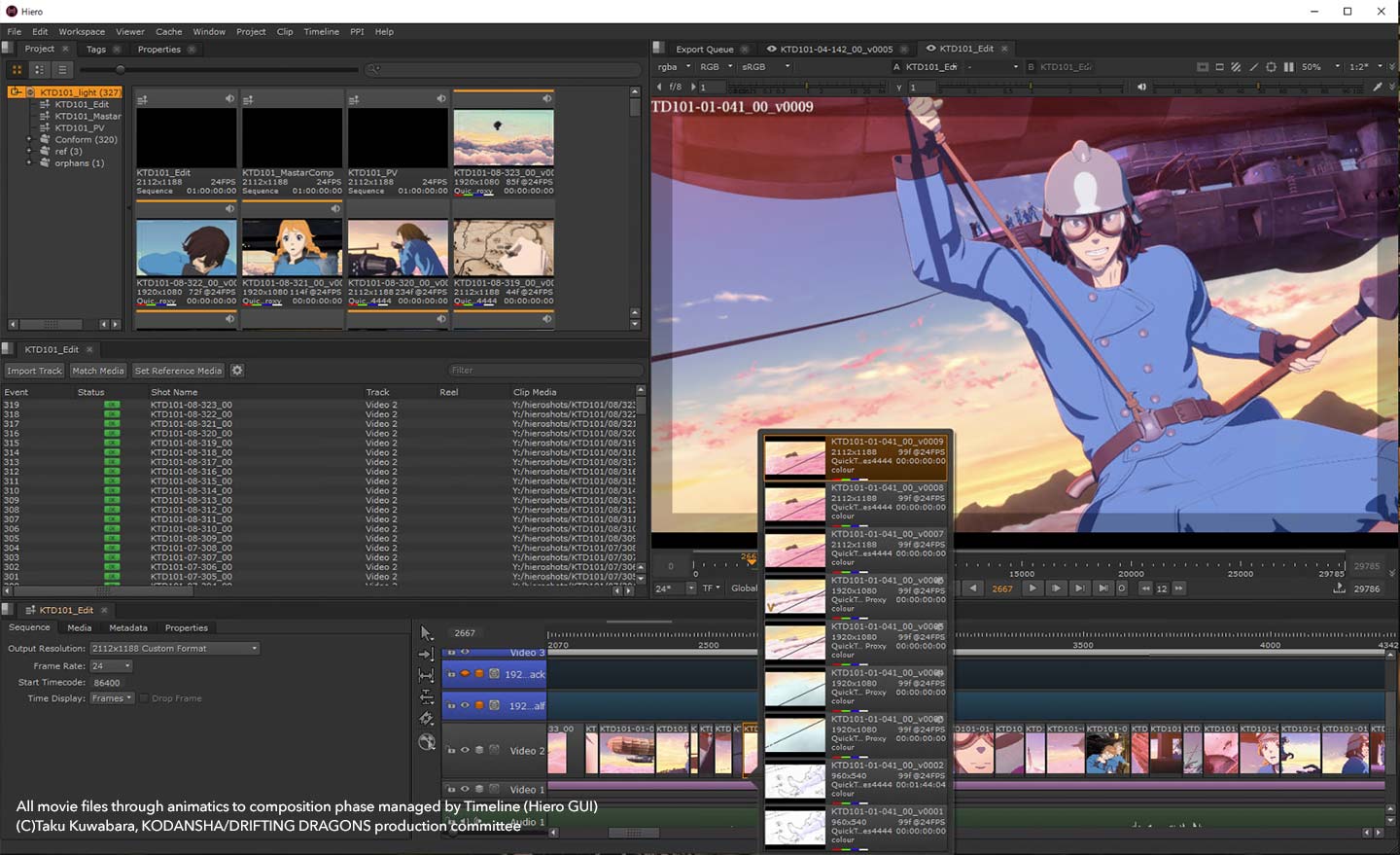 Reaping rewards
The benefits of Hiero and HieroPlayer's use alongside Nuke are immediately tangible for PPI's production process, as Sasa explains: "Timelines are generated from files collected automatically from our pipeline. They are updated to reflect review results in each production process, and those updates can also be updated semi-automatically using a custom script."
"This enables us to ensure accuracy and improve efficiency, and as a result, we can spend more time focusing on creative work."
By reviewing their work in context of the sequence or project using Hiero and HieroPlayer, the PPI team enjoys a greater amount of visibility over a large amount of shots—particularly useful for a pipeline centered around animated productions.
"[We] can change/update versions of each shot on the timeline with ease," Sasa comments. "We can also playback an entire sequence to check our shots in the context. And most importantly, movie clips consisting of each of the shots created by different artists can be collected into a single timeline semi-automatically to be managed within Hiero by editors."
"By sharing the timeline, not only editors but also all people involved in the project including directors, coordinators, artists can see what is going on."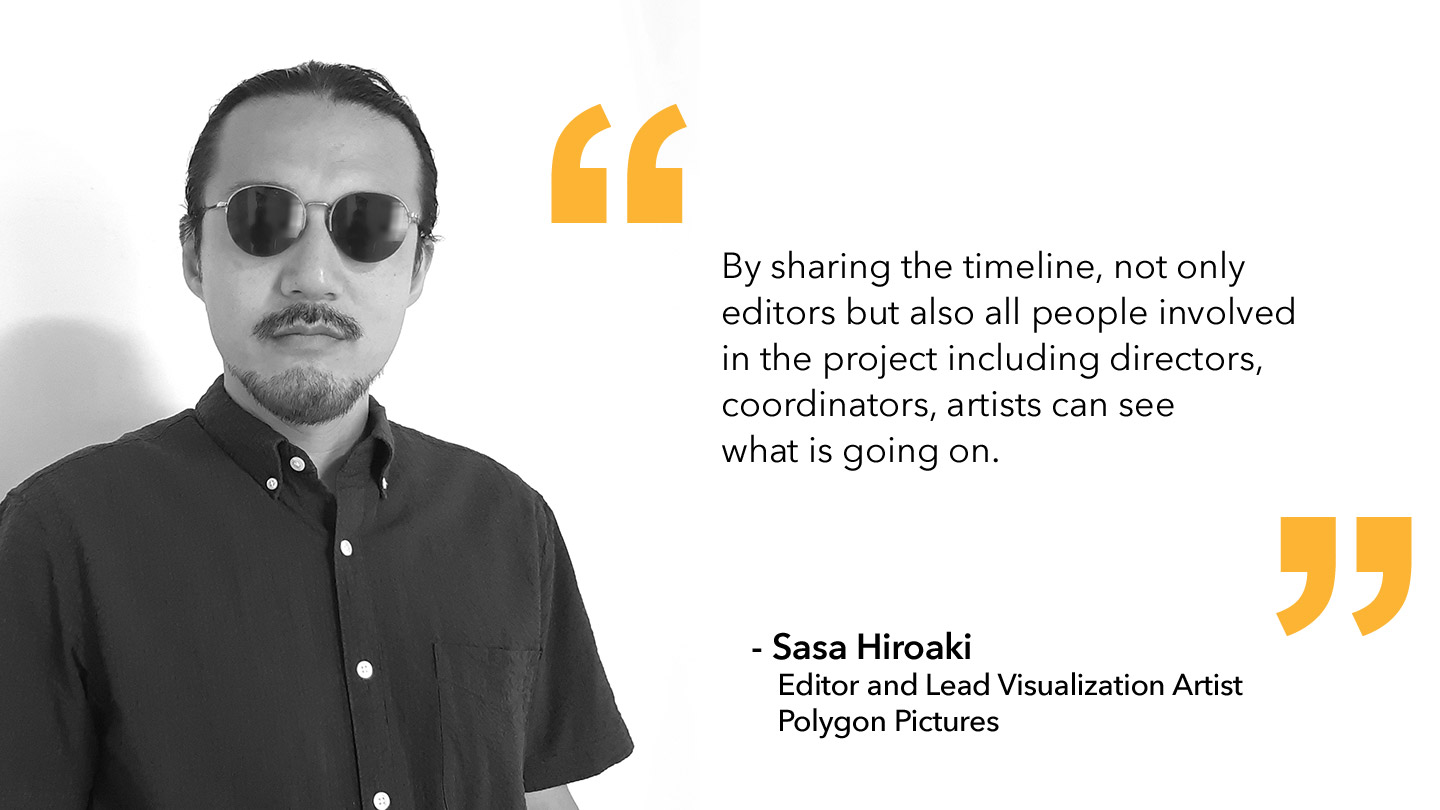 Yoshihira echoes this point: "It helps me to see the revisions done based on my feedback to editors on the fly during review and those changes could appear in the timeline immediately for downstream artists. In CG projects which consist of many different production processes, the other advantage is that any shot version can be accessed and reviewed according to the purpose of each process.  It's very easy to compare versions, too."
With these clear advantages, it's no wonder that Hiero and HieroPlayer are highly integrated into PPI's pipeline. Yet the studio has customised both tools to suit their needs and workflows further, developing a spreadsheet linked with the timeline in Hiero for in-house production management, providing a clearer visibility over shot information.
"We also developed tools to publish data created by the DCC and redesigned the data structure/flow to align Hiero with the pipeline," Yoshihira explains. "These initial developments allowed comprehensive views of shot information, including the latest status on the timeline in Hiero and the spreadsheet by just opening the project in Hiero."
"[Hiero] was also customized to allow us to review data other than image, such as assigned artist, task status, shot status (approved/retake/pending review), and retake details within Hiero without referring to other databases."
"In other words, we changed the editing process into a more agile one, where anyone can bring new versions of shots into the timeline and reviewing work can be done quickly and easily. Changes and creative revisions in editing or post-production can also be updated even during the production process."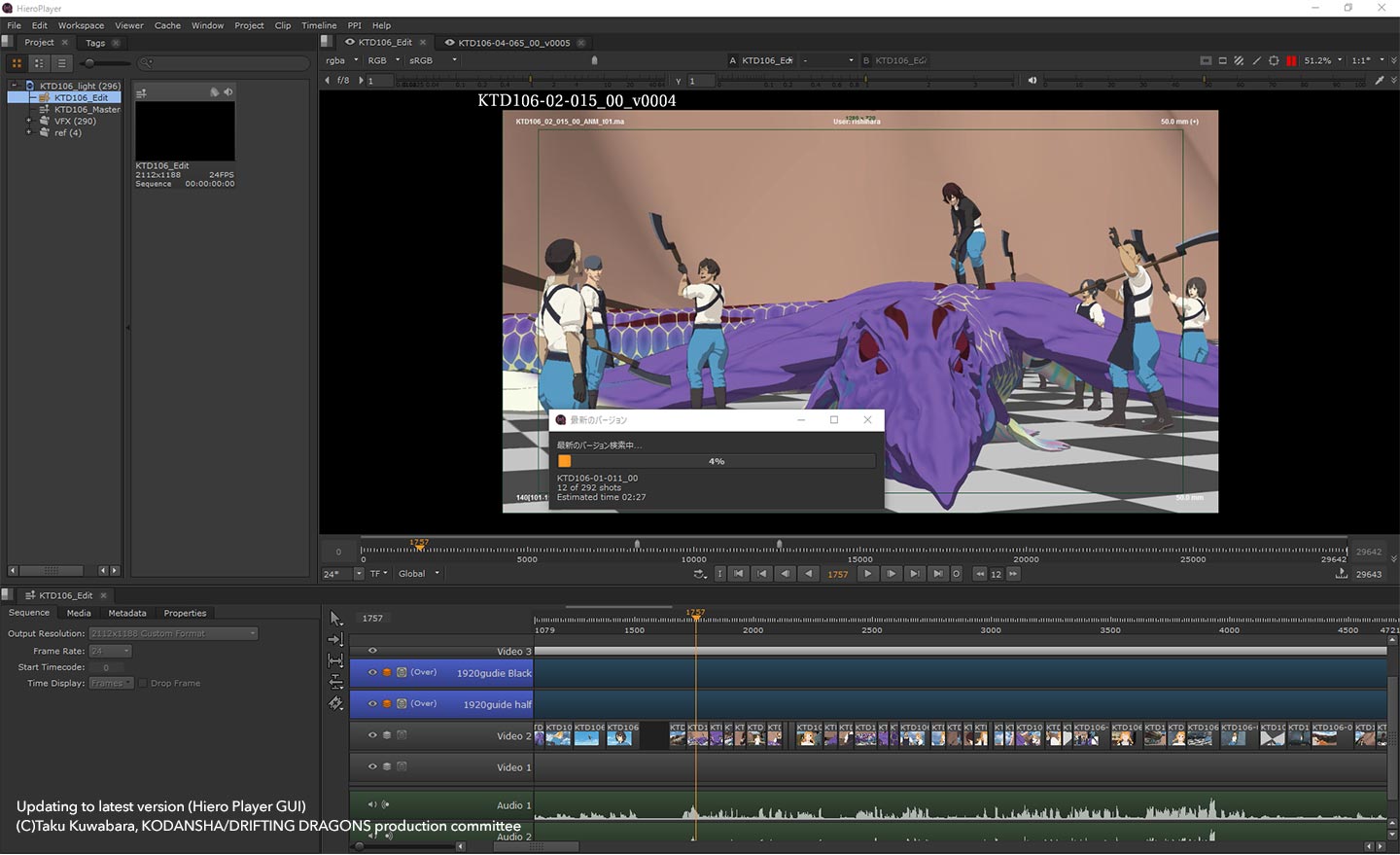 Reviewing the future
Yoshihira is currently directing Knights of Sidonia: Love Woven in the Stars for Polygon Pictures, a conclusion animated feature film due to be released in 2021 and based on the space opera and mecha comic series Knights of Sidonia.
The PPI team, along with fans of the story, eagerly anticipate its release. Looking at what lies ahead prompted discussions about what the future of review could look like in these sorts of productions and beyond.
Yoshihira is quick to give his thoughts. "I think that the approach to the review process will be more important in a remote work environment," he comments. "The shift from an action-based review process, where we get together to check and judge shots, towards a value-based review process, where artists can give opinions and discuss them to improve the output quality, will lead to a positive result for both directors and artists and lead to an increased importance on the value of the review process."
Yoshihira's ultimate hope is that review tools will evolve not as playback tools, but as communication tools which accelerate creative communication among directors, editors, artists and coordinators, while connecting them online to unlock new areas of potential for digital animation.
"It might be interesting if we could make a reaction by clicking CLAP or LOVE IT to stunning animations, or even BOO!" he tells us. "It would be ideal if reviewing was an opportunity to explore new possibilities and improve the quality of animation based on two-way communication between directors and artists."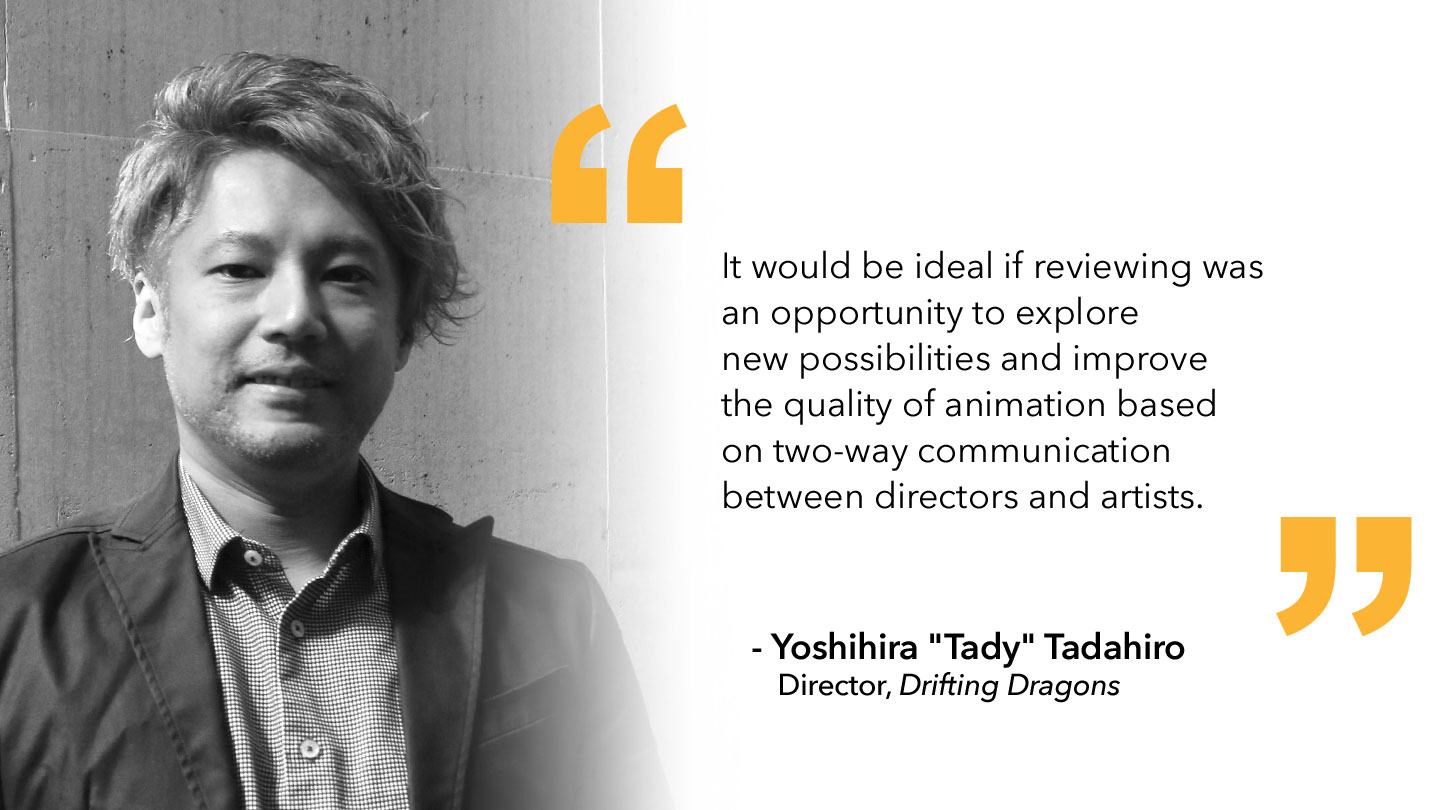 Streamline your review process—discover Hiero
Or Request a Callback for a free HieroPlayer trial