Let's talk timelines: why working in context makes sense for your studio
The question of how to deliver projects in the most efficient and productive way possible is one of the biggest VFX pipeline challenges today.
This is especially the case as projects increase in complexity, whilst timeframes continue to narrow—so production pipelines need to facilitate a seamless workflow from start to finish, which keeps the entire project in the mind of artists at any stage in the pipeline.
And with projects shifting from sets of  isolated shots to many, many sequences of shots across an entire film or TV series, involving a multitude of studios collaborating, the need for holisticity only increases.
As these issues continue to cause headaches for the visual effects industry, it's worth studios and artists investing in a way of working that aims at solving them. One solution lies in a timeline-based workflow, seen in Foundry's own Nuke family of compositing software with Nuke Studio, Hiero and HieroPlayer.
Beyond creative editorial, managing a VFX production from a timeline opens creatives to a mindset where 'live' timelines can encapsulate all aspects of a show, rather than working with shot-by-shot tunnel vision, or being led solely by shot manager or spreadsheet status updates.
This mindset might be especially helpful for supervisors and leads, who, thanks to increasing project complexity coupled with less time, need to balance even more spinning plates at once to deliver the best work while keeping clients and production happy. This begs the question: what does working on a timeline mean for sequence leads and supervisors, and how can it help them in their aim of delivering the best project possible? Our resident Nuke and Hiero experts—Director of Product, Christy Anzelmo and Senior Creative Product Manager, Juan Salazar—explore this question below.
So...what's the problem?
Traditionally, a production pipeline follows a 'waterfall' structure—whereby one stage is done, packaged up, and sent onto the next, with very little sense of collaboration or review-in-context simply because this structure narrows any such opportunity.
As Juan explains, having that context is vital if everybody working on the project is to be on the same page: "Context could mean the creative context of the storytelling, or it could be the context of the ten shots you're working on at a time. 
A supervisor could be looking at any hundred shots during the day. Understanding the context of those hundred shots and giving the right feedback is crucial."
It's a supervisor's job to do exactly that—supervise, coordinate, and ensure that everything gets done on time and to a high standard. Their goal is to deliver the best project possible amidst production limits of time and money, whilst harboring a happy team of artists who, in turn, go on to meet and satisfy client demands.
Typically, supervisors work at all levels, whether that be directly with the clients, overseeing work from multiple departments, or executing tasks themselves depending on their own expertise.
Faced with this myriad of tasks at any one time, being able to work collaboratively in streamlined, reliable systems that connect across levels and stages—for example, passing feedback from clients to artists—is key. The ideal, of course, is to do all of this without sacrificing creativity.
The unhappy truth is that most studios today use different systems for reviewing and tracking various aspects of a project, which disrupts any sense of seamlessness, and makes connecting all of the pieces much more challenging. It's also hard to manage from a pipeline integration standpoint.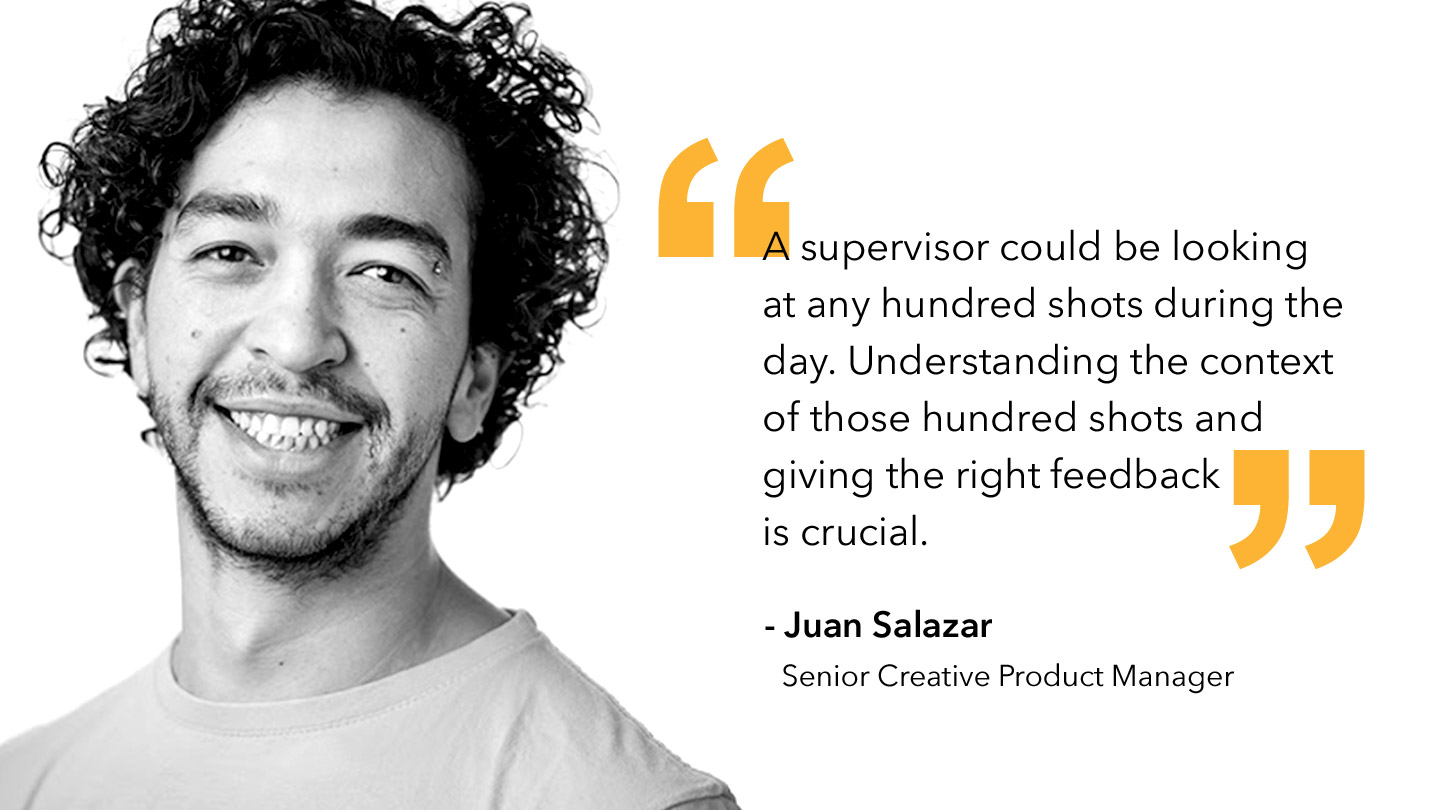 It's Timeline Time
The good news: it doesn't have to be this way. Working from a timeline in post-production has the potential to offset the challenges above and simplify the post-production process for supervisors, especially for large projects.
Running a project from a timeline gives project leads the status of everything all the time, visually. In a review session this puts all of the aspects at their fingertips, for quick edits, easy annotations and streamlined consistency across the board—spanning sups, artists and teams for truly collaborative workflows.
Juan explains: "The first thing we tried to tackle were the challenges facing supervisors, because they have the biggest complications for a lot of this. How do we help supervisors drive review?
That's where the idea behind Nuke Studio and Hiero comes from. By giving sups a timeline, giving them context to whatever shots they're reviewing, and giving them the same tools that they're used to as an artist, they have greater visibility and the means to tweak and adjust elements as necessary. 
They can also work with artists who are using HieroPlayer to review their sequences, and feel comfortable because they're looking at something that's similar to what they're using themselves (Hiero), with the same color tools, and other features they use. This automatically fosters better communication."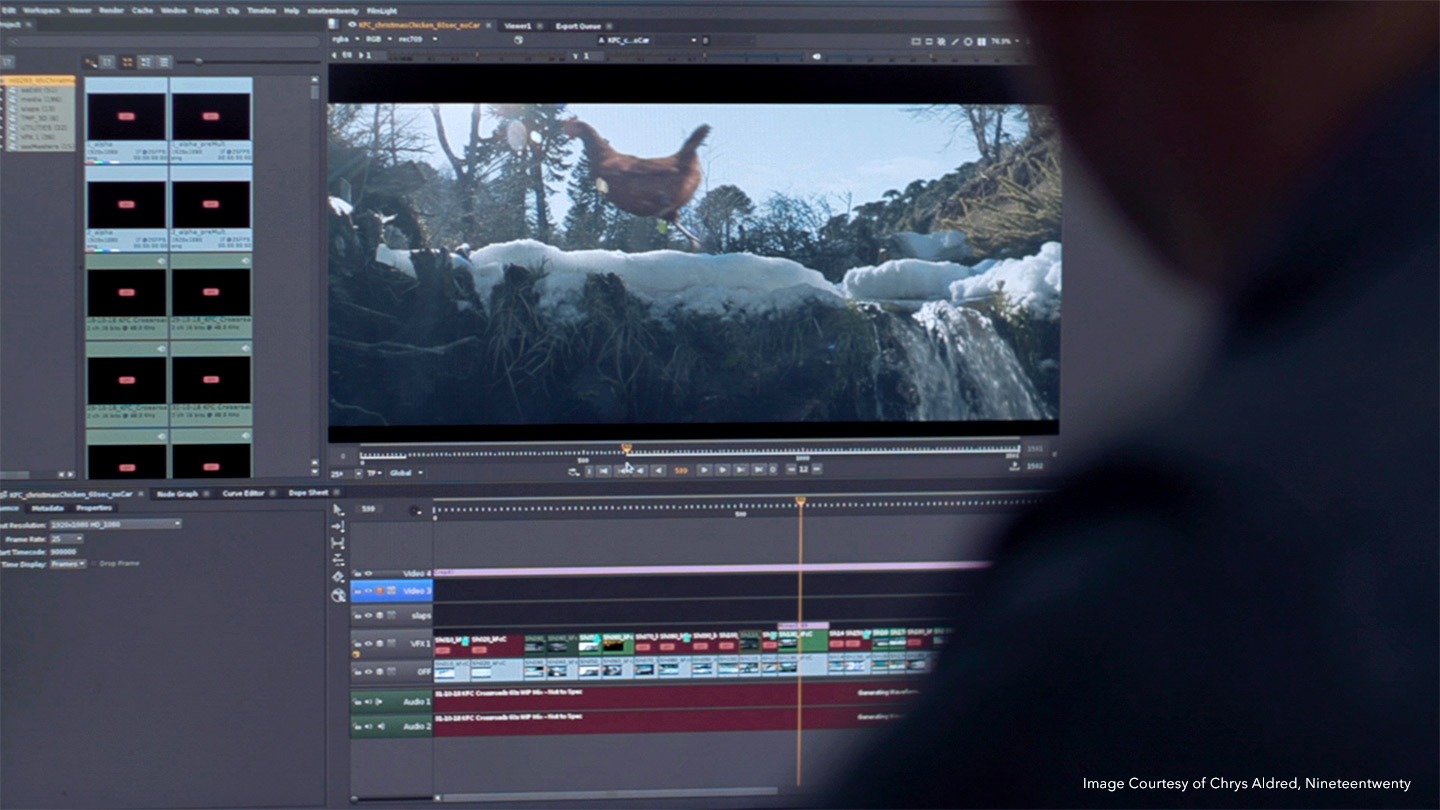 For a supe, Nuke Studio/Hiero is a powerful hub for seeing the status of work in progress and keeping a finger on the pulse. For pipeline, it's also easy to integrate with Shotgun, ftrack or a custom shot manager so a lot of the "management" interactions can be automated. 
Compared to using only shot managers and various "players", working from a timeline such as in Nuke Studio/Hiero gives sups a visual way of managing their projects. Built for VFX, the tools encourage sups to work in the same Nuke environment that their artists are so familiar with.
It's this facet of Foundry tools that Toya Dreschler, 2D Supervisor at MPC, finds particularly helpful, as explored in a previous article: "I love how close my software is to my artists. I love that I can jump from Nuke Studio into Nuke at any given moment, give feedback, write up scripts, jump back into Nuke Studio. I don't think any other software can do that for me currently."
Mulling over multiple shots
An advantage of using Nuke Studio as part of any post-production workflow is its ability to facilitate a multi-shot mindset, rather than single shot—since a timeline uses multiple shots as part of its very nature. 
Switching from working with single shots to multiple shots is beneficial for a number of reasons, not least because it gives sups the ability to lead, edit and review whole projects from a central 'command center'—in this case, Nuke Studio—in a holistic, cohesive way.
Speaking of Nuke Studio as a post-production hub, Mads Hagbarth Damsbo, Visual Effects and Pipeline Technical Director, Nordisk Film Shortcut, reflects: "It was so nice to just pick up a tool that has all of that—it has the timeline, it has all the basic features, and to just be able to use that right away was amazing."
The result: crystal-clear visibility across the board on who's doing what, when, and what needs doing. 
And this way of working is invaluable for burgeoning artists looking to eventually lead and supervise their own projects, as MPC's Toya Dreschler explains: "For me personally, [Nuke Studio] has helped me advance to bigger projects and work with the CG team more closely—it served as a way for younger artists to start leading jobs that were originally reserved for more experienced Flame ops and has over time evolved to be a top choice for some incredible, technically complex work."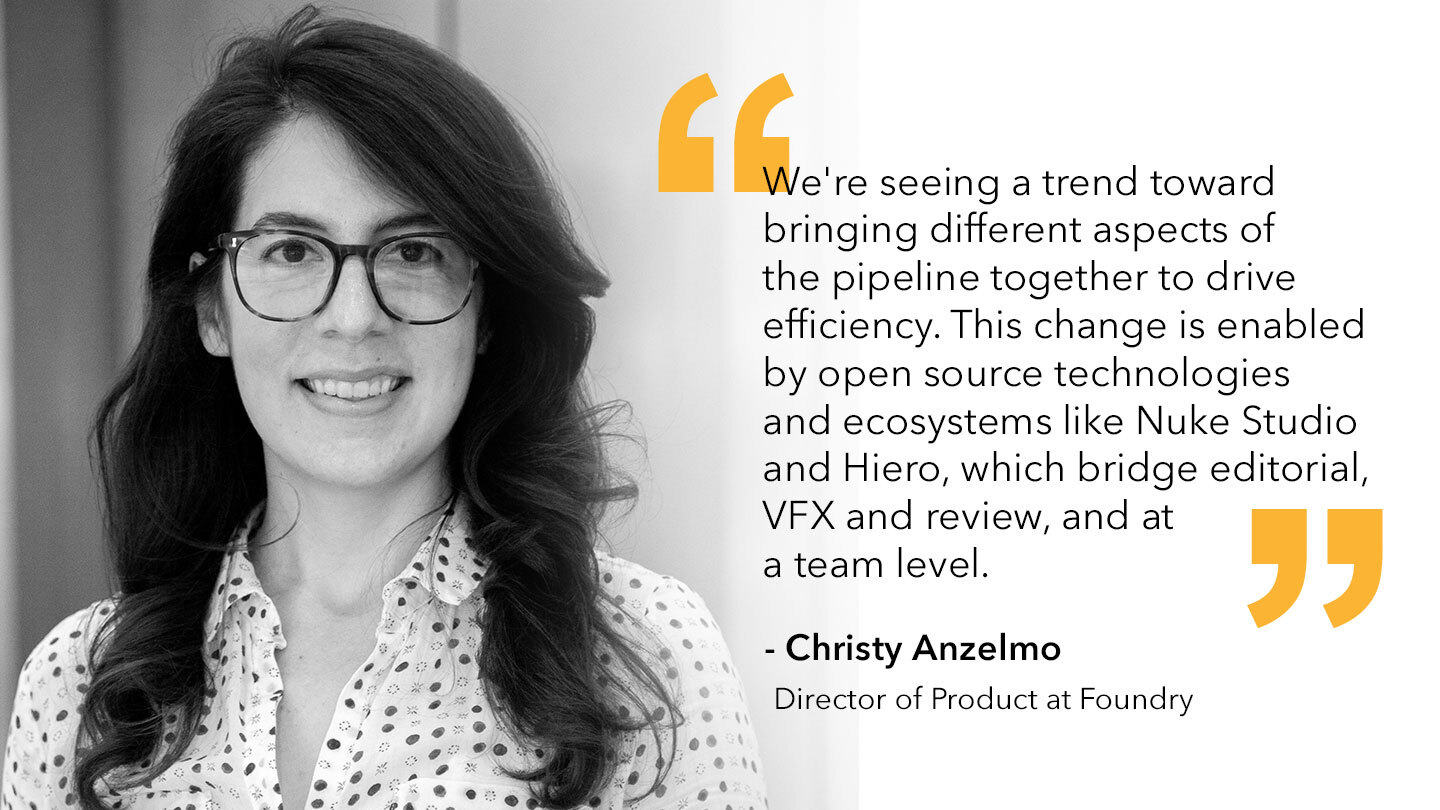 Timelines: the bottom line
Working on a sequence level appears to be a part of a wider industry trend, Christy comments: "We're seeing a trend toward bringing different aspects of the pipeline together to drive efficiency. This change is enabled by open source technologies and ecosystems like Nuke Studio and Hiero, which bridge editorial, VFX and review, and at a team level. It's this cohesion that allows teams to tackle complex productions, efficiently and at scale."
Luckily for supervisors and artists everywhere, Foundry is proud to offer a comprehensive suite of tools that all indeed 'speak the same language'. Nuke Studio's timeline is deftly shared with Hiero and HieroPlayer, which are by extension integrated with Nuke in a fundamental way.
So everything is consistent—from color correction and management to image processing, no matter your role, you no longer need to switch between software to achieve the results you want. Sups can oversee a project and make annotations on multiple shots in Nuke Studio. Artists can view any requested edits in HieroPlayer, and then go on to make the changes in Nuke.
By working in context—and working in one place—supervisors and artists can iterate a lot faster, allowing for more creative freedom and better quality output, creating a perfect storm to send a studio's RoI soaring.
Stay tuned for the next installment in this article series, which will explore workflows using LiveGroups, how compositors can benefit from a multi-shot mindset, and reviewing in HieroPlayer.
It's a Nuke world, and it's empowering studios, teams and artists on a global scale.
Discover how Foundry's Editing & Management solution can support your review process
Or try Nuke for yourself