Image Courtesy of Michael Wilde
Mari 4.6v4: quality of life enhancements for you
For Foundry's product teams, workflow is king as we recognize that day-to-day usability is just as important as fundamental workflow features.
To that end we're dedicated to making your work quicker, easier and more creative through product improvements and updates, guided by user feedback. With each maintenance release, we strive to address even the smallest niggle or annoyance, reported to us by you, to make sure they become a thing of the past. 
Our latest maintenance release is Mari 4.6v4, and we're super excited about the benefits it brings to look development artists.
For a start, we've introduced a Limited Patch Range for Bake Points. Where before a Bake Point would flatten and force-bake all patches of your model, a new option on the Bake Point Node allows you to limit the patch range that is processed on each bake.
Gone are the days of baking twenty or a hundred patches of your model when all you wanted were two—now you have more fine-tuned control when reducing project complexity with Bake Points, saving you tonnes of time so you can spend it creating something incredible.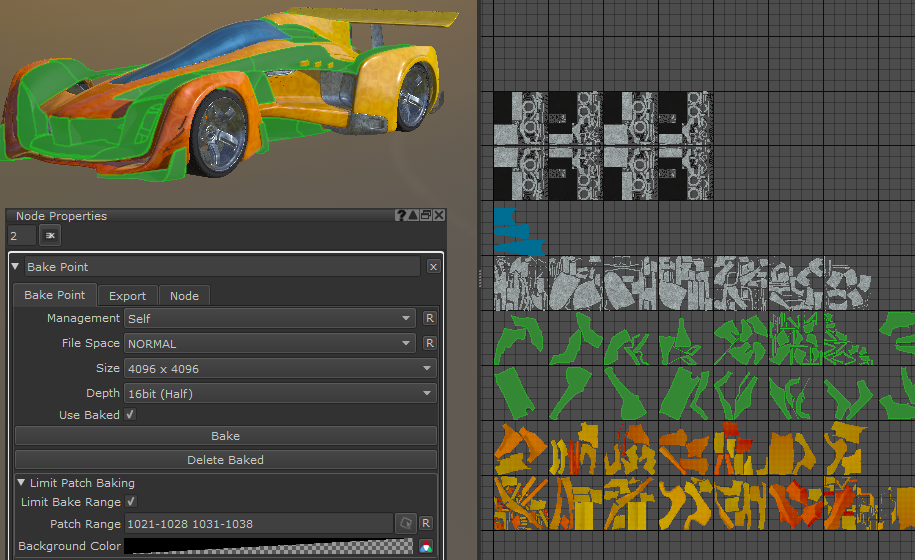 The Bake Point node also enjoys a newly-introduced Export on Bake option, perfect for look development artists working across Mari and Katana.
This automatically exports the latest flattened texture maps to a predetermined file sequence on disk, on each Bake Point update, ready to be picked up by your preferred renderer, accelerating the workflow between Mari and programs like Katana.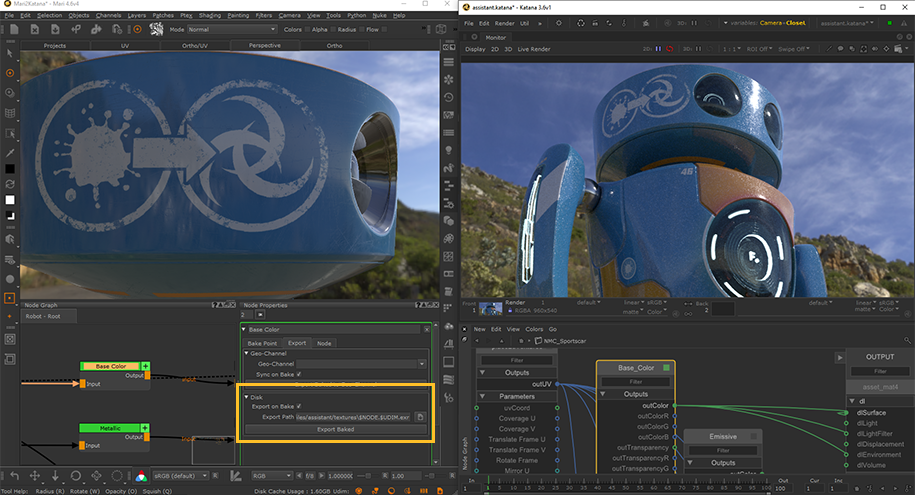 And it doesn't stop there—scroll for further incremental improvements made to Mari 4.6 as part of its v4 maintenance release.
Transform Tool
We've introduced a local space transform mode. Transform handles are now orientated with the object or locator's rotation, so that transformation along the rotated axis is now possible.
Artists can switch between transform handles more effectively without having to slow their pace thanks to an increased handle hit area.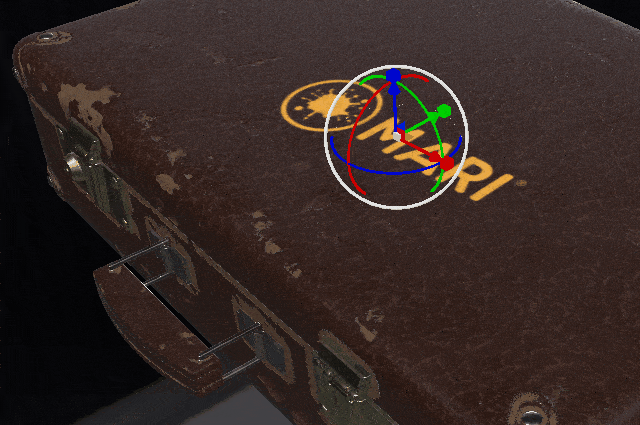 Node Graph Improvements
In 4.6v4, we've updated the visual appearance of edge connections in Mari's Node Graph to use a smart-radius boundary and straighter connections, allowing for easier tracing of node connections.
Users dragging a Node Graph connection onto a node will now be presented a list of node inputs and outputs that shows the pretty name of the inputs/outputs, rather than the internal name. These will also match the port list order seen on the node.
Alongside these Node Graph improvements, Mari's Canvas viewer's scalar mode check now correctly handles scalar streams defined by the Shader Model used by Multi-Channel nodes and Shader nodes.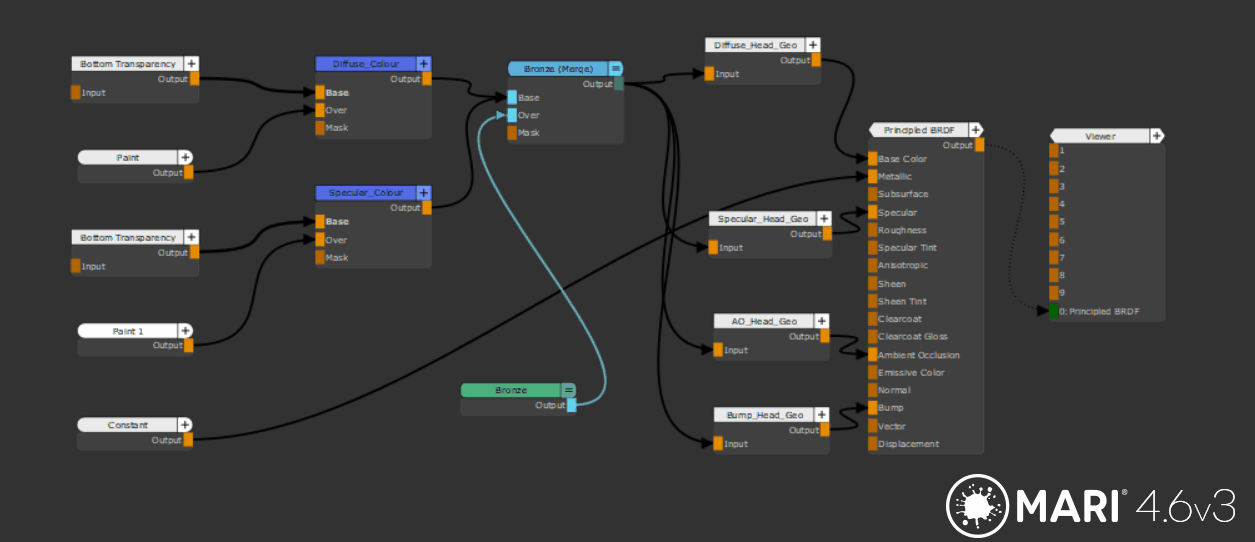 Performance
Mari's UI interaction experience has been improved thanks to a new preference item: "GPU > Canvas > Pause Canvas Rendering". This allows artists to pause canvas rendering smartly when the mouse cursor is outside the canvas.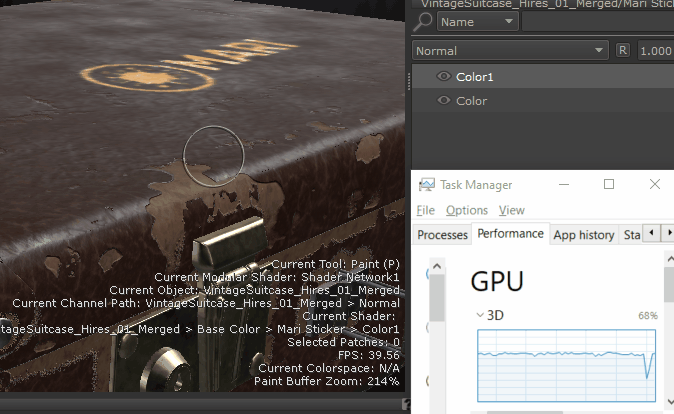 Modo Render/Baking
Mari's rendering engine has been upgraded to Modo 14.0, and a new Thickness Bake Preset has been added.
User Experience
A good UX means hassle-free creativity. That's why we aim to make Mari as user-friendly as possible with each maintenance release.
When opening a Mask, Adjustment or Channel Layer Stack pop out in Mari 4.6v4, the palette pin state will now match the pin/float open mode set in the Palettes Toolbar.
What's more, users are now able to configure which of Mari's Docking Areas own each corner of the main window using Edit > Preferences > Misc > Window Corner Dock Areas. This allows palettes to extend to the full height of the window when changing ownership to the Left and Right Docking Areas.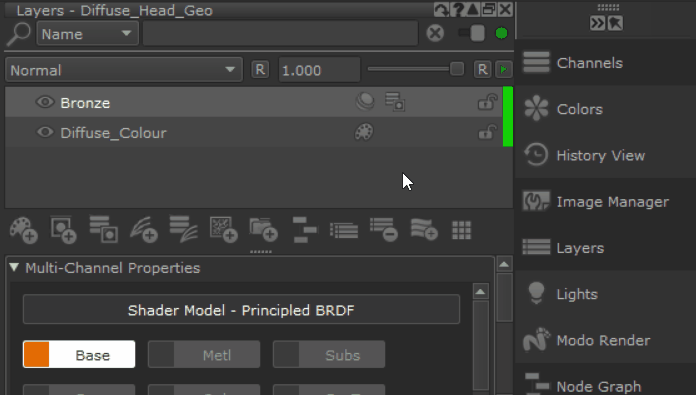 Layers/Nodes
In Mari 4.6v4, Graph Layers can be converted into a Paintable layer, and the Levels adjustment layer/node now supports outputting negative values.

Alongside this, creating a Locator object from a Projection layer/node now creates it as a child of the current Object and matches the initial transform settings and name of the Locator after the layer/node it was created from.
Python API
Mari 4.6v4 features useful improvements to its Python API.
It's now possible to flag a color type attribute as scalar via the API, and you can also set shortcuts for the Node Graph context. Alongside this, code in the Python Console palette is now preserved between sessions, enhancing continuity across your look development workflows.
USD Mesh Import Plugin
Taking its first official step in joining the global USD conversation, Mari 4.6v4 enables users to build a mesh importer plugin for USD using the plugin's source code, originally developed at Pixar. This plugin, rewritten by Foundry, allows users to load USD assets into Mari, without additional Alembic or OBJ versions of this same source code.
The USD Mesh Import Plugin currently supports UsdGeomMesh and UsdGeomXform Primvar types, with added native support for OpenSubdiv parameters on UsdGeomMesh, which requires CAPI extensions introduced in Mari 4.6v4.