Creating a multiverse of animated possibilities with Marvel's What If…?
Image courtesy © Marvel 2021
When Thanos snapped his fingers in 2018, the world of Marvel changed
Audiences were left gripping the edges of their seats, praying for the return of their favorite characters. Thankfully, most of them did—don't worry, we're still crying too. But what if they didn't return? What if Thanos never got the infinity stones because Ultron won that fateful battle? What if Peggy Carter took up the Captain America mantle instead of Steve Rogers?
What if nothing was the same?
In Marvel's latest hit-TV series What If…? answers to the above and so many more questions are given to us. The animation anthology is different from the epic features we're so familiar with, giving fans a glimpse of alternate Marvel universes and their favorite characters. 
To complete this ambitious project, Marvel enlisted the help of the award-winning Australian studio, Flying Bark. Well-known for its independent feature films, the studio recently expanded its repertoire to include both traditional hand-drawn 2D and CGI animation, making them the perfect fit for the project.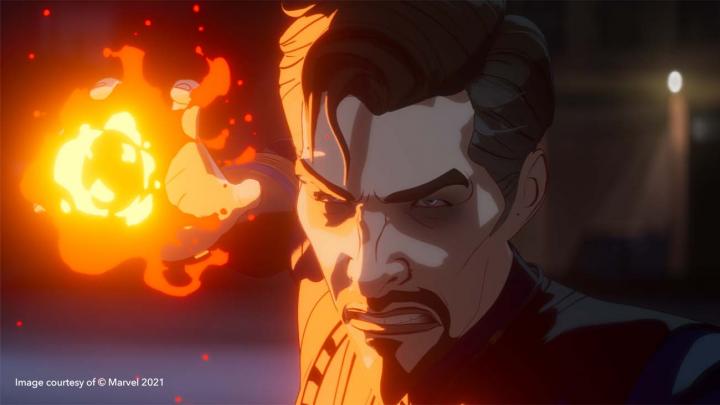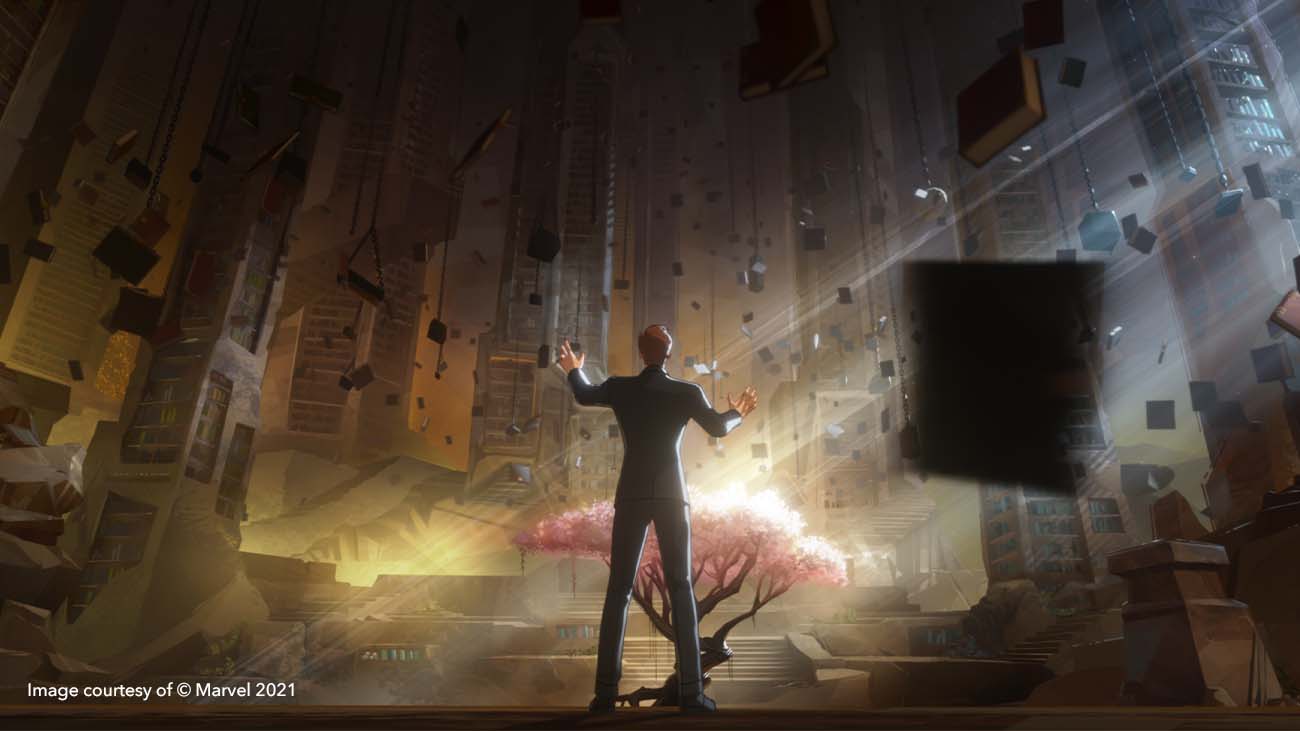 After being approached by Marvel, the Flying Bark team worked closely with them to finalize the style of the animation. Alexia Gates-Foale, Head of Animation Production and Tracy Lenon, Supervising Producer, tell us: 
"When the final CGI/2D hybrid animation style was decided on, it was only natural that we combine the exceptional talent of both our 2D and CG teams to help develop the beautiful animation style into a reality. We tested for the series with a small section of the Doctor Strange episode and after they saw just a couple of shots, the Marvel team brought us in to take on that episode, along with a number of others. [...] We also had a wonderfully talented crew that helped pave the way to our new CGI/2D hybrid pipeline. We had to be inventive, try out R&D and develop new systems as we went." 
The artists at Flying Bark were beyond excited to be working on the episodic show, but as with any Marvel project, there was added pressure in the form of the deep-rooted love of the MCU fanbase. 
"We knew going into it that there was going to be an enormous amount of pressure to live up to their expectations," Alexia and Tracy tell us. "There was also a major buzz internally at Marvel over this project, particularly given a number of live-action films were halted due to the pandemic. What If…? was one of the few projects able to keep going in 2020 [...] many of the crew started the project working from home and needed to adhere to strict security even while at home."
Despite the formidable task ahead, Flying Bark was excited to produce a series the Marvel fans would be proud of and jumped into creating What If…? with the same excitement, enlisting the help from two of Foundry's own tools, Nuke and Katana, to ensure the project went seamlessly.
Creating new heroes for the multiverse
The team faced many different technical challenges as they set out to tackle What if…?. First, the world had gone into lockdown and many of the big studios were being sent home to work—something previously unheard of in the visual effects (VFX) industry. Thankfully, Flying Bark was able to quickly adapt to the new working-from-home setup.  
"Because we have done a lot of co-productions with overseas partners and already had remote workers on other projects, the pipeline itself was already fairly adaptable to become entirely remote," Alexia and Tracy tell us. "Updating our security protocols was one of the biggest challenges, as they still needed to be followed while working from home. We also relied on strong communication between the HODs and their departments, with morning catch-ups and daily team meetings."
The unique animation style of What If…? also presented some obstacles for the team. In recent years, there has been a rise in new methodologies, cross-media styles and formats. It isn't just 2D and 3D animation anymore; there are various emerging markets of 2.5D hybrids and other unique techniques that have created fresh new looks—something also explored in the Marvel anthology TV show. 
"What If...? was not our usual workflow, so there was a lot of trial and error figuring out the best way to integrate the 2D and 3D; there were learning curves on both sides as we all found the best way to work together. In addition, we refer to What If…? as something more akin to 'mini-episode movies', so really we were dealing with somewhere between a series and a feature film on this project."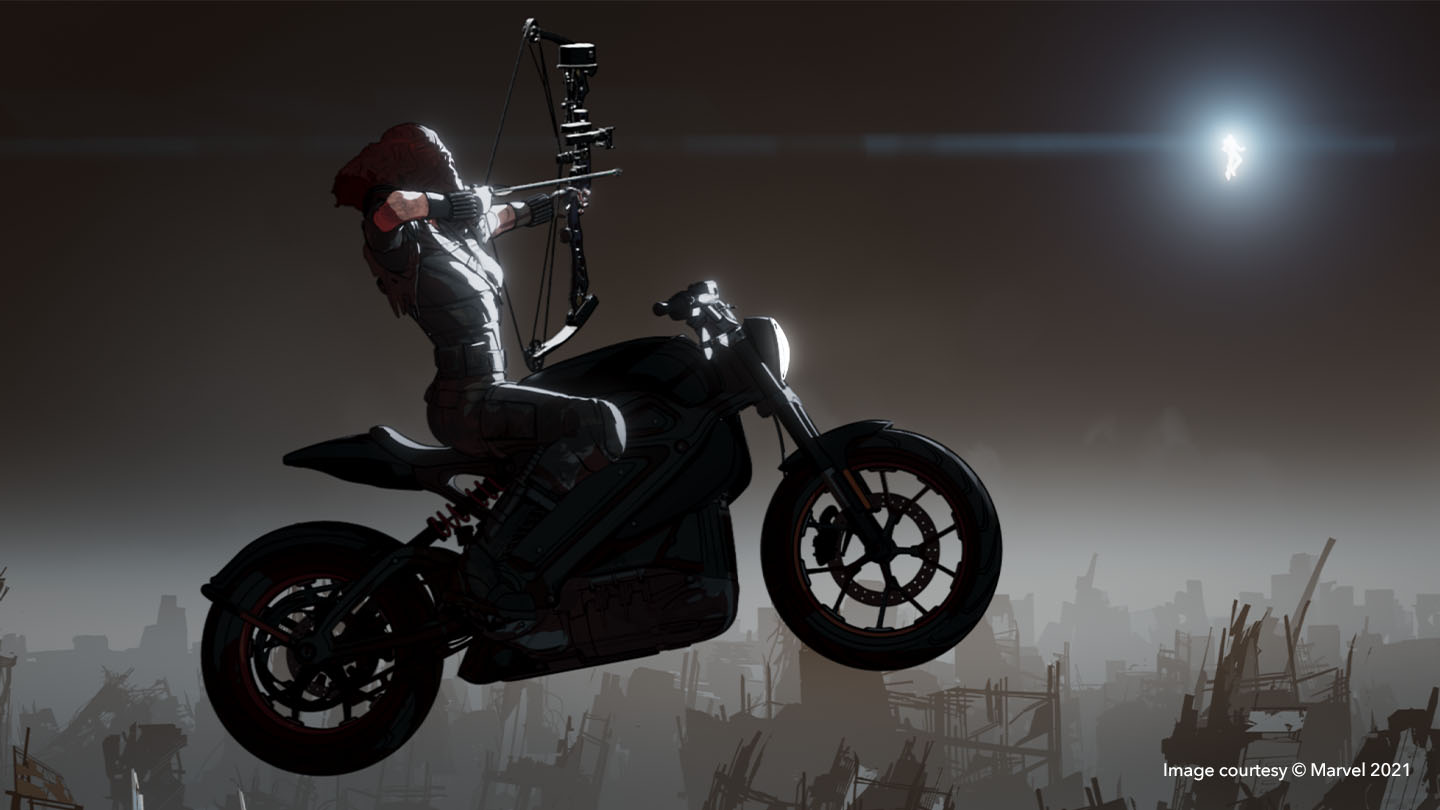 But it wasn't something the studio was going to shy away from. Instead, they fully embraced the innovative style of the anthology series and called on Nuke to help ensure the workflow ran smoothly. 
"The toolset in Nuke is a perfect fit for the 2.5D style of animation," Anders Thönell, Head of VFX and Greg O'Connor, Studio VFX Supervisor tell us. "Particularly being able to map images onto geometry in 3D space and add them to the comp. [...] One of our biggest challenges was trying to create a 3D feeling environment while relying almost completely on layered matte paintings. Nuke was instrumental in making that possible in an efficient and flexible way. We were able to leave our BG layers editable in 3D space to the very last stage."
"We relied heavily on importing our layout cameras and geometry holding the mapped BG paintings using Nuke's 3D features. This gave us extra control over the positioning of the matte paintings to enhance Rostrum style moves, for example," Anders and Greg continue.
Katana, Flying Bark's 3D lighting tool of choice, was also instrumental in ensuring the team's workflow remained as efficient as possible. Given the toon-shaded nature of the project, the artists wanted to ensure that all the 3D animated characters they created looked hand-drawn and adhered to the unique feel of the show.
"Katana has helped us standardize the inputs and outputs from lighting," Anders and Greg tell us. "We were able to make sure that the team could build their scenes in a consistent manner, while also managing outputs and making sure the compositing team received the same structure for their shots every time."
Bringing fictional realms to life 
One of the fantastic parts of the Marvel universe is the unique worlds it brings to life, and this was no different in What If…?. The animated series saw a whole host of different realms well-known and beloved by fans. However, when working on an anthology program, all the different characters and environments can offer up new obstacles. 
"The biggest technical challenge with an anthology is that you don't get much economy of scale across the series," Alexia and Tracy tell us. "Each episode introduced new characters and environments, and sometimes we would get excited to see a character repeated in an episode, but it turned out to be a version of the character from a different film and their costume or hair had changed completely."
With Marvel being so well-known, the team had to ensure that all the characters and original film setups would be easily recognizable to audiences. One of these environments was the Observation Realm, a key environment in one of the episodes, which proved particularly challenging to the artists at Flying Bark.
"We had to create an infinite space that has a dynamic background based in 3D geometry using Katana. The lighting for the space was highly conceptual so being able to grasp the approach and look when most of the final image is being driven in comp was challenging," Anders and Greg tell us. 
"We relied heavily on the graph state variables to manage sequence-based lighting through our templates [...] The template-based workflow made it quick and easy to debug scenes. It's light and dynamic. If you want to load any particular scene it takes seconds, not minutes, to load."
Using Nuke also ensured the team at Flying Bark a reliable workflow set-up, blending together content from four departments: BG Matte painting, 2D effects, 3D effects and 3D renders.
"The sophisticated 3D tools in Nuke were the perfect tool for this project. It's a very solid and reliable tool with a long track record and huge user base, making it possible to recruit talented artists much more readily than if we were using different software."
Flying Bark also worked closely with Marvel's Head of Visual Development, Ryan Meinerding, and the other animation vendors working on the show to ensure they were matching looks and shots across the episodes. All of the studios had different rendering software and techniques for creating the 2D linework, so they had to ensure the characters looked the same from episode to episode.
While Flying Bark might be new to the animation scene, they pulled out all the stops to help craft the unique anthology series, and with Nuke and Katana in tow were able to create a show Marvel fans loved.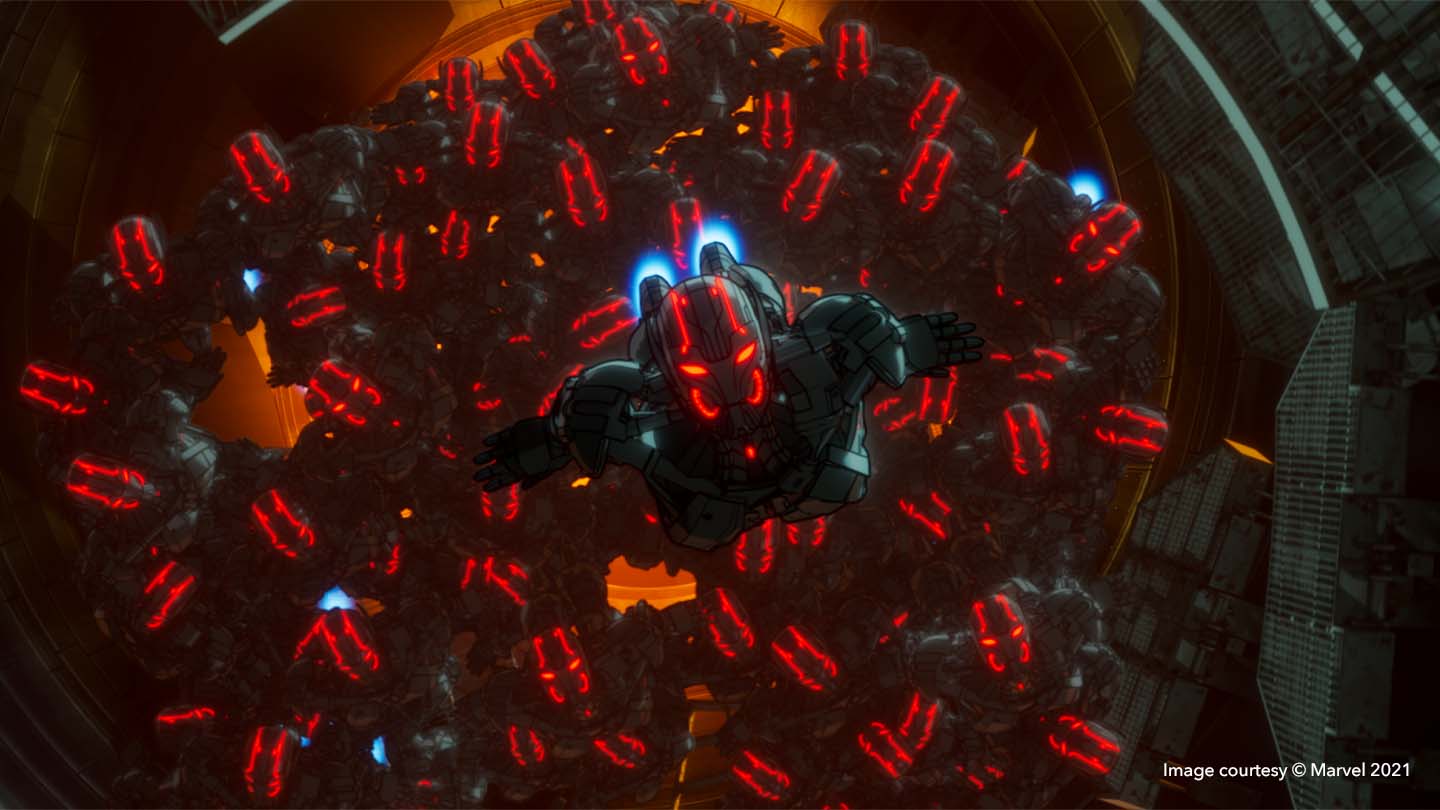 Paving the way for animation
Animation is a booming industry and gives artists the creative freedom to make anything they can imagine. TV shows like Marvel's What If…? bring these ideas to life and is a testament to the fantastic content we can give audiences. It's safe to assume that animation won't be coming off our screens any time soon, with that in mind, Flying Bark leaves us with some words of advice, especially for those looking to branch into animation: 
"Trying to balance the creative expectations with the budget is probably the single biggest challenge on any animated production," Alexia Gates-Foale and Tracy Lenon tell us. "In order to do this, you have to have a good, open relationship with your production partners, clients, and/or vendors—if everyone involved is constructive and respectful of one another, you can overcome most things and find a way to make brilliant animated content, without causing studios to lose money."
"Allow a lot of time for R&D—there will be trial and error, but the earlier you can iron out all the things that didn't work, the faster you'll be able to streamline your process, and finally, ensure you have room in the schedule and budget for slippage between departments and episodes," Alexia and Tracy continue.
"This is a great time to get into animation if you are deciding on a career," Alexia and Tracy tell us. "We're always on the lookout for emerging talent from local schools and universities, and are planning on launching some more formal training programs in the next year—more on that will be announced soon."
Watch What If…? on Disney+ today 
Begin your animation journey today and take a look at our solutions page