Artist Spotlight: Lilia Collar
Image courtesy of © 2022 MARVEL and Digital Domain
Everything is in the details.

Artists often experiment with other industries before finding the right path, and that's certainly true for Lilia Collar. Before becoming Lead Compositor at Digital Domain in Montreal, she had a passion for biology and later for the written word. Since focusing on visual storytelling, Lilia has worked on a number of live action films, as well as episodic and feature animation projects including She-Hulk: Attorney at Law, Spider-Man: No Way Home, and Foundation.
When an artist is driven by passion, choosing just one favorite project is a complex ask.
"It's hard to choose just one, probably Dark Phoenix and She-Hulk: Attorney at Law. They are both very different projects but have a challenge in common — the need to achieve a subtle, yet complex and elegant look for the main characters. They also both had great teams and collaboration to get us to the end result," says Lilia.
We caught up with Lilia to discuss her work on She-Hulk: Attorney at Law, a nominee for Outstanding Animated Character in an Episode or Real-Time project in the 21st annual VES Awards, and discover how Nuke, our powerful compositing software, supported her in achieving cinema-quality VFX.
"I was made aware of Nuke during industry sessions in Anima, an annual animation festival in Belgium," explains Lilia. "Several European and Belgian players were calling for candidates who already had audiovisual training to further specialize in Nuke during a nine-month program. This was as a response to the growing demand for candidates within the blooming VFX industry. The culmination of this training was a two-month internship that gave me the correct exposure to get launched into the professional arena."
Read on to find out which VFX trends Lilia is most excited about, and hear her advice for artists starting out in the industry...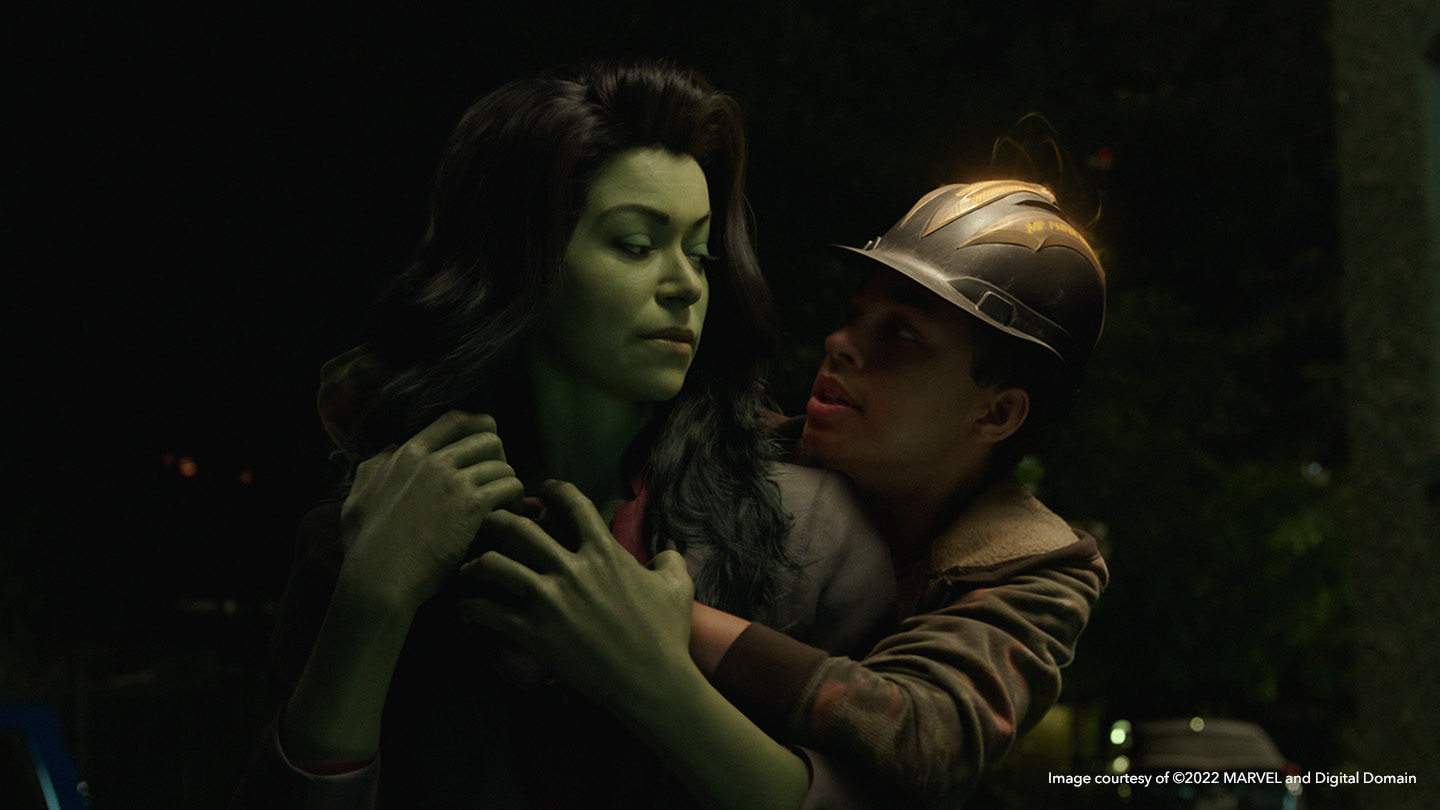 Q: Can you tell us about your recent work on She-Hulk: Attorney at Law? 
A: I was one of the Digital Compositors on the show. I worked on 18 sequences in total. This makes for a very large set of situations — clothing, hairdos, and lighting conditions for She-Hulk. Throughout all of those, I had to ensure she looked her best but also herself. During the project, we quickly realized that the subtlest of changes could make you feel like she was not herself and we put quite a lot of work into making sure she always had the same complexion, makeup, and general look.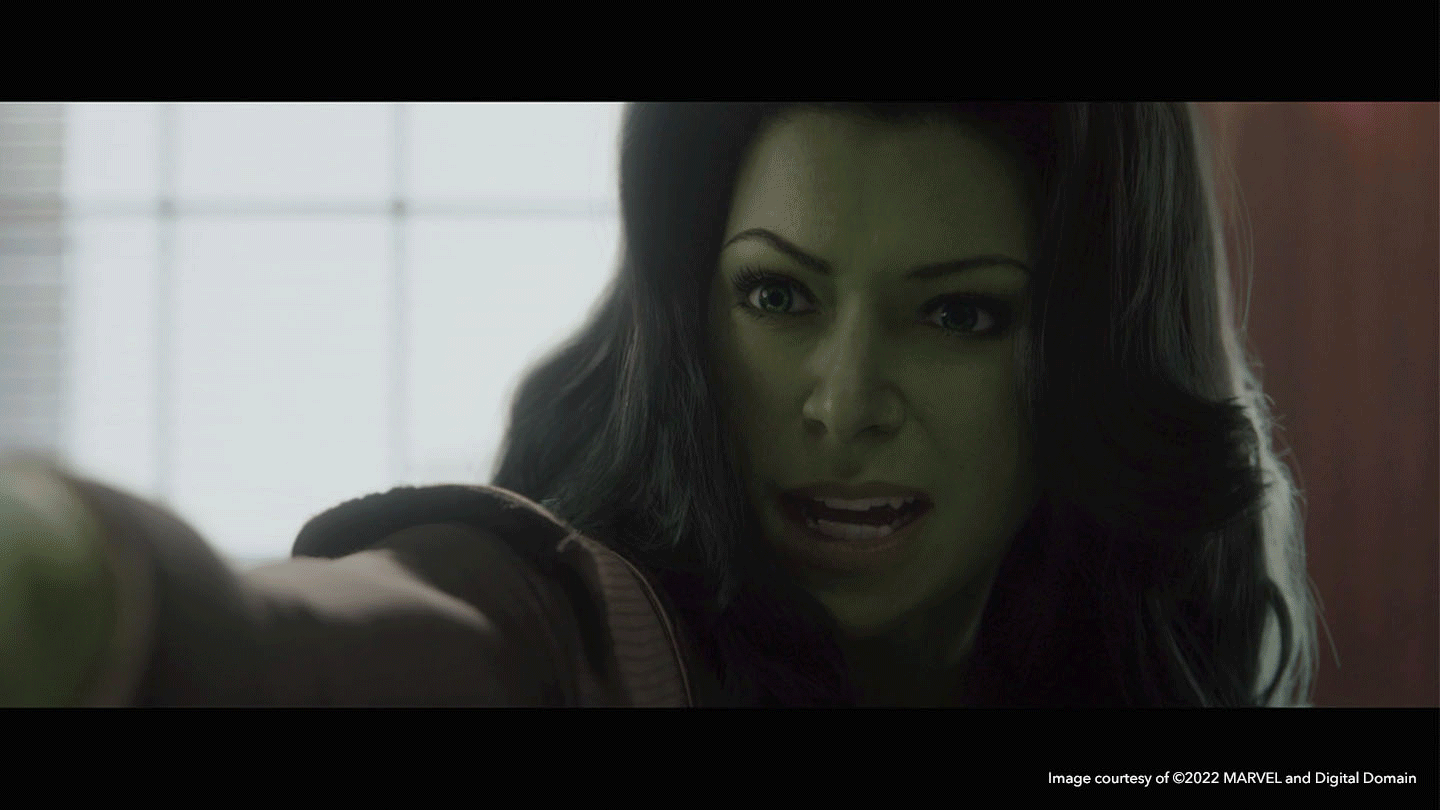 Q: Do you have a favorite shot or scene you worked on?
A: My favorite moment was one of the most intimate scenes of the series. When you spend nine months working on an asset as closely as we did, at some point the asset becomes the character. I guess our journey together was very fitting. My first shot on She-Hulk: Attorney at Law was She-Hulk walking in the distance in an office setting. This was followed by one-on-one conversations in the office, then to her personal life and finally I got to work on a very delicate and endearing moment — her taking pictures for a dating app. As a compositor, you always strive to have your shots looking top quality of course, but there's something special about working on a scene with such delicate content. You want to try to bring the subtlest touches on board and you want the moment to resemble the wide array of emotion it contains. We spent most of our time dialing in the subtleties that would make her feel real. We paid special attention to her makeup, age, hair and, of course, her green skin tone — this was done by a combination of grading, shading, and IDs both from other departments and created in comp.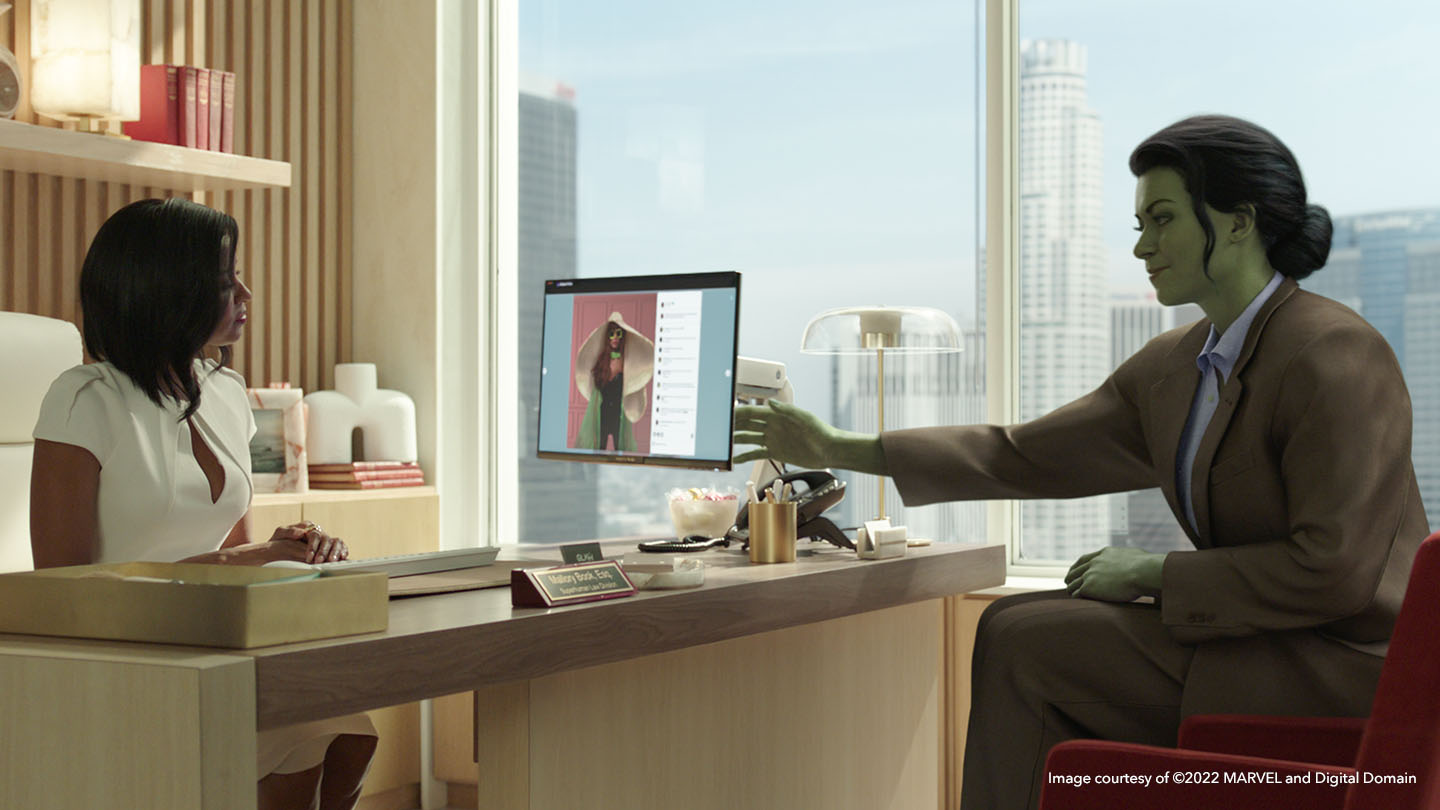 Q: How did you help define the look of She-Hulk?
A: When I joined, the project had been going for a while but compositing was still in the early stages. There was some research needed on our end to find the final look of She-Hulk. This happened organically with the team proposing solutions and our supervisors guiding us as to what was most successful. We had constant interaction with other departments to ensure we had all that was needed to achieve her look in the most artistic, yet easy-to-iterate way possible. Nuke's nodal system makes it very easy to create templates for certain looks and to share solutions with the rest of the team. For quick iterations, you also need to keep in mind that each treatment needs to be independent from the rest. This ensures that if you get a note regarding a specific area, none other is affected. We knew we had a large volume to handle and being able to rely on an established set of processes in compositing was key to our success in delivering high quality and volume in such a short amount of time.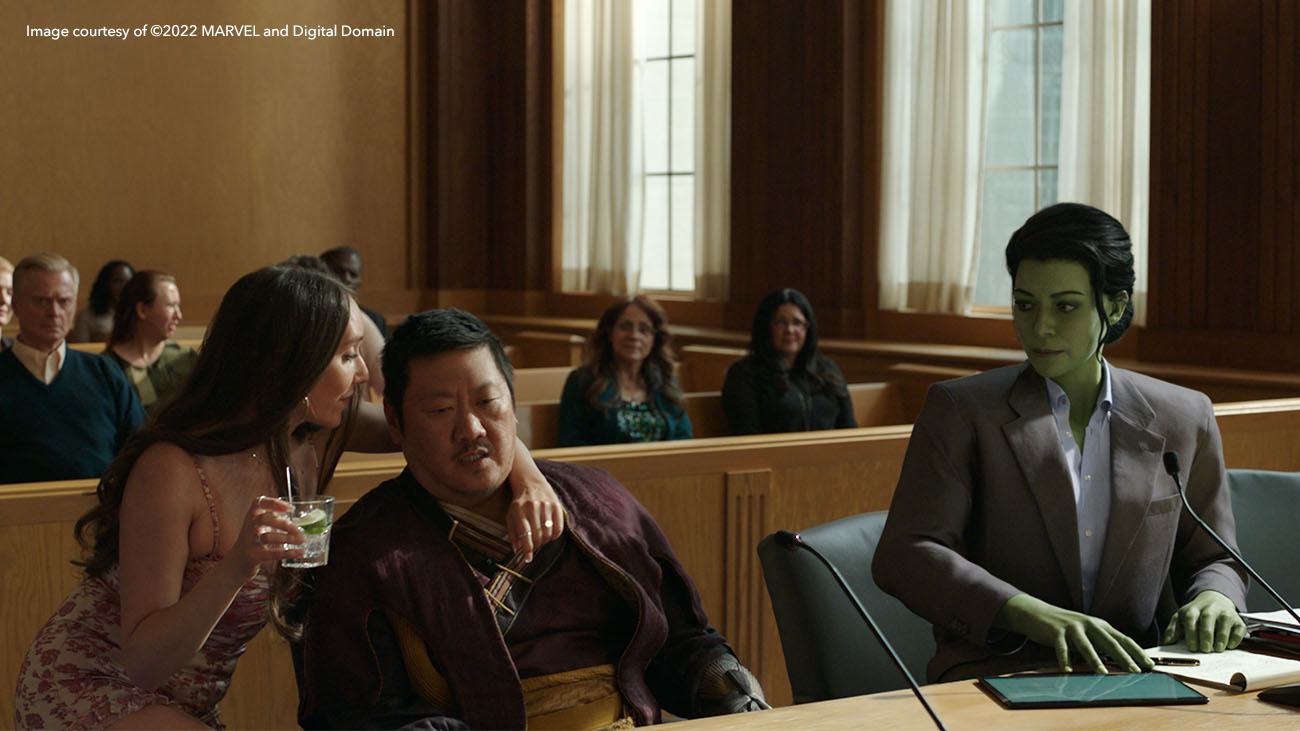 Q: Were any comp tricks used in the She-Hulk transformations?
A: For our transformation shots, we had a very clear artistic brief from our visual effects supervisors, Jan Philip Cramer and Michael Melchiorre. We were tasked with achieving something very simple but very elegant at the same time. We had to avoid making it look sudden, violent, painful or scary. Because She-Hulk achieved balance and is in complete control, she transitions in a fluid, beautiful way. We added as much detail as possible — like veins and skin tone variation as the transformation advances. For these particular shots, we had support from both the lighting and FX teams, who provided us with as much material as possible. It was then up to the compositors to choose the best way to utilize those resources to achieve the desired look. Too little and it would not be seen, too much and you are out of brief.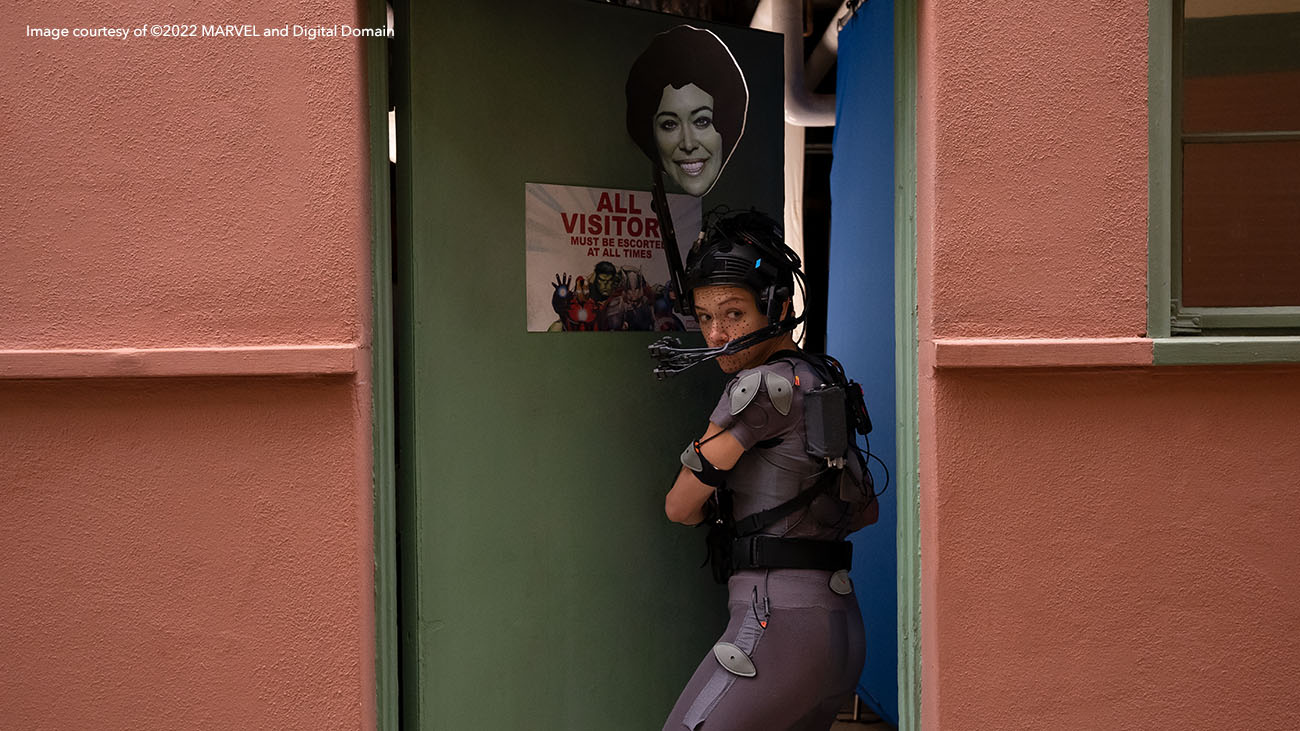 Q: Can you talk us through the complexities of compositing on She-Hulk: Attorney at Law? 
A: The greatest challenge was making a convincing digital human such as She-Hulk, especially in the context of the series. For most digital humans, you see them in a lot of action — with smoke, fire, explosions, and very dynamic camera movements. In other words, you don't see them that well or that much. 
In this series, we were challenged with very close-up shots of her going about a regular day. She's interacting with other actors in very normal environments like offices, courtrooms or bars. This increased the level of difficulty to our work because we are all very sensitive as to how that normality looks. We have certain expectations. As compositors, getting her integrated was only the very start of the work. We spent most of our time dialing in the subtleties that would make her feel real. 
Q: Can you explain how you go about achieving cinema-quality VFX with such a tight turnaround?
A: It's a team effort. Everyone is highly specialized and delivering top quality at all times. We get together and we try to find the most efficient and best looking approach for each situation and we then apply it.
When you enter a show like this, it's very important for you to quickly get acquainted with the artistic brief and the purpose behind it. Once you have an idea about what it is you're telling, you can start looking for the particular scope of work and techniques that will fall under your responsibility. From there, you need to start proposing ideas as fast as possible, and be ready to be open and flexible with those ideas. The supervising team will be ready to answer your questions and guide you into the desired look as discussed with the client.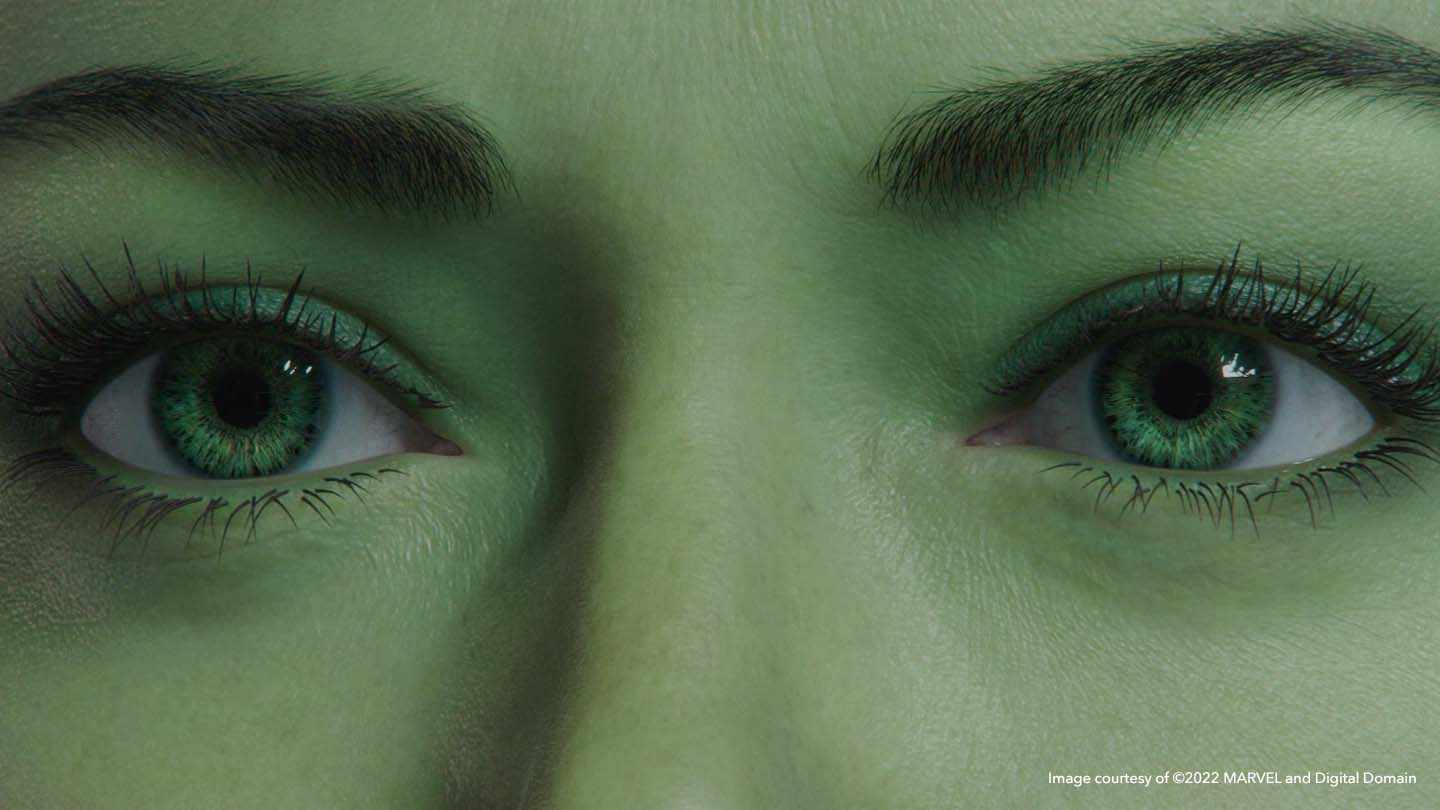 Early on, you also need to figure out how all of the artistic and technical research you've done can be re-utilized into a very structured shot process. If you spend time looking for the perfect way to contour her eyes, you want to make sure you don't need to spend that time again and that you can build on what you've achieved. Templating, high level of control and understanding of comp tools, as well as comp organization and optimization were key to delivering fast iterations with both quality and volume for a very demanding deadline.
Q: Were there any differences between She-Hulk: Attorney at Law and other projects you've worked on?
A: All projects are the same and different at the same time. They ask us to deliver high standard visuals at a fast pace. She-Hulk: Attorney at Law was no different in that respect. But what would distinguish the project is the amount of detail-oriented work we did for each individual shot.
Q: Do you use Nuke for all of your projects? What problems does it solve? 
A: I use Nuke for all projects. Nuke is a very flexible and versatile software. Over the years, I have used it for all aspects of compositing in a wide range of projects and needs.
Q: Can you talk about some of the Nuke features you find most useful in your work, and why? 
A: I'm particularly fond of the node-based compositing flexibility Nuke has to offer. I also really enjoy how versatile the program is. If you have control of the core tools, you can achieve almost anything. But you do need to know it profoundly before you manage this.
What was really important for this project was the robustness of the color management capacities in Nuke. We were able to utilize this to keep a consistent and believable look throughout the show, which was composed by a number of different lighting conditions, as well as cameras. Another very important quality of Nuke was the ability to handle a large number of ID masks in multilayered exrs. These were vital in achieving the look and fine tuning She-Hulk to be as close as possible to Tatiana Maslany.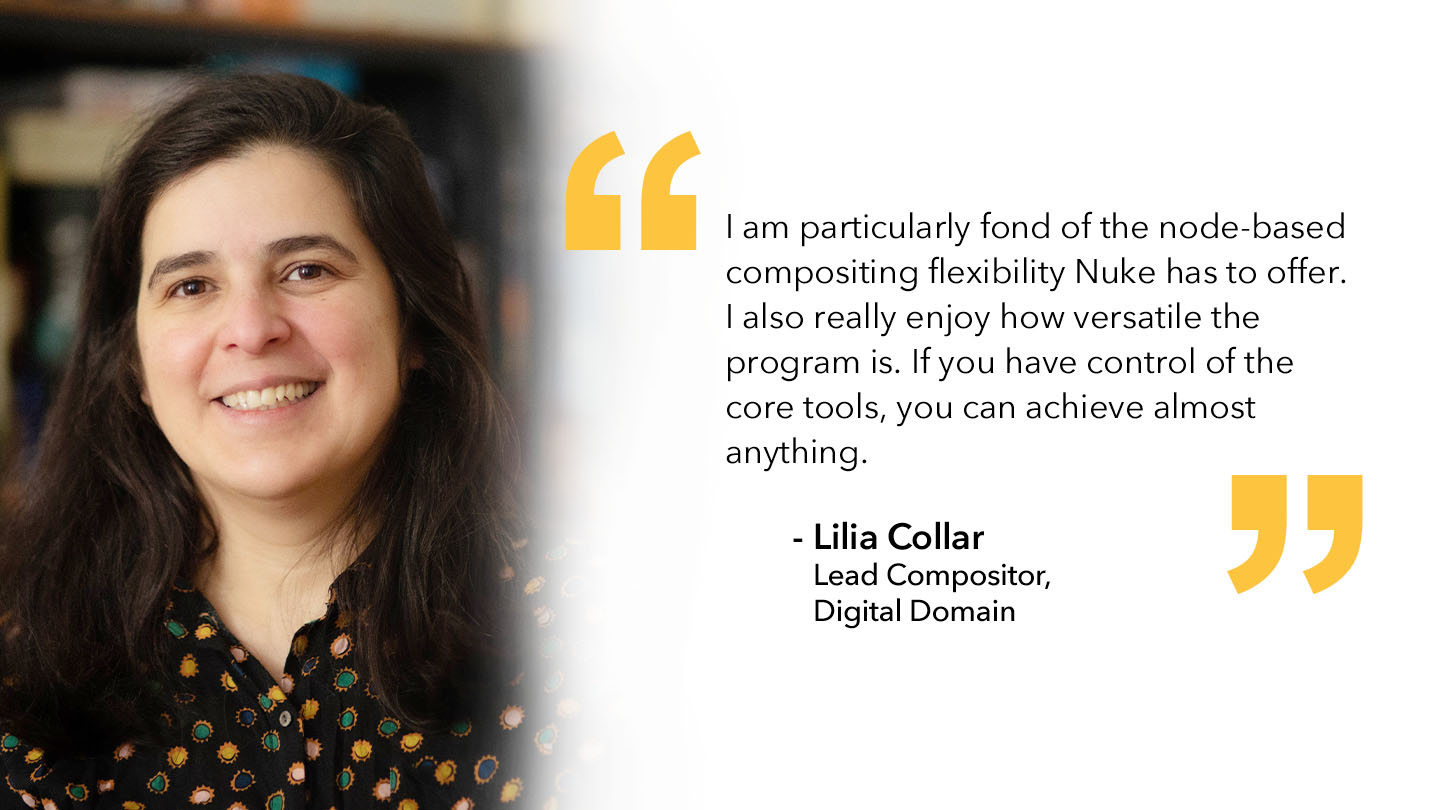 Q: Are there any upcoming features you would like to see in Nuke in the future?
A: I am very excited about USD and the workflow possibilities it opens for interdepartmental collaboration.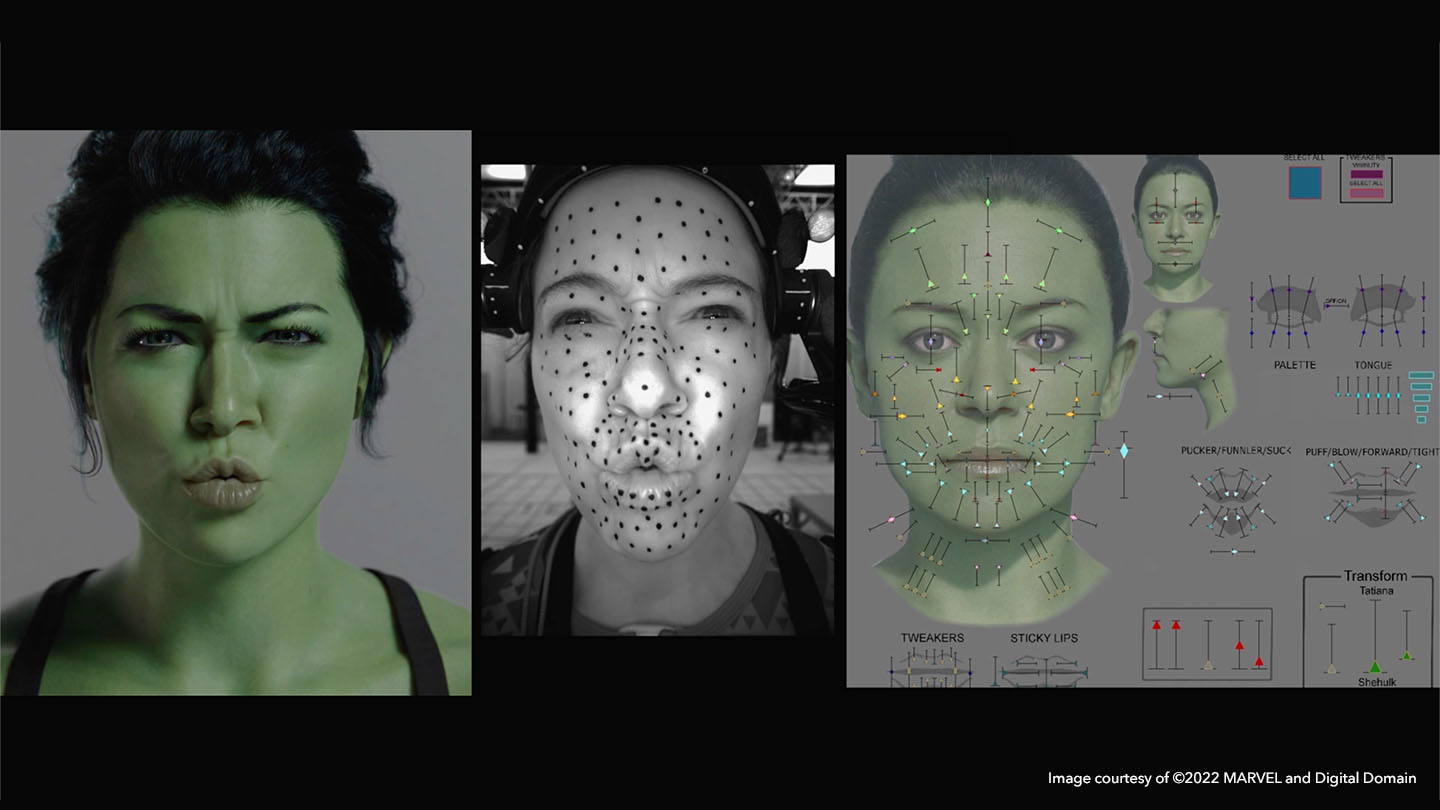 Q: Do you have tips and tricks for burgeoning artists looking to invest in Nuke for compositing? 
A: To be successful as a Junior Artist or a student, you need three key elements: practice, diversity of tasks, and a mentor. 
There is a true learning curve to follow as compositors and many get discouraged either at the very start of it, or in the coming three to five years. This is relative to both software resistance and industry realities that you need to navigate. It can be very frustrating to know what you want to achieve but not have the technical control to do it when you're starting, which later on switches to having a higher technical control but not knowing what it is you want to achieve. Balancing the two and getting results is instrumental to moving forward. This takes me to my second point.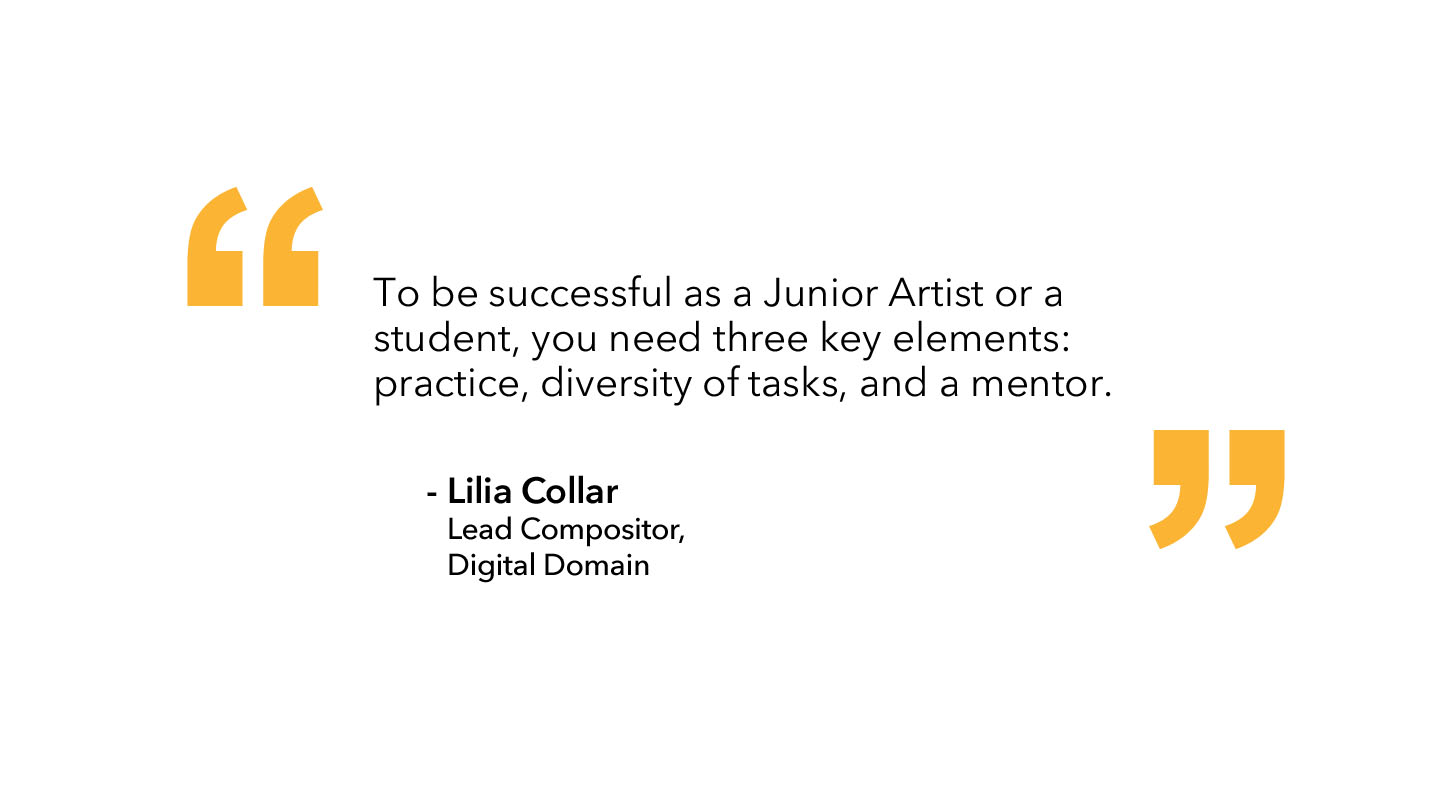 Some artists have a tendency to focus on one type of learning or task. As you are starting in the field, I would recommend for you to see as many plates, types of characters, elements, FX, and DMPs as you can and as early as possible. This will broaden your control of the software both technically and artistically and make you a well-rounded artist. You will need to learn what is the visual contract the industry expects from each given situation.
Having a mentor by your side can greatly simplify and speed this learning. The VFX industry is a collaborative arena. Learning from others who have been successful in the past is a fast track to enable you to either replicate or subvert the canon if that is what is asked.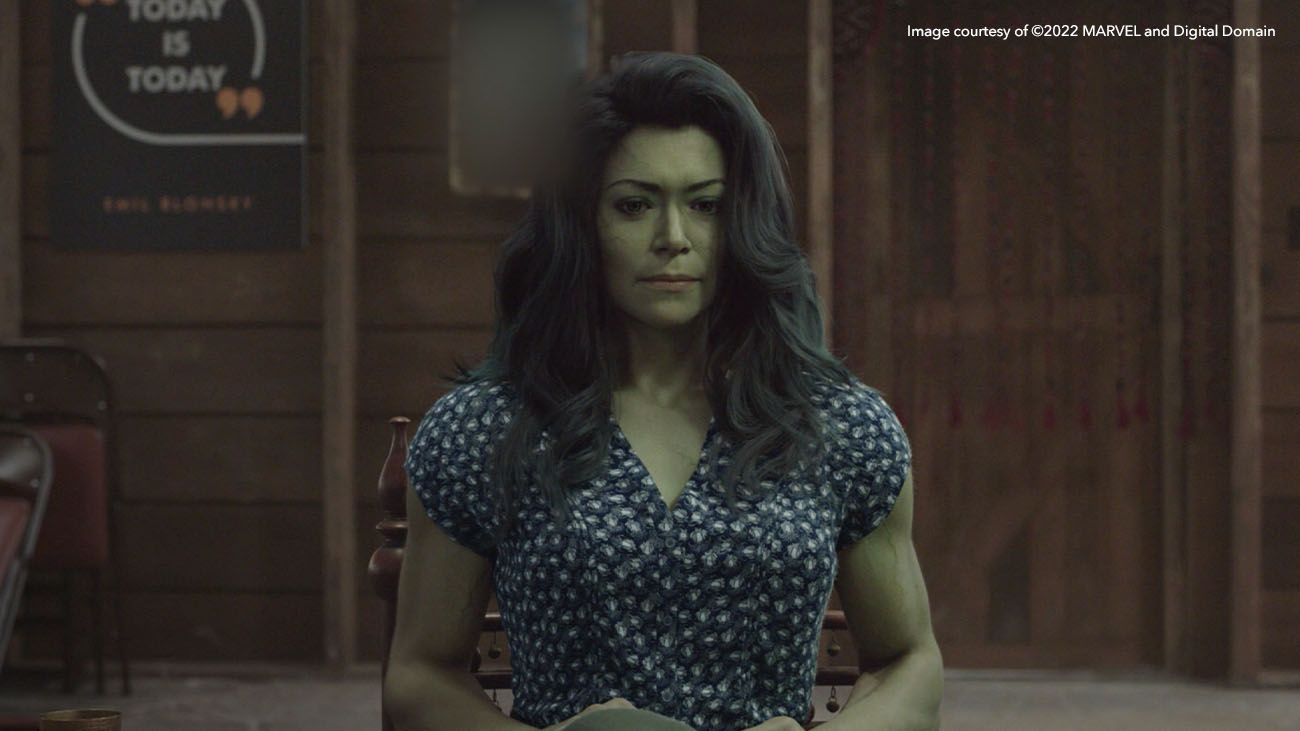 Q: Do you have any wider tips for artists looking to break into the VFX industry? What type of opportunities should artists be looking for?
A: If you are new to the industry, first try to find out what career path you would like to follow. From there, do a little research on what is the broadest used software in that field and start focusing on this. Try to participate in industry conferences — these usually contain great pointers as to what training, schools, and opportunities are out there. Ultimately, learn the correct terminology.
Q: Are there any upcoming trends in the industry and compositing that you're particularly excited about? 
A: AI and the ramifications this can have for compositors. To a certain extent, this is already in the works but I expect to amplify its reach and applications in the not-so-distant future. As someone who enjoys having as much time for creative tasks as possible by using procedural approaches where possible, this is a very exciting time.
Curious about the process behind creating the photorealistic CG She-Hulk? Check out the webinar recording below to find out: