Film and TV
Blur Studio use Nuke on Deadpool
TM & ©2015 Marvel Subs. TM and © 2015 Twentieth Century Fox Film Corporation
Putting together an iconic title sequence
From the minute you see the opening titles of the superhero comedy blockbuster Deadpool, you know exactly what kind of a treat you're in for: twisted humor, pulse-racing action and breathtaking visual effects. The continuous pull-back through a frozen-in-time scene of mid-fight chaos and carnage—lasting nearly two minutes, and all at photorealistic quality, of course—was one of the most difficult shots in the film. As CG Supervisor Sebastien Chort of Blur Studio put it, "It's a compilation of challenges in itself."
Sebastien is no stranger to challenges. In the past two years alone, he's worked on a television commercial for Assassin's Creed, an ad campaign for Samsung Gear within the Avengers universe, and most recently, Deadpool. Prior to that, he worked on Gravity at Framestore, as well as numerous feature films with DreamWorks Animation including Kung Fu Panda, How to Train Your Dragon and Puss in Boots.
It was on Puss in Boots in 2010 (when DreamWorks made the switch from their proprietary software) that Sebastien first started using Nuke®, and at Blur, Nuke and NukeX® were his tools of choice to help pull off the shots his team worked on for Deadpool. As well as the title sequence, the studio contributed VFX to the scene of the cab ride on the way to the final battle, and the sequence showing the aftermath of the battle. The scenes involved green-screen keying, set extensions, digital doubles and match-moving, and required the team to create and integrate a damaged version of the fully CG Colossus character from an original clean model supplied by Digital Domain.
The team used Nuke at several stages of the production: to create post-viz footage from layout animation and plates for editorial purposes; to composite all of their Colossus shots; and to composite the opening title sequence. It was that title sequence that really caused the team at Blur to stretch themselves. As Sebastien explains, "Getting assets to integrate into the shot was quite tricky since the camera motion starts as a macro shot fly-through and gets really close to the textural detail, to finally end on a full-scale wide-angle composition. To make that shot even more challenging, it is a whopping 2,500 frames long."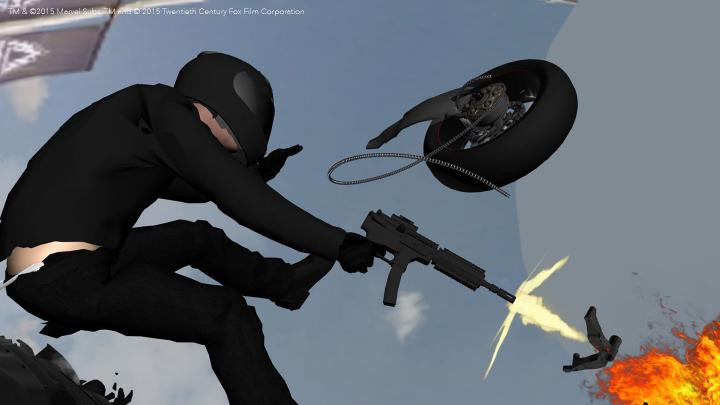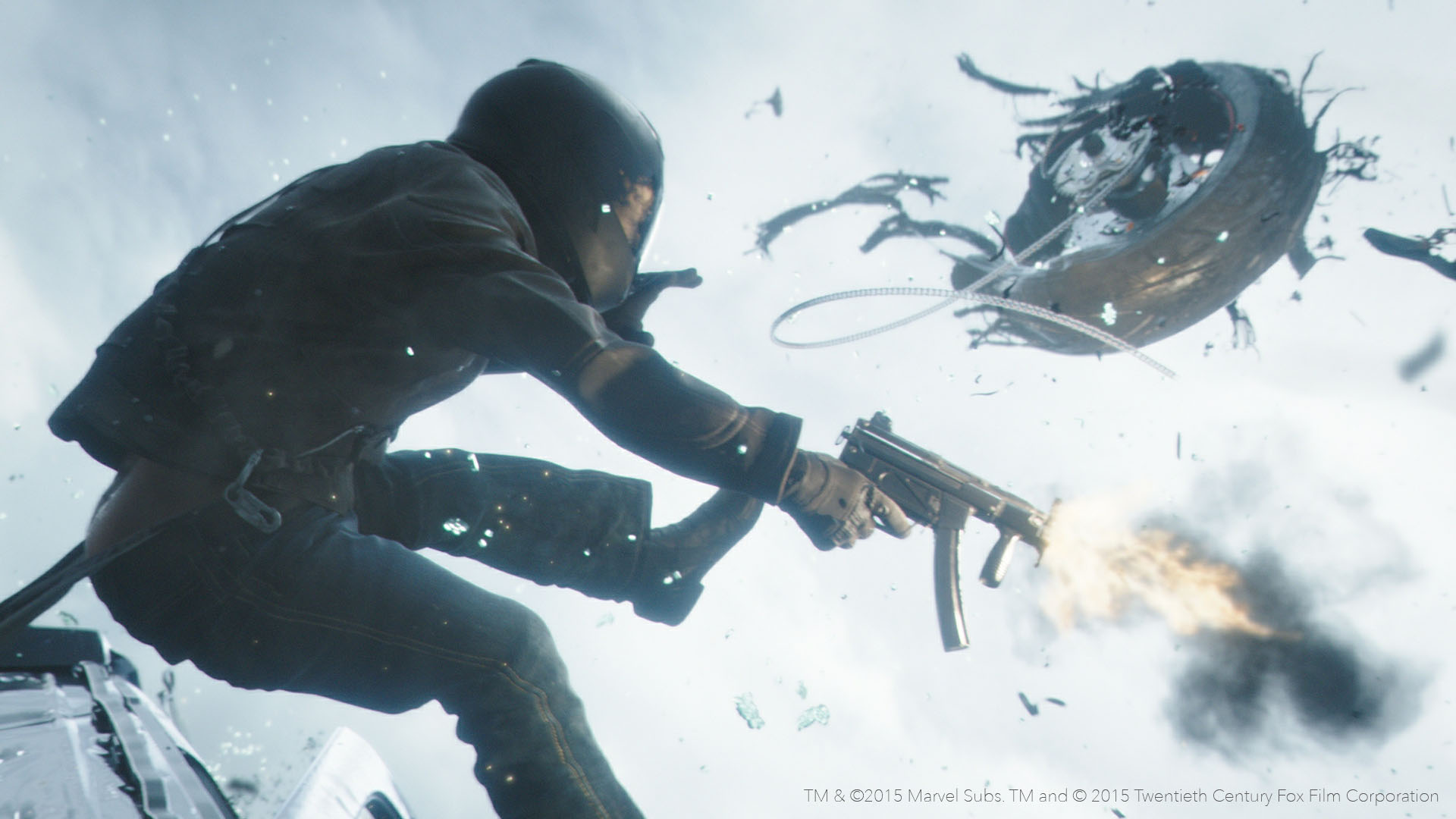 Since the team were constantly refining the content of the opening title sequence even when the camera was locked, they needed an easy workflow to add or remove visual elements without the need to re-render every time they had to deal with a change request. So they decided to explore Nuke's deep compositing tools and set up their renders in V-Ray to export deep data. "It didn't take us long to adapt to that process, and it brought the needed flexibility to our workflow," says Sebastien. "The way Nuke handles the deep data made it really easy to remove an asset without the need to render it on its own. Adding assets was also really simple—we saved a lot of time since we never had to deal with holdouts. We were able to just render each asset under the correct lighting condition and drop it into the comp."
I think [deep compositing] is a really great workflow to play with from the point of view of a lighter.
Sebastien is a fan of the 3D tools in Nuke, and he'd love to experiment more with the ability to render with V-Ray. But if he had to pick one feature he couldn't live without, it's definitely the deep compositing tools. "I think this is a really great workflow to play with from the point of view of a lighter. We are still exploring the full potential of deep compositing, but I could see using this to enable a team of several lighters working simultaneously on the same shot. I think deep compositing could be a game changer for many studios with some further development."
For such a high-profile project, it's perhaps surprising that Sebastien found time to enjoy what he terms "the human experience". Working with a small, high-energy team that was really dedicated made it one of the best projects he's ever had a chance to supervise. For those of us on the receiving end of his work, we can only look forward to the next one.