Hot off the press: top trends from Foundry Live 2021
Taking place between 21-29 September, Foundry Live 2021 returned for an encore after the success of March's event.
Sponsored by Dell and NVIDIA, our second Foundry Live of the year covered four upcoming product releases including Nuke 13.1, Flix 6.4, Katana 5.0, Mari 5.0, and also featured the unveiling of Katana to Nuke interoperability, empowering artists to work in context of the final Nuke composite. 
Foundry's research team also gave an update on Nuke's new UnrealReader Node, with examples of the benefits it's already brought to artists and studios looking to use Unreal Engine in conjunction with Nuke. Speakers included industry experts Indrajeet Sisodiya, Shahin Toosi, Ari Rubenstein and Matt Jacobs.
Last but not least came the Modo team, who took audiences through a journey of the completed Modo 15 series ahead of its 15.2 release. 
Without further ado, scroll for a summary of the hottest trends and highlights to come out of the event. 
Preview of Mari 5.0 and Katana 5.0
Foundry's look development and lighting team kicked off proceedings with a deep-dive into Katana and Mari's upcoming 5.0 releases, unveiling some fundamental features key to streamlining LD&L workflows everywhere. 
Speaking of a move that better aligns Mari to the VFX reference platform, Rory Woodford, Mari Product Manager, described how the look development tool will be upgraded to Python 3 as part of its 5.0 release, with OpenColorIO also upgraded to v2.
Feature-wise, new and improved Brush Color Dynamics—giving artists the ability to create more stylistic brush strokes than has ever been possible before—and Bake Point Filters for more procedural power were highlighted by the team as key quality of life enhancements artists can expect in Mari 5.0.
Universal Scene Description (USD) also got its share of the limelight as essential to reducing pipeline friction between Mari and lighting tool Katana. Calling out Mari 5.0's new USD Preview Look Export feature, Rory described how it enables artists to easily create flat preview shaders for DCC's like Katana, bringing look development and lighting teams closer together and enabling artists to develop a preview look for an asset—alongside their production look—earlier in the pipeline.
Continuing the theme of USD, Katana 5.0 followed with key updates planned for its USD workflows. Shipping with additional USD tools which allow artists to import and export lighting information from Katana, these encourage cross-team collaboration and a closer approximation of final lighting design and choices. 
One of  the most hotly-anticipated features due in the upcoming Katana 5.0 is the Katana to Nuke interoperability, described by Gary Jones, LD&L Product Manager. This extraordinary feat of pipeline interoperability allows lighting and look development artists to see their work in context of a Nuke render, with renders from Katana live-streamed to a running version of Nuke as part of a full comp environment.
Coupled with Katana 5.0's updated Foresight+ Rendering—giving artists the ability to live render on multiple shots at the same time, and iterate on those shots that are running anywhere in a network—Katana 5.0 promises to give artists the tools they need to create with clarity, confidence and unmatched precision.
For a complete breakdown of what's to come in Mari 5.0 and Katana 5.0, watch the LD&L team's unmissable Foundry Live session.
What's Next in Nuke 13.0
Juan Salazar, Anais Torreblanca and David Nolan from Foundry's Nuke team and Ben Kent from Foundry's Research Team fielded their session, kicking things off by diving into the upcoming Nuke 13.1 release. It focuses on new developments in the A.I.R tools, improvements made to Nuke's timeline tools, and quality of life updates aimed at empowering artists so they can work faster and more efficiently. 
The first of these includes improvements to the user experience in Nuke's 3D System. Nuke 13.1 will feature full support for macOS, so Mac users can now use the new Hydra Viewer, which provides a much more accurate representation of the final render directly in the viewport. 
Building on this are the upcoming improvements due for the 3D viewer in which Nuke's 3D translate, rotate and scale handles will be completely redesigned, making them more user-friendly, and extending their functionality to bring them up to the standards of other 3D applications. These improvements make it quicker and easier to work in Nuke's 3D system, so artists can place cards, cameras, lights, and any other 3D objects exactly where they're wanted directly in the viewer.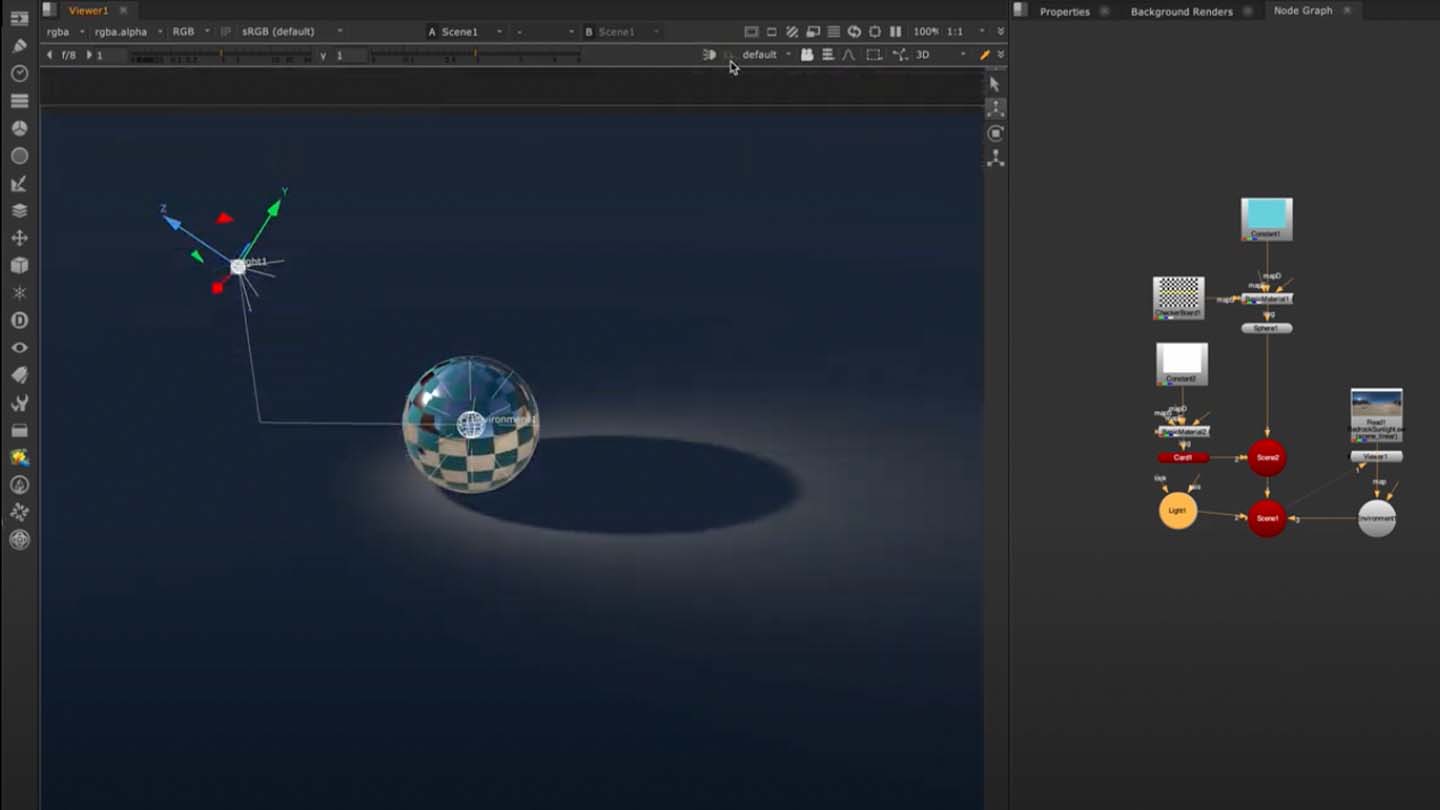 Further quality of life enhancements due in Nuke 13.1 include extensions to Cryptomatte, making it easier to make map selections or create new custom Cryptomattes from within Nuke, and Shake to Disconnect—a new gestural control for the Nuke node graph, allowing artists to shake a node to disconnect it from the pipe so sections of script can be moved around with ease.
Turning to timelines as seen in review software such as Foundry's Hiero and Nuke Studio, the Nuke team highlighted some fundamental advancements to their core performance and stability. As part of Nuke 13.1, a series of incremental improvements is being implemented to drastically reduce the amount a project takes to load in the timeline. In this release, Hiero's files that have been saved on 13.1 will be opening 25% to 30% faster than in previous releases. 
Taking centre stage next were the Nuke team's efforts to improve how pipelines operate; how to make it easier for data to move from one department to another, ensuring that everyone on the team is looking at the right image. A number of upcoming Nuke 13.1 features are tailored to this end, including the introduction of OCIOv2 into Nuke's toolset to support consistent color processing between GPU and CPU viewers, extended machine learning tools to allow users to run third party PyTorch models natively inside Nuke, and the aforementioned Nuke<>Katana interop.
Perhaps the most anticipated feature of the Nuke 13.1 release which the team was delighted to reveal at Foundry Live was Nuke X's new UnrealReader Node. This is an experimental tool for doing VFX work in NukeX and Nuke Studio, using data generated from game engines. Crucially, the Unreal Reader can be used to achieve final-frame quality over Unreal renders using the Nuke toolset, connecting two major tools to help content creators achieve their perfect final image quicker, and at the highest possible quality.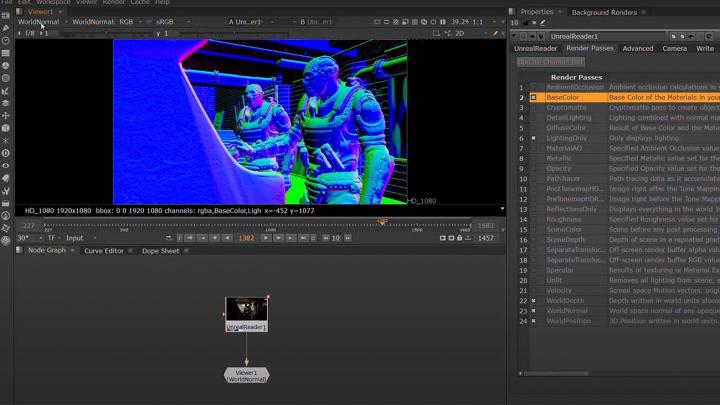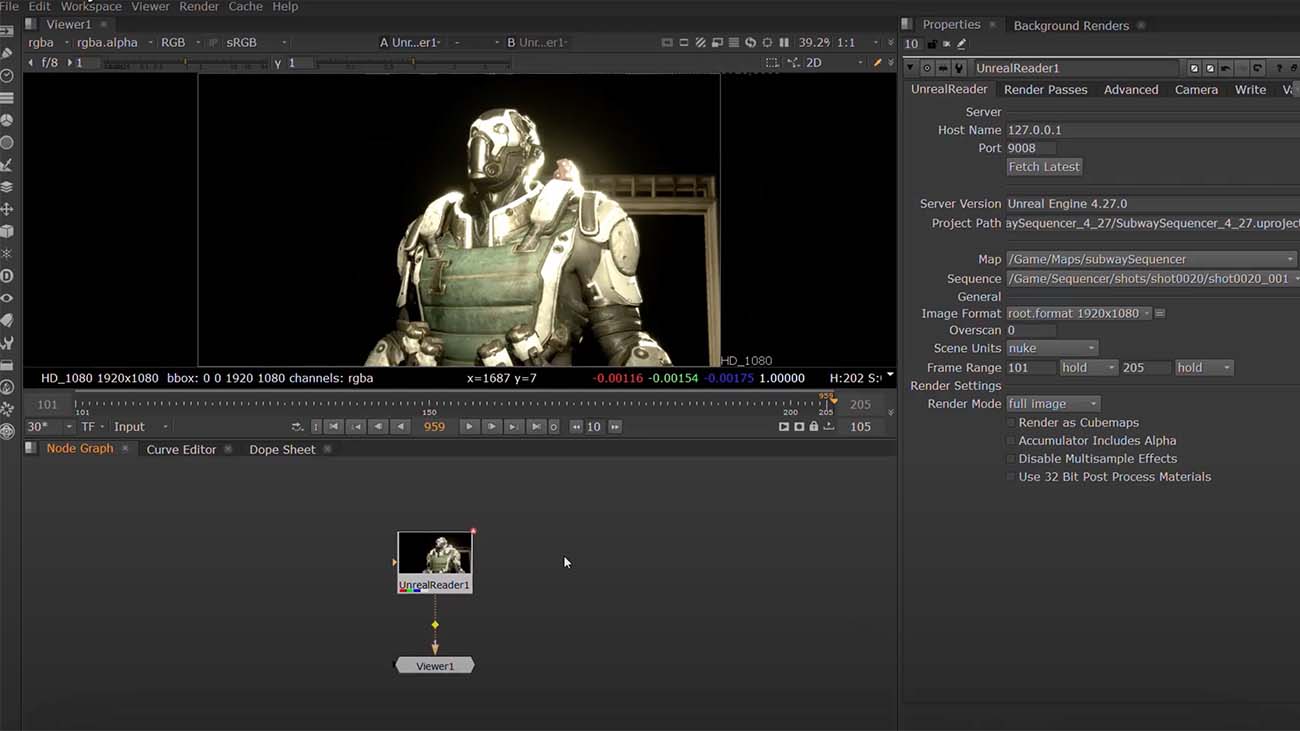 Watch the full Nuke session on-demand for an in-depth breakdown of the above and exclusive insight into upcoming development plans, including Foundry's 'Timeline of Truth' project, OTIO and metadata, and a new rendering system for Nuke.
Research and Innovation Showcase
Hosted by Director of Product—New Technology Mathieu Mazerolle, Foundry's Research and Innovation Showcase followed with an in-depth look at upcoming projects and developments centered around cloud, machine learning and real-time technologies.
Citing COVID-19 as an accelerator for cloud adoption—and by extension, the rise in challenges and opportunities presented by cloud's increased uptake—Mathieu explained how Foundry's cloud team are focused on making cloud use easier and more practical by getting the right data to the right place at the right time.
Machine learning came next, with Mathieu citing Nuke's upcoming 13.1 release as making ML even more extensible for artists everywhere. Nuke X's Inference node has new support for third-party PyTorch models trained outside of Nuke, so artists are no longer limited to using the networks they've trained using CopyCat and can use a wide range of image-to-image PyTorch networks.
Last but not least came Foundry's inroads into real-time technology, specifically how to bring the data generated from game engines into a visual effects pipeline where compositing and VFX techniques play a huge role. Enter Nuke's Unreal Reader: a compositor friendly workflow for projects that have Unreal Engine in the pipeline.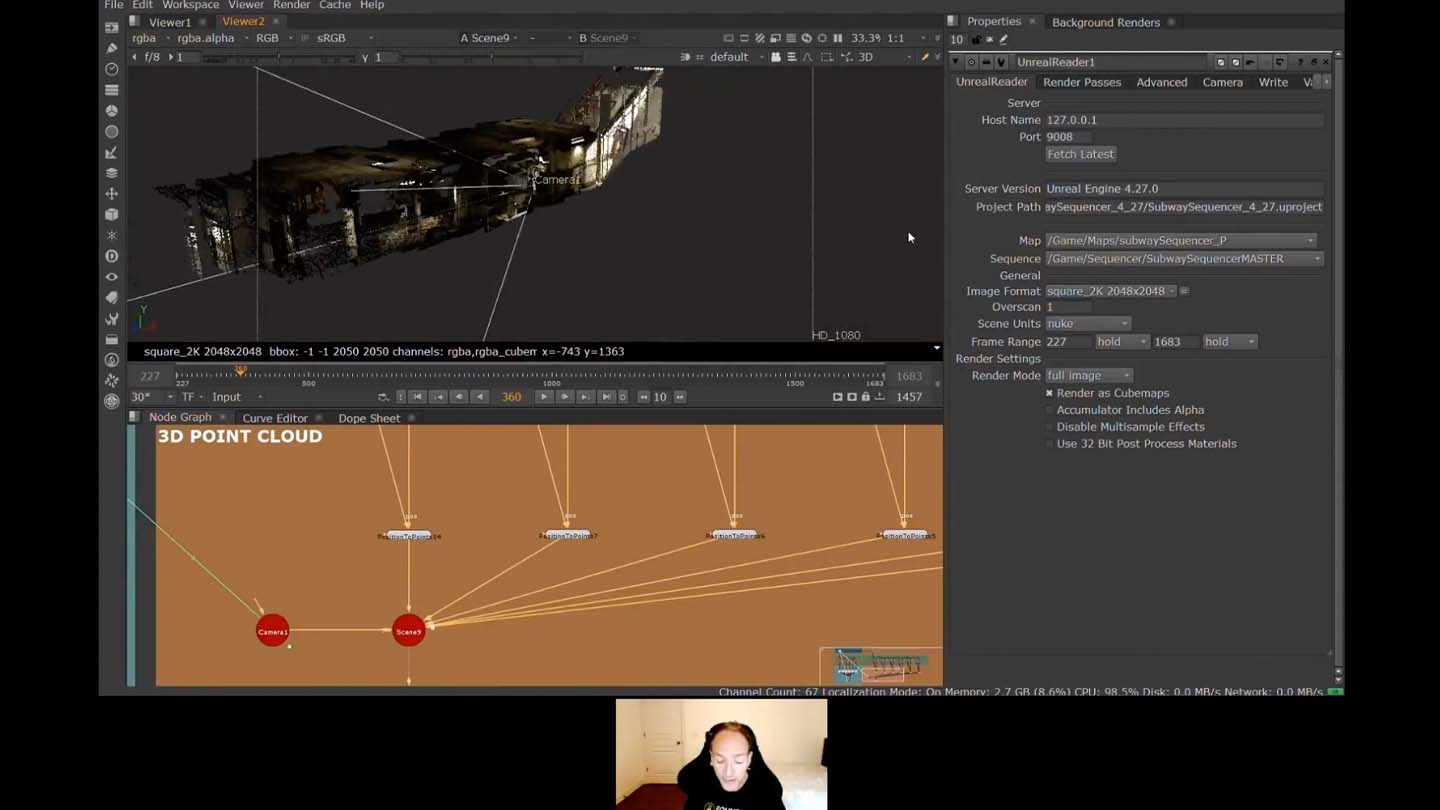 Using the UnrealReader Node, artists are able to bring an Unreal session into Nuke and  isolate passes, remove occluding objects, generate utility passes like depth, normal, and cryptomatte, alongside more advanced things like tweaking Unreal variables and tuning camera positions.
The UnrealReader node has been beta tested by many users, four of which joined the Research and Innovation Showcase for an exclusive panel, The Future of VFX and Real-Time. Indrajeet Sisodiya, Shahin Toosi, Ari Rubenstein and Matt Jacobs joined Mathieu to dive into the interesting and ingenious ways they've been using the UnrealReader Node so far, and how they've been putting real-time technology to work on recent projects. 
Watch the Research and Innovation Showcase below for the full panel and find out what they think the future holds for this pioneering workflow.
The Future of Story Development: Flix
Originally developed at Sony, Flix is Foundry's story development tool and lives at the heart of pre-production, empowering teams to collaborate together and iterate on story ideas. In their session The Future of Story Development: Flix, the Flix team dove into what's new in upcoming Flix 6.4, before hosting an exclusive Q&A with VFX supervisor and director Ari Rubeinstein. 
Mariagrazia Petito Di Leo, Flix Product Manager, described how Flix 6.4 ships with a new UI and workflow, complete with a slick and non-obstructive interface where artists will be able to track their transfer progress, grouped and ordered by date and time. Artists will also be able to manage groups as well as individual uploads and downloads within each group.
Perhaps Flix 6.4's most notable feature is the work done to improve the round-trip from Storyboard Pro into Avid and back, all through Flix. Now, no matter who owns camera moves and timings—whether that's the artist or editor—editable camera moves to Avid mean that everyone will be able to see it, edit it and tweak it, leading to unmatched collaborative storytelling across teams and departments.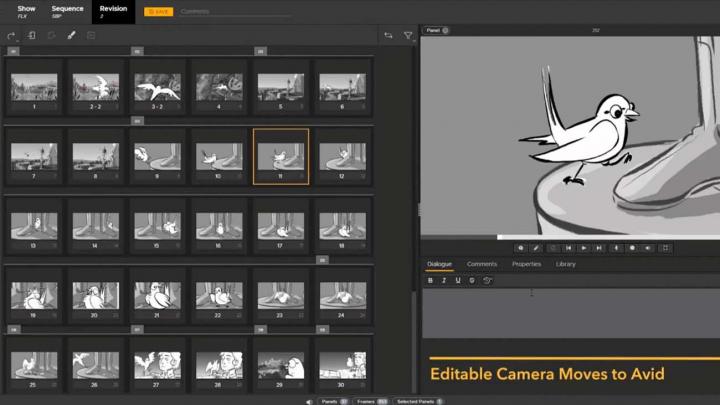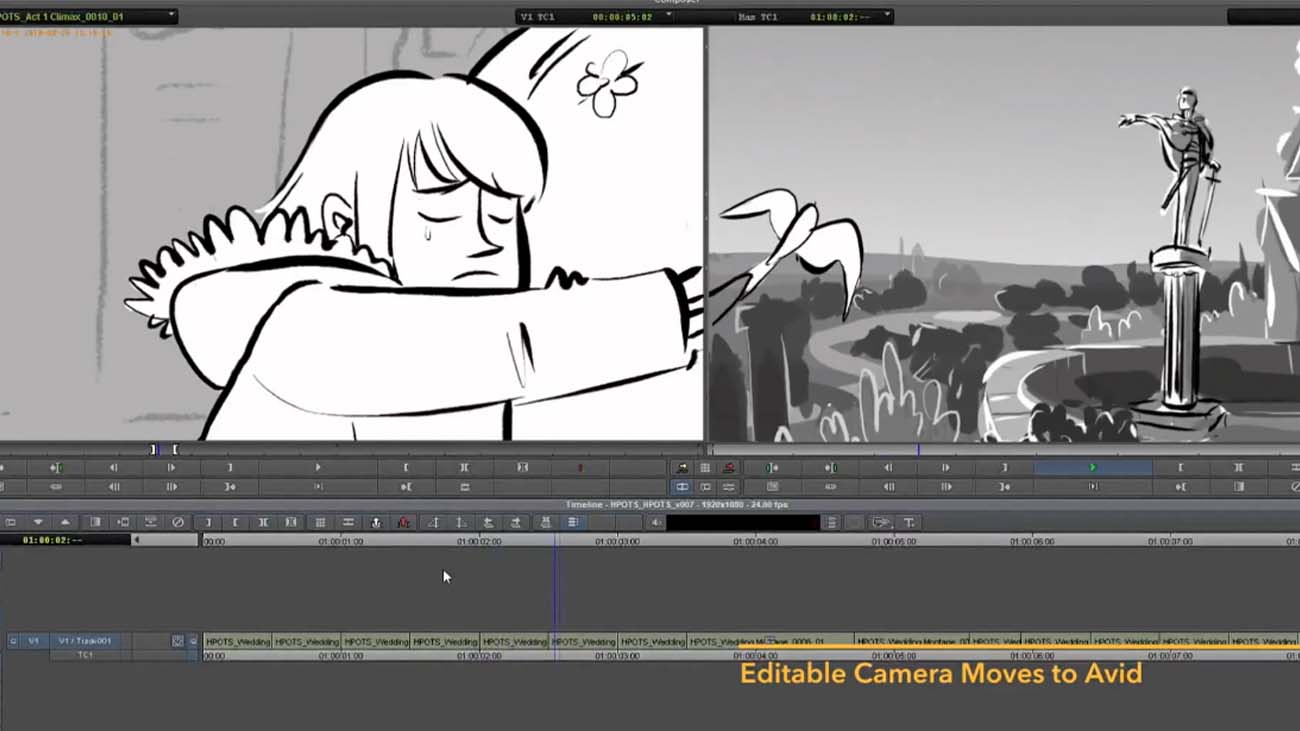 Photoshop fans are also in for a treat in Flix 6.4 thanks to a redesigned, customizable action panel, itself more balanced and integrated into the main photoshop interface. 
All of these features culminate in 6.4 to offer a release tailored toward improving round-trip workflows and custom integrations, ensuring that Flix remains your central hub for creativity, ideation and inspiration when storytelling. 
Following Mariagrazia's presentation was an exclusive Q&A with VFX Supervisor and Flix fan Ari Rubenstein, who discussed his upcoming personal project Small Blue Shadow, and how Flix supports his storyboarding and pre-production process. Dive into The Future of Storytelling: Flix on-demand for the full interview.
Modo 15: The Completed Series
Hosted by Michael McCarthy and Greg Brown from Foundry's Modo team, Modo 15: The Completed Series covered Modo's journey throughout its 15 series so far, before unveiling key updates due in upcoming 15.2.
In Modo 15.1, for example, OmniHaul introduced gesture-based control of tool properties and channels that can be fully customized, whilst Curve Booleans offered a new way to develop 2D designs that can easily be leveraged to create complex geometry. A host of additional, valuable new tools were also added that were tailored toward accelerating any workflow, along with an overhauled MeshFusion workflow that addressed multiple performance issues.
Building on the workflow foundations in .0 and .1, the team were proud to introduce Modo 15.2, shipping with a refined MeshFusion workflow that streamlines the creative experience for artists. Functional enhancements to the schematic viewport were also touted, including a cleaner schematic view thanks to selection op aliases and assemblies, and the addition of new stack-type nodes.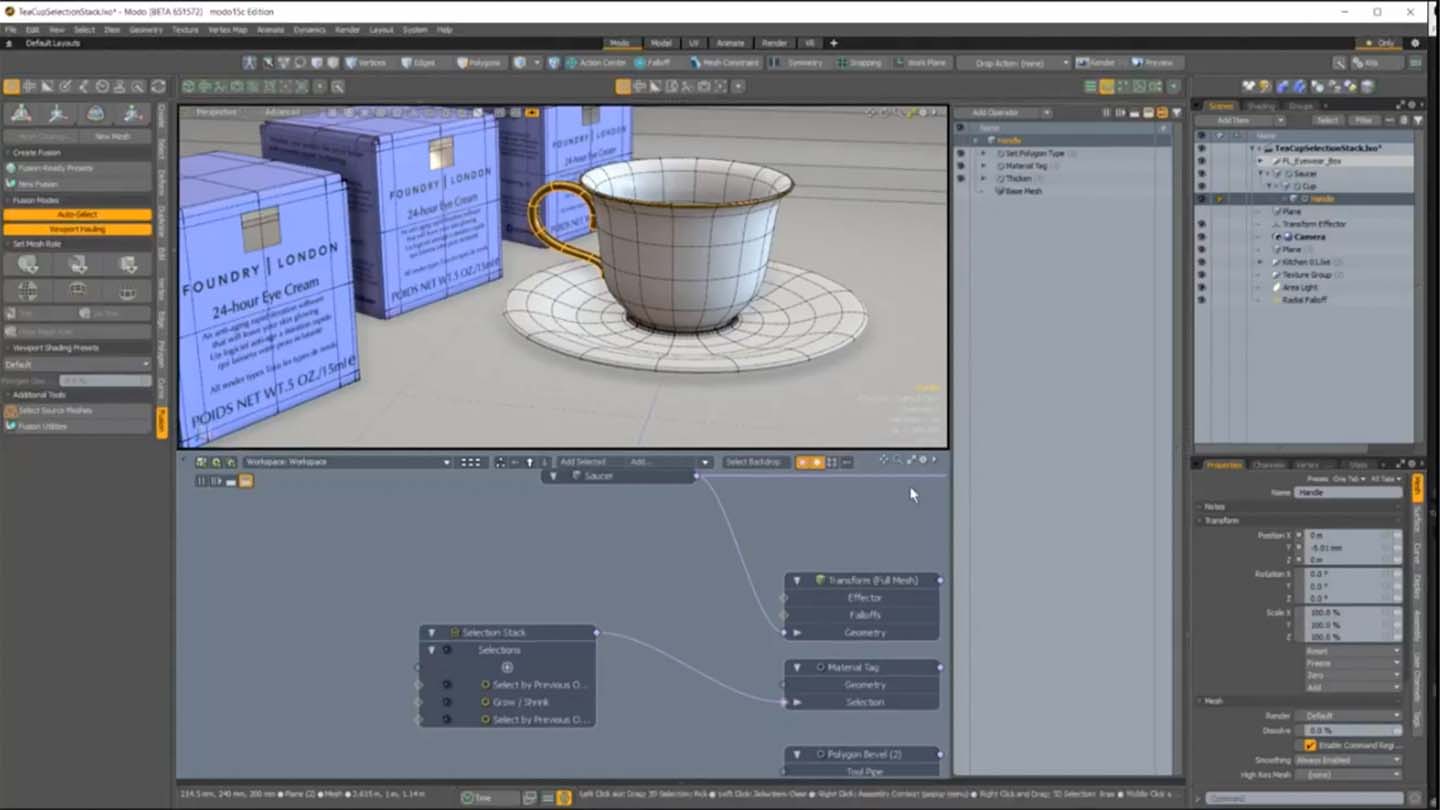 New, user-requested features include Edge Subdivide, allowing artists to add points along edges quickly and easily. Meanwhile, Primitive Slice provides artists the ability to click and drag on a surface and the tool will align to where it is clicked, with support for profiles also included. All-in-all, alongside these key features, Modo 15.2 comes packed with fifty feature additions and hundreds of bugs crushed.
The session wrapped with a Q&A with Shane Griffith, Foundry's Director of Product for Digital Design, who fielded the future of Modo, what he's most proud of and excited by the 15 series, and the key question: why so many shoes? 
And that's a wrap for Foundry Live 2021. We'll be back in 2022  with another unmissable event series covering the latest product developments, research efforts and top innovations to come out of Foundry. In the meantime, please continue tuning in to our virtual events program, and make sure to check out the archive for any great talks you might have missed!
Foundry would like to thanks the following customers for providing assets and content for Foundry Live 2021:
Cat and Moth - India Barnardo
Hellboy - NuBoyanaFX
The Blues Crab - Ari Rubenstein
SidiAli - Nineteentwenty
Save Our Show Final - Brian Vowles
Subway Sequencer - UE Marketplace
Napo - Miralumo Films