Image courtesy of Volker Troy
New year, new Modo roadmap
Our path to transparency and delivering what our customers need most continues with the first roadmap of this year where we share our goals for future releases with Modo users. While these plans might change, one plan is fixed—showing commitment to our users and truly listening to their requests so we can put them into practice.
Between the last release and now, our Modo team has continued to develop new features and enhance the existing ones, allowing you to make the most of your creativity. We've also released our community initiative: Modo Heroes—a place where our users can showcase their amazing work and where Modo skills are a superpower. You will be seeing this ramp up during 2023.
Stick till the end to find out which features we discussed in our first roadmap article actually made it into Modo 16.1, and why the 17 series will focus on performance. Without any further spoilers, here's what you can expect this year!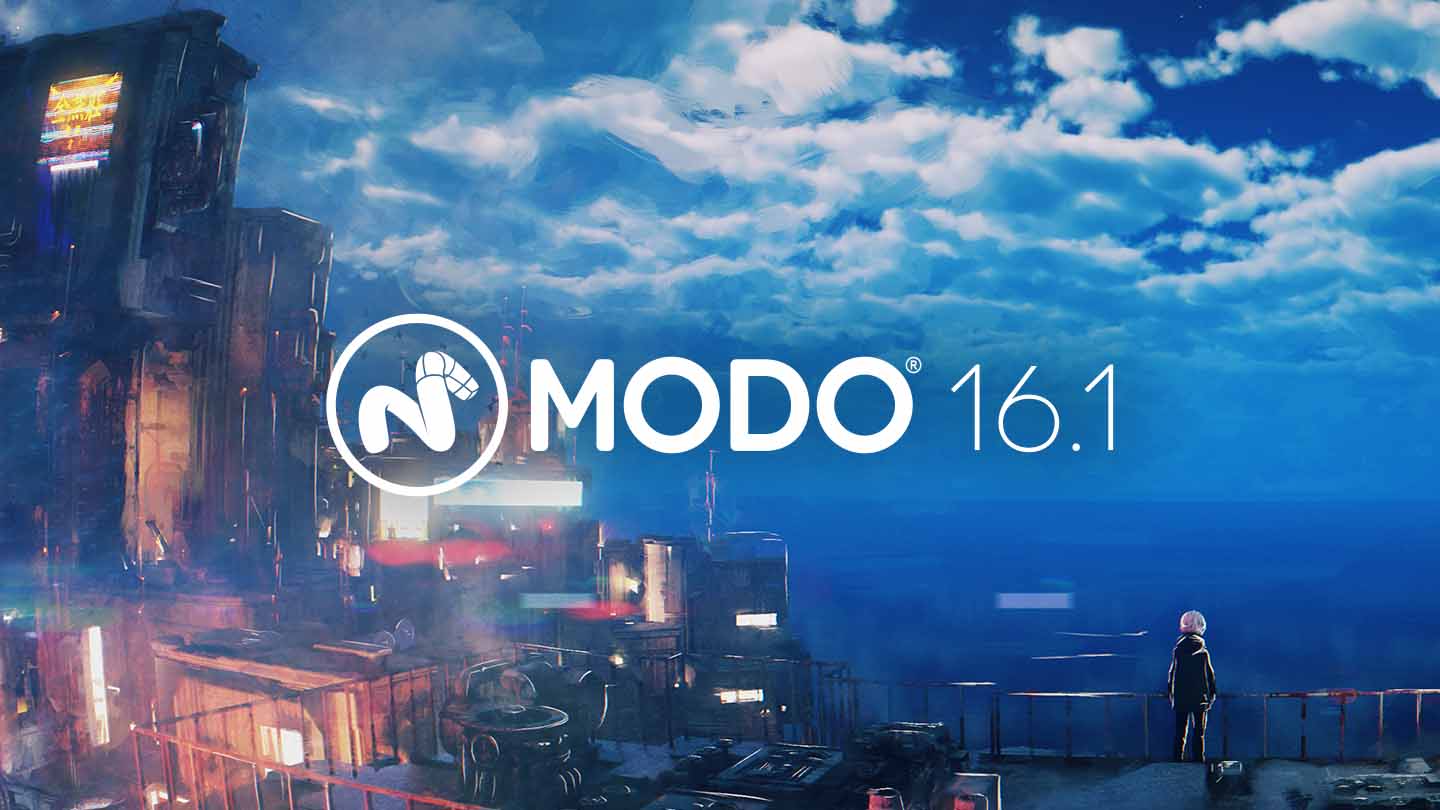 Modo 16.1 is here
One of the things we're focusing on in Modo 16.1 is the decal workflow. With this workflow, Modo users benefit from an array of tools. With the planar decal MeshOp and its game-inspired workflow associated with it, artists are able to apply planar decals as presets on the surface of models. The seam decal MeshOp also has a game-inspired application and makes it possible to create the illusion of panels and seams without having to model those details, as produced by the intersection of two shapes or as driven by a curve on a surface. 
Along with that came the Mesh Paint enhancements which increased the functionality of the tool, making it easier to use with the planar decal MeshOp. Some of these enhancements include the Target Mesh option that allows you to define exactly what you want your target mesh to be (not just background items or items), more viewport based controls and a myriad of bug fixes. An additional feature is the Surface Probe which can be used for projection from floating decals onto a receiving surface. The full set of effects on the specific texture can then be rendered on that receiving surface and automatically eliminate all of the floating decals.
For the shading side of Modo, we've included multiple features that make life easier for artists. With tri-planar projection, an automatic projection of images that requires no UVs, users are able to modify the blending amount between the different projections. Moreover, the new Curvature viewport shading displays curvature shading in viewport on the whole scene or via the Shader Tree, while the AVP simplified modeling shader can show a useful modeling shading mode that doesn't display texture and has curvature control. 
Adjusting the display width of curves and edges in both the Advanced and Default Viewport, where the Edge Width can be set for both active and inactive items independently, is another addition users have long been asking for.
Metal ray tracing support for MacOS was introduced, providing speed increases between 20% and 100% when compared with Foundry SSE. This represents an important step in our path towards fully supporting M1/M2 Macs.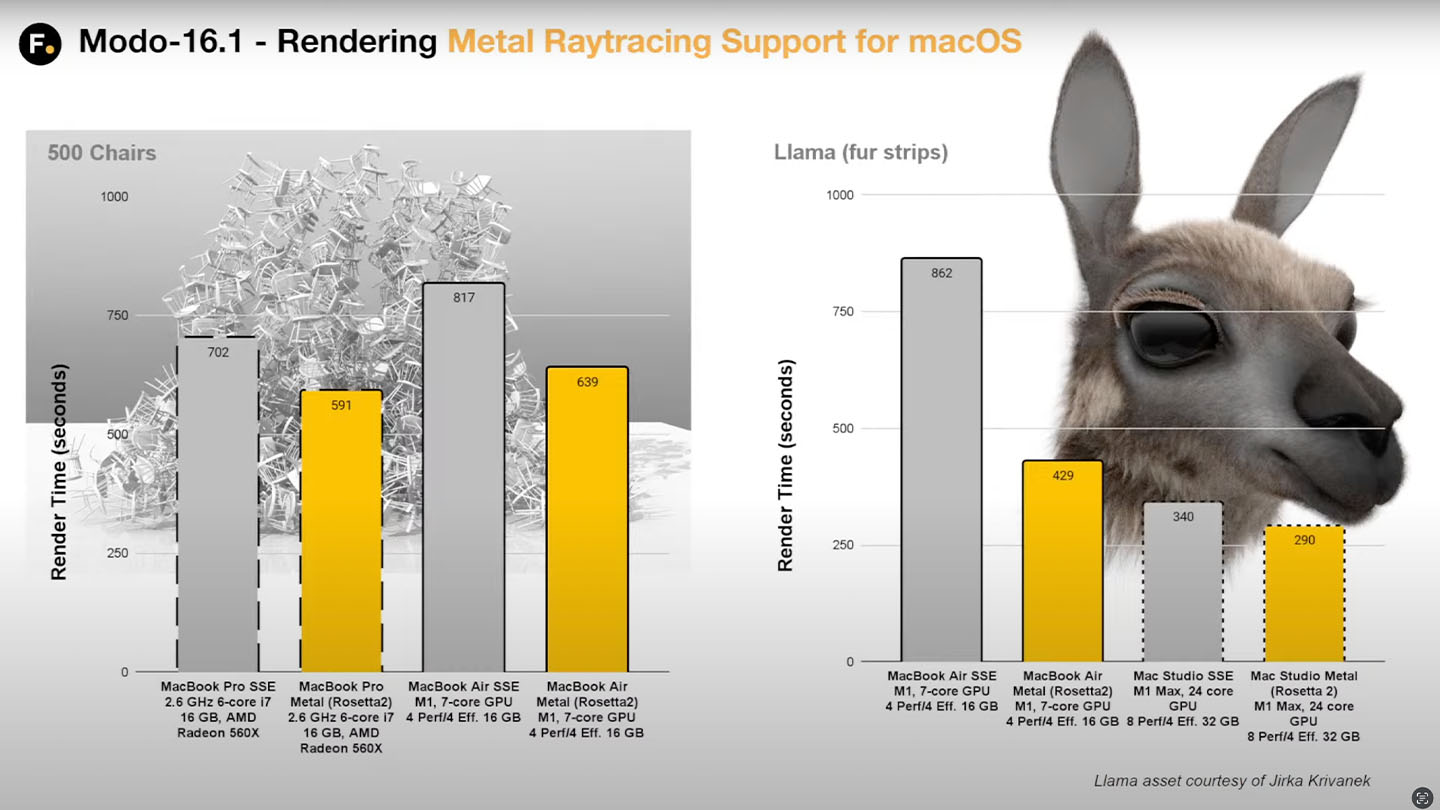 File I/O also saw enhancements as we upgraded the whole library and fixed some of the issues that improved the state of Modo's USD I/O. 
In modeling and its workflow, we focused on flexibility and streamlining modeling operations, so we've added multiple tools and made enhancements that support them. Some of them include PolyHaul, a new tool that combines modeling operations such as Polygon/Edge and Vertex Bevels, the Particle Clone Operator which allows you to clone editable geometry onto particles, an array of enhancements to the procedural "select by previous", as well as Primitive Slice, an improved curve workflow and Curve Boolean enhancements. On the workflow side, we've added the ability to define a specific mesh to use as a background constraint instead of always using the entire background. Mesh Fusion has also been made more reliable with the addition of geodesic strips. This is an ability that simply makes strips more reliable and produces cleaner geometry. 
In order to make it as easy as possible for you to use Modo, we made several general enhancements to UVs in the context of UV rectangulating and improved polygon selection performance by up to 5 times for dense meshes. We also fixed other bugs and implemented your feature requests for quality of life improvements such as Stitch Freezing.
Last but not least, shortly after Modo 16.1, we'll also release our first native ARM build as a beta for all current licensees. This is compiled for native execution for Apple Silicon for M1 and M2. When compared with running Modo through Rosetta 2, we're seeing significant performance improvements. While this native Apple Silicon version of Modo is not production ready yet, we're excited for you to try it out! If you find any issues, please let us know and report them back to us so we can achieve the best version.
Blooming performance in Modo 17 series
Disclaimer time—before sharing our plans for the Modo 17 series and the interest of complete transparency, the features we'll discuss below may not make it into the final release. Although we are currently pursuing them, we don't anticipate completing every feature as some of them might require further refinements. But, as you already know, your feedback impacts our priorities. So don't shy away from letting us know which features stand out and what you'd like to see next. You can do that on our Modo Community page.
For this series, almost all of our engineering effort throughout this year will be put behind major performance enhancements, stability and bug fixing. In order to be able to maximize Modo's tools, both old and new, we need to improve performance and stability first. Why?
"Because we have great tools in Modo. We just need to make sure you can use them in a high-performance way," Greg Brown, Modo Product Manager, shared with us. "We're going to focus on stability and reliability for standard and procedural modeling," he continued.
In Modo 17.0, users can expect to see on the Codebase side cleanup and stability, unit testing, removal of redundant systems, and replacement of systems that have modern third-party equivalents. As mentioned above, the star of this series will be performance. In that sense, we intend to focus on Mesh View objects and bring general mesh performance enhancements affecting many of its aspects, ultimately improving interactivity for meshes and MeshOps and reducing load times. 
Although we'll focus on performance, we'll still implement a couple of new tools that support the Modo Dynamesh-style sculpting workflow and improvements to the decal workflow and Polyhaul. In viewport, we'll see parallax maps, more work on Shader Fallbacks (which will be introduced in Modo 16.1) and on AVP performance, along with improved stability and the usual bug fixing.
In the second half of the Modo 17 series, you should expect to see more work on the Codebase side, viewport, parallax maps, AVP performance and Shader Fallback. In terms of performance, we intend to focus either on Item View objects or on Texture View objects. This is where you come in—you can tell us which one you'd like to see sooner than later. On the one hand, with Item View objects you can bring in and work with scenes containing many items in a scene in a much cleaner and more elegant manner. On the other hand, Texture View objects would stream the textures in and you'd be able to see the texture resolution building up. In summary, we want artists to spend less time waiting and have a more interactive experience.
This is the way
Your interest in our goals only inspires us to invest more time, energy, and creativity into our constant innovation. We hope sharing our plans for the upcoming release shows our dedication to improving your Modo experience so you can keep on creating amazing artwork. If you'd like to see a more detailed roadmap and a few demos of the features we discussed above, you can watch the Modo Roadmap Livestream here.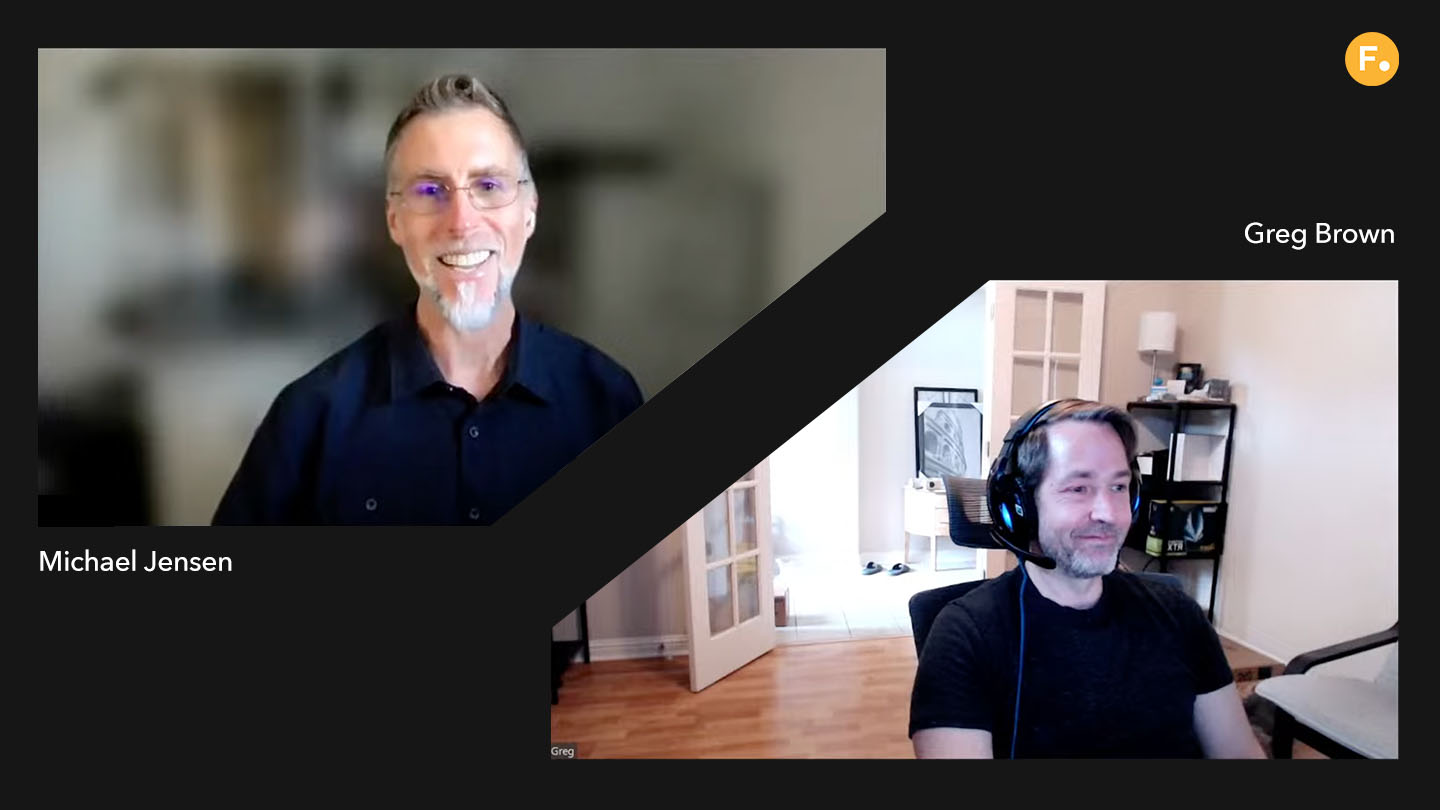 Things to look forward to in the near future:
Foundry Live recording of 'The completed Modo 16 series' session
Next Modo Roadmap Livestream in April/May 2023
More exciting content from our Modo Heroes
Don't miss a thing—check your Modo email subscription
Simply login to your Foundry website account and make sure that 'Modo Product updates' is ticked on your email preferences and we'll make sure you get the latest updates direct to your inbox.
Want to experience Modo 16.1?