How Atomic Cartoons tackles today's toughest production challenges
Navigating rapid episodic workflows is essential for this acclaimed animation studio. Enter Nuke and Katana.
Within the media and entertainment industries, animated production was placed firmly in the spotlight in 2020. With no need to rely on plates at a time when on-set filming was paralysed by a worldwide pandemic, animation could continue on mostly unimpeded, leading to an increase in greenlit animated projects in place of more traditional VFX work.
With heightened demand comes the need for increased supply to meet it. Coupled with a growing appetite for episodic content, marked by rapid production cycles, and it's enough to paint a daunting picture for most animation studios.The challenge here is multifaceted; mounting pressure on schedules, rising quality expectations, and financial and technological considerations have required most studios to adapt swiftly to meet demand.
But Atomic Cartoons, established in 1999, knows the ropes, and is well-placed to tackle today's toughest production challenges. Its provenance in the industry underpins its status as an artist-driven, multi-faced animation studio—something Tim Llewellyn, Atomic Cartoons' Studio DFX Supervisor, is particularly proud of.
"We're well known for producing some of the most recognizable and award winning shows and along with its creative and talented staff, creating battle-proven production pipelines and workflows."
With facilities in Vancouver, Ottawa, and Burbank, California, Atomic Cartoons collaborate and produce animation for a wide variety of clients, utilizing and blending both traditional 2D and CG techniques and pipelines. "At the core of this is the studio culture, where we care about the team as much as the art," Tim tells us.
Supporting this tight-knit team in their creative endeavours are Foundry tools Katana and Nuke. We caught up with Tim and key members of each department to find out a little more about the amazing work Atomic Cartoons produces, and the roles each Foundry tool plays as part of this.
What makes Atomic tick?
Tim's passion for the studio and its staff is palpable. When asked what makes Atomic Cartoons a special place to work, he's quick to lend his thoughts.
"The studio culture is tremendous. There are so many amazingly creative people and they are supported by the management team exceptionally well," he explains. "We are also lucky to work with fantastic clients on great projects. Our twice yearly staff survey feedback helps us deliver like a major studio but act like a boutique."
Atomic Cartoons has paid special attention to leveraging staff talents, building a team with a range of backgrounds—from episodic to feature animation and VFX. Speaking of how this influences the work produced by the studio, Tim explains: "At Atomic, we consider artists to be the key asset in our studio, and strive to build our teams to include those with diverse experience and skill sets, allowing us to be more modular with our approach to production workflows and dynamic in solving the unique challenges of each individual project."
Diving into the nuances of these challenges a little more, we were keen to find out how they typically manifest for Atomic Cartoons as a studio focused on creating episodic animation, and how it overcomes these.
"One of the biggest challenges we face in TV animation is creating an episodic based workflow that not only services the creative narrative, but is consistent and repeatable over multiple sequences and episodes and achievable within the tight production schedules and budgets typical in the medium," Tim tells us.
"With the emergence of streaming services as broadcasters, the field has become much more competitive, with the quality bar for content being raised under the same production deadlines. Katana and its customizations have proven extremely useful in helping us overcome this hurdle. We've been able to automate a great deal of the more menial workflow; there is less time spent tracking down technical issues which frees our artist's time up to do more meaningful creative work."
A look development and lighting powerhouse, Katana counts itself as the most recent Foundry tool to be deployed into Atomic Cartoons' pipeline to accelerate their creative workflow. Typically, the team uses it in conjunction with compositing tool Nuke to get to that perfect final image faster.
"For almost every CG production now we utilize these Foundry tools," Tim explains. "One of the biggest benefits is having a homogenous tool set between them which artists can easily translate knowledge from one program to the other. Though there are still some significant UI differences, there is a familiarity to all of them that makes life a little easier.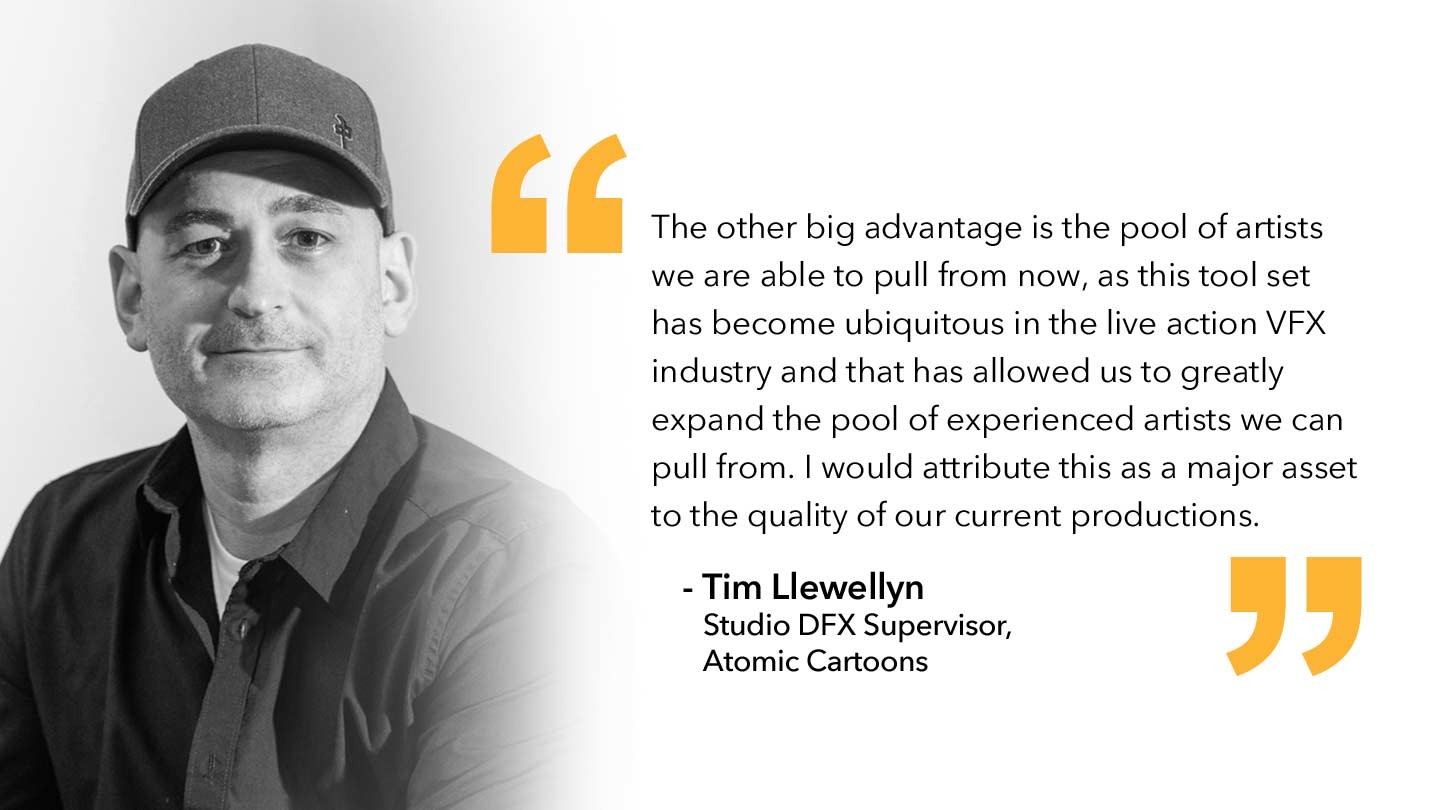 "The other big advantage is the pool of artists we are able to pull from now, as this tool set has become ubiquitous in the live action VFX industry and that has allowed us to greatly expand the pool of experienced artists we can pull from. I would attribute this as a major asset to the quality of our current productions."
The path to Katana
Pre-Katana, Atomic Cartoons faced a battle for standardization and order—a common issue shared across many studios.
"One of the challenges we faced before adopting Katana was the fact that projects were less standardized, and much of the shading and shot work was extremely disjointed," Tim tells us. "A more robust pipeline was needed so we could develop efficiencies and put art back in the artist's hands."
This same sentiment—removing technical barriers and inconsistencies for artists, so they can instead focus on being creative—perfectly reflects Foundry's ongoing development plans for Katana. It also underpins Atomic Cartoon's decision to adopt the tool into their production pipeline.
"Atomic Cartoons is constantly looking for ways to innovate and get as much of our budgets on screen," Tim comments. "[We also] make the pipeline and workflows as invisible to the artist as possible, enhancing the user experience. Many of the core artist leadership at Atomic have backgrounds and experience in animated features and VFX where Katana was production proven and had been used for some time. The ease of setting up custom templates along with the ability to build custom tools and macros—by not only programmers, but artists as well—meant that Katana seemed primed to help us meet some of our challenges head on."
"We have implemented Katana fully into our 3D pipeline and use it for all our CG projects both in development and production," Tim continues. "Since its addition, our overall look development and lighting pipeline has become more standardized, as we are using similar Katana templates and tool sets on all shows."
Getting granular, key members of Atomic's lighting team dive into what benefits this standardization has brought to their workflow.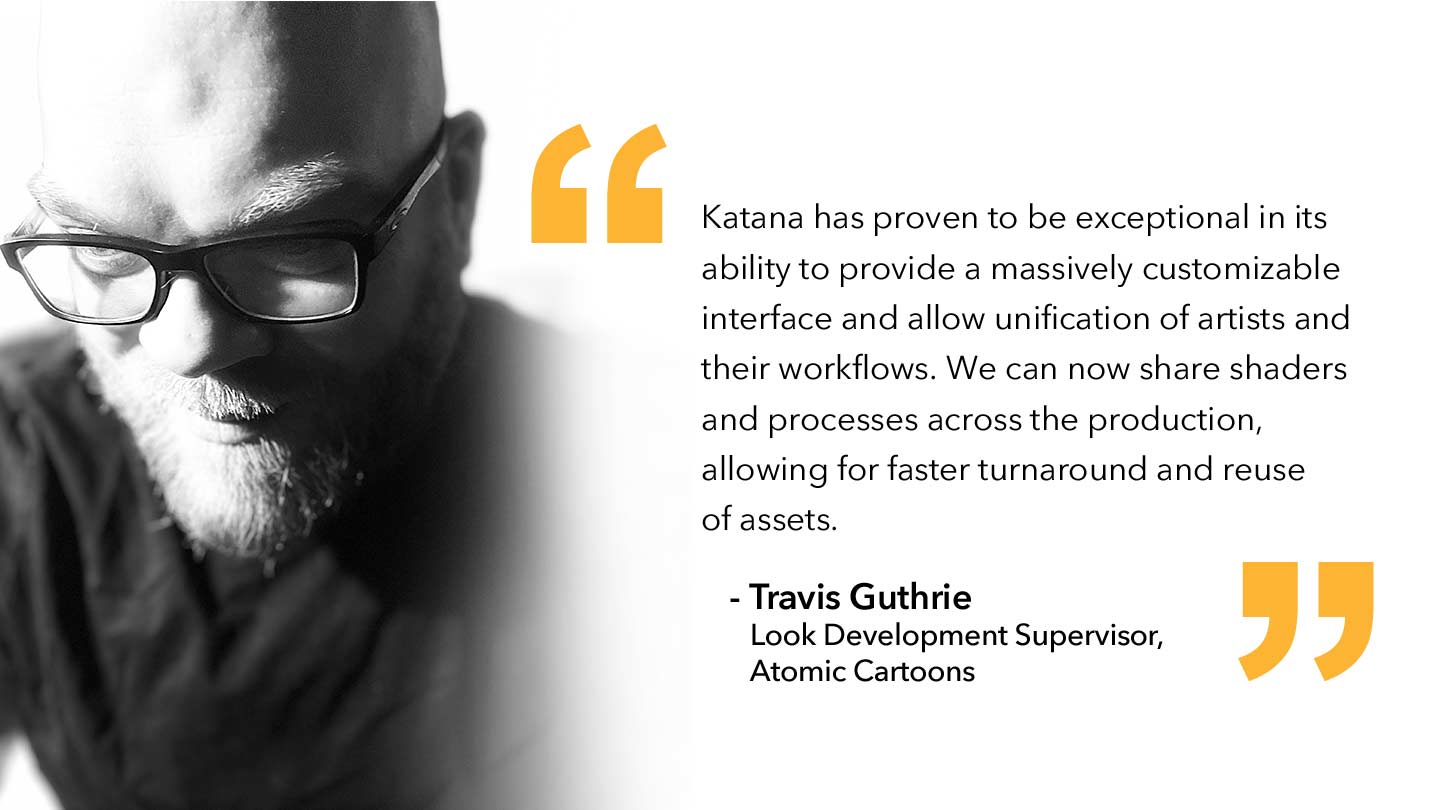 "Katana has proven to be exceptional in its ability to provide a massively customizable interface and allow unification of artists and their workflows," Travis Guthrie, Look Development Supervisor, explains. "We can now share shaders and processes across the production, allowing for faster turnaround and reuse of assets. We are able to build clever templates that can vary depending on the model type and gives us great shading before an artist even has to touch the asset. Our starting point is much further ahead now when an artist picks the work up."
Scott Penningroth, Lighting Supervisor, echoes this point: "The inclusion of Katana has definitely lived up to my expectations. Solidifying our templates and developing tools have allowed artists to concentrate on the look of a shot rather than just debugging and pushing data through. Now we can work on a few shots that drive a bevy of similar shots automatically which in turn allows more shots to get done faster." 
For heads and supervisors like Tim, Travis and Scott, it's important that their team work with tools that foster a happy working environment and efficient, collaborative workflows. With that in mind, we were keen to find out how Katana supports this way of working.
"At Atomic, we value and respect our artists and know that everyone has a life outside of work and strive to maintain a consistent work/life balance," Tim tells us. "Streamlining our templates within Katana and employing a parent/child shot workflow helps us support a cohesive exchange between disciplines and departments. This not only makes sure there is creative consistency, but efficiency and collaboration between artists and their workflows which gives them the ability to work on multiple shots at one time, increasing their productivity during the workday and allowing us to step away from the stereotype of long production hours and crazy crunches and reduce overtime as much as possible."
Diving into the specific Katana features the team uses to find efficiencies and put art and creativity back in the hands of the artist, Tim continues: "The live rendering feature in particular allows for quick turnarounds when trying to nail down a specific look for an asset or shot; lighters are able to move lights and experiment on the fly, modifying not only the position and type of light but also material adjustments on how the surfacing responds. Being able to make these modifications without going back to lookdev allows us to dynamically 'polish' a scene locally without taking a hit with kickbacks to upstream departments."
Katana has recently enjoyed an unprecedented enhancement with its 4.0 release, introducing Foresight Rendering workflows which afford artists greater control and visibility over their shots and projects. Given that the Atomic team have been working in earlier versions of Katana for a little while now, which particular 4.0 features are they looking forward to trying out?
"I'm looking forward to trying out the new network materials in 4.0," Travis Guthrie comments. "I've spent considerable time in the 3.X releases creating macros and materials with incredible amounts of customization. I'm hoping with 4.0 to begin rebuilding those in the new system." 
Scott Penningroth also lends his thoughts: "With Katana 4.0 I'm interested to know more about snapping, as I've been wanting that for years. In addition I'm excited to try out the Multiple Simultaneous Rendering along with Networked Interactive Rendering."
Two tools, one artist
When it comes to compositing, we were interested to find out how this stage of production works with Atomic Cartoon's look development and lighting workflow. As it turns out, both stages are inextricably linked for the animation studio.
"Lighting and compositing are combined with a single artist completing both tasks, responsible for creating render passes in Katana and compositing them in Nuke," Tim explains. "A project typically has a full team of between 8-12 lighter/compositors that is broken into smaller groups working on individual episodes in a staggered approach."
With that in mind, we were keen to dig into this and find out how exactly Katana and Nuke play together for those working across both stages of production, and what benefits this brings to the artists and teams working between the two tools.
"Adjusting lighting in Nuke via light AOVS is a requirement for our lighting/compositing pipeline to iterate at the speed necessary to keep up with production demands," Tim tells us. "To make this an easier process, we employ a custom template that is adapted for each show to help streamline parts of the workflow including image reading, depth hazing, vignetting, light wraps, depth of field and switching to deep compositing if needed. 
This workflow is designed for both speed and comfort, allowing artists to have full control of their shots and plan 'shortcuts' in comp as needed to achieve the look of the show."
Katana, as a sequence-based look development and lighting tool, empowers artists to edit previously created lights procedurally, allowing lights to have multiple looks across a sequence of shots. Speaking to this further, Tim lends his thoughts on how the sequence-based workflows of Katana aid the studio's use of Nuke in episodic production. 
"As many shots can be similar in episodic content, we were looking for ways to have technology help us work smarter while also making the artist experience more creative," he tells us. "We implemented a sequence-based workflow where parent shots are set up and developed by our leads and supervisors based on camera angle or location and then have their overrides and modifications inherited into similar, previously set child shots which can then be sent to the render farm in bulk at one time. 
Setups and overrides can be controlled per sequence using the LiveGroup features of the tool sets and can be easily modified if need be with shot level overrides once in the individual artist's hands. This process is done for both Katana and Nuke files which allows us to be dynamic as well as efficient."
Spotlight on compositing
Having integrated Nuke into their pipeline much earlier than Katana, the Atomic Cartoons team have had plenty of time to get familiar with the compositing tool. Given its longevity in their pipeline, Tim reflects on what it brings to their post-production efforts—and why the studio chose Nuke in the first place.
"We use Nuke because of its proven track record in the industry, flexibility and familiarity amongst artists. Since many have used Nuke before, it's extremely easy for us to onboard because artists know the tool and its base workflows."
Getting granular, Tim continues:  "Because the diverse nature of our work requires many custom gizmos and macros, Nuke gives us the ability to add these easily per show where we can apply visuals such as depth hazing, vignettes and light wrap needed to raise the creative bar of our final product. Additionally, third-party plugins such as PgBokeh for depth of field and Cryptomattes for color adjustments are effortlessly integrated, giving us even more tools to enrich our end result."
As a studio tasked with delivering high-quality episodic content that meets today's rapid production cycles, Atomic Cartoons need tools that can not only keep pace, but accelerate their artist's workflow—without sacrificing creativity. Certainly no mean feat—but one the studio is well equipped to tackle with a little extra firepower.
It's Nuke's 3D toolset that Manuel Candanedo, Lighting Supervisor, finds particularly helpful when approaching demanding, time-consuming tasks. "All the 3D tools," he explains, speaking of what sets Nuke apart from other software. "Being able to import and use .abc files allows us to build tools and gizmos that don't require re-rendering, keeping our workflow fast and simple."
Tim echoes this last point. "As speed and efficiency are key to creating episodic content, Nuke is a great fit for Atomic's episodic workflow," he explains. "Using show customizable templates, we previsualize and adjust lighting and all its components via light AOVS which gives us results quicker than re-rendering and lets us answer the demands of production deadlines in an expedited manner. 
Also, our use of Nuke's live groups allows us to easily create and control character and environment setups and, once locked, roll them out simply across multiple sequences and episodes which helps maintain quality and consistency throughout the entire production."
Add some post-production firepower to your pipeline—discover Nuke and Katana for animation and episodic content