Film and TV
Hybrids: the VES award-winning short by five students
How a team of MoPA students won a prestigious industry award
What do Alfonso Cuarón, Sir Ridley Scott and Jon Favreau have in common (aside from the obvious?) 
They're all previous recipients of Visual Effects Society (VES) awards!
Winning a VES Award is one of the greatest accolades a visual effects professional can achieve. What better way to begin a career then, than bagging one for your earliest work? 
For Florian Brauch, Romain Thirion, Yohan Thireau, Matthieu Pujol, and Kim Tailhades, this dream became a reality when they picked up the Outstanding Visual Effects in a Student Project award for their short film, Hybrids, at the 16th Annual VES Awards ceremony earlier this year in California.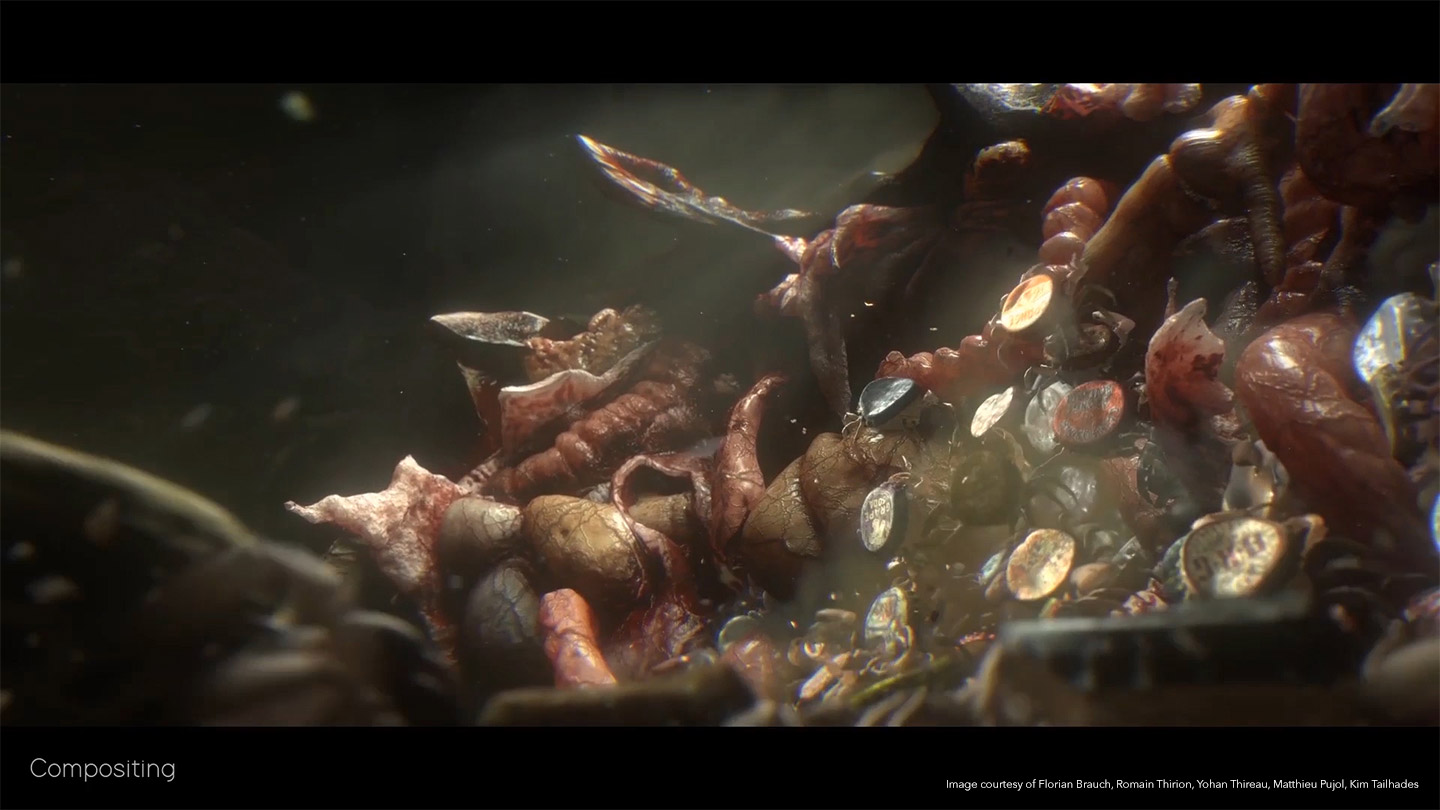 Diving murky depths
The team behind Hybrids met while studying at Ecole MoPA, a computer animated graphics school in southern France. 
With a broad mix of compositing, animation, lighting, texturing and modelling skills between them, the five co-directed their graduation project over nine months, bringing to bear their different strengths to test out ideas. 
The resulting film, Hybrids, explores the impact of pollution on the oceans and how marine wildlife is forced to adapt to its changing surroundings in order to survive. 
The concept was inspired by the sights Romain Thirion - now a character artist at Double Negative - saw on his diving trips: "As time went by, he started to notice more and more pollution on the underwater ground", says  Florian Brauch, former project member and now animator at Framestore. 
"This idea remained in his mind when he began creating the characters: he started to draw hybrids of fish and garbage. That's when he first came up with the design of the shark-car and the crabs-caps. Seeing those amazing designs, the team started to build itself."
While creating the hybrid creatures was fun, the hard work really started when the team turned their attention to creating the murky, submarine environment their creatures would interact in. 
To replicate how light plays through water and how particles of flotsam and jetsam drift through oceanic currents is perplexingly tough, as they discovered: "The biggest challenge was the water depth effect, which is a combination of depth grading, FX particle layers, stock footages and optical phenomenons", Romain says. 
To achieve consistent color consistency throughout the vast number of underwater shots, the team relied on node-based compositing toolset Nuke:  "Nuke was perfect in terms of building templates that we could reuse on every shot, procedurally changing specific parameters. We also created a bunch of gizmos to deal with the water depth effects. On top of that, it's the perfect tool for recomposing AOVs and tweaking them in post."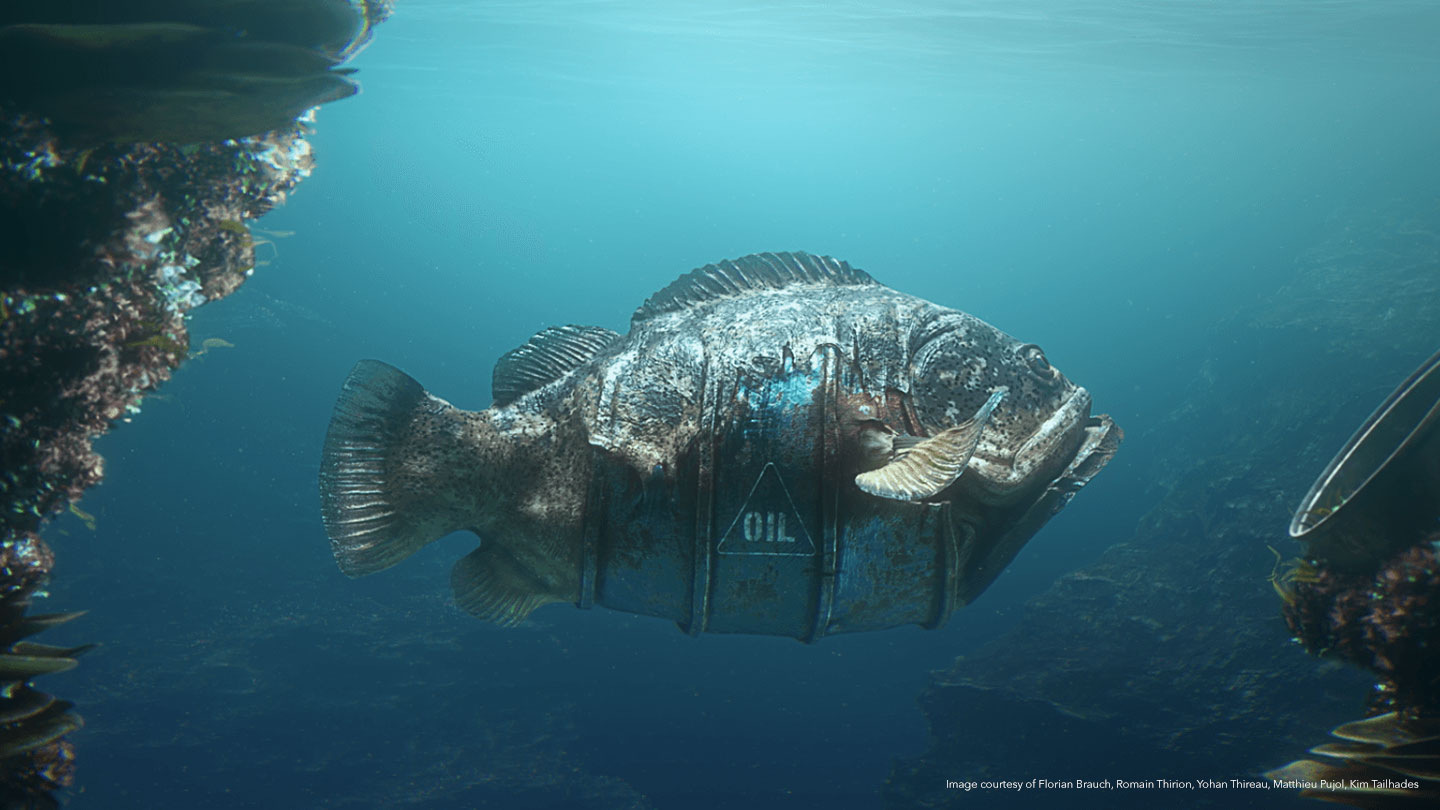 Collaborative problem solving
Central to the film is the idea that the junk humans throw into the oceans is becoming so common, marine life is being forced to adapt to it in unexpected ways. 
For the five students, playing with this premise enabled them to tell a story with a serious message: "What we enjoyed the most was creating hybrid characters, textures, environments, but also lighting and half organic/mechanic animations and sounds - taking what we know of the world and throwing it in every direction to tell a story which is very much reality grounded", Romain says. 
Florian found the process of solving challenges together with his teammates the most fulfilling aspect of the project: "I really enjoyed working as a team. We had a lot of technical difficulties to deal with, but each of us were helping the other - even if some choices were tough. I think we all grew up together with this project, and I can't wait to work with them again."
Using Nuke, the five were able to solve those technical difficulties collaboratively, as Florian goes on to explain: " Once a Nuke script was set up, we could easily group and expose parameters with very explicit labels for other users to quickly change parameters without having to dive into some obscure script."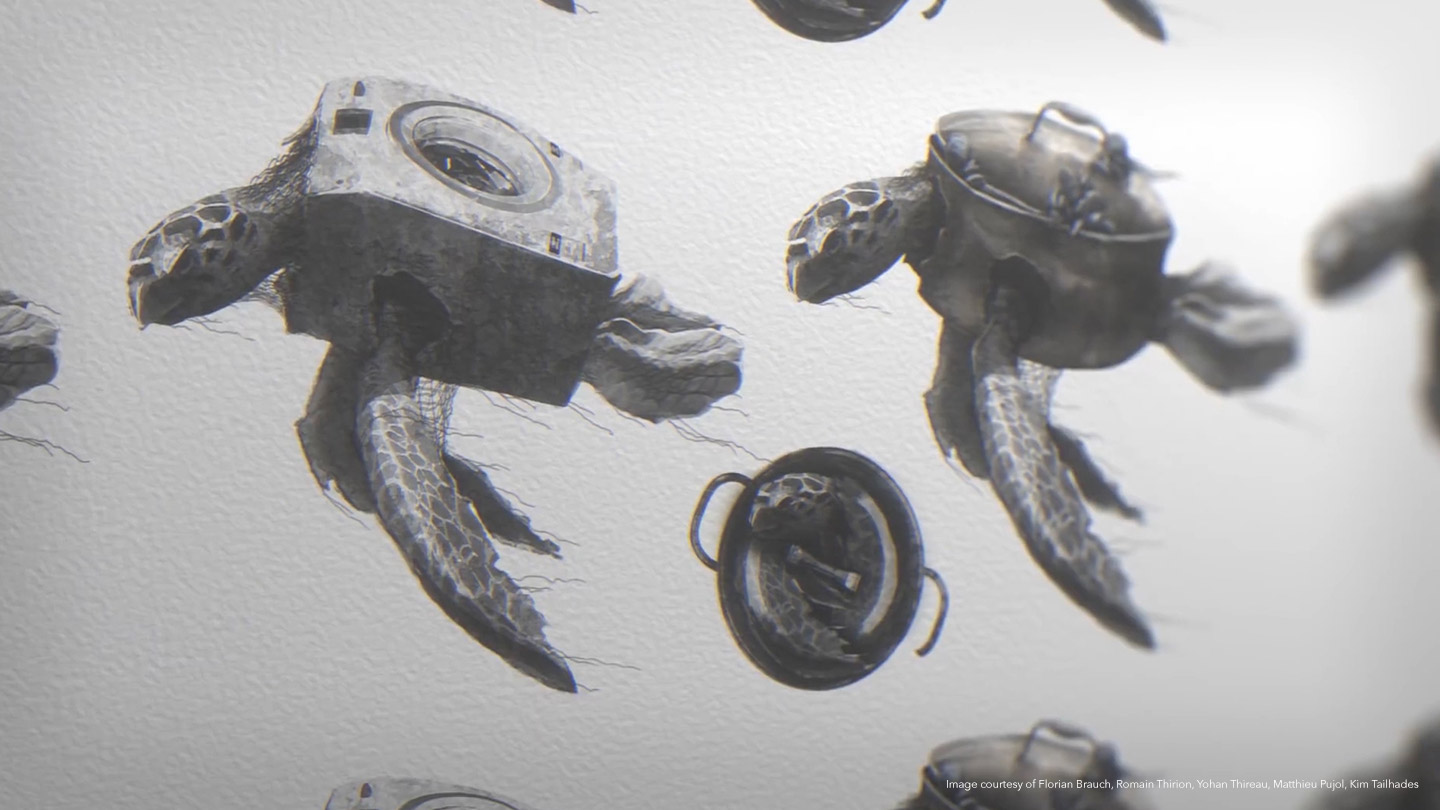 The importance of research 
For budding compositors looking to follow in his footsteps, Romain has some useful advice: "Two words: Research and Development. Compositing is not something you use at the end as a glue to fix problems, it's a complete process. Seamlessly blended with the whole production, you have to think about it right from the beginning. 
On Hybrids, we started to do compositing tests even before having one character model finished. Those tests were gold, as they told us exactly what we needed to render and light, and had a big part in the artistic direction of the film too".
He also has some encouraging words on battling through when the going gets tough. Speaking of the hardest scene they had to composite on the project, he recalls : "The trickiest was, of course, the crab sequence, where we had to seamlessly merge together several renders of different crab groups into one shot. But once it was finished, it became my favorite".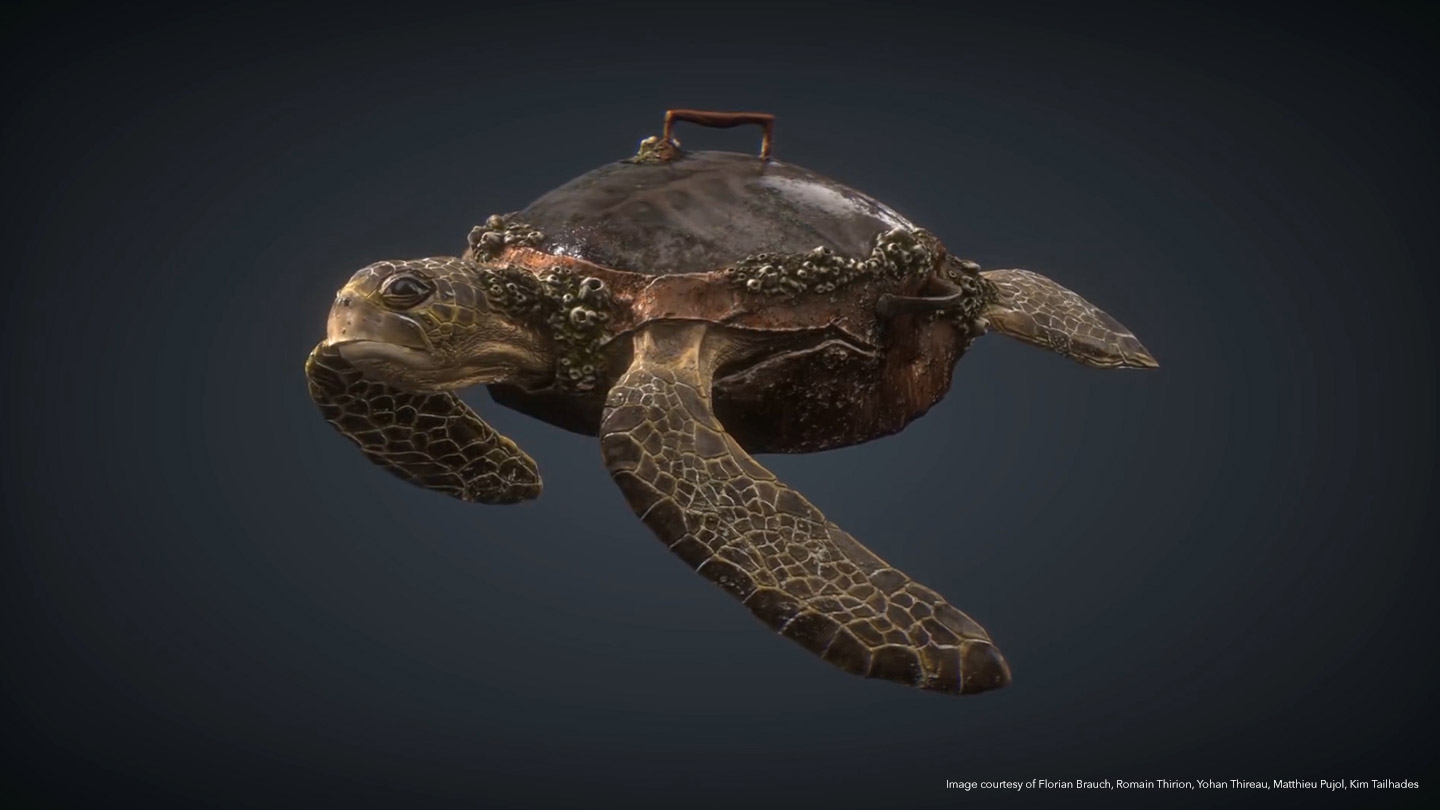 Choosing the right tools
For compositing students, working out which software to dedicate your time and effort to can be a tough decision. Romain makes a telling point when he looks back on his decision to master Nuke, despite the fact that at a glance, Adobe After Effects looked like the more accessible compositing package: "The transition from one to another was tricky, but I realise today that Nuke is much more production friendly and procedural", he says. 
With the benefit of experience, there's only one package he'd recommend to those looking to break into the VFX industry: "Definitely learn Nuke and nodal compositing logic if you aspire to have a career in feature film, VFX or animation", he says.
"I'd say being proficient in Nuke for a visual effects artist is as precious as knowing how to properly varnish and frame a canvas for a traditional painter. It will always push up the quality of your work to a much higher level."
Are you a student or recent graduate? You can get 70% off Foundry tools!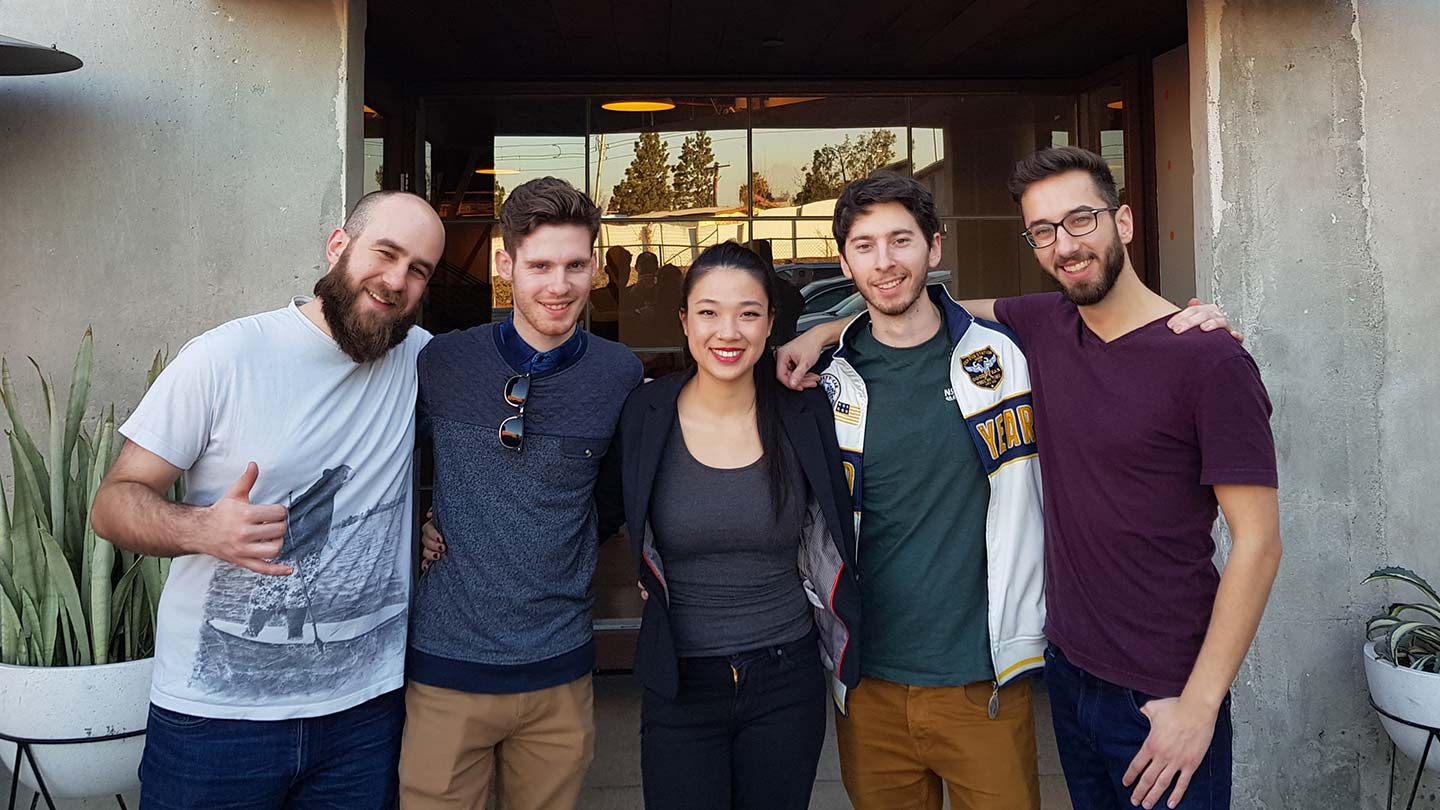 "Compositing is not something you use at the end as a glue to fix problems, it's a complete process."
Romain Thirion, Character Artist at Double Negative