Design
Visualizing the Architecture of the Future with Nuke
How Nuke is being used to create stunning architectural visualizations

Nuke is well known as the industry-leading compositing toolset for delivering Hollywood-standard VFX. But the toolset is also used to create stunning content in industries other than Film and TV.   
Corgan MediaLab has long been benefiting from Nuke's powerful procedural image processing and scalability to enhance its architectural visualization.  
Corgan MediaLab is a sister company to the 80-year old international architectural firm Corgan, headquartered in downtown Dallas, Texas.  The MediaLab is the archviz department of Corgan, where the work of architects is brought to life using still renders, animated cameras, fly throughs, motion graphics, films, editorials, and immersive technologies (AR, VR, MR, and 360s).  
We caught up with VFX Creative Director Ludo Michaud to discuss how Corgan uses the Nuke family to present architectural projects, with stunning visuals.
Building an archviz pipeline
As the VFX Creative Director of the lab - and also one of it's VPs - Ludo is responsible for the firm's  visual effects, immersive technologies, motion graphics, and 3D methodology.

Coming from a background in entertainment, commercials and game trailers, Ludo was first introduced to Nuke around 2003: "Channels were a totally new concept back then - the quality of the results was unbeatable", he says.
When he moved to Corgan MediaLab five years ago, it didn't take him long to see the potential Nuke could have for the growth and expansion of their archviz pipeline. At the time, a number of areas needed improvement: "Some of the issues were around accommodating changes from the architects, the flexibility of the workflow, VFX being created in other software that was OK, but not great."
"I felt this was a great opportunity to introduce Nuke from the ground up, and to use Nuke as the base workflow. It allowed us to do still rendering while accepting changes to the models the day before delivery, to reuse the composition script from a still and to apply it back to an animation. We could use NukeX to start delivering products rarely seen before, for example,  integrating CG models into a live plate."
"Previously, last minute changes would bring the whole studio to its knees. We would have to redo more than half the work -  causing many late nights to finish on time. Our team needed a system that would allow changes - and give amazing results."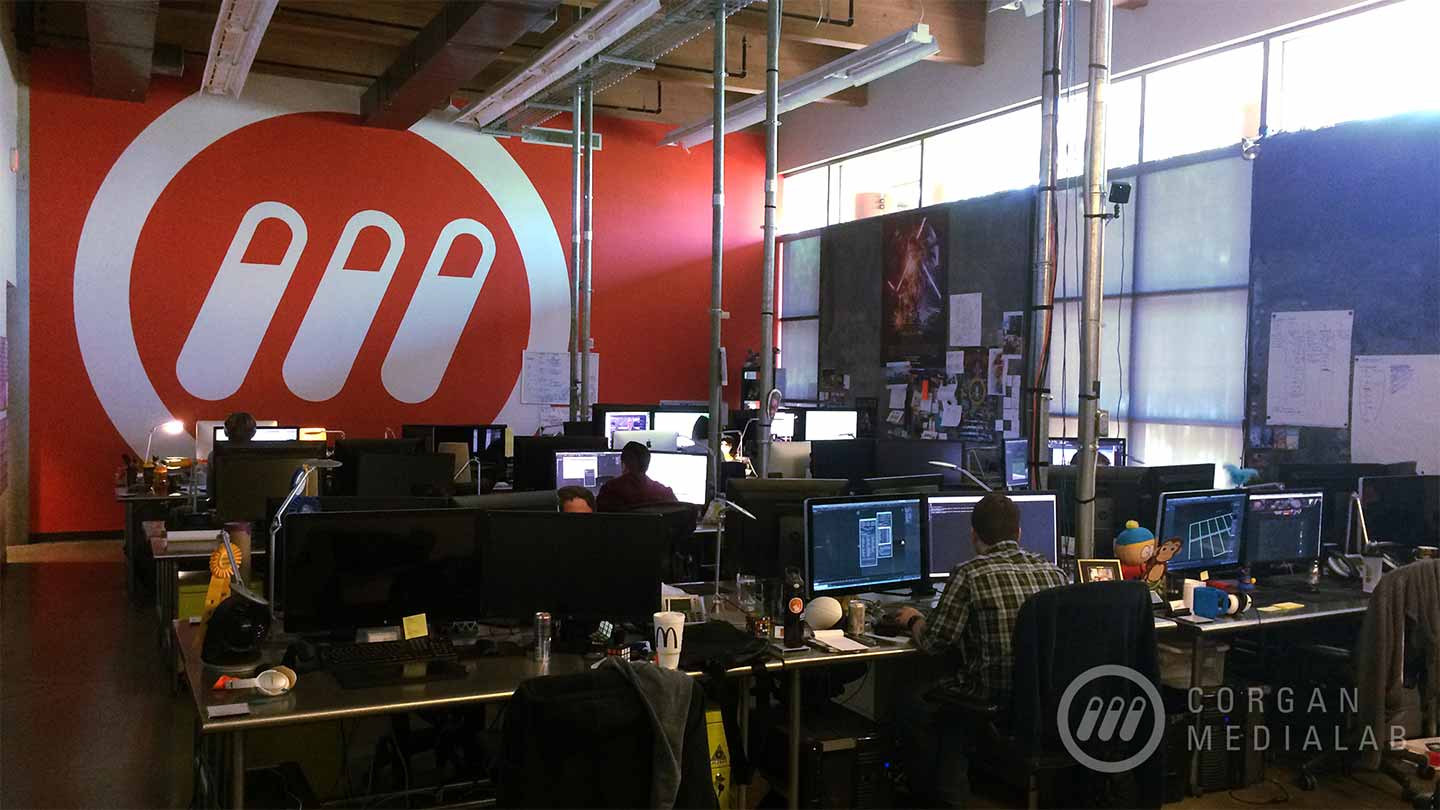 Ludo identified Nuke as the right tool to meet these challenges due to its flexibility, scalability, and ease-of-use.
The merits of this decision were quickly recognized by the wider team: "Right after the first project with Nuke, artists understood why we needed it. Our workflow consists of Revit, Sketchup, 3ds Max, V-Ray and Nuke."
"With Nuke, we're now able to accept major changes to models up to 24 hours prior to delivery. For example, we just delivered a full orbit around a building in four days  - all photoreal.
"Because we've been working on that building using still rendering for the past six months, all we had to do was animate the camera, put it in our 3D scene used to do the stills, render the sequence, alt+up our Nuke comp, and we were literally 90% there - just a few details to fix, and done!"
"We use Nuke Studio for reviews when working on longer projects having a few shots in them. We love Nuke Studio's direct connection to the comps: the freedom to render the comps straight from the timeline without bothering the artists just to see where things are.
"Not having to import a sequence for every daily lets us work faster, give better results, and go home on time!"
From blockbusters to buildings
Ludo saw that Nuke - the tool of choice for creating high-end VFX for Hollywood blockbusters - would translate perfectly for use in design visualization: "I saw many similarities between the two worlds." he says. "Although Nuke is used as a sequence compositor, I realized using it for single images would work!".
"Most of our still renderings end up in animation -  as fly throughs, animated cameras, tracked cameras or even matte paintings. Since the work is done on the still rendering, most of the time it's just a matter of rendering a sequence of images from a moving camera (for instance) and then updating the still rendering comp to use the sequence instead."
"You end up with a comp in 25% of the time it would have taken if you'd started from scratch. And vice-versa: often we have to extract stills from animation and re-render those at 5400x3038. Again, the comp is already done and the nodes all follow through."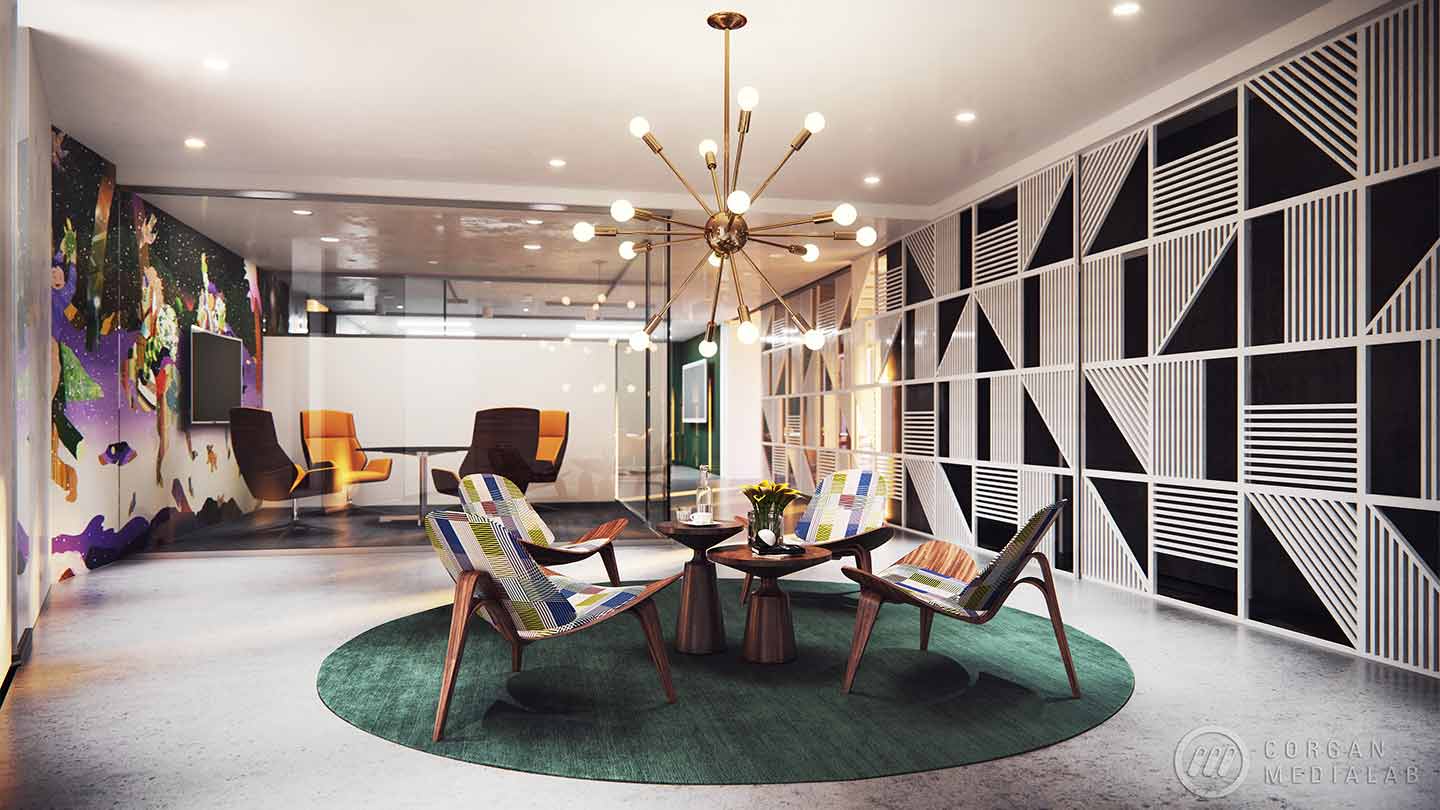 "The scalability and flexibility of Nuke is amazing, it helps us build products in record time. The 3D capabilities go even further: our comps include 3D to help update materials in a few clicks. We're so excited to see what deep compositing will do for us - we've just started investigating."

"We have amazing terrazzo floors now because we do them entirely in Nuke. Not only do they look astonishing, we can switch them in 15 minutes even in front of the client. Architects like to change the patterns on those terrazzos! That's possible because they're done using 3D in Nuke."

"Our card people use Nuke 3D to create proper reflections and shadowing. Honestly, the whole package is awesome. We use Photoshop about 2% of the time now for painting backplates, placing people in the image, and integrating them in Nuke. "
Ultimately this means we can generate multiple deliverables from still images to animated fly-throughs, and prep assets used in interactive experiences - from the same project (without having to rebuild a project for each deliverable from scratch). It's all made possible because of Nuke.
Power to the artist
Having worked in both industries, Ludo is in a great position to explain the differences between building a VFX pipeline for architectural visualization and one for Film & TV: "I can't blow up buildings," he jokes.
"Seriously though, we do green screen, tracking, roto work, and use 3D in Nuke to speed up changes to materials on walls, ceilings and floors. We're in the process of testing deep compositing to enhance our 360 experiences, and blink scripts to see if we can speed things up when we do work in 5K (for stills) and 4K (for animation). We use the corner pin to introduce art pieces for interior shots and we bring exact shadows and reflections using Nuke's 3D."
"Everything else is pretty much the same. Having worked in production for over 18 years prior to joining the MediaLab, the real difference is I can't animate monsters fighting on the roofs of the buildings. Also, template scripts are usable consistently without changes  - in VFX production; although we used templates, we often had to modify them to work with the current project. Here, most the projects are very similar.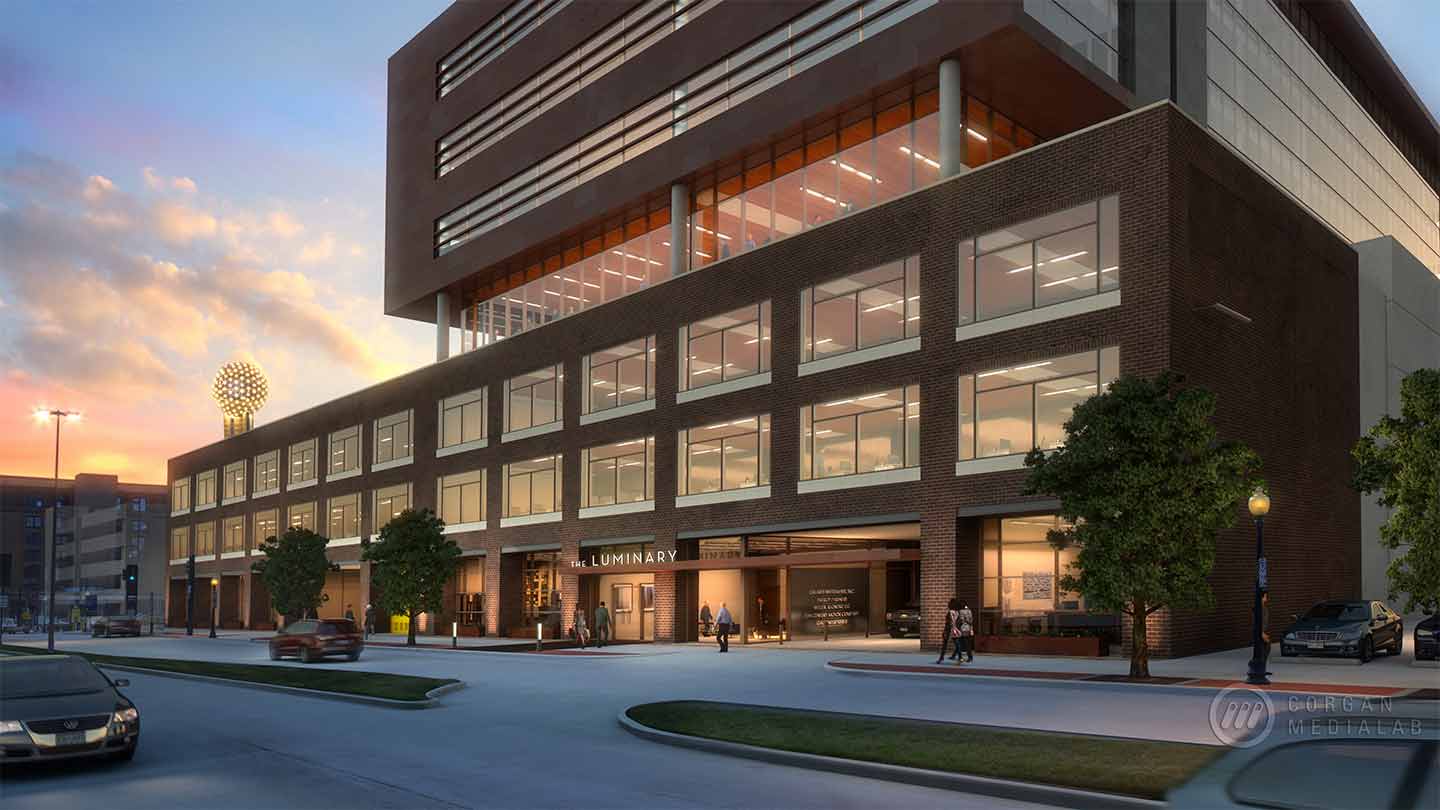 "This gives us the ability to deliver projects in three days  - sometimes even the same day. Before Nuke, the same project could take eight to ten days."
"Most importantly Nuke gives the artists the power to do what they do best: make amazing imagery (instead of resisting changes and non-flexible comps with the tools we used to use) Now, they can focus on the fun stuff, and address every little change the client wants without it being an issue."
He goes on to explain the integration of Nuke has completely changed the team's pipeline: "We barely use the tools we previously used now. Even when my veterans use their previously-used tools to complete a quick turnaround project, they don't bother. They'd rather stay in Nuke."
 
Easier change requests
Turnaround speed is one of the biggest impacts Nuke has had on our team: "Building a comp is all done through scripting. We went from one day of setup in Photoshop, to about ten seconds in Nuke.", Ludo says.

"When changes happen (and trust me they happen often in architecture) we used to have to go back to square one to rebuild the comp in Photoshop. Today, we accept changes up to 12 hours before delivery. And we don't have to do anything -  our comps update with the 3D changes."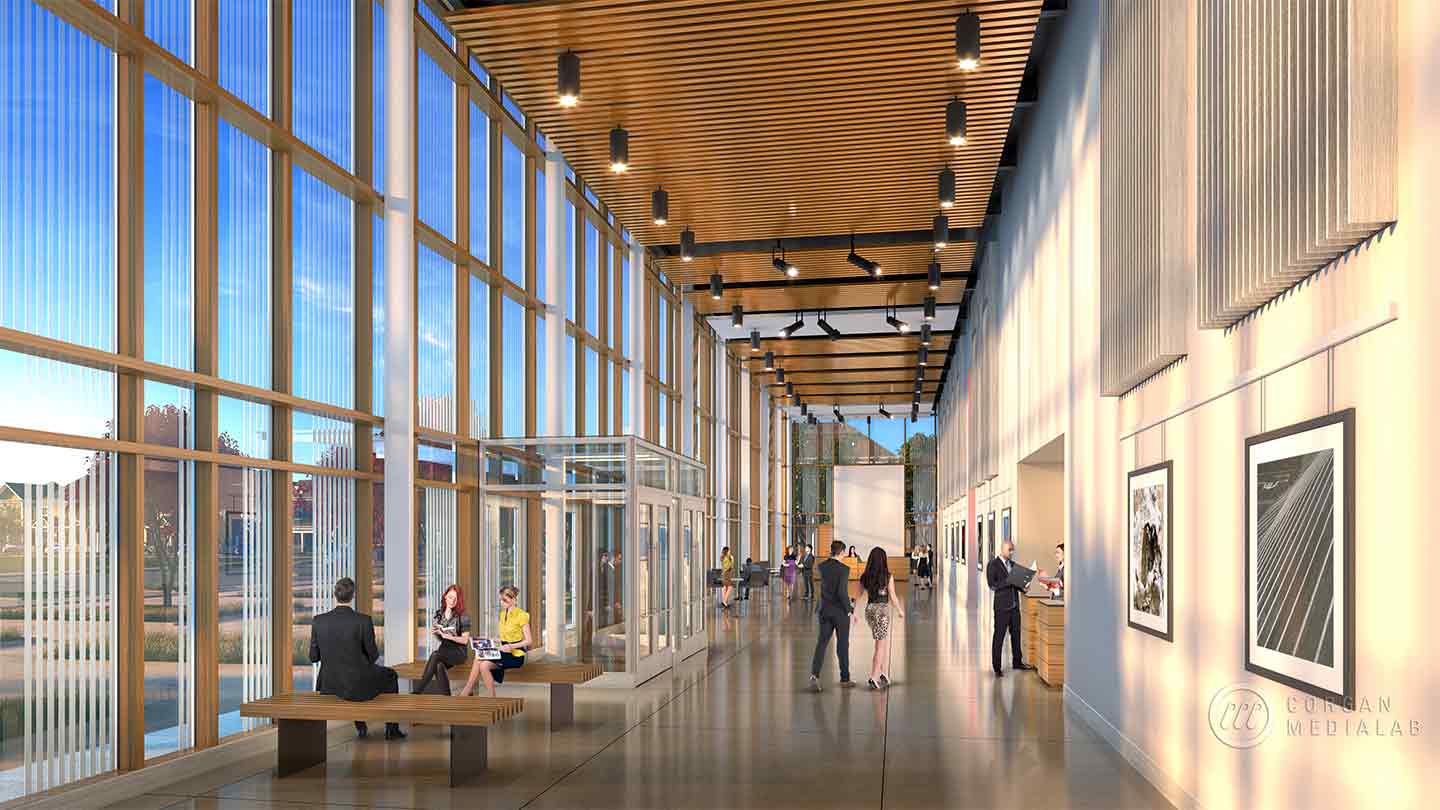 "We can turn the first look of an image around in less than eight hours. Before this, it could take up to four days. A full minute of photorealistic animation completed in four days, would have taken at least a couple of weeks. Simple changes in materials (either texture or color) now take about five minutes; previously they would take half a day (on top of a 3D re-render)."
"So Nuke has totally impacted our overall turn around time, allowing quick, effective, and flexible responses to client requests for changes. Big picture -  a single still could take up to eight business days to turn around. Now we turn around four stills in less than five business days (three if you don't count reviews)."
 
Visualizing the future
When it comes to the future of AEC visualization, despite the growth of VR, AR, and interactive experiences, Ludo believes there's still room for a pixel-perfect image processing tool like Nuke: "Nuke is still very much needed -  those 360 videos don't make themselves. Hence, CaraVR is so attractive to us.
"It's incredible to be in my Oculus goggles while changes are made to the comp. I can see the updates right away. Still renderings are not going away any time soon: construction sites need images showing the future of the building."
"Airports want to display their future expansion plans for everyone to see. Although VR and AR are getting more prolific, there's still a need for accessible visual feedback. Until we all wear AR glasses (or contact lenses) permanently, still rendering and animation will occupy a very important place in architectural visualization.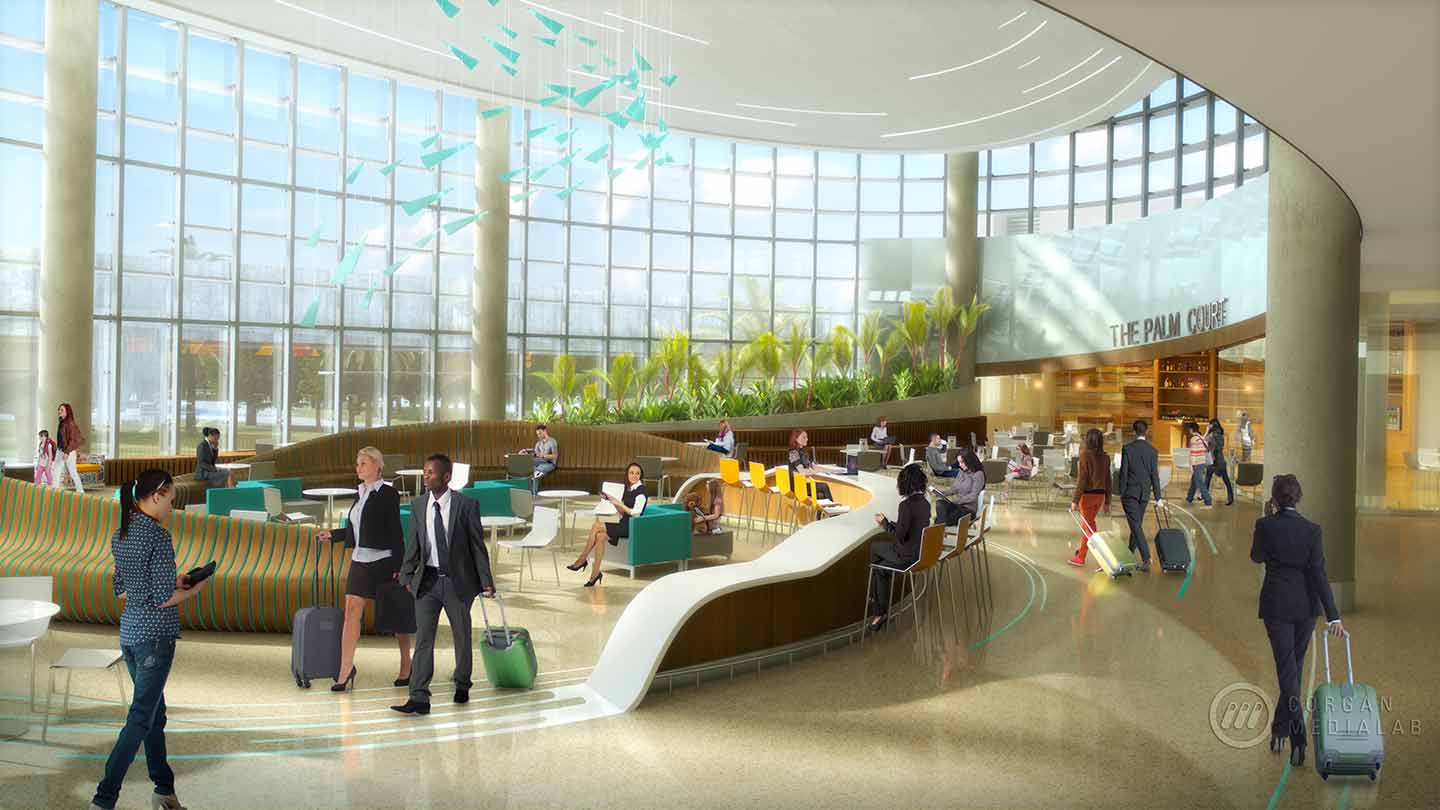 As a final point, Ludo emphasizes the impact Nuke has had on his team: "We're delivering about 70 images a month. And an average of 2-4 animation and 1-2 integration projects per month. We have teams in Dallas and China working non-stop. Without Nuke, this would not be possible.
"Nuke gave us the space to create an incredible workflow and the chance to deliver so much with a very small footprint team.  Thank you Foundry for all you do. "
Want to try out Nuke for yourself? Get a free 30-day trial here.