Image courtesy of Thiago Christo
Mastering the Moments of Truth Design Challenge: Thiago Christo
Refresher: What are the moments of truth?
The Challenge
Consumer packaged goods (CPG) companies are obsessed with mastering the moments of truth. And they have good reason. Consumers, on average, take less than seven seconds to choose an item off a store shelf. Brands must carefully craft their packaging to be notably superior over the competition if they are to garner the attention of the consumer's quick gaze.
Similarly, brands face a tough fight online. In the search results pages on Google or Amazon, their packaging will go toe-to-toe against an array of competitors and vie for attention. So, how do CPG companies know how their packaging designs will perform? The only way to do that is to actually see it on the store shelf or e-commerce web page. 
Up till now, designers had to put their designs in virtual plan-o-grams, mock ups in 2D tools, or construct actual demo store shelves. But this takes time and is typically separate from the designing process. 
Enter: the Mastering the Moments of Truth Design Challenge. What if there was a way that you could design your packaging right on the store shelf, e-commerce web page, or an in-home environment? How would it change the way you design? Could you achieve superior results, faster?
We put these questions to Thiago Christo to see if, using Modo, he could design a product, in each of these contexts. Here is his journey: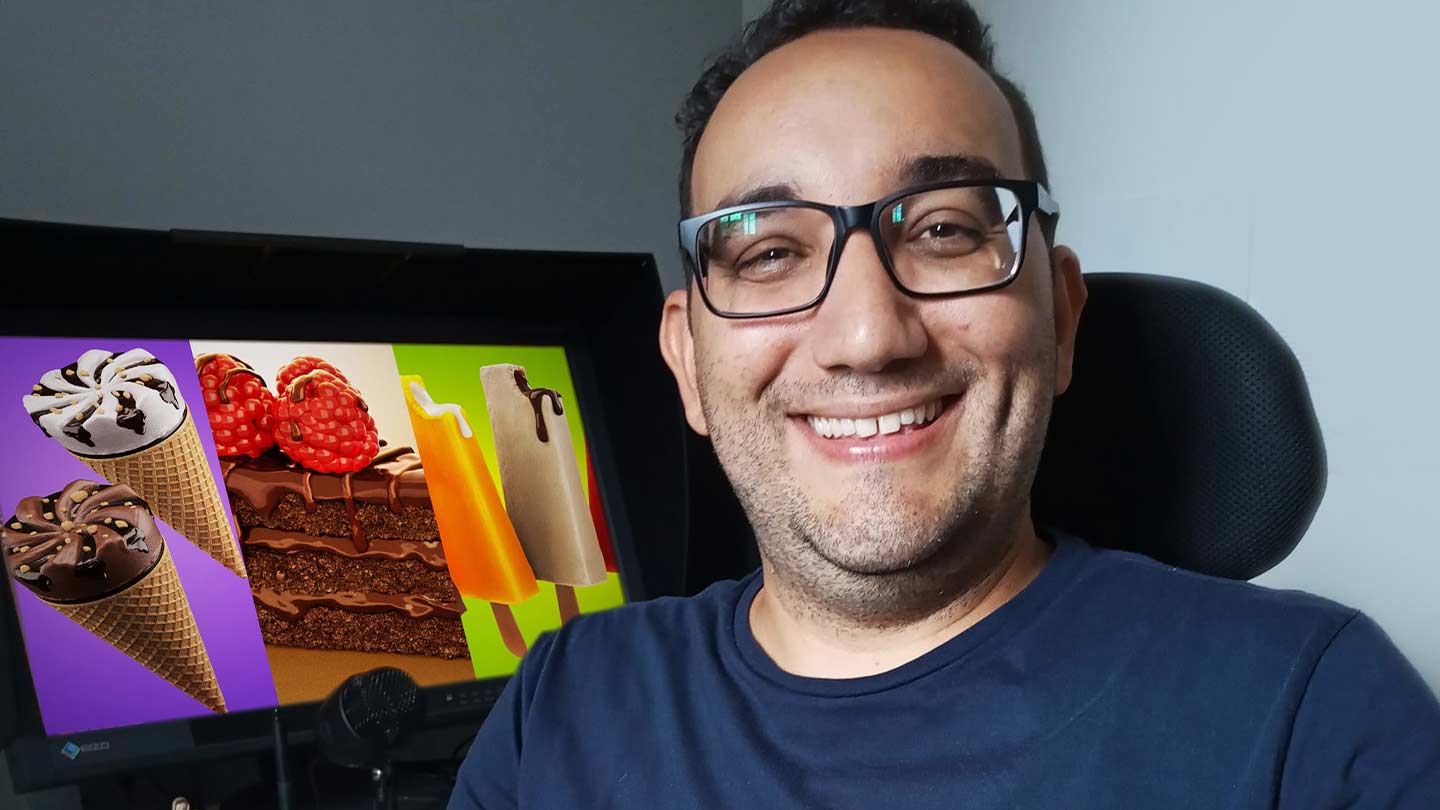 About Thiago
Thiago Christo, a Brazilian freelance designer, has been working with international CPG clients since 2000. The main verticals he works in for packaging design are food, cosmetics, and personal care. Beyond that, he also specializes in producing stunning marketing collateral for ad campaigns. And while he has been an expert in 2D label design since 2000, in 2002, he began to design in 3D and in 2016, upskilled his toolset to include 3D design with Modo. Since then, he hasn't looked back. Incorporating 3D into his work to produce stunning photo-realism, Thiago brings life to his client's packaging and products.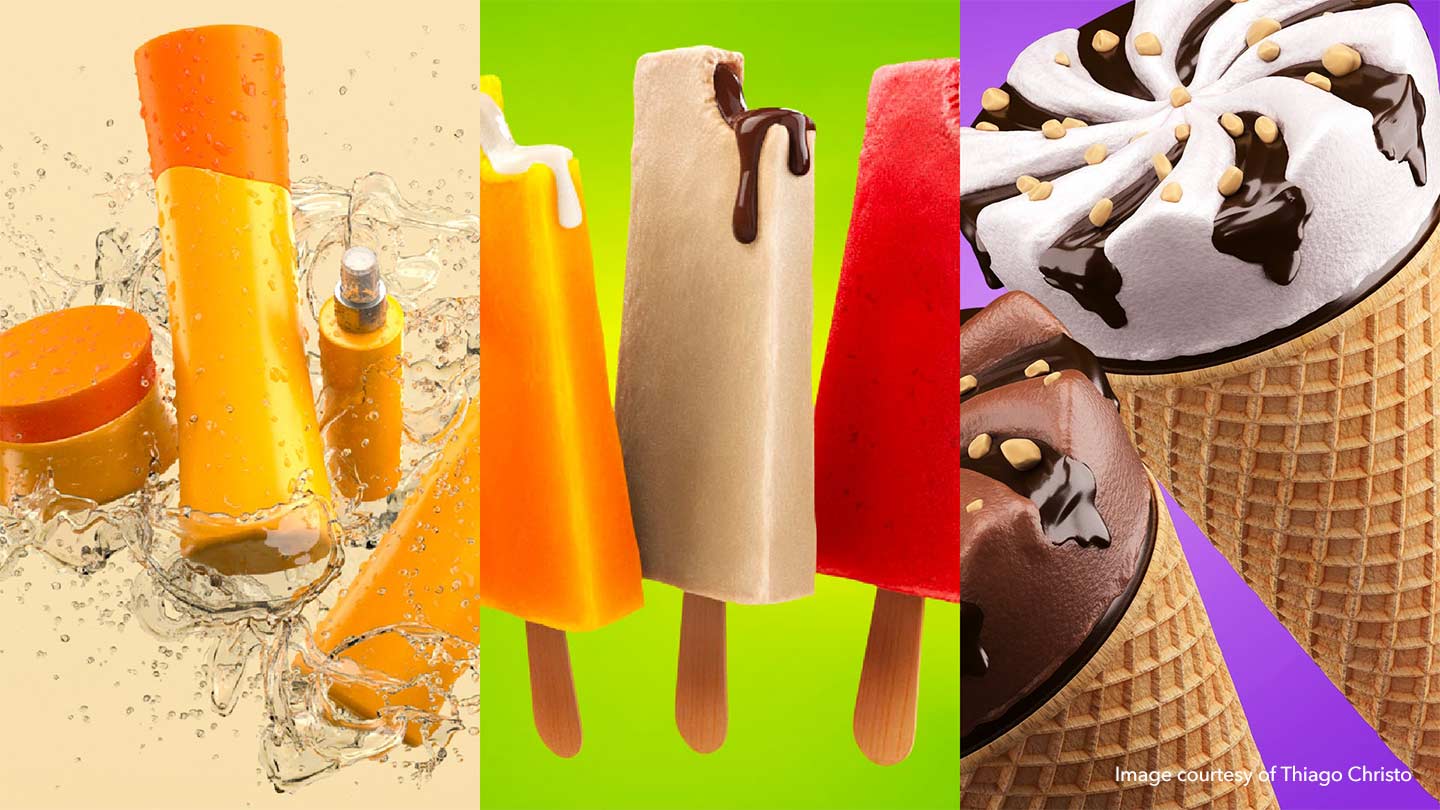 The Normal Design Process
For Thiago, his work normally begins with an initial brief from the client. In it, "they will give some  idea of their competitors' use of fonts and colors," relays Thiago. "Along with that competitor information, they'll provide direction on how they want to differentiate themselves from the competition or create packaging designed to be similar to a competitor's consumer cues." This can include font or color choice, but can also include signals on quality, value, or whatever else the client wants to signal to the consumer.
This initial competitor research will inform how Thiago crafts the packaging design. But his care in crafting the design doesn't stop there. He also needs to tailor the design for different regions — changing colors, fonts, etc. based on cultural preferences. All this goes into crafting a design that will stand out on the shelf, wherever it is sold.
The Challenge
Given that Thiago already keeps the competitor in mind as he designs, how would designing the packaging on the shelf, on an e-commerce site, and in-home affect the way he designed? Here's Thiago:
"Well, first, to start the project, I had to choose, 'what will I design?' As it happened, I had an asset (cake) and wanted to show how 3D can be used on the packaging itself as well as making a virtual twin of the packaging."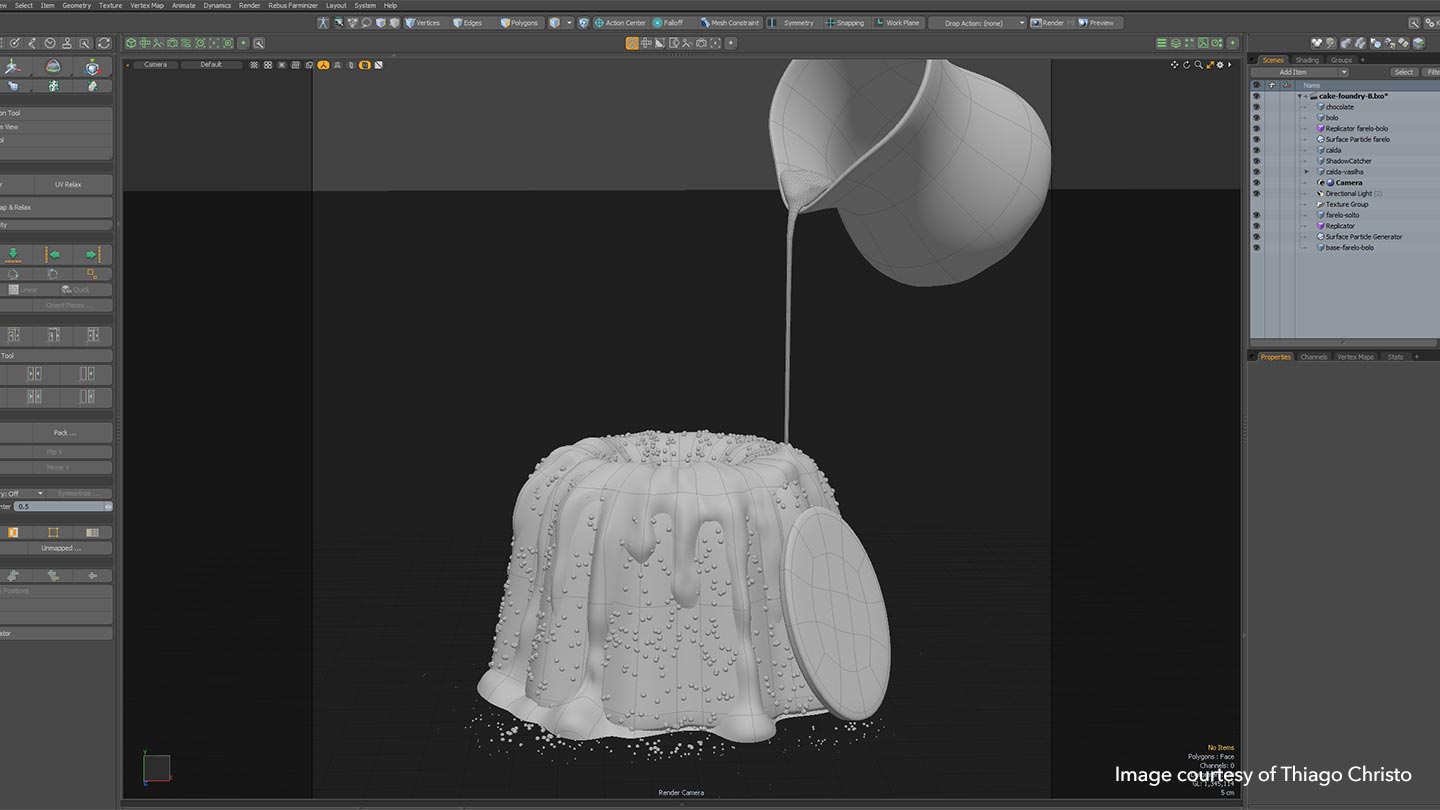 With that initial concept in hand, it was time to start to think about the actual design of the cake mix packaging. Thiago decided on an enticing vanilla cake. "Yellow blended nicely with the color of the cake, so I decided that should be the font color," said Thiago.  "Also, I wanted to incorporate browns as every vanilla cake needs chocolate drizzle."
But, from there, he wanted to see how the packaging would look in the context of the store shelf. So, he went to his local supermarket and snapped a few photos of the cake aisle. He went home, created a store shelf in Modo, and placed four of his top "competitors" on the shelves.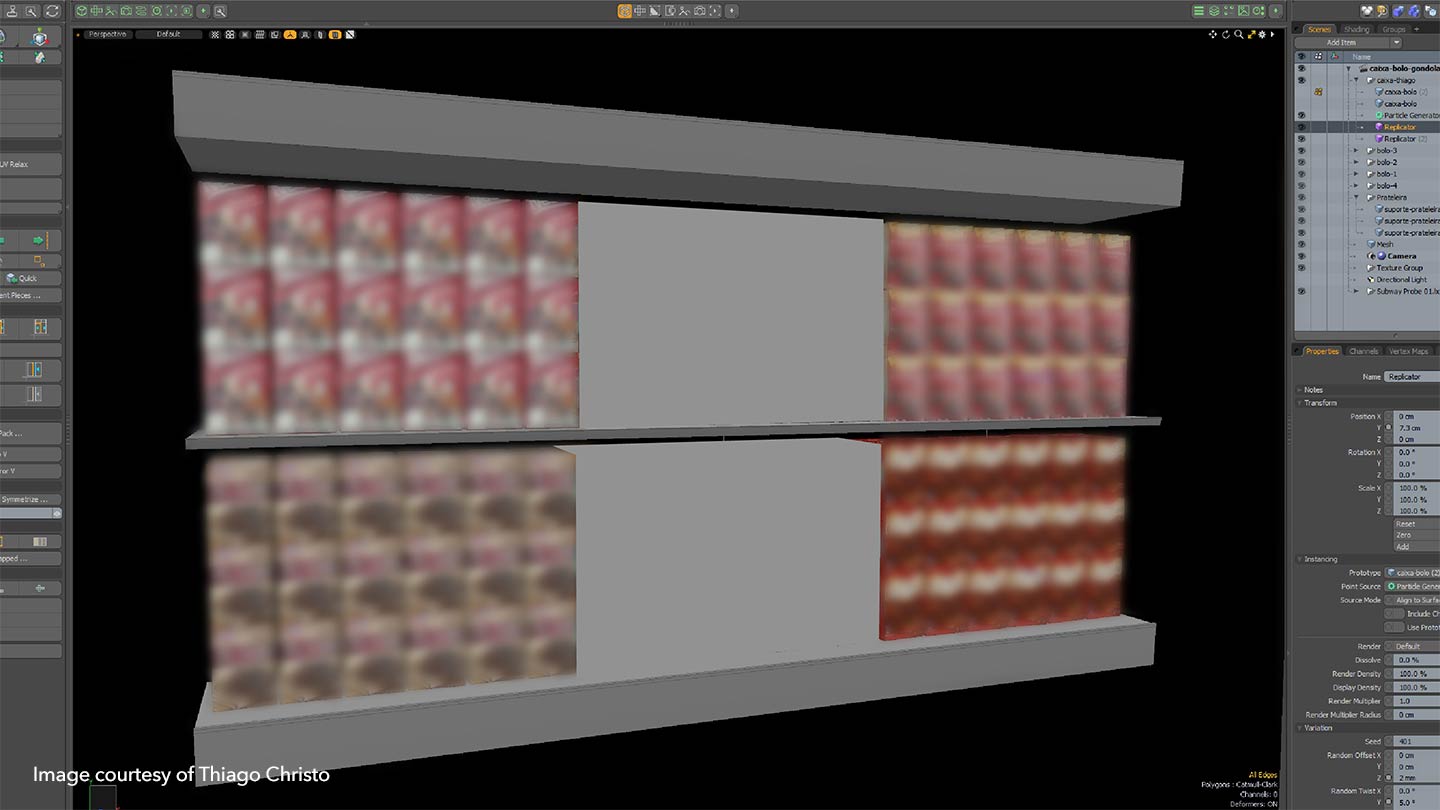 He immediately noticed the predominant use of reds, browns, and yellows. While these colors signaled rich flavor and quality, since each competitor was these colors, they blended into each other, creating a wall of "sameness."
The same went with the e-commerce page. He conducted a quick search on an e-commerce retailer for cake mixes. "I noticed that a lot of competitors were using oranges, reds, and white. I needed to make sure that I stood out there as well," reported Thiago.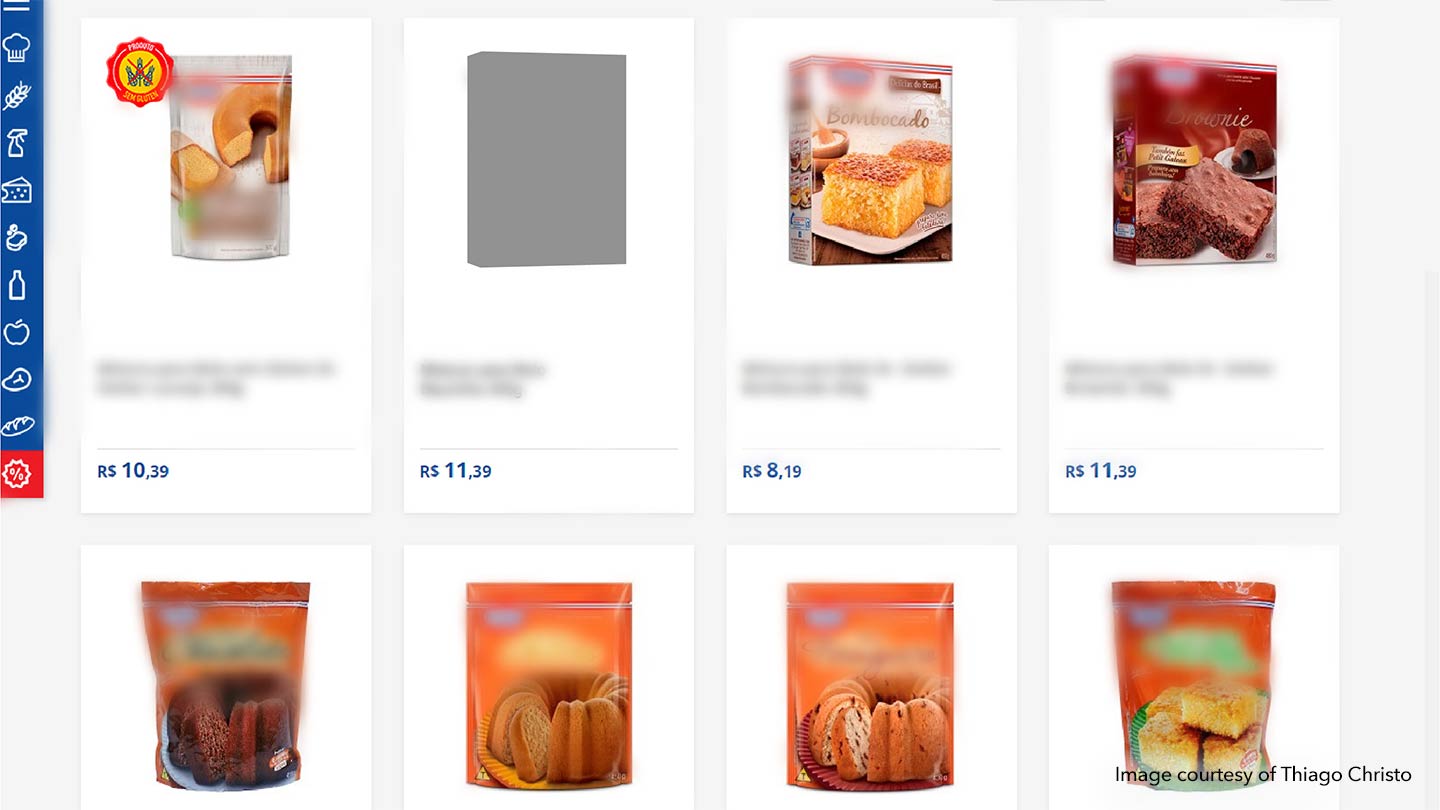 But before Thiago decided on a final color palette, he wanted to understand the overall feeling that he wanted his packaging to envoke. For this, he turned to the in-home scene. 
"I decided that I wanted the feeling of 'grandma making you a cake' in her rustic farm kitchen and serving it with a cup of coffee," said Thiago. "I have fond memories of that and figured it would resonate with the consumer. So, for my in-home scene, I chose a more rustic background and created a farm table in Modo. From there I created the coffee cup and carefully selected the colors. I went with a 'less is more' mentality as I wanted to create an overall feeling and not distract the viewer." 
What he landed on was a cheerful blue that looked nice on "grandma's table" and worked with the yellows and browns that he previously selected. "I think the final product hit the emotional target very well and would also be ready for marketing to use in their efforts to promote the product."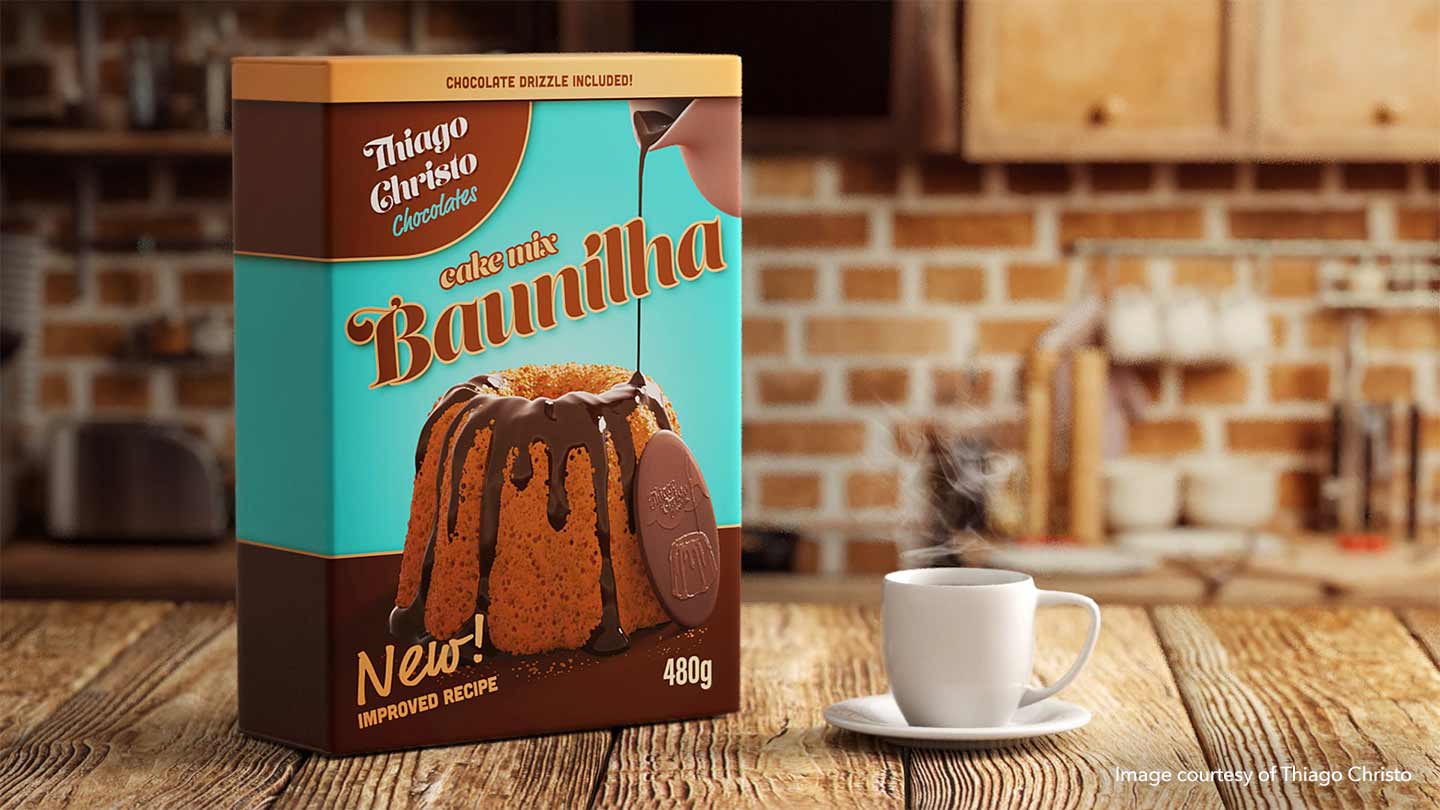 The best news: The blue not only worked well in the in-home scene, but because he already had an understanding of the competitive landscape, it helped his design stand out on the store shelf and e-commerce page: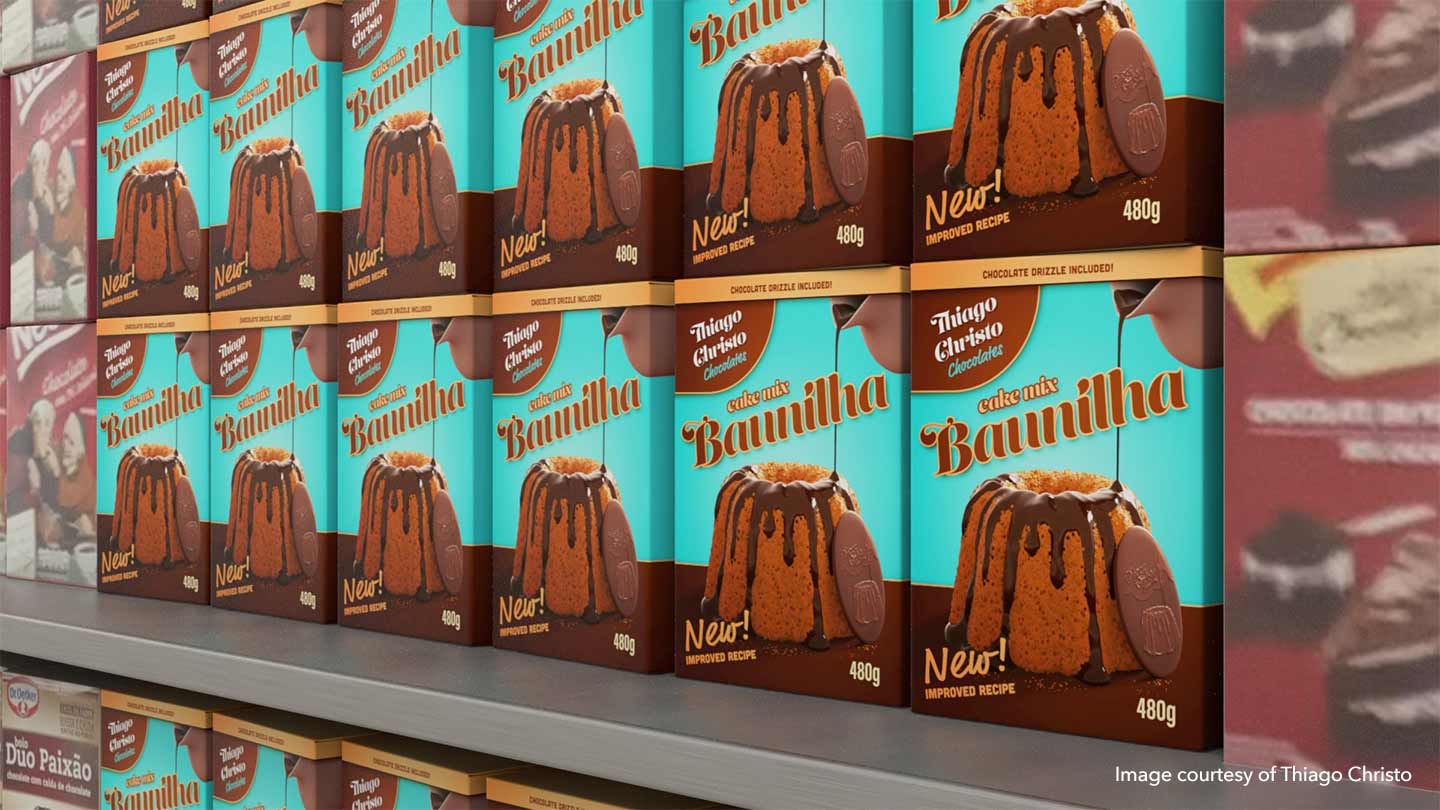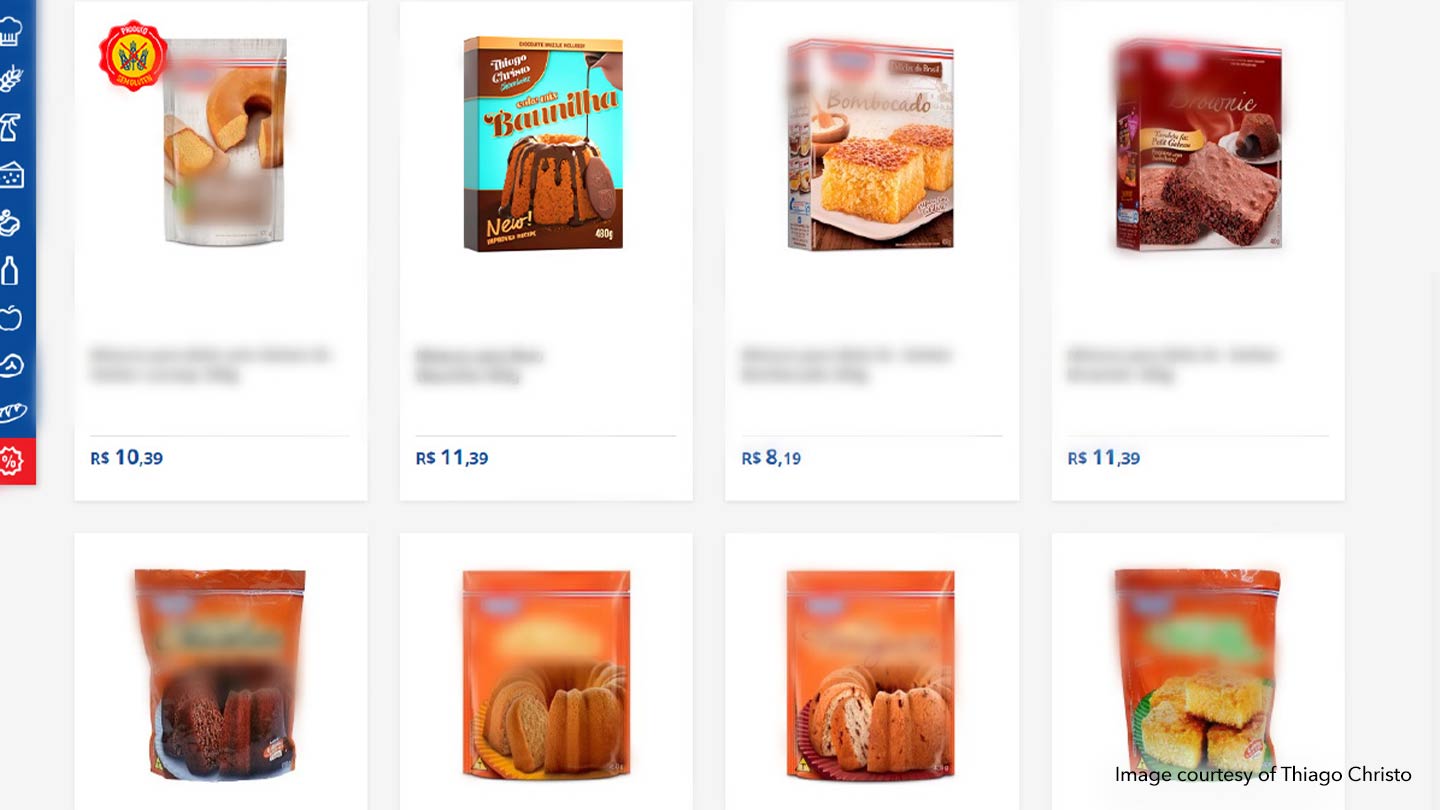 The Result
With the challenge complete, Thiago noted, "this way of designing will change my process. I was already keeping all these things in mind, but now I have tools to show my clients how the packaging will interact with competitors before the first product rolls off the shelf." And that is what mastering the moments of truth is all about, designing for each critical moment and being confident that your packaging design will perform as needed and dominate the competition.
A big thanks to Thiago Christo for being such a good sport and completing the challenge. If you'd like to see more of his work or contact him, you can find his portfolio here: Thiago Christo.