Image courtesy of William Vaughan
Modo Heroes: William Vaughan
Modo's mPath engine and AMD's Radeon ProRender will transform artists' work, says New Balance's 3D team leader, William Vaughan
William Vaughan is a hard artist to categorise. Currently Senior 3D Production Manager at multinational shoe firm New Balance, he is also a prolific creator of 3D characters, whose work has appeared in Hollywood movies, architectural visualisations, and even as vinyl toys. An author and educator—he was previously academic director of The Digital Animation & Visual Effects School in Florida—his published output ranges from guides to 3D modeling to science-fiction novels.
For the past decade, the thread uniting this varied career has been Modo: Foundry's creative 3D modeling software, and Vaughan's primary production tool. And what currently excites him about the application is the way that the current Modo 13 Series of releases harness the power of modern GPUs, both through Radeon™ ProRender, AMD's powerful physically based render engine, and mPath, Foundry's ground-up redesign of the native Modo renderer.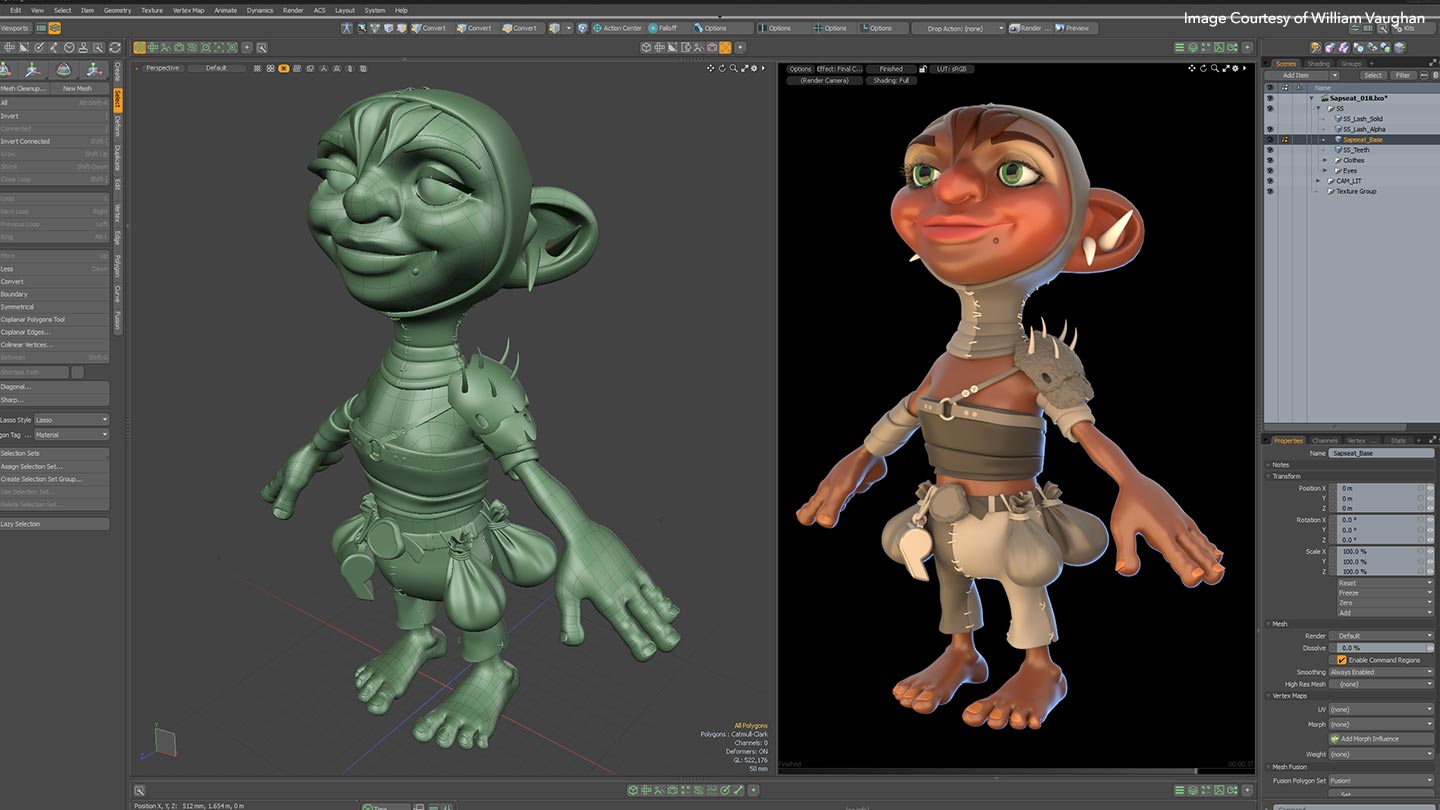 William Vaughan estimates that he has created thousands of 3D characters over the course of his career, now using Foundry's Modo as his principal modeling and rendering software.
Modo for character modeling
Vaughan first used Modo on Partly Cloudy, Pixar's 2009 animated short, on which he worked as a freelance character modeller, teaching himself to use the software over a single weekend.
"I bought Modo on Friday, spent my weekend modeling two characters to get familiar with it, and I was ready to go on Monday," he recalls. "The crazy thing was that I had two day jobs at the time, but there was no way that I was passing [an opportunity like that] up."
"At the time, what blew me away was how interactive everything was," he says. "I wasn't keying in numbers and seeing what happened: I was interacting with my model in real time. That and Modo's selection tools were the biggest selling points to me."
Over time, Modo would gradually replace other 3D software in Vaughan's workflow, both on his personal and professional projects. "It's a complete package: all of the tools are there, they're easy to use, and they're flexible," he explains. "Although I model 3D characters, I think of myself more as a problem-solver—and Modo has everything I need to solve my problems."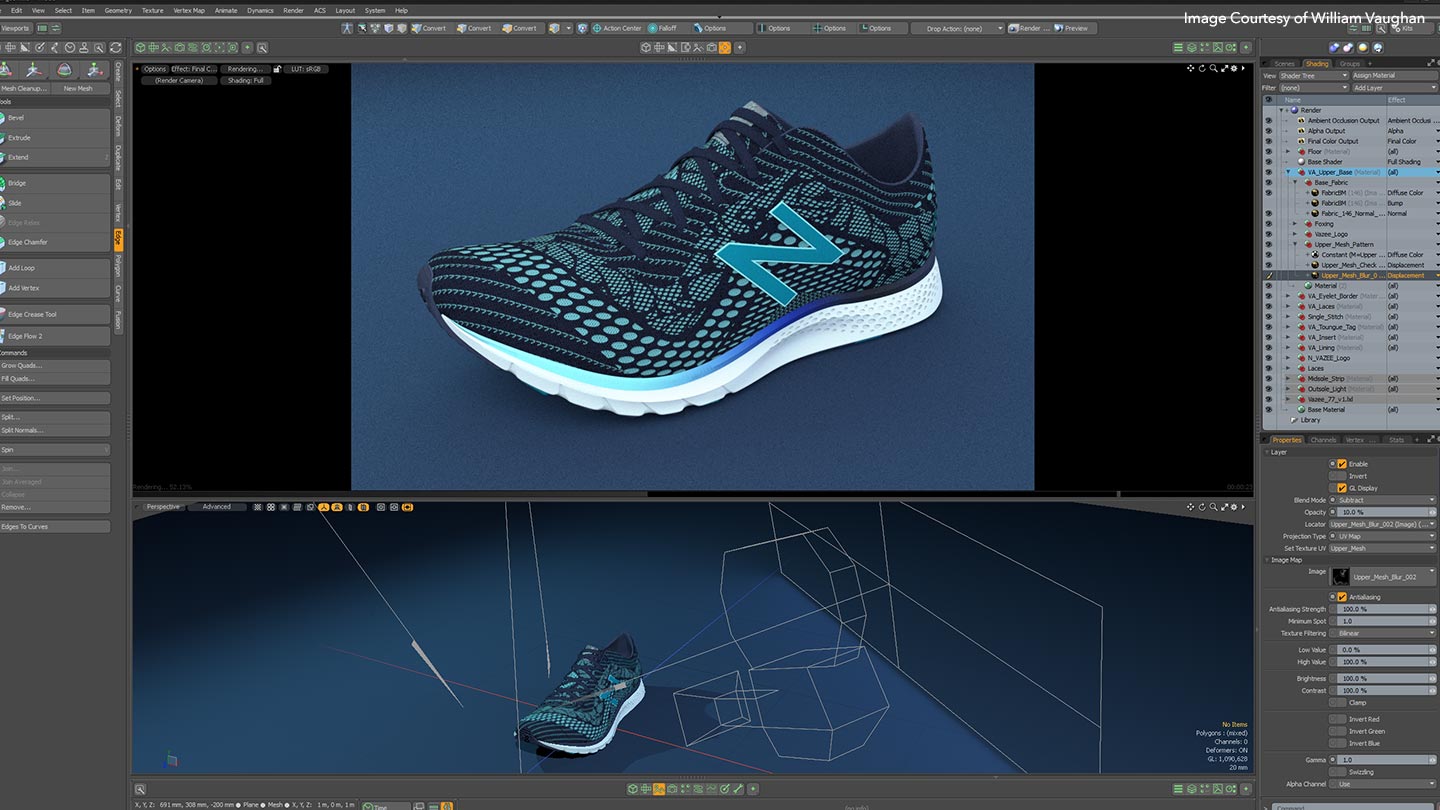 All of New Balance's shoes, like the FuelCore Agility v2, are prototyped in 3D inside Modo.
Modo for product design
Vaughan has also been instrumental in implementing Modo in the design pipeline at New Balance. In place of its old workflow of creating designs in 2D, having them manufactured physically, then modifying the 2D designs accordingly, the company now uses Modo to create 3D prototypes.
"One of the big driving forces for introducing 3D was to cut down on physical samples," says Vaughan. "By doing that, we're cutting costs, but also reducing the impact on the environment."
New Balance now uses Foundry software right through its production pipeline, with designers generating concepts in Modo, iterating on looks and generating technical documentation in Colorway—another tool that Vaughan describes as a "game-changer"—then taking the CAD files used for manufacturing and rendering them in Modo to produce marketing images.
According to Vaughan, the new workflow enables New Balance to get to an accurate representation of how a shoe will look much earlier in production, enabling the firm to make more informed decisions on new designs. "Whereas before, designers might have showed up [to the first design review] with Post-it notes and sketches, they're showing up with full 3D models," he says.
Having now trained over 50 of New Balance designers to use Modo, Vaughan praises the software's shallow learning curve. "It's very artist-friendly," he comments. "Most of New Balance's designers didn't have a background in 3D, but in Modo, you can get to a nice-looking render very quickly."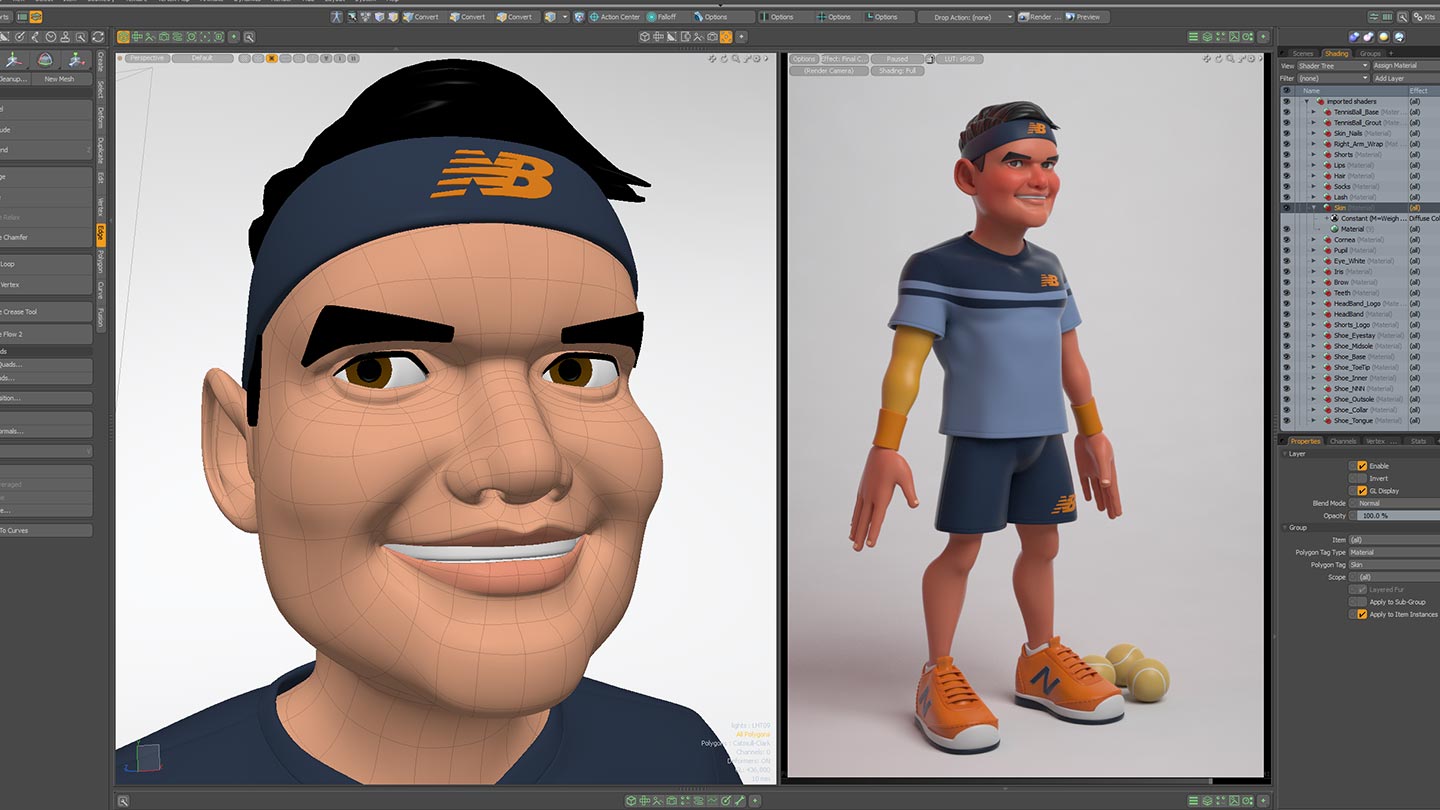 The Modo 13 Series enables artists to use their GPUs to speed up renders, both for interactive previews and for final-quality output.
Modern GPUs for rendering
Of all of the changes in this year's Modo 13 Series of updates, Vaughan is most excited about the way that the software is taking advantage of the processing power of modern graphics cards: a process that began in Modo 13.0 with the integration of Radeon ProRender. AMD's physically accurate GPU renderer provides artists with fast, interactive, photorealistic previews of 3D models.
"Modo is known as a great modeller. People know that it produces good renders. But they have been waiting to take advantage of the GPU [to speed up rendering]," he says. "Radeon ProRender was the first taste of that in a Modo pipeline."
Since its introduction, Radeon ProRender has become more tightly integrated into standard Modo workflows with each successive release, with Modo 13.2 adding support for the Modo physical material's Specular and Dissolve properties, and the Film Offset controls of the Modo camera.
More recently, Vaughan has been testing mPath, the new path tracer introduced in Modo 13.2. mPath reinvents Modo's native render engine as a modern, hardware-agnostic renderer, able equally to take advantage of the processing power of massively multi-core CPUs like AMD's Ryzen™ Threadripper™ chips, and of professional GPUs.
This new architecture brings with it a range of benefits, distilling Modo's render settings to a much smaller set of parameters and enabling artists to generate render passes more flexibly. But for New Balance, the main appeal of mPath is sheer, raw speed.
In Vaughan's tests, existing New Balance production scenes rendered in mPath in Modo 13.2 in a fraction of the time they used to with the old standard renderer in Modo 13.1. "In some cases, a scene that would normally take 24 minutes to render was done in nine," he says. "It's just insane."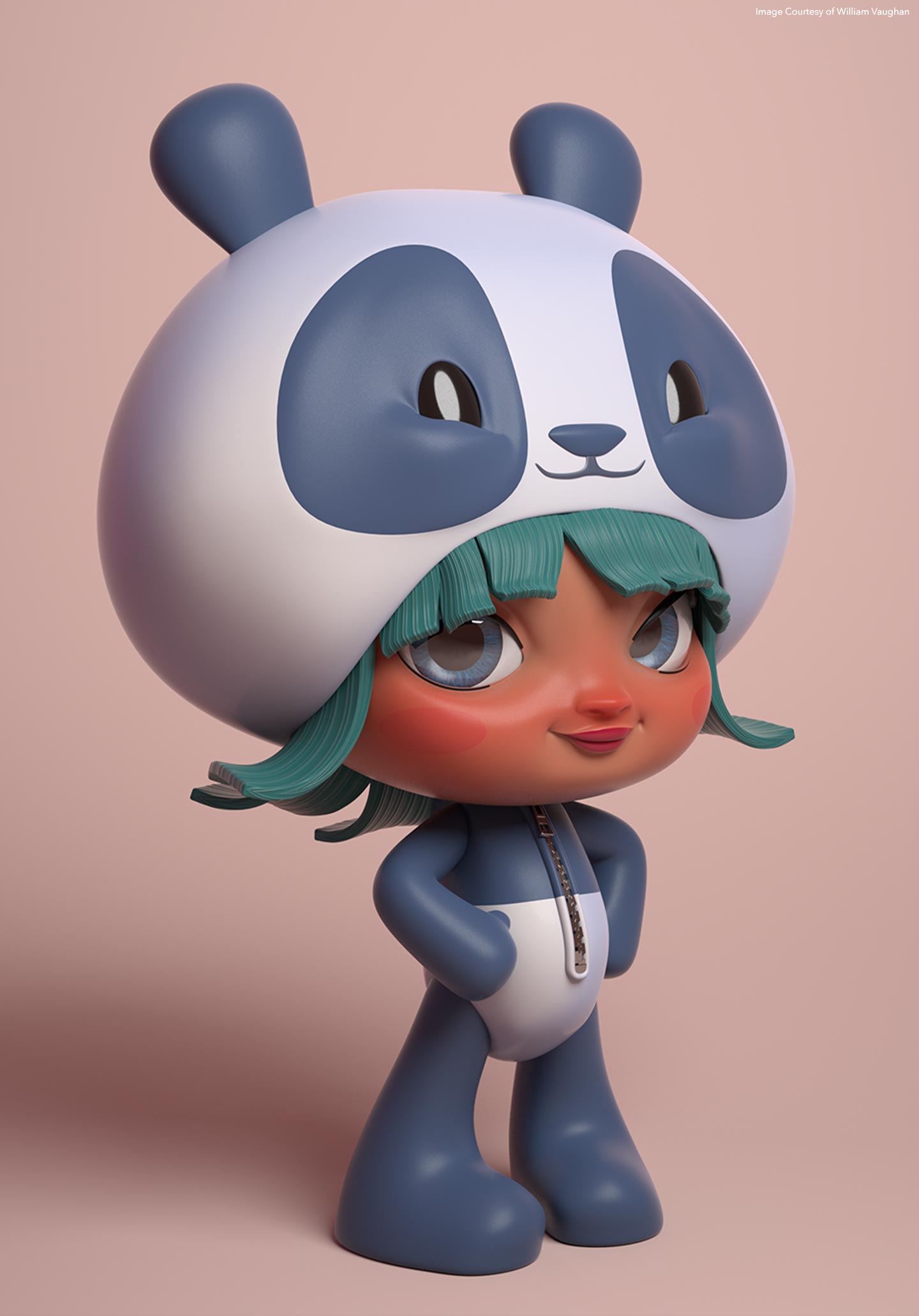 As well as its rendering features, Modo 13.2 adds new tools for character rigging and animation.
Time-saving new modeling and animation tools
Modo 13.2 also brings with it updates to the powerful direct modeling tools that New Balance uses in production every day. The new Edge Chamfer tool creates rounded edges on geometry – essential in hard-surface modeling workflows like product design – generating better geometry and cleaner UVs than the existing Edge Bevel tool, which it is ultimately intended to replace.
In addition, the update extends Modo's rigging and animation tools, both for technical visualisations and for the characters that William Vaughan creates in his personal work. Vaughan is particularly impressed with the new Planar IK system, which makes it easier to create soft or stretchy IK set-ups when rigging limbs. "I'm having to do less work to get nice soft transitions from when a limb is bent to when it is fully extended," he says. "That affects something as simple as a walk cycle."
Other changes in Modo 13.2 include a new system of Gradient Layers and Gradient Modifiers, reducing the number of deformers required to create complex character rigs, and more streamlined workflow in the Graph Editor, with options to fit the Timeline range automatically to the animation curve selected, and to normalise the vertical ranges of a set of curves.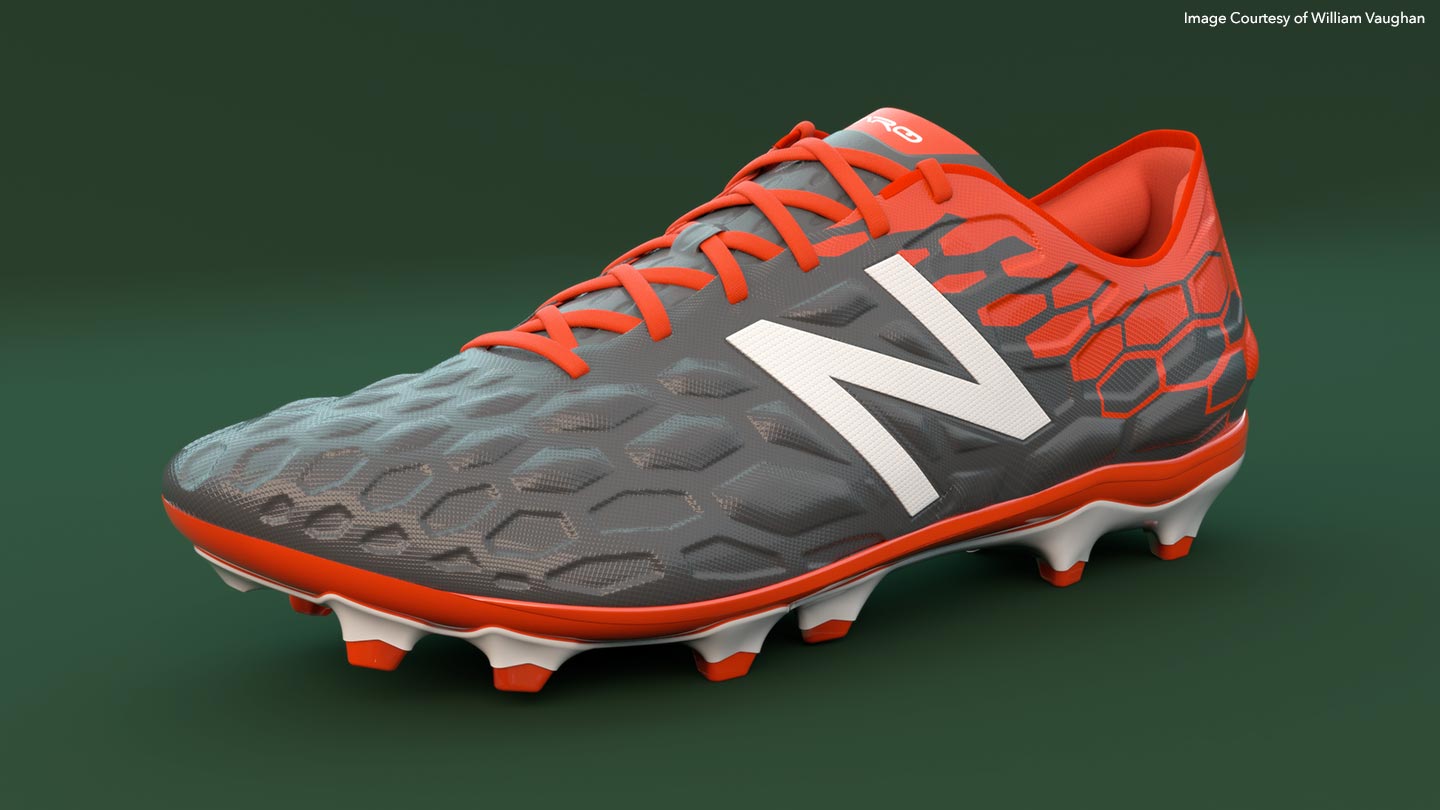 Being able to use the GPU for rendering will transform artists' workflows at companies like New Balance, says William Vaughan.
A game-changer for Modo users
But for New Balance, the key changes in Modo 13.2 are those new rendering tools. "We're constantly spitting out renders," Vaughan points out. "There isn't a day where we don't produce hundreds, if not thousands of frames."
For Vaughan, the fact that Modo can now take advantage of the GPU to speed up rendering—whether as interactive previews with AMD's Radeon ProRender, or as final-quality output with mPath—is "one of the biggest pieces of news that Foundry could have for the software". 
"I see myself primarily as a modeller, so the fact that it's the thing I'm most excited about speaks volumes to the importance of GPU rendering," he says. "Modo is already a complete toolset for 3D artists—but if you can make our workflow faster, we'll be very happy."
See more of William Vaughan's work in his online gallery.
To try the new rendering features in Modo 13.2 for yourself,