Modo 12 series: designing in virtual reality
Supported by AMD's VR-ready GPUs, Modo 12.1's virtual reality viewport gives 3D artists a new way to experience their work
 
Some DCC tools let you export assets to VR engines. Modo actually lets you work in VR. Modo 12.1, released in June, added an integrated virtual reality viewport to Foundry's modelling, rendering and animation software, enabling artists to interact with their work in an entirely new way.
Wearing an Oculus Rift or HTC Vive headset, Modo users can view models at actual scale, or adjust them directly in virtual reality, moving, scaling, rotating, instancing or duplicating objects. It's also possible to place view cameras within a scene, accelerating the design discovery process.
"VR is absolutely fantastic for blocking anything: the initial shape of a model, or the layout of an environment," enthuses Foundry Senior Product Manager Shane Griffith. "You get such an immediate sense of perspective, and the relationships of the sizes of things."
The new viewport makes Modo unique among DCC applications in that it enables artists to work directly in virtual reality, rather than having to export assets to a game engine in order to view them.
"If you have to translate the data, there's always a loss of time, artistic flow, and fidelity," points out Griffith. "If you let an artist view an asset in the environment in which they're creating it, the more performant they can be."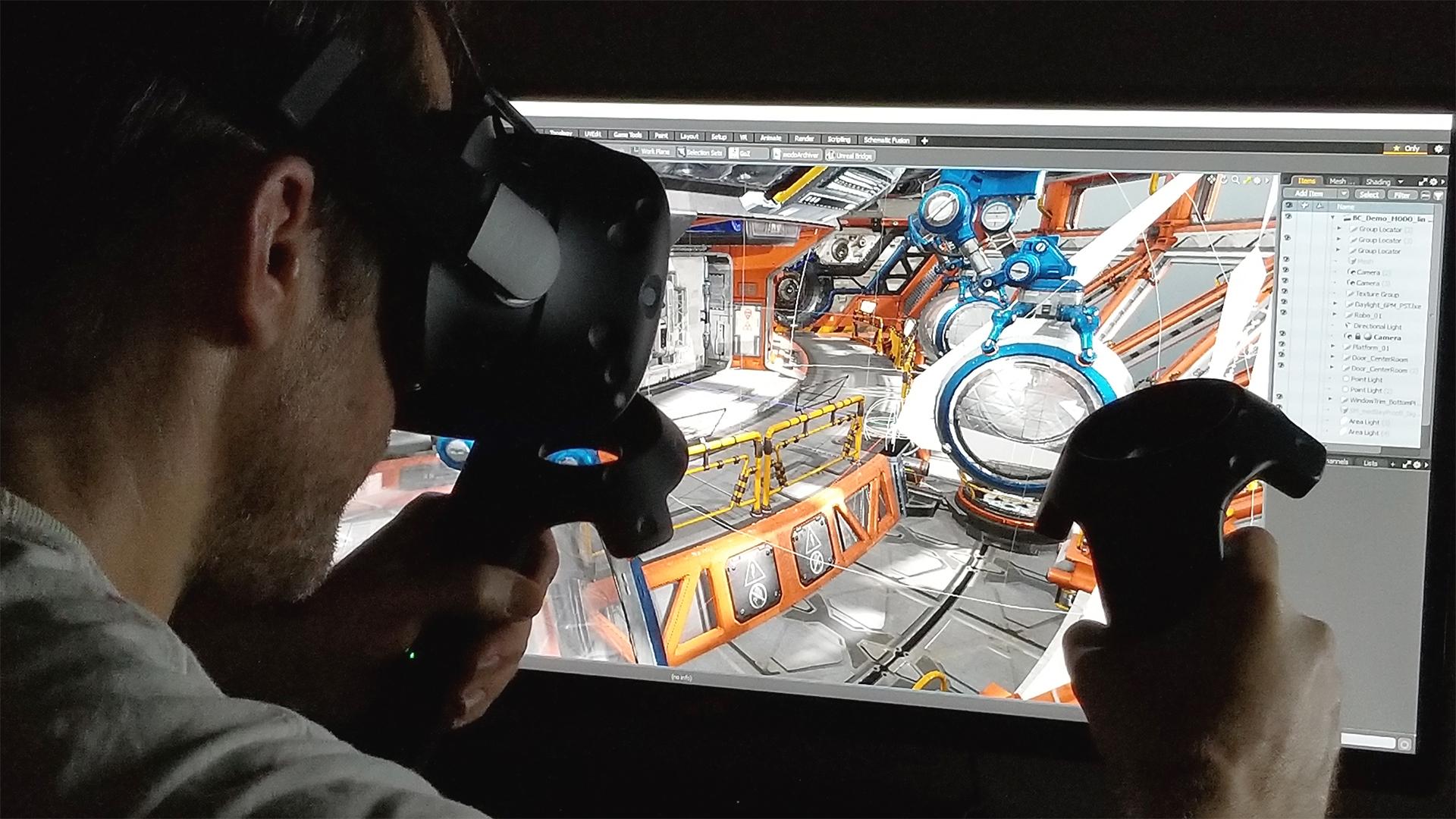 But powerful tools demand powerful hardware – and in the case of the VR viewport, that means a modern graphics card. "Even chips that are just a year or two old are struggling to keep pace with us," says Griffith. "Generally, graphics memory is more important to GPU compute like final frame rendering, but for VR, memory bandwidth and GPU processing bandwidth are the bigger limits. You need a steady, fluid frame rate across both viewports, or you have issues of disorientation."
Workstation cards like AMD's Radeon™ Pro WX Series fit the bill perfectly. With its 16GB of high-bandwidth HBM2 memory and 12.29 Teraflops of peak single-precision floating-point compute performance, a card like the Radeon™ Pro WX 9100 ensures that Modo's VR viewport displays seamlessly on Windows® or Linux®, while Mac® users can make use of the Radeon™ Pro chips in current iMac® or iMac Pro™ workstations.
The VR viewport is just one of the new features in Modo's 12 Series to make use of the computational power of the GPU. The software's Advanced Viewport, having gained support for GPU-based anisotropic texture filtering in Modo 12.0, now gets support for Group Masks, making it possible to preview complex, layer-based materials accurately and make adjustments in real time, without having to render out the scene.
But for Griffith, nothing comes close to the impact of seeing something that you have just modelled at the size at which it would exist in the real world.
"I've been around this industry for 25 years. I can relate to doing 3D on a computer screen," he says. "But putting on the VR headset was like starting all over again. It was like moving from pen and paper to 3D."
Radeon™ ProRender
Due this year, the Modo edition of AMD's GPU-based renderer is a fast, intuitive tool for look development and product visualisation
Anticipated to be released in 2019, one of the most exciting upcoming features in Modo is Radeon ProRender: the new native version of AMD's GPU-based render engine.
A fast, physically accurate renderer, Radeon ProRender generates highly realistic images without the need to adjust a lot of settings, and being based on open standards, it can run on any GPU that supports OpenCL™ 1.2, on Windows®, Linux® and macOS®.
The Modo edition supports all of Modo's standard lights, materials and cameras, and can generate a wide range of render outputs – including AO, shading normals and world position – making it ideal for both look development and final-quality stills.
"From a Modo user's point of view, I think it has the potential to be a bit of a game-changer," says freelance artist Mike Griggs, who has been testing the software in beta. "As a simple point-and-shoot renderer, it's going to be great for tasks like packaging design."
Griggs, whose own work ranges from motion graphics to animated window displays for Selfridges, praises the ease with which scenes can be configured for rendering, and the predictability of ProRender's output.
On his architectural interior scene, available at www.creativebloke.com, you can see how noise-free an image generated in Radeon ProRender is compared to one run on Modo's CPU renderer for the same length of time.
"A lot of 3D artists just want to stick on a render without having to worry about blotchiness," Griggs points out. "With ProRender, the application is getting in the way less. It lets you iterate on your design, not the maths."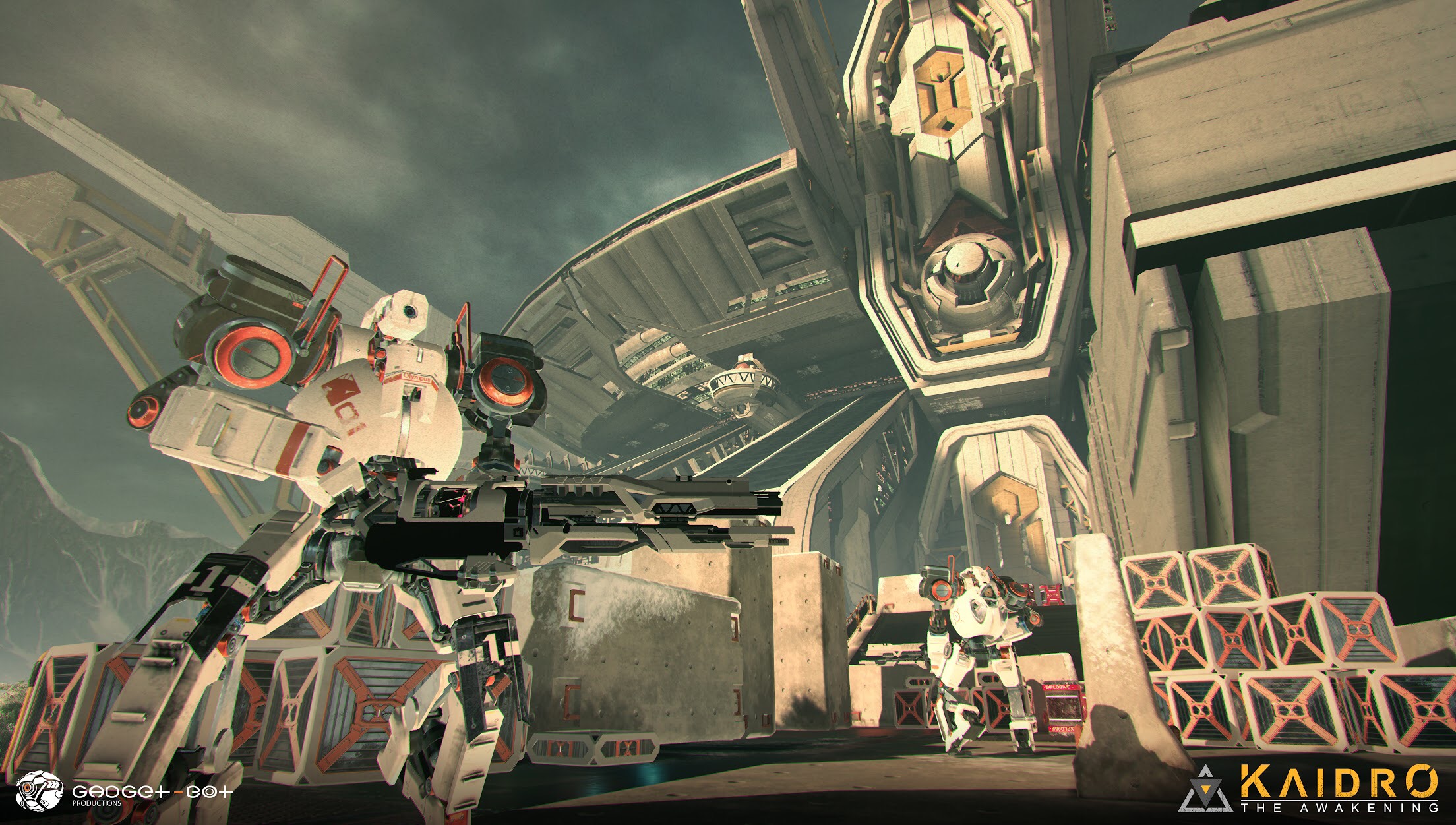 Case Study: Gadget-Bot
For projects like our cover image, the LA-based production studio has pioneered a VR concept design workflow with Modo at its core
Gadget-Bot doesn't just design for VR: it designs in VR. On projects like virtual reality experience Kaidro: The Awakening, recently shown at E3 and VRLA, the LA-based production studio has pioneered an innovative kitbashing workflow using Modo and VR design tool Gravity Sketch.
Founded in 2011 by Robert Simons and Peggy Chung, Gadget-Bot's portfolio ranges from concept design for high-profile external projects like Jurassic World, Westworld and Call of Duty: Black Ops 4 to its own short films and games, with Modo at the core of its production pipeline.
"We've been using Modo for about 10 years," says Robert Simons. "I use it on all the films and videogames as a kind of concept model engine. I build out models and render them directly in Modo, then kick them out to Photoshop to do final paintovers."
For Kaidro's mechs, Simons developed a VR-based workflow, creating base assets in Modo, then assembling them in Gravity Sketch.
"It meant I could pose them without having to rig them," he explains. "Once I had everything posed, I brought it all back into Modo, rendered a 360°  panoramic view, then painted it up in Photoshop. When you put it into a VR headset, you're standing inside a concept art piece."
Simons is now looking forward to testing the new VR viewport in Modo's 12 Series. "Sometimes I'll export a model into Unreal Engine without having seen it in virtual reality, and it looks kind of weird," he says. "But when I get to create it in VR, and put it into the game engine in VR, it's one-to-one. There's no guessing any more."
Designing in VR: AMD Radeon Pro and Modo 12 Series
Rob Jamieson from AMD discusses how AMD works with Foundry's award-winning applications Modo and Nuke
Users of Foundry's software now have more ways than ever to harness the computing power of modern professional graphics cards.
Compositors needing to do clean-up or rig removal can make use of NukeX's Smart Vector toolset, newly GPU-accelerated in Nuke 11.2. Designers and games artists can explore their work in virtual reality, thanks to Modo 12.1's integrated VR viewport. And Radeon™ ProRender, due in a future release of the software, provides look dev and visualisation professionals with a fast, intuitive GPU-based renderer.
Whether you work on Windows®, Linux® or macOS®, AMD has a GPU to meet your needs. Windows and Linux users can take advantage of the Radeon™ Pro WX Series of workstation graphics cards: the top-of-the-range Radeon™ Pro WX 9100 provides 12.29 Teraflops of peak single-precision floating-point compute performance and 16GB of high-bandwidth HBM2 memory.
Meanwhile, Mac users can harness the power of the Radeon™ Pro cards in iMac® and iMac Pro™ workstations. In this supplement, you can discover how Steelhead's 5K iMacs enable the LA post house to turn around ads in hours, not days – while external GPU breakaway boxes containing cards like the Radeon Pro WX 9100 could help squeeze new life out of its older hardware. To find out more, read on.
Rob Jamieson
ISV Manager, AMD