Lighting the way: these top artists share their approach to illumination
Great lighting design has the power to grab the eye, weave emotion throughout a scene and build atmospheric tension that sparks viewers' imaginations. Using proper lighting design to tell a story with your work is essential in VFX, animation and design. For many projects, lighting is everything, which is why it's worth seeking out great examples of how top artists are putting it to best use.
Hunting for inspiration for your next project? Here's a look at the unique visual treatments of three artists from our community and how they approach lighting in their work.
Jeff Bartzis' stark sci-fi wonders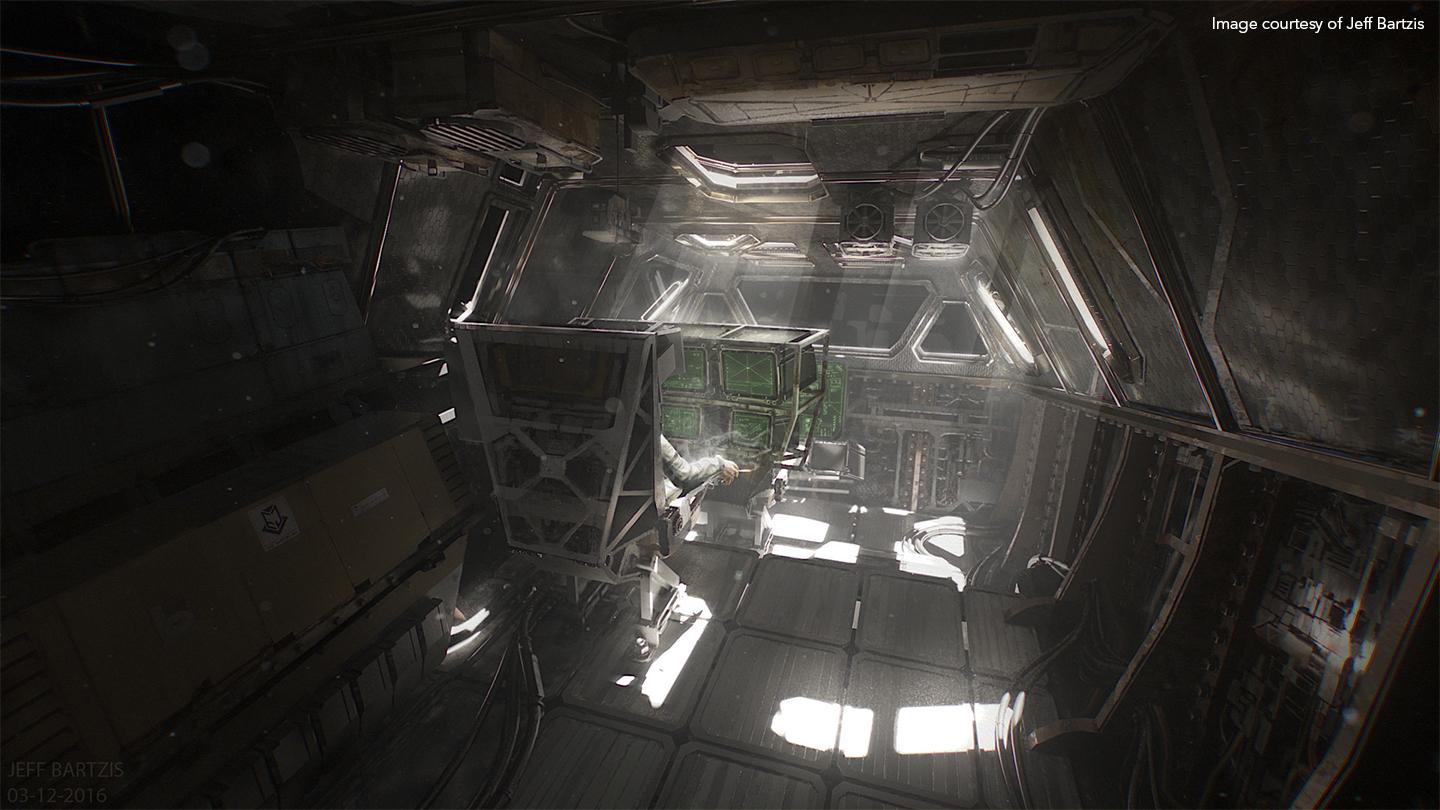 The sci-fi realm is a fruitful genre for exploring stark, unique visual settings that bend the imagination in exciting ways. Futurescapes and space structures are a favorite focus for VFX industry concept artist and matte painter Jeff Bartzis. When you look at his myriad personal projects—from the warmer dusty tones of his "Ancient Civilizations" series to the cold, sharp interior detail of "Freighter Cockpit"—it's clear that careful attention to lighting has a tremendous impact throughout his work.
"Lighting is extremely important, if not the most important part of an image. The absence of light is total darkness...without light, there is no composition, no perspective, no architecture, no anatomy, no life, no nothing," Jeff says. "Light defines every object we see, from what color they are, to their shape, to what they are made of."
With a background in both 2D and 3D design, Jeff explores techniques from both disciplines for each piece until he finds the sweet spot for his vision. Sometimes he goes in with a clear plan of attack, while other times experimentation leads to "happy accidents" that yield beautiful settings. "Freighter Cockpit" is a good example of what happens when trying a different approach can reveal a major "aha" moment in design.
"Originally, I wanted this to be a cross section design, and during the modeling process I like to use a 3-point lighting setup with different color lights to help define the forms better," he explains. "Accidentally, I set one of the lights to be extremely bright. In that moment, I saw this final image. All sorts of ideas came out of that one accident—the smoky atmosphere and bloomed out highlights as a result and the dust motes in zero-g, to name a few."
Space presents its own lighting challenges from a design perspective, he says, but it's also a limitless canvas to explore. "When you have the freedom to create anything, and you're not tied down to any technical limitations...that is where the real art happens," Jeff says. "If you look at popular sci-fi imagery there are definite trends which can be said to define the genre, but there aren't rules. When it comes to my personal work, my only rule is to create something that looks good to me."
Giorgio Lorenzetti's playfully lit colors
Creating high quality work samples to help land your first professional gig in the VFX world can be a daunting task, but 3D artist Giorgio Lorenzetti found imaginative use of bright color and thoughtful lighting made all the difference. Creating his vibrant "Reaching for the Stars" demo reel opened the door to his first few jobs in the industry, which ultimately led to him to getting hired as a texture artist at Framestore.
For the six month student project, Giorgio was tasked with taking a piece of 2D concept art—crafted by Priscilla Wong for Mr. Peabody and Sherman—and bringing it to life as a fully animated 3D scene. His passion for animated movies drew him to the stylized look of the piece, though the work itself spurred a unique story he wanted to convey through adapting the scene.
"I modified the concept a bit and added a little of me: the stars and the spaceship, the story of a kid who wants to travel everywhere and maybe one day, even to space," he says, noting that he wove many subtle nods to this story into the design. "Details are important, they do make the difference. Even if you don't see them, you can feel them."
Choice of color script is also key, says Giorgio, and he drew a lot of inspiration from the source materials bright and bold color scheme, capitalizing on the unique mix of hues and tones to enhance the visual story.
Lighting plays the most important role in the pipeline, he says, as it's where everything in the scene comes together. Proper use of lighting can balance out a scene's colors and draw the eye to core elements, while haphazard implementation has the potential to completely ruin a production.
"In the end, light is what describes every day of our life, what describes the nature around us and also what describes the world in CG," he says. "Animated features have much more freedom to play with it, which is why I found those movies so fascinating. Everything is made up, and the colors and the light are what makes that world unique."
Ryan Wai Kin Lam's life-inspired imaginations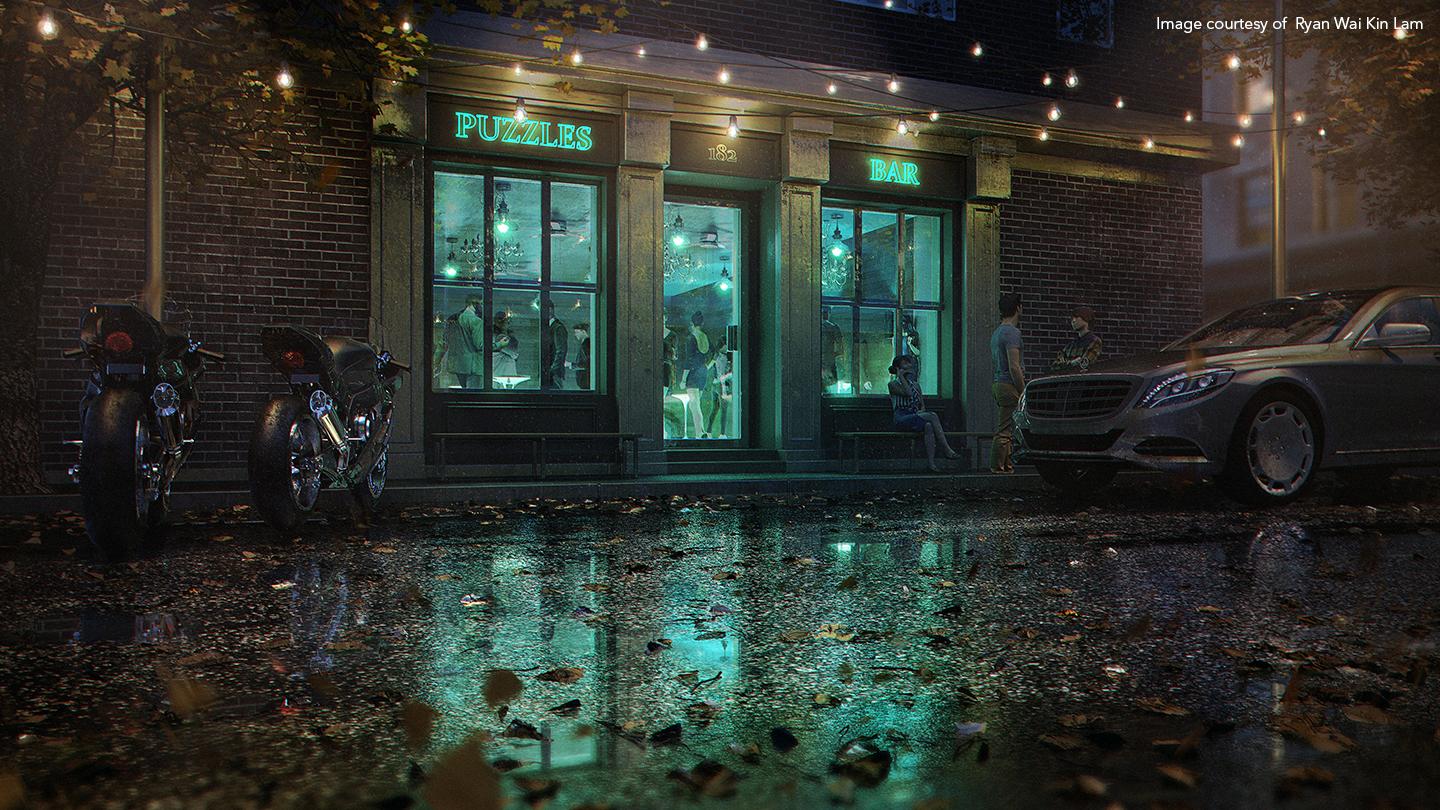 Using light to help evoking a strong sense of atmosphere and place can be a powerful technique for visual artists, whether you're designing architecture or crafting sci-fi worlds. For Ryan Wai Kin Lam, his day job duties of creating color and mood boards, lighting, and compositing for architectural design firm Foster + Partners' visualization team benefit from a range of personal design experiments that blend reality with fantasy.
Ryan's personal projects draw inspiration from real life, whether he's creating nature vitas or intense sci-fi scenes, and they offer opportunities to explore new techniques that can be put to use in his professional visualization work.
"Most of my personal projects are for self-improvement, from modeling and texturing to lighting," he says. "If I realized I've never done a scene with red lights, I would do it for the next project. I'm always trying to do new colors and tones for every new image so when the time comes to do something similar in my professional work, I'd be comfortable."
With the amber leafy tones of "Orange Shower," Ryan says he loved creating the look of reflections in the rain on the wet city streets. "For this image it was all about illuminating everything to look neutral for the overexposure of the sky to hit the ground," he adds. In sharp contrast, his "Melancholy Sanctuary" pieces were lighting exercises designed to match a somber tone. His goal was to push how many lights he could put into the scene, while still making it appear lonely. Character, he says, is a critical aspect of his lighting work.
"When I pick a main character; whether it's a building, person or object, I first start sketching and shading the image. The colors and mood is usually more or less decided before I even place the lights in 3D, so those colors drive where the lights hit the scene, he says," he says. "I try to keep it minimal and look possible in real life. The lighting has to work and look close to real life scenarios in the raw renders before I do any post production."
To produce stunningly lit scenes, you need a toolset powerful and flexible enough to allow you to create exactly what's in your imagination. Katana, with its highly efficient, node-based approach to look development and lighting, gives you the creative scope to do just that. Get a free trial here.
Already got Katana? Find out how LAIKA used the toolset to create the Oscar-nominated stop-motion hybrid film, Kubo and the Two Strings.