Making military-grade VFX on The Outpost with Foundry tools
How Worldwide FX deployed Mari, Katana and Nuke to recreate the art of war
Despite a challenging year for the box office, The Outpost stands as one of its few success stories, soldiering on in spite of the pandemic that paralysed other would-be 2020 titles. An American war film based on real events that happened in Afghanistan back in 2009, The Outpost was released in selected theatres and via premium video-on-demand on July 3rd to unanimous praise from critics and audiences alike.
It tells the story of a small unit of U.S. soldiers, based at the remote Combat Outpost Keating, located deep in the valley of three mountains in Afghanistan. Alone, they defend against an overwhelming, coordinated attack from Taliban fighters that would become known as The Battle of Kamdesh—the bloodiest American engagement of the Afghanistan War in 2009.
Flawless production was crucial to paying homage to this pivotal event, itself recounted in Jake Tapper's The Outpost: An Untold Story of American Valor, a non-fiction book on which the film is based. Tasked with bringing this recent slice of history to life for the big screen was Bulgaria-based Worldwide FX (WWFX).
Founded in 2000, WWFX now boasts more than 170 visual artists, armed with the latest technology available in digital compositing and computer graphics to create spectacular visual effects (VFX) for anything from futuristic environments and spectacular explosions, to subtle effects and entire new worlds.
WWFX is proud to count amongst its repertoire work on Hellboy, Hitman's Bodyguard, London Has Fallen and Olympus Has Fallen, alongside countless others. Unlike these titles, however, The Outpost had the added caveat of being based in reality—something Stanislav Dragiev, WWFX's VFX Supervisor, was all too aware of.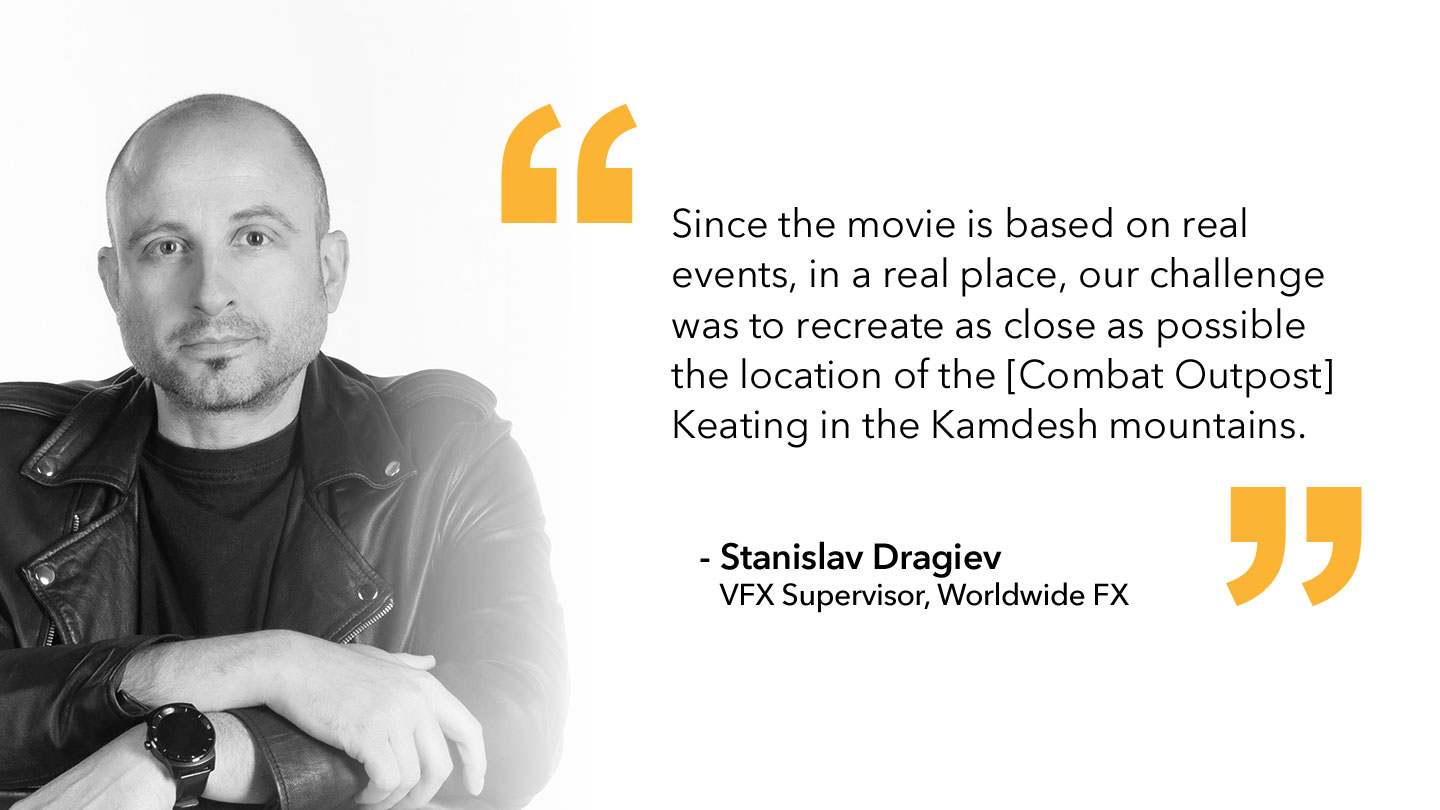 "Since the movie is based on real events, in a real place, our challenge was to recreate as close as possible the location of the [Combat Outpost] Keating in the Kamdesh mountains," he tells us.
Helping the WWFX team navigate this challenge were Foundry tools Mari, Katana and Nuke, covering the look development, lighting and compositing stages of production respectively. We sat down with Stanislav and other crucial members of the WWFX team to explore how they used each tool, both independently and in conjunction, to fully capture the art of war.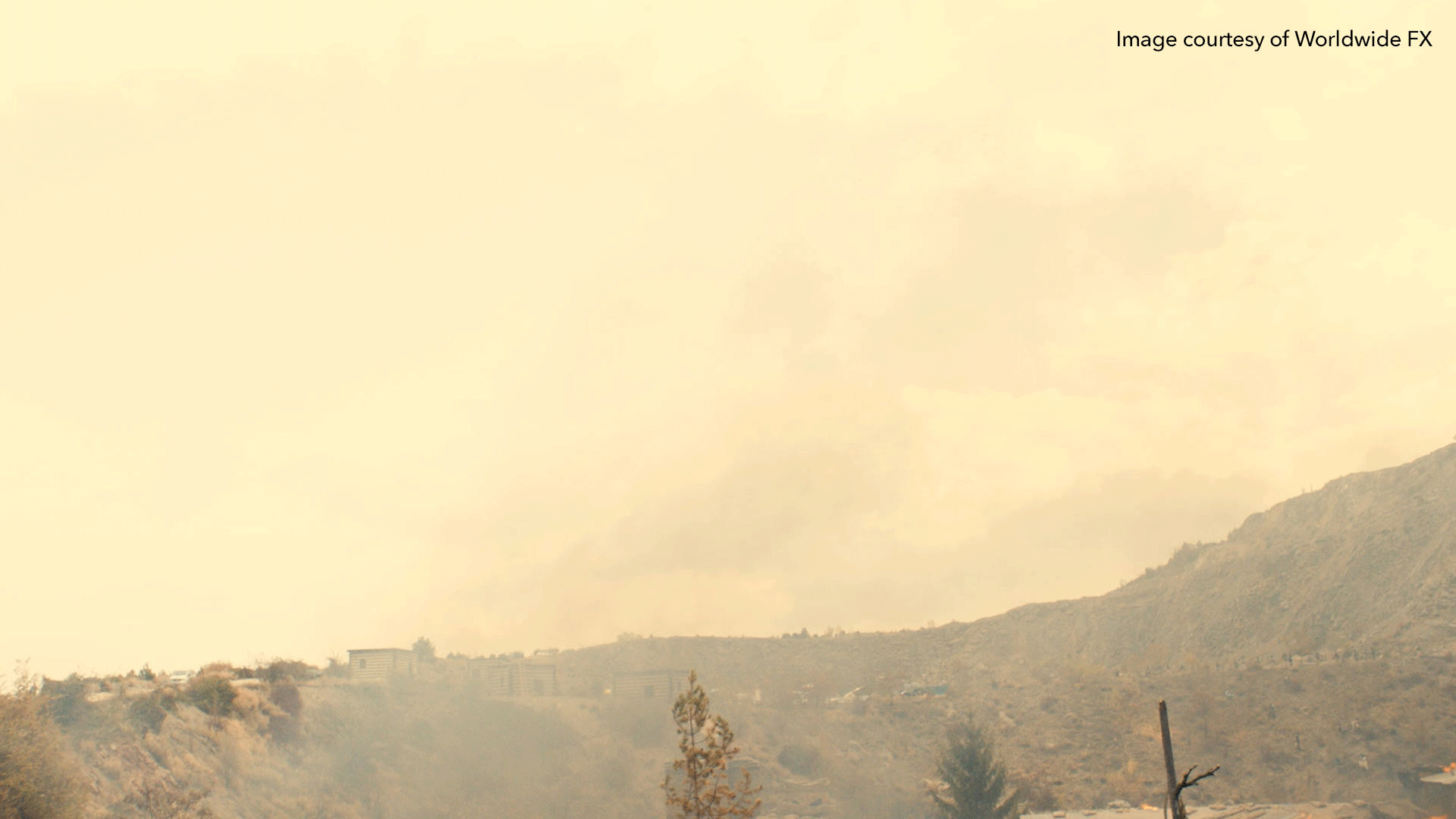 Creative reconnaissance
As The Outpost's VFX Supervisor, it was imperative that Stanislav familiarise himself with the project early on in order to fully realise the director's creative intent and direction.
"My work started on the very first location scout where together with the director Rod Lourie, we were looking for the best possible location," he recalls. "[We] went through seven weeks of actual film shooting on-set and continued with all of the VFX post production at the studio."
Speaking of the project's location, this held its own unique challenges for Stanislav and his team. "It's not a common thing for pretty much all of the shooting days to take place at one and the same location and this was the case with The Outpost," he tells us. "Seven weeks on the abandoned quarry and not a single drop of rain."
Coupled with a busy production schedule, whereby WWFX were juggling multiple projects at the same time, and the team had their work cut out for them. Happily, the added effort benefitted from a little extra firepower in the form of Foundry tools.
Angel Ivanov, CG Supervisor on The Outpost, describes how Mari, Katana and Nuke worked together to help the team navigate this heavy workload and pay homage to Combat Outpost Keating through truly spectacular VFX. Having used the Foundry tools to varying degrees for around ten years, each is now solidly integrated into WWFX's pipeline.
"We did our textures in Mari," he explains. "As usual, we baked outlook files which were used later on in shots on all the assets. Shots were lit and rendered inside Katana using Pixar's RenderMan. We have integrated Katana into our asset management systems which gives us lots of benefits for the output (renders) like version control and not having to hunt for renders on the server when you dive into Nuke, as well as for the input data (like geometry caches from the departments before Lighting—Modeling, Layout, Animation)."
"At the final step [...] we bring the Lighting department's renders [in Nuke] via custom read nodes,' he continues.
The complexity of the VFX work done on The Outpost presented its own unique obstacles, however. "It was quite a challenge as all departments had to deal with huge amounts of data (geometry, textures, various caches, deep renders—the list goes on) and Mari, Katana and Nuke helped us push through that in a short amount of time," Angel explains. "The main benefits were how well everything scaled as things got increasingly complex, as well as the deferred loading of data only when it's needed."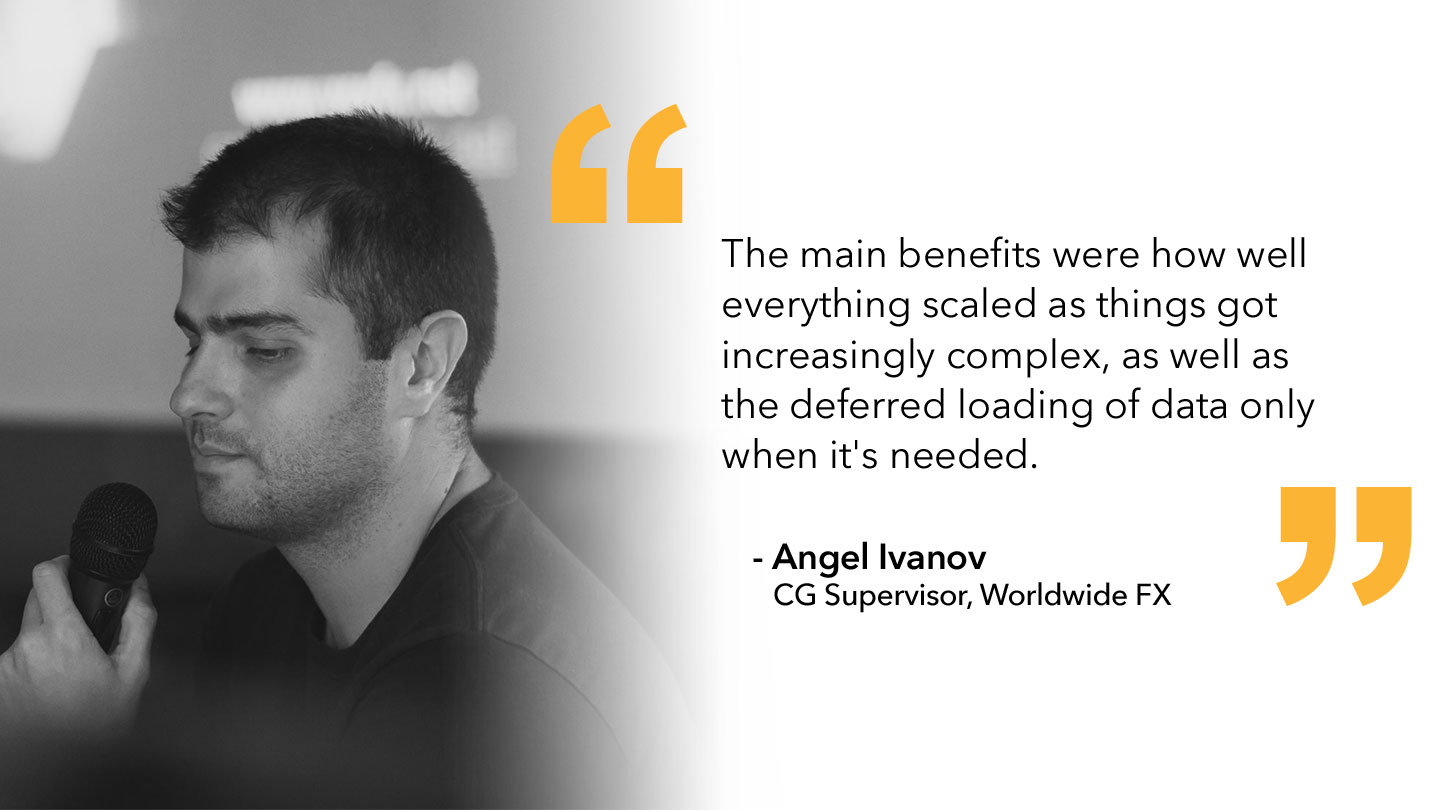 Texturing humans, helicopters and handguns
As head of WWFX's Modeling Department, Ivaylo Ivanov was intricately involved in the look development process throughout post production on The Outpost and recalls what he enjoyed working on most.
"The Outpost was a project with many different tasks, so it's difficult to point to just one of them as our favorite," he tells us. "From human characters, through handguns and helicopters to terrains and buildings, all of this more or less was done in Mari. The biggest challenge was the environment, but the helicopters and the guns were a very pleasant part of the project."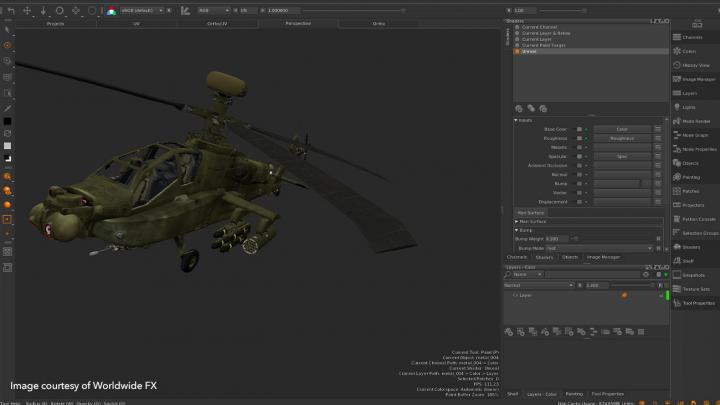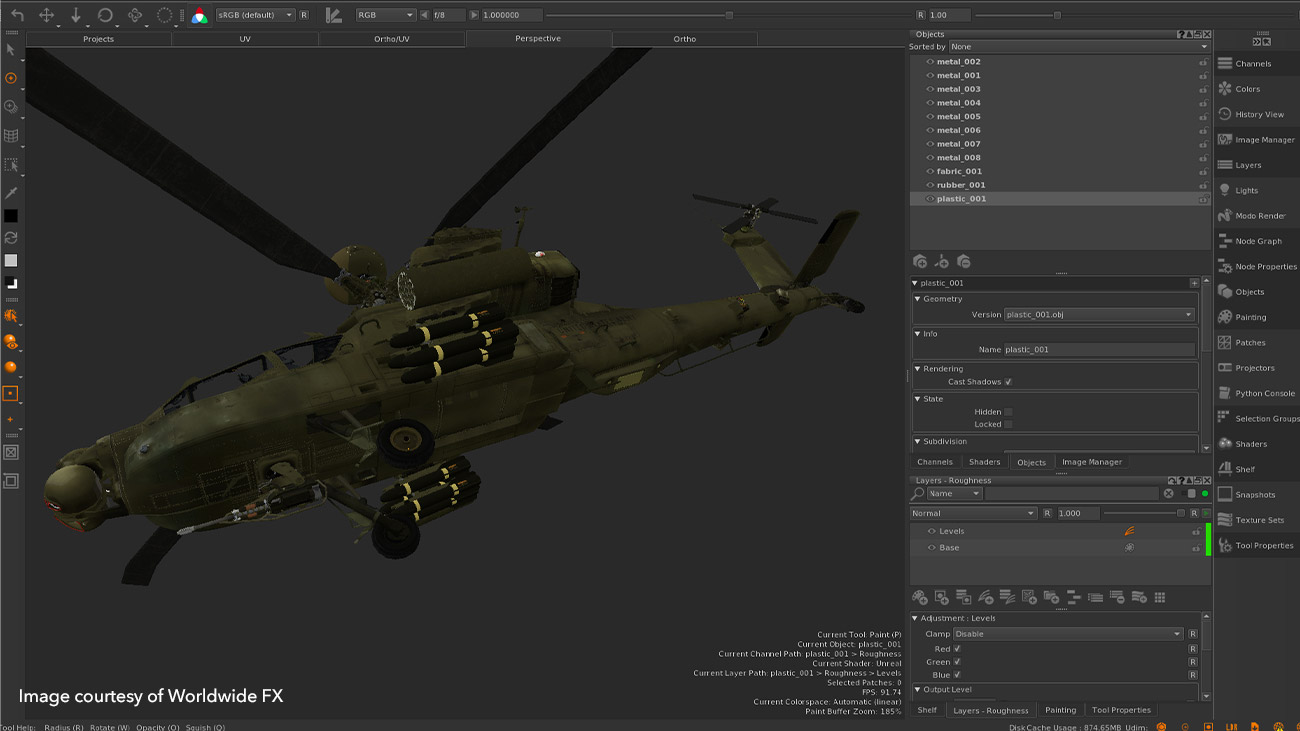 Diving into the creation of these models and textures, Ivaylo lends his thoughts on how far he pushes proceduralism before bespoke painting takes over.
 "We are a big team and each one of us has different preferences in terms of workflow and approach," he explains. "In general, most—almost all—of the assets start with procedural texturing, and some get painted after that, some don't. We are trying to use procedural as much as possible since that is one of the strongest sides of Mari."
Given the scale and complexity of the studio's many projects, not least The Outpost, the WWFX team need a texturing tool that can support and accelerate their look development workflow. With that in mind, we asked Ivaylo what Mari allows his team to do that would either be impossible or much more difficult in other tools.
"Working with big complex scenes containing a lot of objects, materials and a lot of UV spaces, and high resolution of the textures (8K+), according to our team," he responds. "The procedural texturing workflow, masks, texturing projection in the viewport, and UV space. Maps/textures export from a scene is now faster compared to the old Mari, and that's a big plus. Texture painting is unique; there's no chance to get the same experience in another software.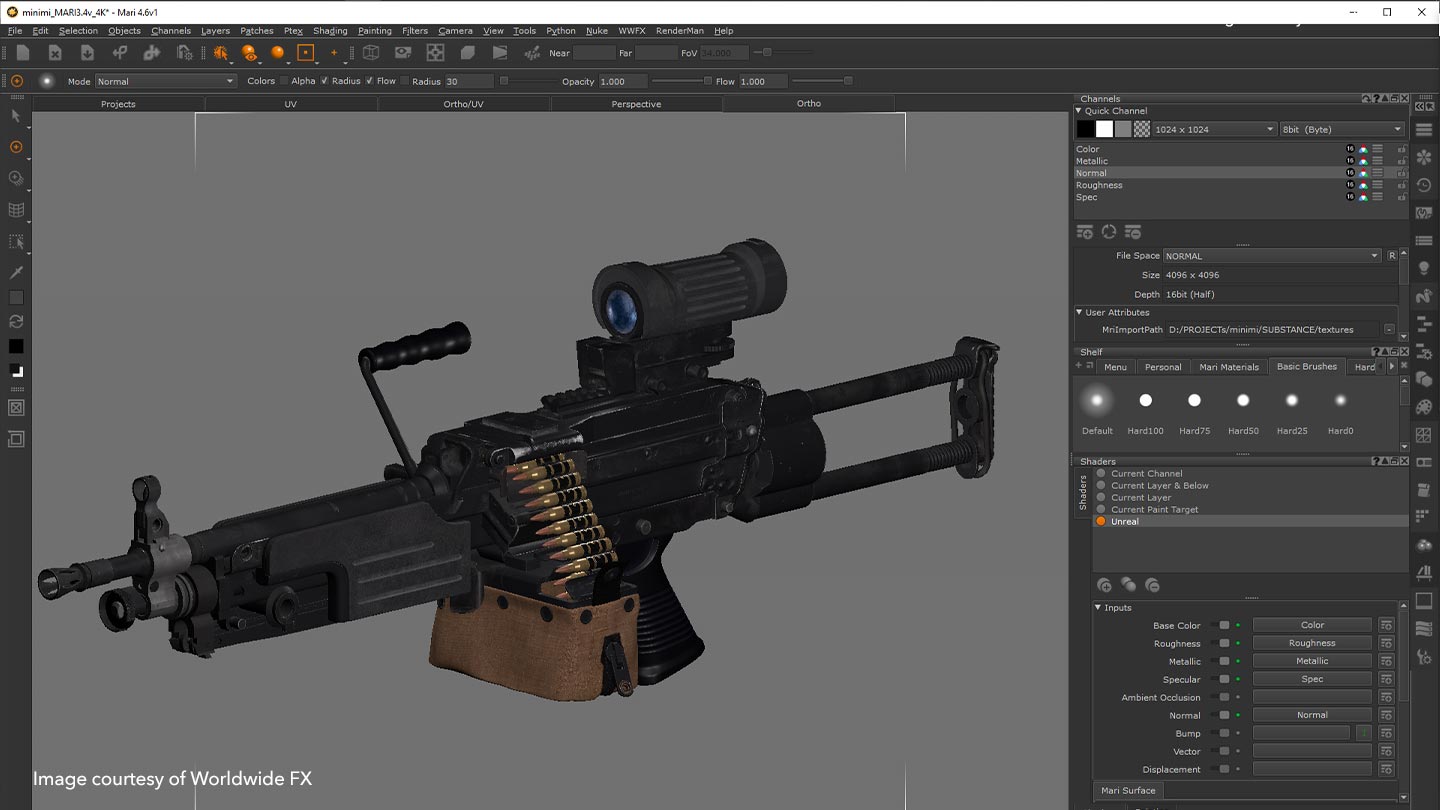 Look development and lighting on The Outpost
Intrinsic to the team's use of Mari and Nuke is Foundry's look development and lighting tool Katana. Having stood as WWFXs main look development and lighting tool since 2015, Katana now counts itself as an integral part of their pipeline.
"It's proven to be reliable and efficient and it's helped us deliver a lot of renders across many projects," Svetoslav Ganchev, Head of Lighting and Rendering, tells us. "Thanks to Katana's node-based approach, the creation and management of 3D scenes is really easy."
Good thing, too, as the team faced a number of complex lighting challenges during post-production of The Outpost.
"Most of the work we did on this project was related to a large set extension—an outdoor environment consisting of mountains and vegetation," Svetoslav explains. "We had to match 3D lighting close to the principal photography. A big portion of the shots we worked on were quite long, often more than 1000 frames and usually with lots of camera movement. Editing sometimes involved multiple plates stitched together so we had to make sure CG lighting looks well throughout the whole length of the final shot. Sometimes there was the need to transition between distinct lighting setups in order to keep lighting consistent with the film set. We relied on gathered set data like photographs and time of filming to help determine the right set up in Katana."
Happily, the WWFX lighting team was fully prepared to manage the complexity that came with this large outdoor digital set. Svetoslav recalls: "Since the last few years, we've done a fair bit of digital environment work and in the process, we've developed a workflow that allows us to quickly pull the latest 3D assets and layouts to assemble a scene into Katana ready for lighting.
A large portion of the data that feeds the render engine is actually generated on the fly in Katana based on point clouds and low-res geometry. To automate this process we use Opscripts. Opscripts are great because they give us the fast performance of Lua, the API is easy to use, and on top of that Katana allows us to create a user interface for the scripts right inside the application."
Having worked extensively with Katana for the past five years, the team is well-placed to provide insight into how their workflow has evolved alongside the tool to facilitate rapid production schedules and rising quality bars, and what particular features they utilized on The Outpost to scale their workflow with the project.
"We employed some of the benefits of Katana 3.6," Svetoslav comments. "I believe the NetworkMaterialCreate and NetworkMaterialEdit nodes were introduced back then and were a wonderful addition to the toolset. Also, performance seems to get better and better with every release of Katana, and as a result, we render more complex scenes each time."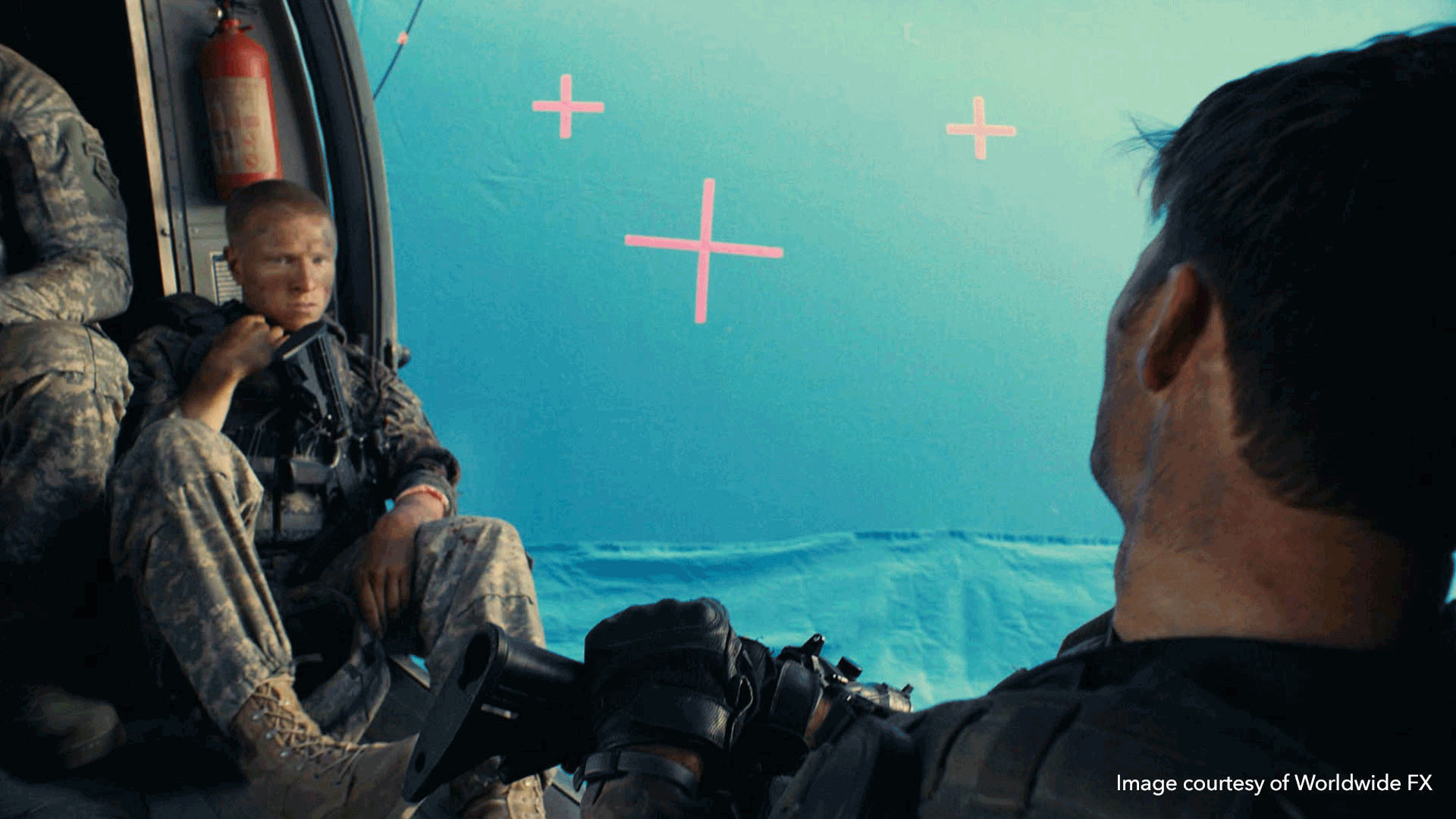 But does Svetoslav have a favourite feature—one that perhaps allows him and his team to focus purely on the creative work at hand?
"Katana's Monitor and Catalog have been long time favorites of mine," he tells us. "They are really well tailored for lighting compared to other tools out there. Combined with the live rendering system, it makes for a pleasant lighting experience.
What makes Katana really shine for me is the overall approach it takes to computer graphics and rendering. It gives me different ways to interact with scene data—from very high to very low level. If the task at hand is simple you could quickly combine a couple of nodes to create the result you're looking for and if there's something more specific, then you can use the Lua API and get access to any scene graph."
When asked about which feature he was most looking forward to trying as part of the recent Katana 4.0 release, Stevoslav is quick to lend his thoughts. "The new lighting mode inside the viewport looks quite awesome. But the Katana Foresight workflow is my top feature for this release—I think it's going to improve our day to day work significantly. An essential part of lighting is to constantly compare different camera views and lighting setups, shading variations and so on, and this feature looks just great."
Compositing Combat Outpost Keating: a deep dive
When it comes to compositing, the WWFX team counts amongst its ranks 45 artists, a third of which are senior staff.
Peter Keranov, the project's 2D Supervisor, was tasked with overseeing Nuke's use across a range of tasks on The Outpost—including roto, cleanups and keying to CG integration, matte painting projection and adding library elements.
"We used Nuke to comp and integrate all CG renders from lighting and simulation, [and we also] added lots of muzzle flashes and bullet hits from our footage library," he explains. 
"[The] center point of the movie was the military camp and the fact that it is surrounded by a 'fortress' of rocks. Our solution was to create a 2.5D mountain environment in which we placed the CG model of the camp. Then all cameras came placed correctly in this environment from our Layout department so we were able to render the mountain element from Nuke."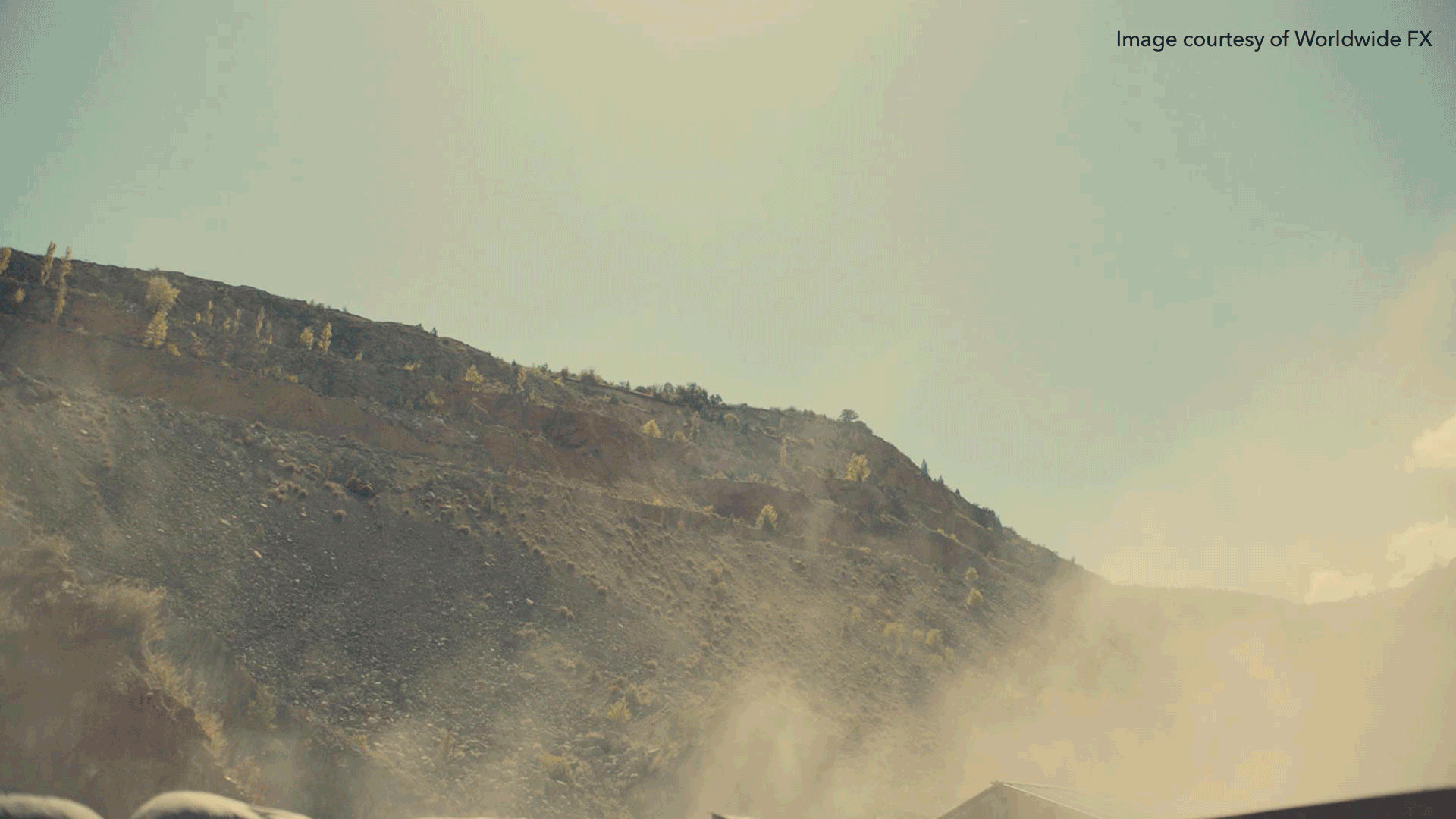 Diving into Nuke's indispensability as part of their pipeline, Peter continues: "We like using Nuke because it's an all-encompassing solution, and at the same time very customizable [and] user friendly for creating custom tools and setups. We value the Nuke 3D work environment and we use it each time we're able to—from roto and cleanup tasks to adding filmed elements and Environment/DMP setups, [as well as] adding textures [and] reflections to objects."
This came in especially handy for managing complexity on The Outpost. "Nuke's 3D work environment makes it very useful when working with 2.5D environments," Peter explains. "It's flexible enough for reviewing and making changes to textures [and] objects. We also used Nuke 3D for crowd replicating with elements, as well as for adding all sorts of filmed elements——blood, smoke, debris, etc. We also used Smart Vectors for tracking wounds and dirt on soldiers."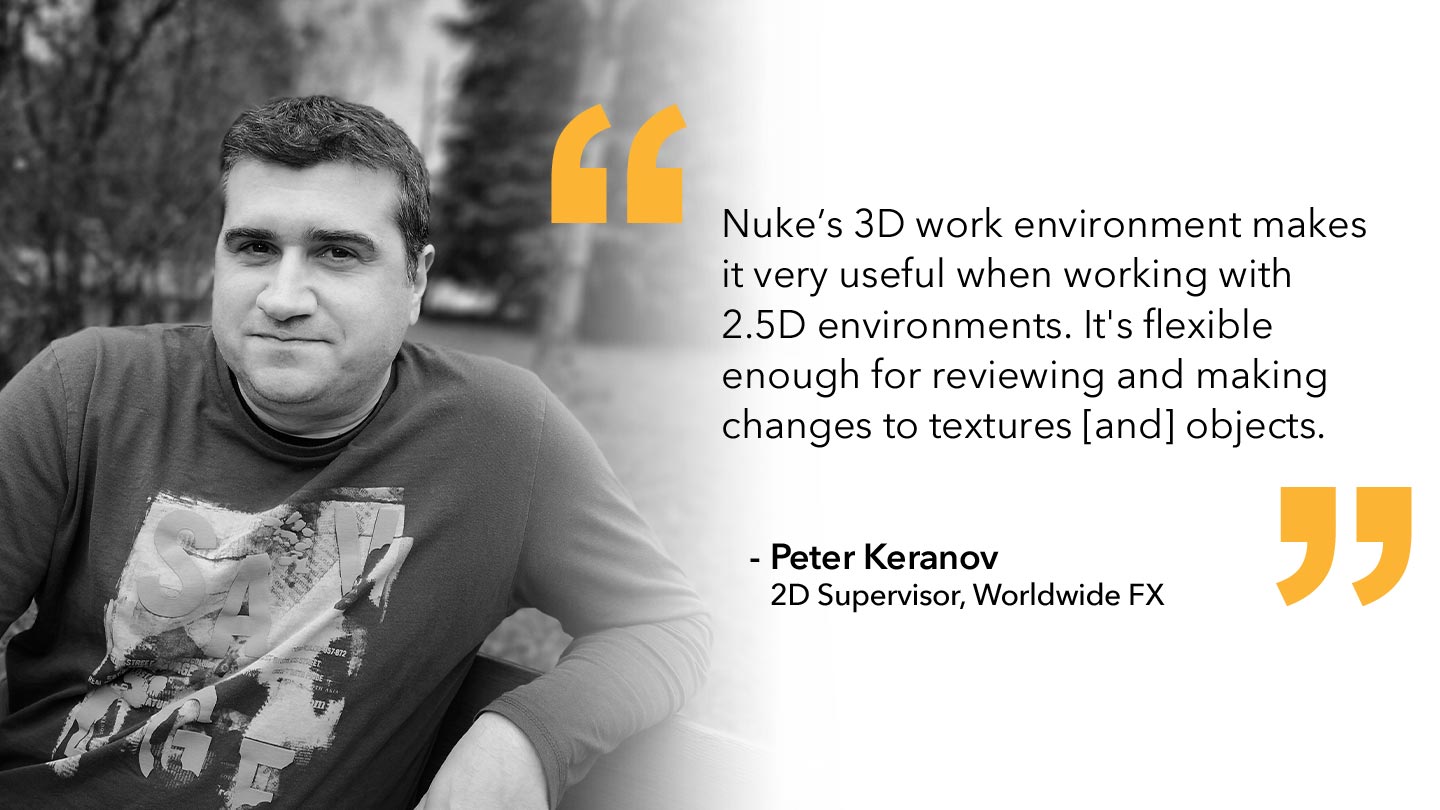 Delivery that meets industry demands
Combined, all three Foundry products work to power up WWFX's pipeline to produce an unmatched calibre of VFX as seen on The Outpost, helping the studio and its artists overcome obstacles they've become all-too familiar with.
"It's the ever-increasing demand for higher complexity of visual effects," Svetoslav Ganchev, Head of Lighting and Rendering, confirms.
His concerns reflect a wider industry challenge that teams and artists across the globe are facing—doing things better, faster and cheaper amidst increasing calls for quality from audiences and clients. It's a challenge that Foundry endeavours to tackle with every new product release.
We work tirelessly to offer formidable speed and performance across our product portfolio and beyond. Regular product optimisation, UX improvements and software integration through innovative and open source tech makes collaboration easier, creative work even more enjoyable, and quality films like The Outpost hit our screens and streams more often than ever before.
Watch The Outpost — now streaming on Amazon Prime
Trial our featured products below for free and bring your ideas to life