Film and TV
Troll Bridge helps fledgling VFX artists get their big break
Image Courtesy of Snowgum Films
The global collaboration bringing Terry Pratchett's Discworld to life
With over 300 visual effects artists taking part in the project so far, Troll Bridge is a collaboration on a global scale. Based on the short story by Terry Pratchett, this fan film tells the tale of an ageing hero at the end of his days who wants one last glorious fight with a troll.
It's around 30 minutes in running length, with a mix of live action and digital elements, comprising of 250 visual effects shots. These are being delivered by a volunteer crew of old hands and newer artists, who also work together on over 2000 other tasks, running the full length of the pipeline from plate prep to comp.
This global collaboration comes with a unique set of challenges, as Producer Ahren Morris has found out: "Timezones, languages, cultures, round trips in communication, differing artistic background, variances in technology platforms, you name it and it's worked against us at some point".
In particular, the transient nature of the team working on the project presents hurdles: "The biggest challenge has been the fact that we don't have a fixed team', he says. "In a regular production, you break down the whole show into individual tasks, you look at the skills needed, then you specifically staff up for that. Ideally, you already have a core team that's used to working together, where everybody knows each other's strengths and weaknesses. A regular production is a very planned effort, much like an orchestra performing a symphony."
"Our crowdsourced production is more comparable to an open mic night. It's a loose assembly of volunteers, who can join and leave the project in their own time."
Ahren has found that by incorporating Nuke into their pipeline, they've managed to reduce the headaches of working with a disparate team significantly: "One big advantage of Nuke is how well it supports templating and re-use. We have script fragments developed for all our key elements (eg plates/renders/VFX) that take care of color treatments and standardized processing. When the director is ready to look at a new shot, we create an assembly comp that just bolts the required elements into an empty skeleton. He gets a graded 'first look' at a shot within 20-30 minutes, and we're off and running."
"If a shot needs a color tweak to a costume element on character render; those mask and grade nodes are labelled and good to go", he explains.
"What this translates to is speed out of our base process and shots into artists' hands quicker. Small houses tend to be very time sensitive, often with clients on the phone before the drives have arrived. Having our elements ready for 'plug and play' gets the director on board fast and lets the comp artists focus on the 'make it look cool' stuff."
With artists working in bedrooms and living rooms all round the world, ensuring consistency is key: "You couldn't ask for a desktop fleet more diverse than the one powering Troll Bridge. Our team use Nuke on Windows, Mac, and Linux. I've got artists using computers in Russian, Spanish, Hindi, Japanese, Portuguese. We've got people comping on laptops and beige boxes. I render scripts out on my home computer, a second hand 2RU IBM 3650."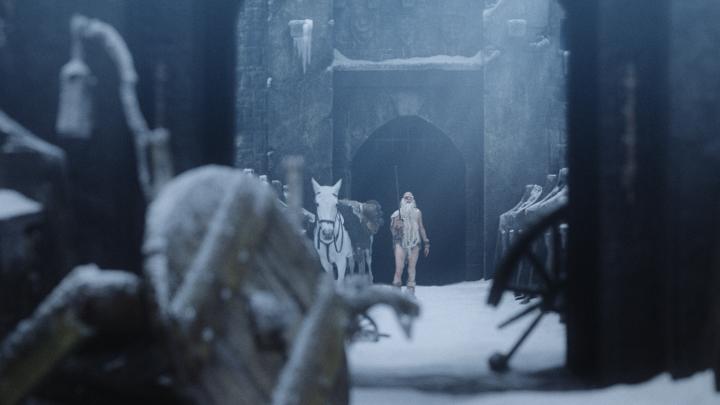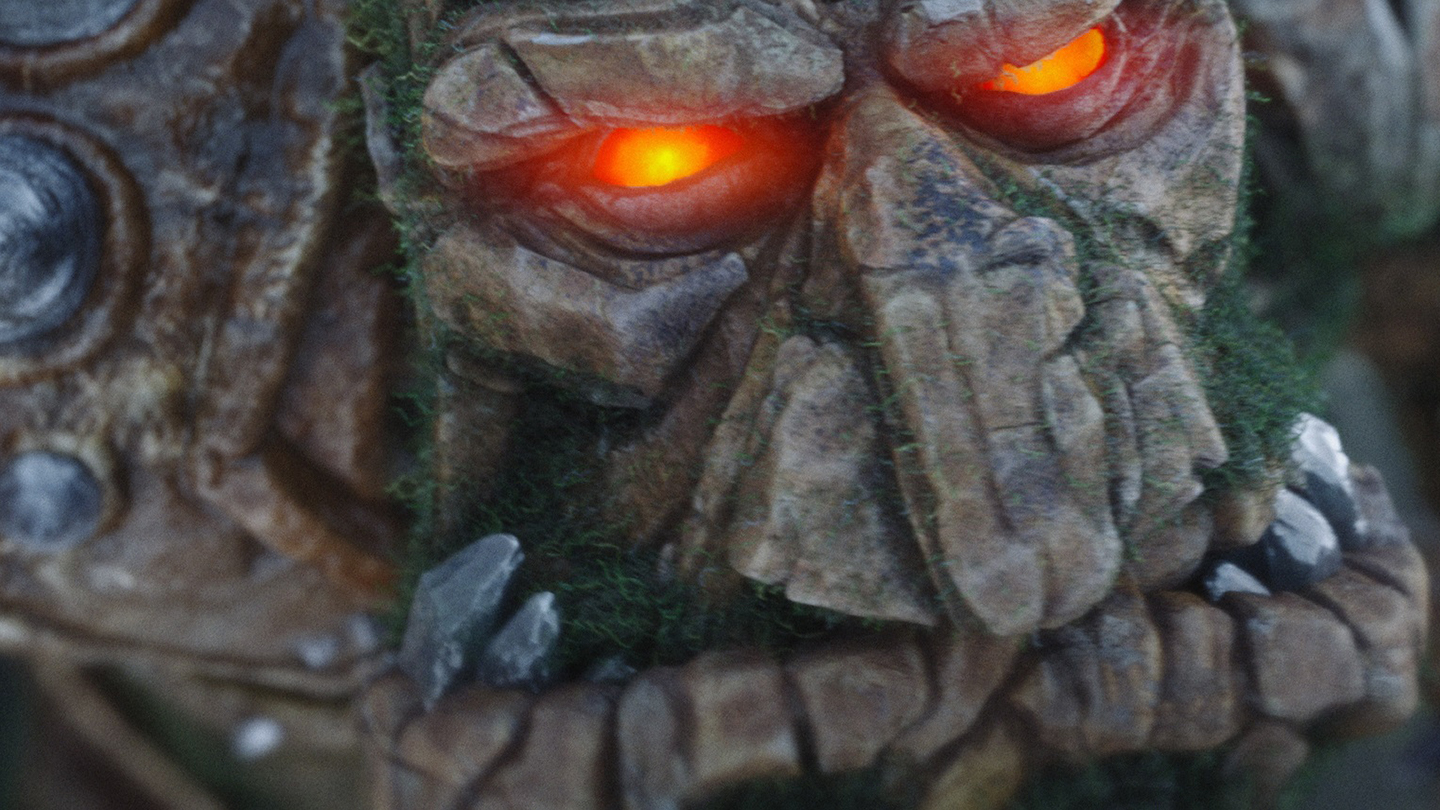 "Across it all, we get fidelity of results. When we send a script out, the artist sees what we're expecting them to see. When we render out their work, it matches what they created and the director signed off on. In a couple of years of bouncing Nuke scripts furiously around the world, I don't think I've ever once had a corrupted file or an an unexplained behavior."
The project has given a number of new starters the skills to go and make careers for themselves in the industry, including 3D Artist Anna Huber, who after taking some smaller freelance jobs, saw Troll Bridge as a great way to improve her skills.
While Anna didn't find working with a globally spread team too difficult ("the only thing I had to take care of was the different time zones", she says), she did have to adapt to using a new 3D modelling toolset.
Fortunately, this proved easier than she could have hoped: "I was a complete newcomer to Modo. But the transition was really straightforward. For example, I could choose between different navigations, so I could use one I was familiar with, and didn't have to fiddle around with a new one. The different layouts were built very clearly, both easy to understand and easy to use. I liked the way of tweaking keys in the graph editor and timeline. And the marker system saved me a lot of time."
"But the best was the performance boost between Modo 9 and 10. On 9 it was good animating Mica the Troll, but when version 10 came out, it was amazing. Especially the Cache Deformer, which caches your animation inside the scene and plays it back in real time - that saved a lot of time. And the stability has been great - I could just do my work, without worrying about anything. So it became really great and easy to work with."
Compositor Javier Ángel Nieto Moncó heard about Troll Bridge in 2015, after seeing a video of the team asking for help. He was hooked immediately, and contacted the director, Daniel Knight, as soon as he got home: "I'm a geek, I love fantasy stories and I'd started reading Sir Terry Pratchett's Discworld series just few weeks before the project was presented to us. It looked really awesome, so yeah, I was super excited", he recalls.
Javier composited using Nuke for the project, having come from an After Effects background: "When I started focusing on compositing I used After Effects because it was the program taught at my school", he says. "My first job also used AE, but I kept reading articles about movie studios using Nuke, so I decided to study it in Madrid. Coming from AE it's kind of difficult to get your head around the nodes at first. But once you do...the possibilities are mind blowing!"
Projects like Troll Bridge, which give the opportunity for new artists to learn and improve, are absolutely vital for developing fresh talent for the industry. As Javier says himself: "I think Troll Bridge was key for my personal learning process. I had to face big and complex node trees and do things I'd never had to do before, so I learned a lot."
"I wouldn't have found a job in the film industry as early as I did without Troll Bridge. It has that polished and ambitious feeling Hollywood movies have, and it's a great demo reel addition for anyone who wants to work in the industry. It's not just the movie itself that helps you learn, it's everyone involved with the film. We all give our best in our roles, and we know that the better we do our part, the better the end result will be. It's the same way in any studio, so Troll Bridge is an experience that prepares you for a future in the film industry."
From Troll Bridge, Javier has gone on to work on projects like Star Trek Beyond, Rogue One and Ghost in the Shell, while Anna is now freelancing on commercials and planning her inroads into the movie industry.
The Troll Bridge team are still looking for volunteers, particularly Nuke artists to help finish off shots. If you've got some time and would like to take one on, they'd love to hear from you at trollbridge@snowgumfilms.com.
Want to familiarise yourself with Nuke and Modo? You can try out Nuke non-commercial here, and download a free trial of Modo here.