How these two studios tackled the pressures of animated streaming content with Nuke
Image courtesy of Industrial Brothers
Animation studios Industrial Brothers and Giant Animation uncover how they used Nuke to bring colorful kid's show Remy and Boo to life
Wonder, weirdness and unbridled imagination: just some of the words to describe today's hottest kids shows. Such is the story with Remy and Boo, an animated series charting the adventures of six-year-old Remy and her best friend Boo—an endearing pink robot.
Produced by Industrial Brothers and Boat Rocker Studios, the mind behind the magic is Matthew Fernandes, and tasked with bringing his vision to life were two animation studios working in unison—Industrial Brothers, based in Toronto, and Dublin-born Giant Animation.
"We really loved what Matt was trying to achieve with Remy and Boo, in pushing great stories and characters, and bringing them to life in a very beautiful world," Ben Harper, Co-Founder and Managing Director of Giant Animation, tells us.
"There was also a really nice link with Ireland, where Matt told us he first thought of the idea for Remy and Boo when he was traveling to the Dingle Animation Festival. So we really immediately clicked with what he was trying to achieve with the show and from there it was very easy to get our teams on the same wavelength and start working together to bring the show to life." 
Both Industrial Brothers and Giant Animation had their work cut out for them—not least because of the rapid production schedule and high quality bar brought about by episodic animated productions.
We caught up with both studios to find out how they navigated these challenges armed with Foundry's compositing tool Nuke.
Getting industrious with Nuke and Industrial Brothers
Having begun working in the animation industry thirteen years ago, Sumira Dhawan, Head of CG at Industrial Brothers, has charted the ebb and flow of animation as a trend for over a decade.
"The creative expectation of animated episodic projects has evolved substantially in recent years," she comments. "The quality of some of the TV shows produced these days are at par with feature films, and this poses a challenge as each season of pre-school shows is 52X11 minutes long, produced in about two years. That's over nine hours of content! Besides the quantity of high quality content, consistency across the episodes is really important. "
To achieve this level of quality and consistency, the Industrial Brothers team employs strict scheduling and tooling methods to help teams plan ahead and keep the production on track. Typically, look development for lighting and compositing starts when the team conceptualizes the look of the show. The CG supervisor and key lighter/compositors work very closely with the Art Director and the Director to research and develop this further.
As part of this process, Nuke proves pivotal. Having been introduced to the tool in 2016 whilst working on the How to Train your Dragon TV series, Sumira lends her thoughts on how Nuke supports the team's initial planning efforts.
"Nuke is a huge contributor in the final look of the show," she tells us. "[We used it] for look development, shot compositing, comp FX, particle FX and QC on Remy and Boo. It allows us to customize our comp scripts and the Python integration makes it much easier to write and deploy tools for the show's specific needs, which helps us achieve consistent quality and higher speeds."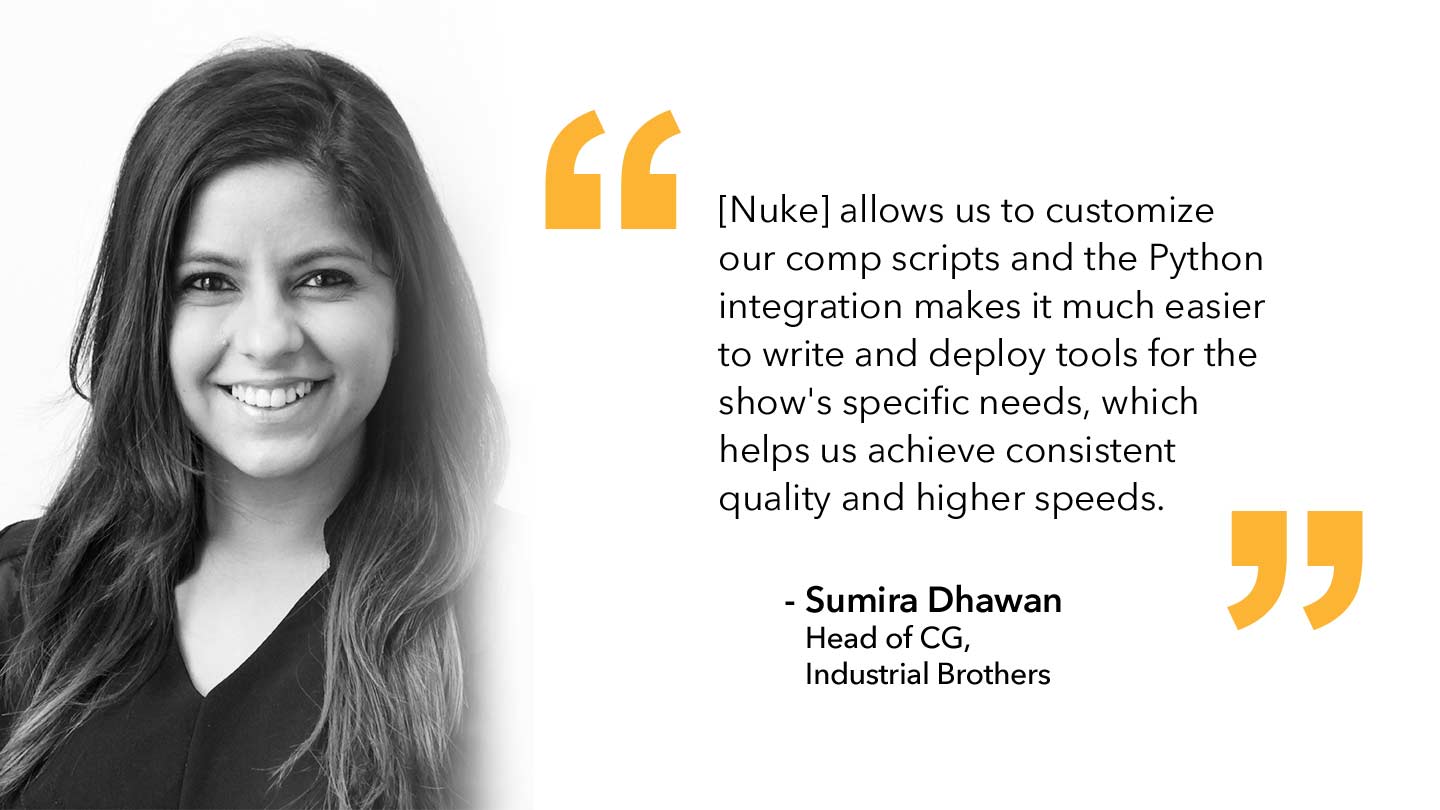 "For example, we built lighting setups and Nuke scripts for each unique set and time of the day, which could easily be propagated throughout the show using Python tools we integrated in our Nuke pipeline. We were also able to leverage the capability of building gizmos for custom FX for Boo in Nuke, which were used consistently across the series."
Madhu Nagarajan, key lighter on the show, lends her thoughts on what makes Nuke really shine for the team.
"The character "Boo" in Remy and Boo required some complicated treatments such as magnetism and sparkle," she explains. "These tasks are difficult to achieve in other software like Houdini or Maya, and require a lot of trouble shooting and several iterations to achieve the desired  result. With Nuke however we were able to do it in a much shorter time."
"The most beneficial part of Nuke was not having to go back and forth to implement feedback and changes," she continues. "The production viewed the final results in real time and the tweaks were made almost immediately for the key lighting and comp."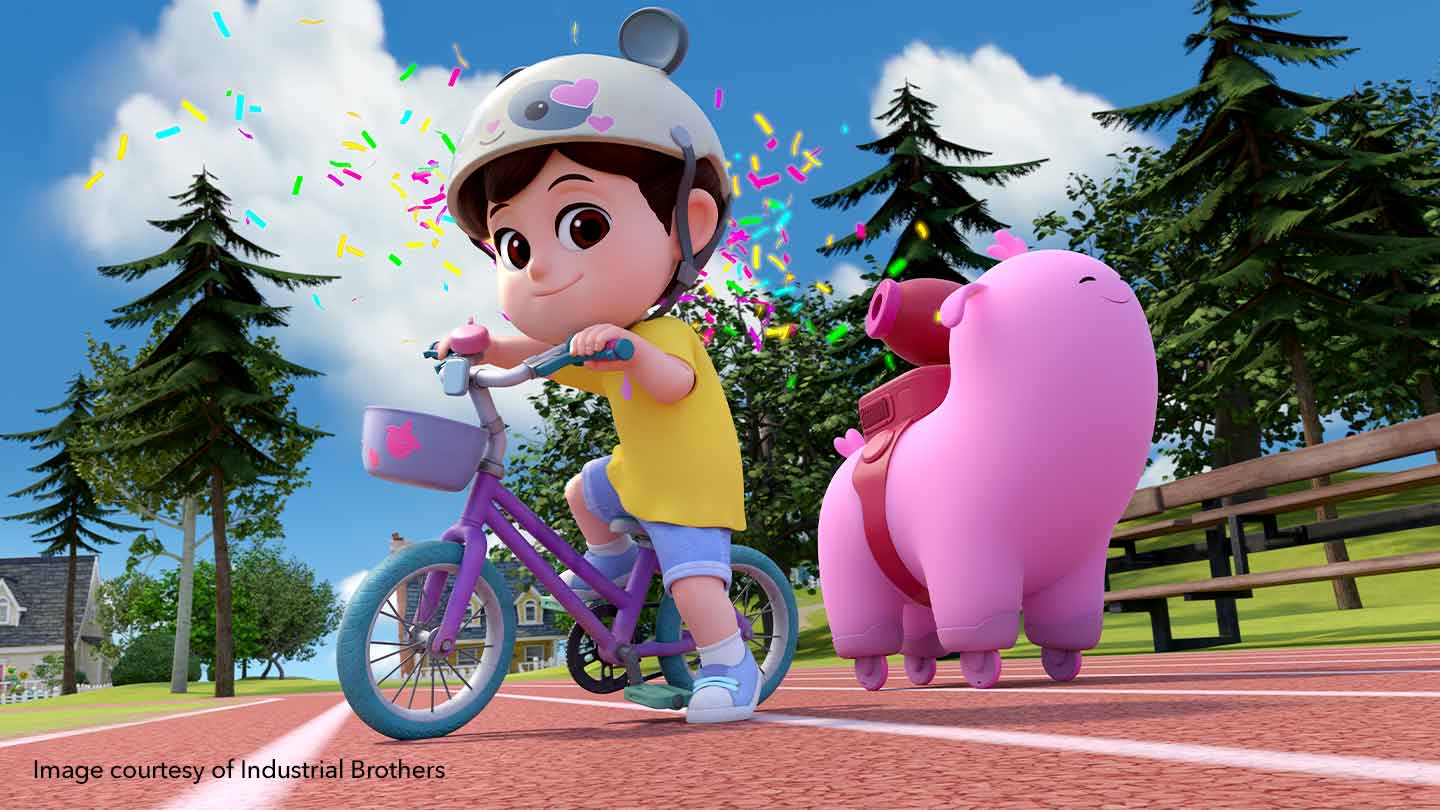 A match made in heaven
Also armed with Nuke, Giant Animation, based in Ireland, worked closely with Industrial Brothers in the creation of Remy and Boo. 
Speaking on the relationship, Ben Harper, Co-Founder and Managing Director, explains: "We have known Industrial Brothers for several years now. We share a lot of similar creative goals and aspirations as companies, so when the opportunity finally presented itself with this beautiful project, we were super excited to be on board and help produce this show." 
Giant Animation produced the animation, lighting and comp on Remy and Boo. As a brand new show, there was a lot of pre-development work done in designing its look and feel. "For example, in the early stages of production, we worked very closely with Industrial Brothers in creating the style of animation for the show," Ben tells us. "We also worked closely with them in developing the lighting/comp pipeline for the series, doing lots of early set, prop and character look dev while finding and working out the best workflow practices. "
Scott Ramsay, Animation Supervisor for Giant Animation, dives deeper into the nuances of the project's early conceptual stage . "Giant started by animating a proof of concept before going into production," he tells us. "That animation was done on 2's to give the animation more charm, similar to older clay-mation. Once this approach was approved by Industrial Brothers, we continued to develop the style and taking the film Peanuts as further inspiration, we strove to create a style that was production friendly."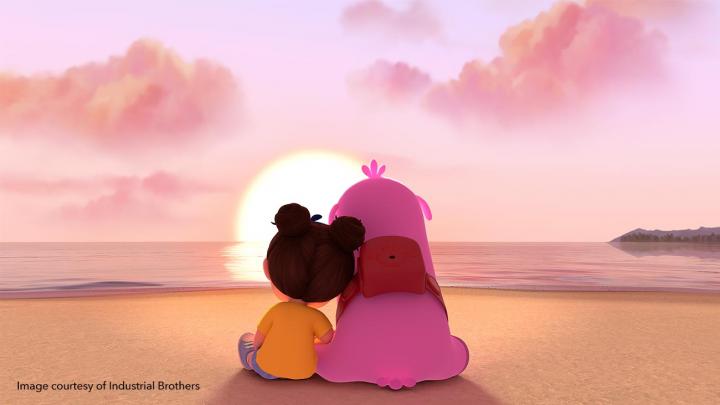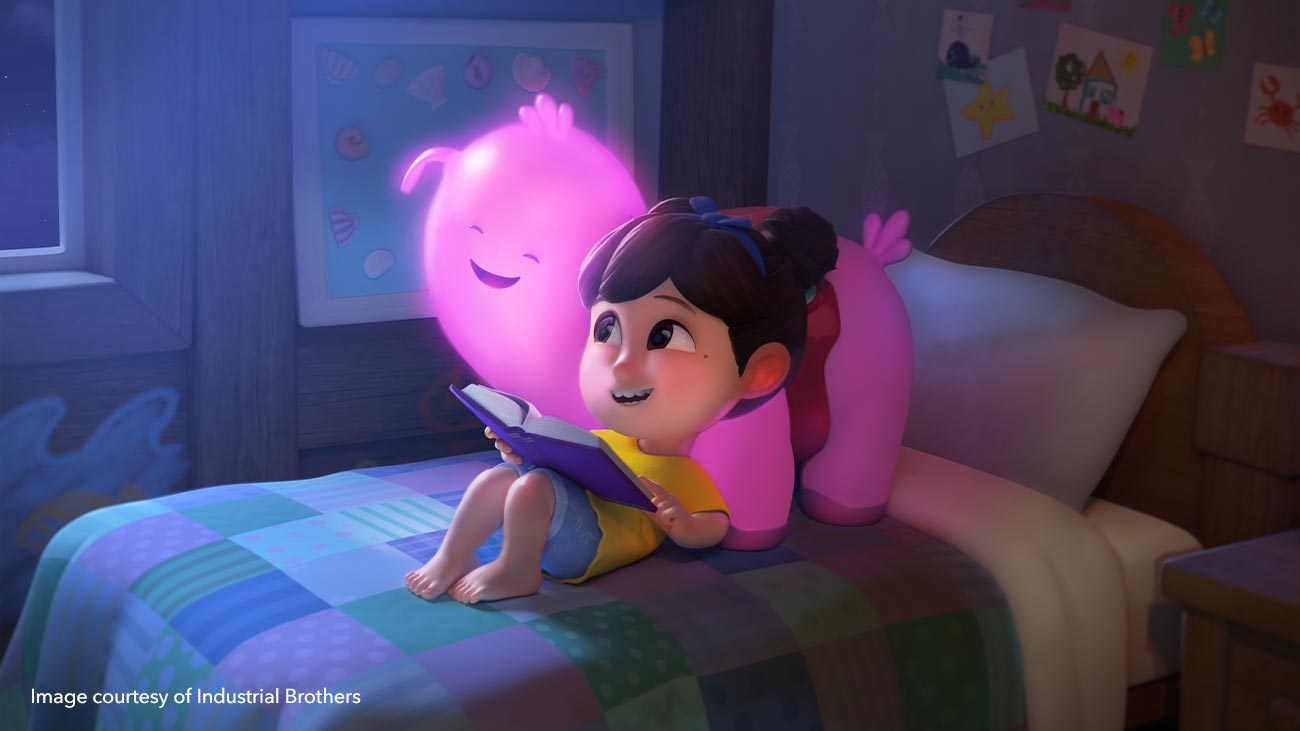 Once the animation style was agreed-upon, Industrial Brothers and Giant Animation could dive into production. Happily, the Giant Animation team were already familiar working with Nuke in animation, ensuring that both sides of the table could collaborate effectively across their lighting and compositing efforts and hit the ground running.
"We first started using Nuke as a studio when we worked on the CG animated series Sherwood," Ben Harper explains. "That show was a huge step up for us on many levels, but Nuke really helped us to tighten our composting pipeline across the board, and allowed us to produce shots to the high level of quality and consistency required for such a complex show. We have never looked back since!"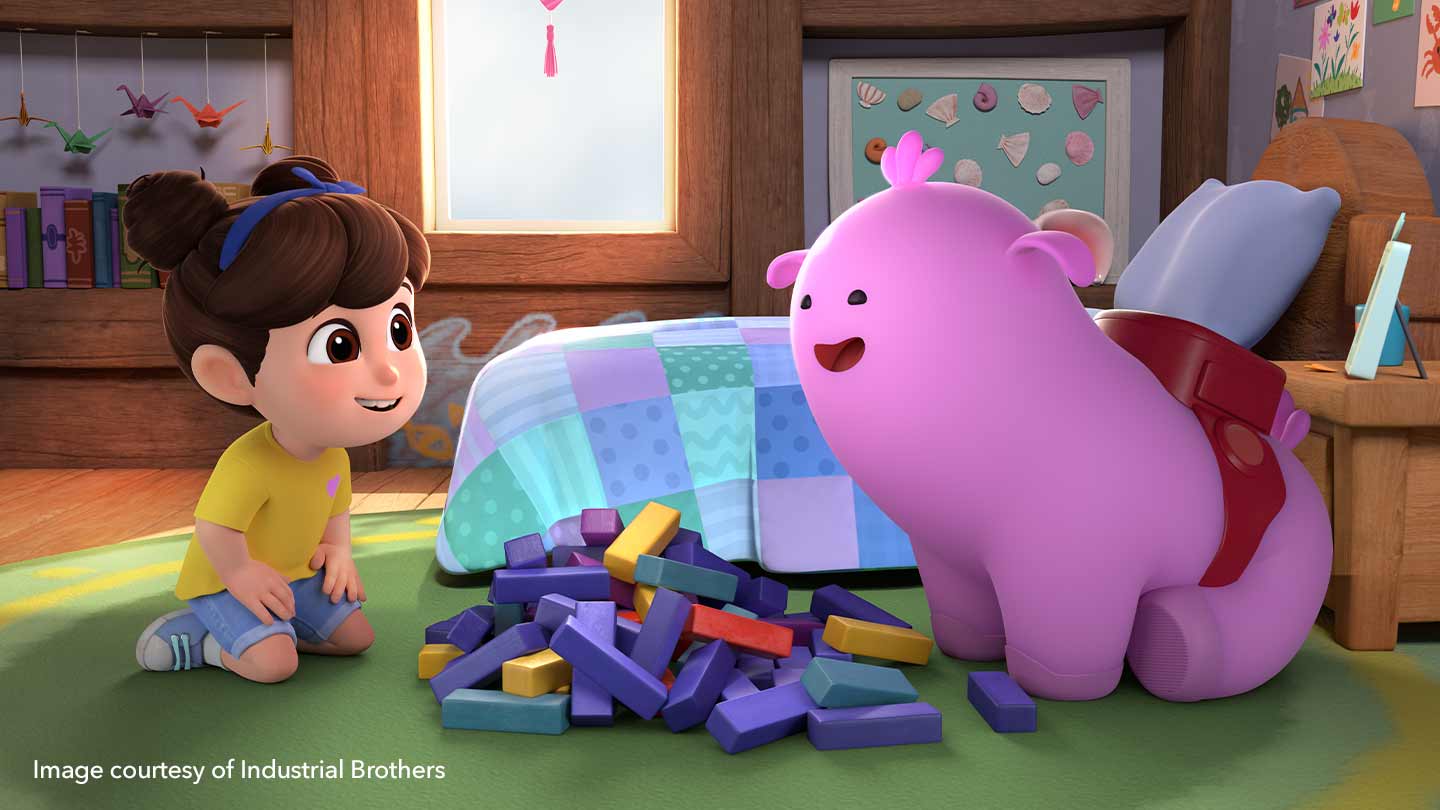 Nuke in animation: the nitty-gritty
As Giant Animation's Lighting and Compositing Supervisor, Craig Kane is no stranger to Nuke. Overseeing teams that work primarily in the tool, he promotes the studio's strong visual storytelling language through color and light. Craig also helps to continually develop workflow and pipeline structures and engages in research projects to adapt to emerging rendering, colorspace and pipeline innovations.
"Our primary approach in Giant is to ensure projects are only as complicated as necessary to meet the creative goals," he tells us. "A key part of this is ensuring the technical aspects of production do not interfere with the creative approach to lighting and compositing."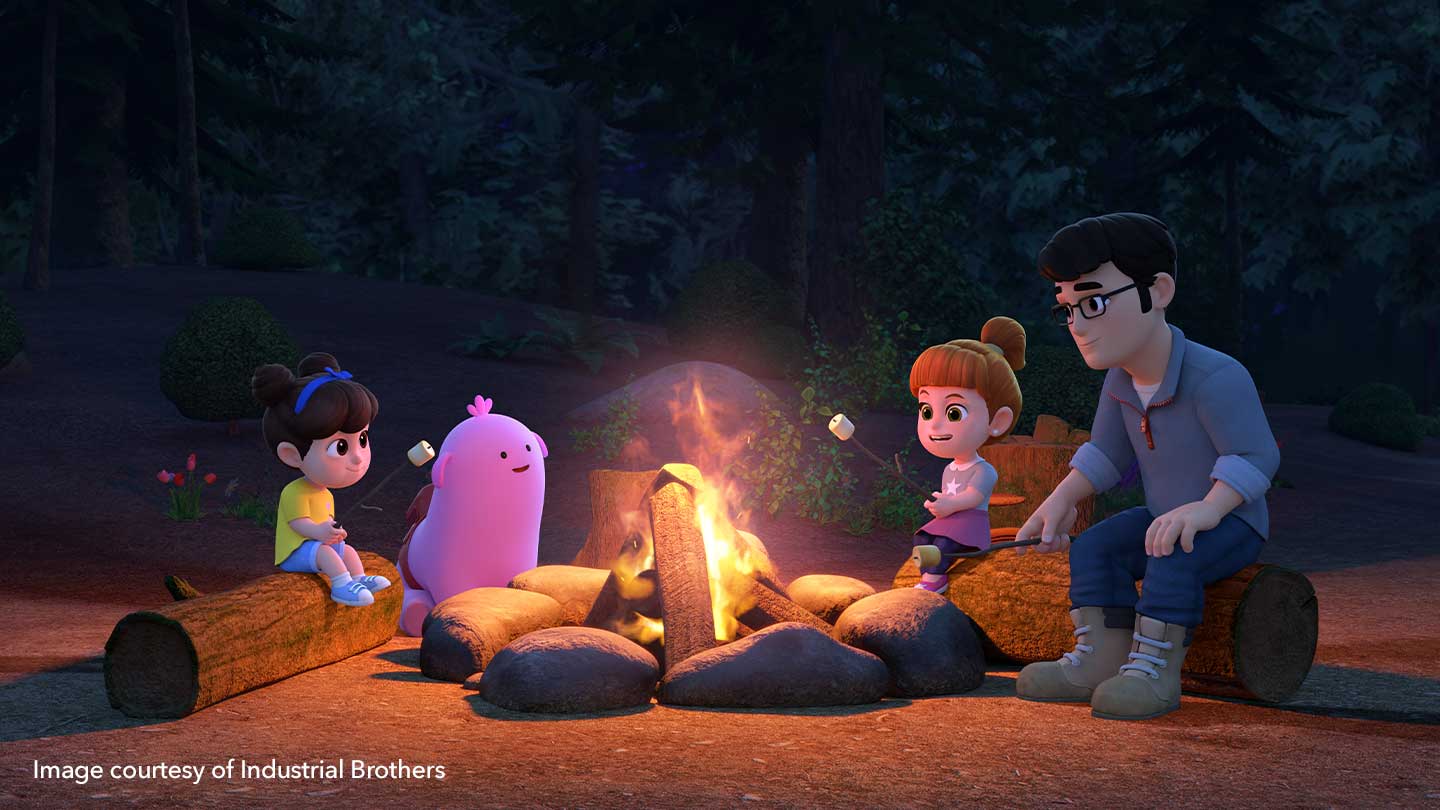 Speaking of Nuke, he continues: "[It's] a highly versatile product that allows us to easily create and adopt shot templates to achieve this ethos. Using our own internal systems, we leverage Nuke's node-based structure to propagate shots from master level work down, ensuring consistency and ease of use."
But what, specifically, makes Nuke a good fit for Giant Animation's pipeline and the fast pace synonymous with episodic CG projects? Craig lends his thoughts: "Nuke's fast node-based structure and python language integration are two big features that make it attractive for pipeline and workflow considerations. While there are similar softwares currently on the market, Nuke's accessibility and ease of use in the above areas are currently unparalleled. This allows us to rapidly create assorted asset types, build and easily integrate new workflow and pipeline tools and ensure we meet our target deadlines in the process."
To manage Remy & Boo's bright, vibrant color palette, Nuke pulled through again for Craig and his team. He explains: "Nuke has an excellent modern color management system that allows us to accurately manage data input and correctly represent our linear data in correct color space. It has also allowed us to accurately work in ACES format for our R&D projects. Additionally, Nuke provides a stable structure for 3D compositing and rendering when last minute fixes are required."
Craig's sentiments here are echoed by Madhu Nagarajan, key lighter for Industrial Brothers: "It is very difficult to pick one specific Nuke feature, but I would have to say the Color nodes. Although they are known for corrections mostly, each one of them is multifunctional in nature. It took me using them just once as a keyer and from then on I've been exploring their endless properties."
Charting the rise of episodic content
Testing Nuke's mettle in animation comes at a good time for both studios. As COVID-19 hit, live action productions ground to a halt, and the spotlight instead turned onto animated streaming productions in which CG characters don't have to socially distance.
Yet whilst the pandemic may have accelerated this trend, it was certainly brewing long before 2020—something Ben Harper attests to, bolstered by over a decade's worth of experience in the animation industry.
"We have definitely seen a massive shift in the need for animated episodic content over the last few years, right across the industry," he comments. "The huge driving factor of that is the growth of Streaming Video On Demand (SVOD) in the marketplace, such as Netflix, Disney+, Apple TV+, HBO Max, and so on. This in turn has been matched by the huge and varied hunger of modern day audiences, always looking for the next show to watch and binge on. Ultimately this is fantastic for animation studios like ourselves, because not only is it creating lots of additional opportunities with great clients, but there is also the fact that there is a new wave of exciting formats for animation that are really only now possible with SVOD platforms. "
Speaking of the outlook for 2021 and beyond, Ben continues: "When you then line this up with the fact that animation is a wonderful medium that can produce for any genre of entertainment, it has created a very exciting landscape for the future of animation and for us as creators."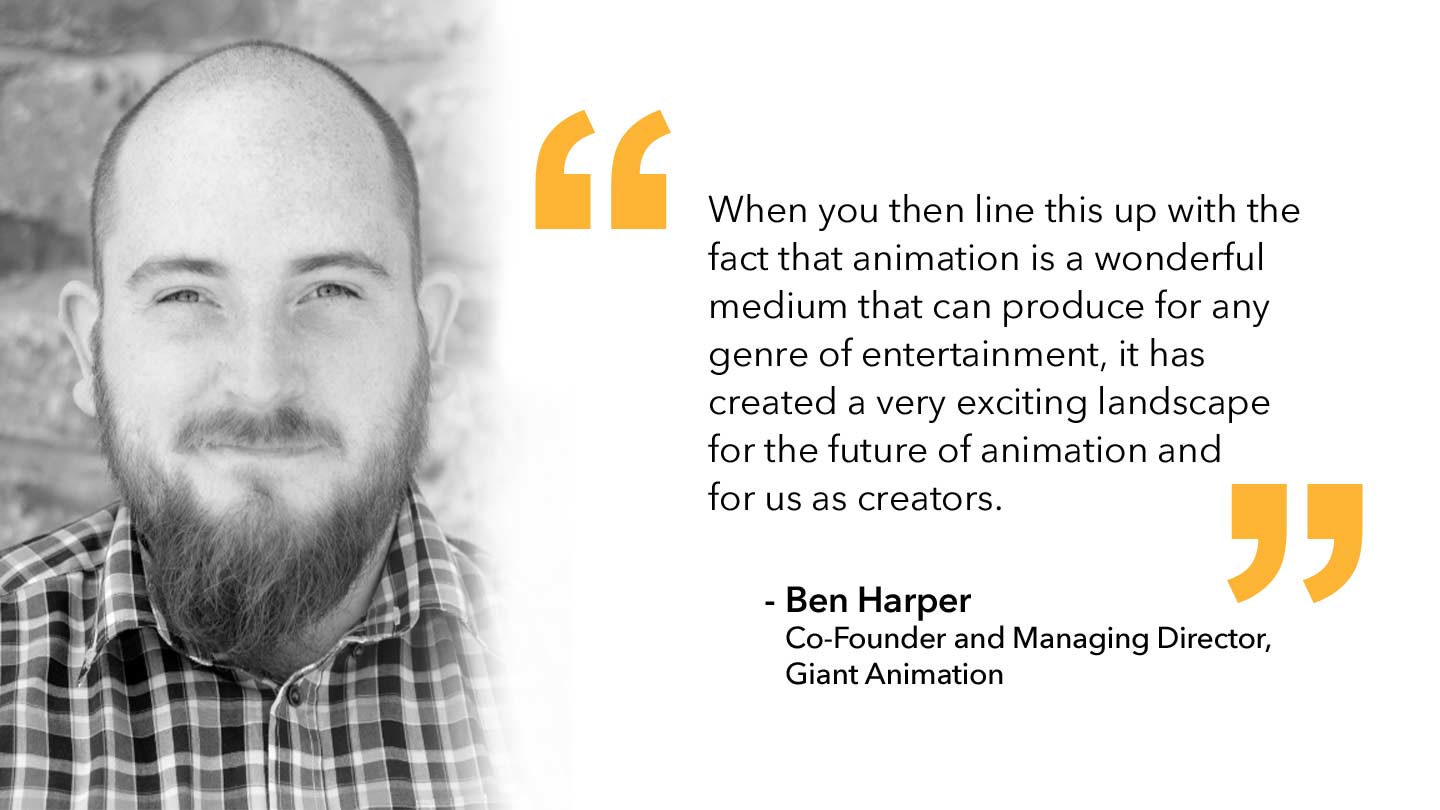 Industrial Brother's Sumira Dhawan echoes Ben's sentiments, reflecting on the value this trend brings to young minds in the form of shows like Remy and Boo:  "Specifically for pre-school content, it's not only acting as a source of entertainment; it's also evolved into a huge part of their learning and cognitive skill development."
What's in a box set?
Given that they're here to stay for the foreseeable, it's important that studios and teams have a firm grasp of how animated episodic content differs to other types of media, such as feature films, and how these differences inform how such projects should be tackled.
Padraig Kenny, Technical Director for Giant Animation, lends his thoughts on the matter: "Episodic projects are more fast paced, with much tighter turn-arounds.  For features, there is more time to work on a problem and come up with a solution, and more time to give and receive creative feedback. " 
"For weekly shows, we need to spot potential issues ahead of time so we can plan accordingly, and we need to get our day-to-day work delivered and approved as soon as possible," he continues. "Using Nuke templates and pre-built gizmos helped our Episodic Compositing Leads to plan for every eventuality, and the speed of Nuke helped us to quickly iterate and adapt to directorial decisions."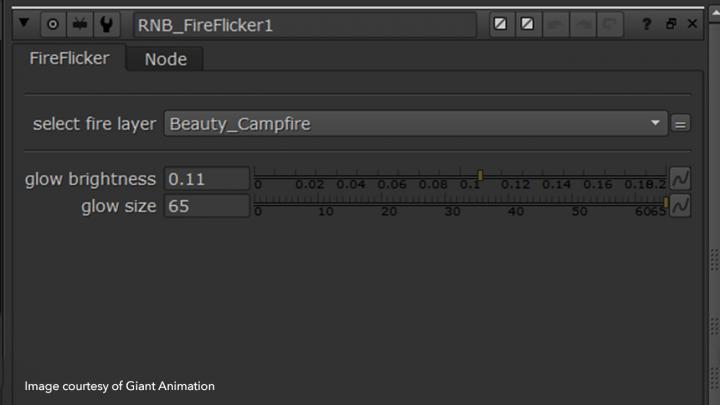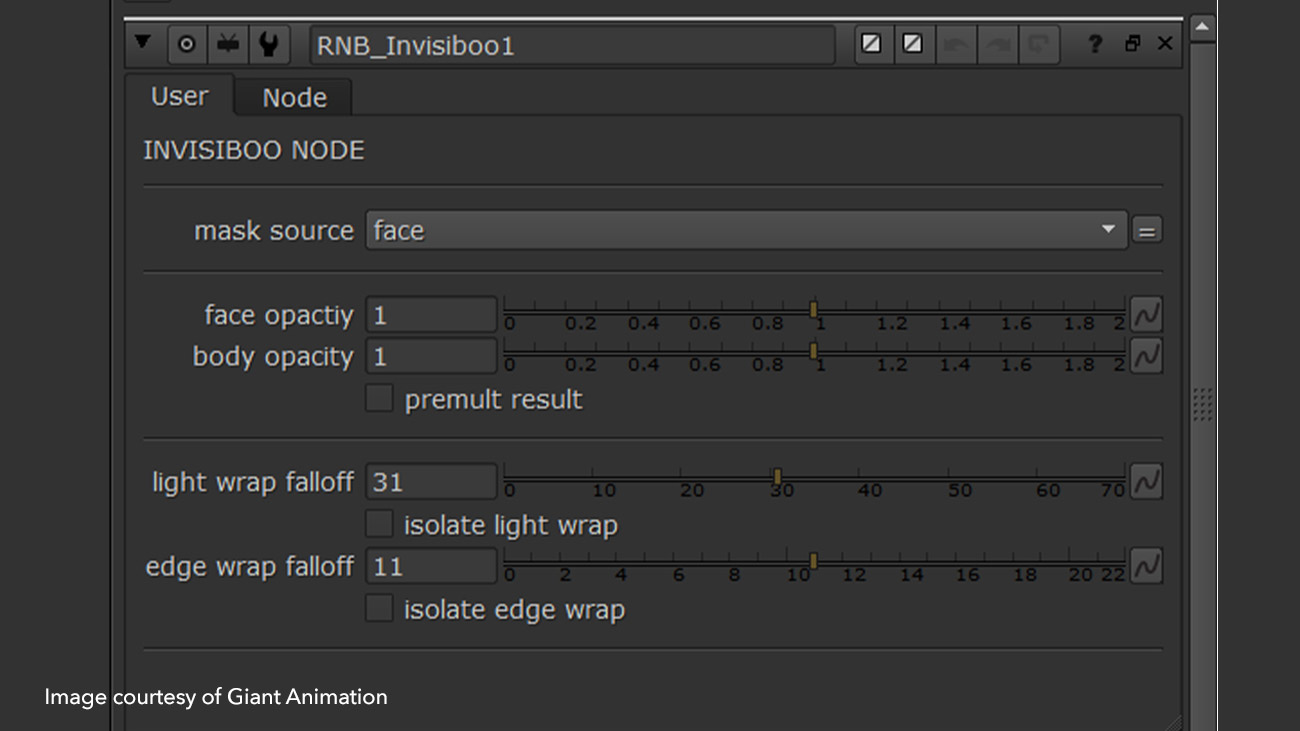 Sumira Dhawan cites the quantity and quality of content as one of the biggest differences between TV and films. "The quality bar for TV shows is substantially higher these days," she tells us. "This pushes us to find creative and efficient ways to be able to produce the content. Software like Nuke is a huge part of the solution."
Discover Nuke for animation