Mainframe Studios' journey to a solid look development and lighting solution
Mainframe has been busy getting set up with Katana. Here's how they did it.
For many studios, switching up their pipeline and adopting a new tool can be a chance to reinvigorate artists, revisit processes, and breathe new life into creative workflows across teams and departments.
This is especially true if said tool happens to be Foundry's look development and lighting solution Katana. Fast, powerful and flexible, Katana has the potential to level up any pipeline thanks to cutting-edge workflows and first-rate features.
We've previously explored the key considerations, benefits and best practices that underpin a successful Katana deployment, and how the integration process can be approached so as to make Katana an exciting, accessible option for studios of all sizes.
One such studio reaping the rewards of a successful Katana deployment is Vancouver-based animation studio Mainframe Studios. Renowned for creating the very first fully-CG TV series ReBoot in 1994, the studio has since produced more than 1000 half-hours of TV, over sixty feature-length projects and two theatrical films. Most recently they've completed work on the massively popular children's IP Octonauts and are currently working on episodes of Madagascar: A Little Wild.
As a studio focused primarily on animated TV series, Mainframe needs a fast, agile way of working to keep up with the rapid production schedules brought on by animated episodic content, armed with tools that can keep pace.
Happily, the studio turned to look development and lighting tool Katana in 2018 as a means of supporting its teams and artists in meeting rising quality and scheduling demands.
Jeremy Books, Mainframe's Senior Lighting and Compositing TD, was heavily involved in the Katana integration process from the outset and is well-placed to give insight into how the project evolved.
"After a lot of procrastinating, we started developing a test scenario for Katana in September 2018," he tells us. "With fantastic help from Foundry's support team, we were able to create a basic pipeline to integrate our assets into Katana quite easily and render a proof of concept. In January 2019, we started developing our full pipeline."
It's been over two years since Mainframe first began experimenting with Katana in their pipeline. How have workflows changed for the studio in that time—and what did the Katana integration process look like for Mainframe, beginning to end? We caught up with Jeremy to discuss the studio's Katana deployment experience—from technicalities and challenges to benefits and best practice for studios looking to do the same.
The path to a brighter pipeline
Katana now counts itself as an integral part of Mainframe's pipeline, solidly integrated as a look development and lighting solution. Looking back, Jeremy lends his thoughts on what Mainframe's pipeline looked like prior to Katana—and what prompted the decision to integrate the tool.
"Mainframe uses a heavily customized Maya pipeline that has been developed continuously over the last ten to eleven years," he explains. "A large portion of that pipeline was dedicated to lighting, render and compositing, using Nuke as the compositing software. This is part of the reason we resisted moving to Katana; the pipeline we had built shared some of the features with earlier versions of Katana. Of course it was only a matter of time before Katana overtook us and added many more features."
With a decision firmly made at this point, the bulk of the work began to get the integration process underway. But what did getting set up with Katana look like for the studio?
"Using the proof of concept test short, we slowly replaced the parts of our pipeline with Katana—trial and error or trial by fire," Steven Elford, VP—Creative Technology and R&D, tells us. "Once we made it through the first one we tried again on a second one, then a third. Each time the tests had more shots and we added more complexity."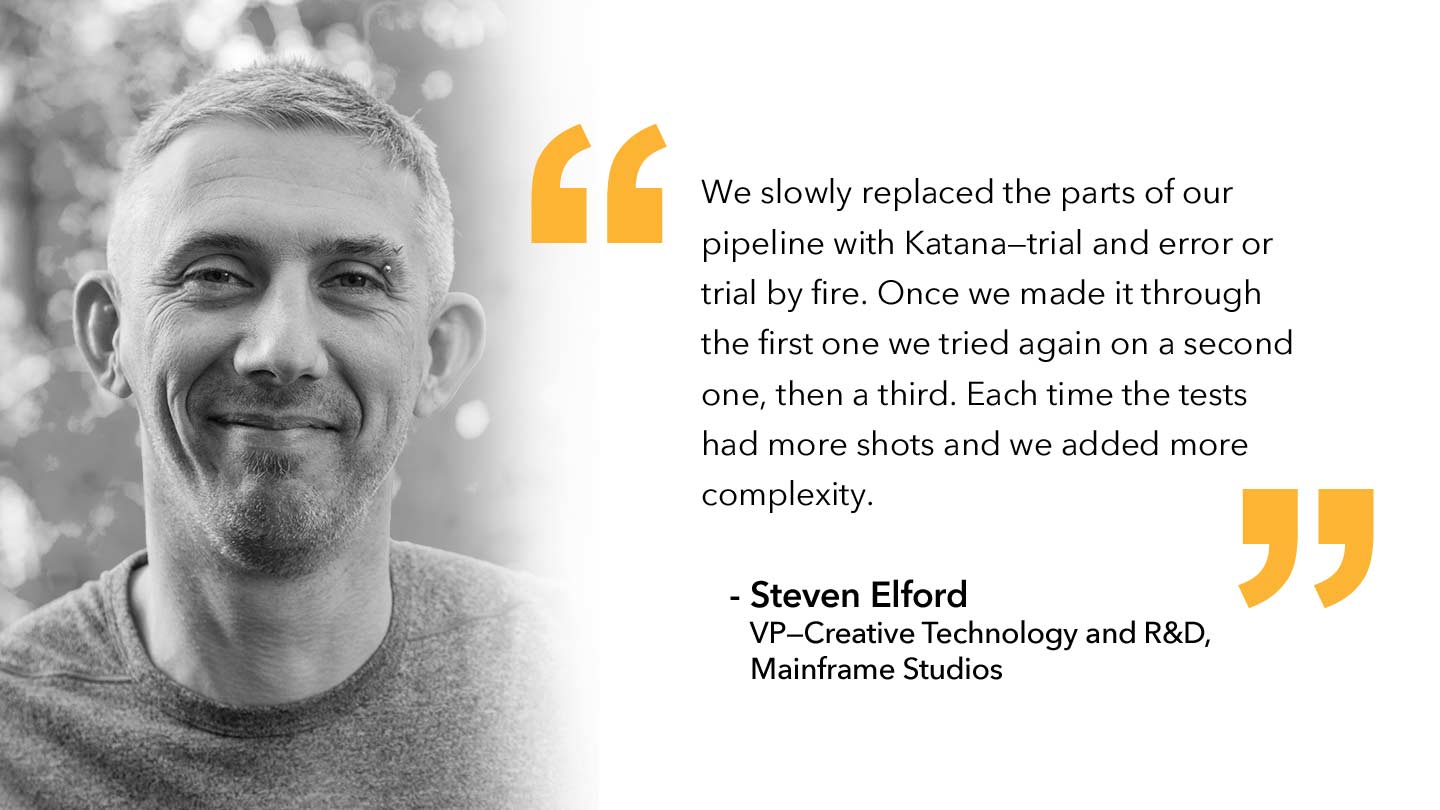 Using a sequence from this same proof of concept test short, the developers used a 'vanilla' Katana to load all the assets required for the sequence. Diving into the technicalities of this, 
Jeremy explains: "The shading info was taken from Maya and converted to achieve the same results in Katana. A similar approach was taken for the animation and any shot context data."
"Once the developers were able to load, shade, light and render the sequence in the 'vanilla' environment, tools to automate each step as much as possible were designed and built, followed by a layer of tools for assisting artists with specific tasks where needed," he continues. "These tools were then passed to supervisors of each department who were taught the processes related to their department, and the tools adjusted to fit their workflows and needs/desires."
Given the effort and resources needed to integrate any new tool into an already-established pipeline, we were keen to find out whether the team had any concerns or doubts before setting out on this process—and whether these were ultimately unfounded once Katana was fully set-up.
"We went into our Katana integration with a sort of blind confidence," Jeremy comments. "We were quite sure the software would prove to be what it is advertised and known in the industry to do. For the most part the initial process setting things up went surprisingly smooth, which led quickly into full development of a pipeline after four months of testing. 
Once the pipeline was at a production-ready state our opinion of Katana remained the same, including that of the supervisors: without the speed and flexibility of Katana we would not be able to work in the efficient manner we have gotten to and need to sustain."
Troubleshooting
As every studio or business can attest to, introducing a new tool or piece of tech comes with its own set of teething issues to overcome. Unsurprisingly, the Katana integration process was no different for Mainframe.
Speaking of these, Jeremy explains the two biggest challenges the team faced when introducing Katana into their pipeline.
"The first was keeping track of the features artists were using from our highly developed current pipeline. Being able to predict which features would be used and when is almost impossible, so tracking and adding support for any custom modeling, rigging or animation tools that modify the result seen by shading/surfacing and lighting was quite a challenge."
"The second is how hard it is for someone to learn the ins and outs of Katana, especially in a high turnover environment like animated TV shows," he continues. "We simply do not have the time to put artists in a multiple week training session as the bigger film studios do. Because of this, we developed a layer of tools/GUI's over Katana that allows artists to quickly pick it up without learning exactly how everything is working behind the scenes."
Yet Mainframe's persistence and ingenuity in both cases paid off, giving rise to a slew of benefits once Katana was solidly set up in the studio's pipeline and allowing its teams to work at the speed needed for high-paced animated TV shows.
"Katana allowed us to build a pipeline that gives artists the ability to light all of their shots in a sequence-based workflow, lighting many shots at the same time," Jeremy comments. "This increased their throughput significantly while also allowing them to have more creative control, quickly making modifications to shots and easily finding and resolving any issues with shots."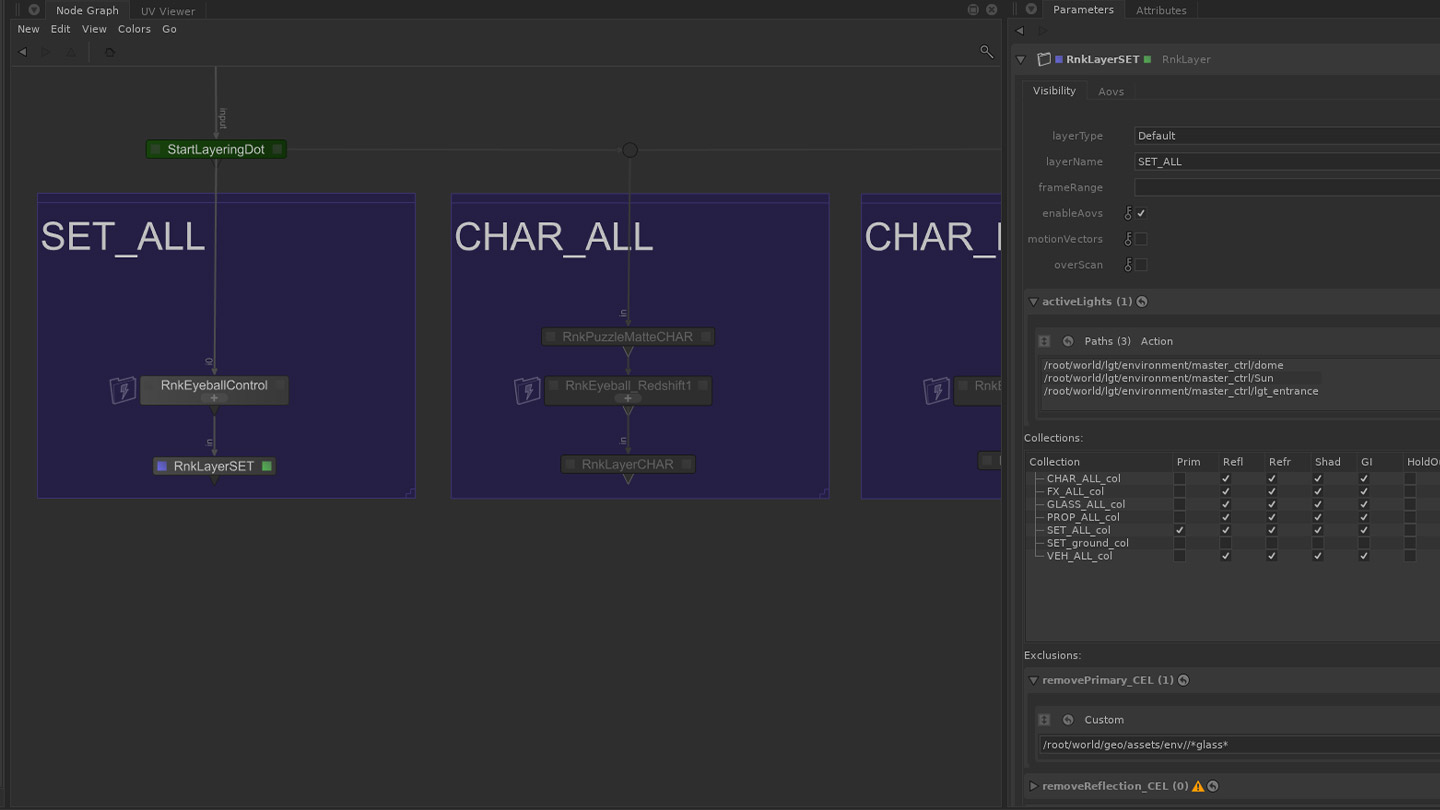 Courtesy of Mainframe Studios
Diving into the features he finds particularly useful in facilitating these sequence-based workflows, Jeremy is quick to lend his thoughts: "Katana's deferred loading. This allows us to [...] build a file containing way more data than any DCC should be able to handle. However, since the artist can choose which parts to load and when they need it, this allows them to be creative while working on large amounts of shots at the same time."
Final thoughts
Having worked solidly with Katana for nearly two years now, the team at Mainframe has had ample opportunity to become familiar with the tool, and are better positioned to address some of the common myths and misconceptions that surround Katana.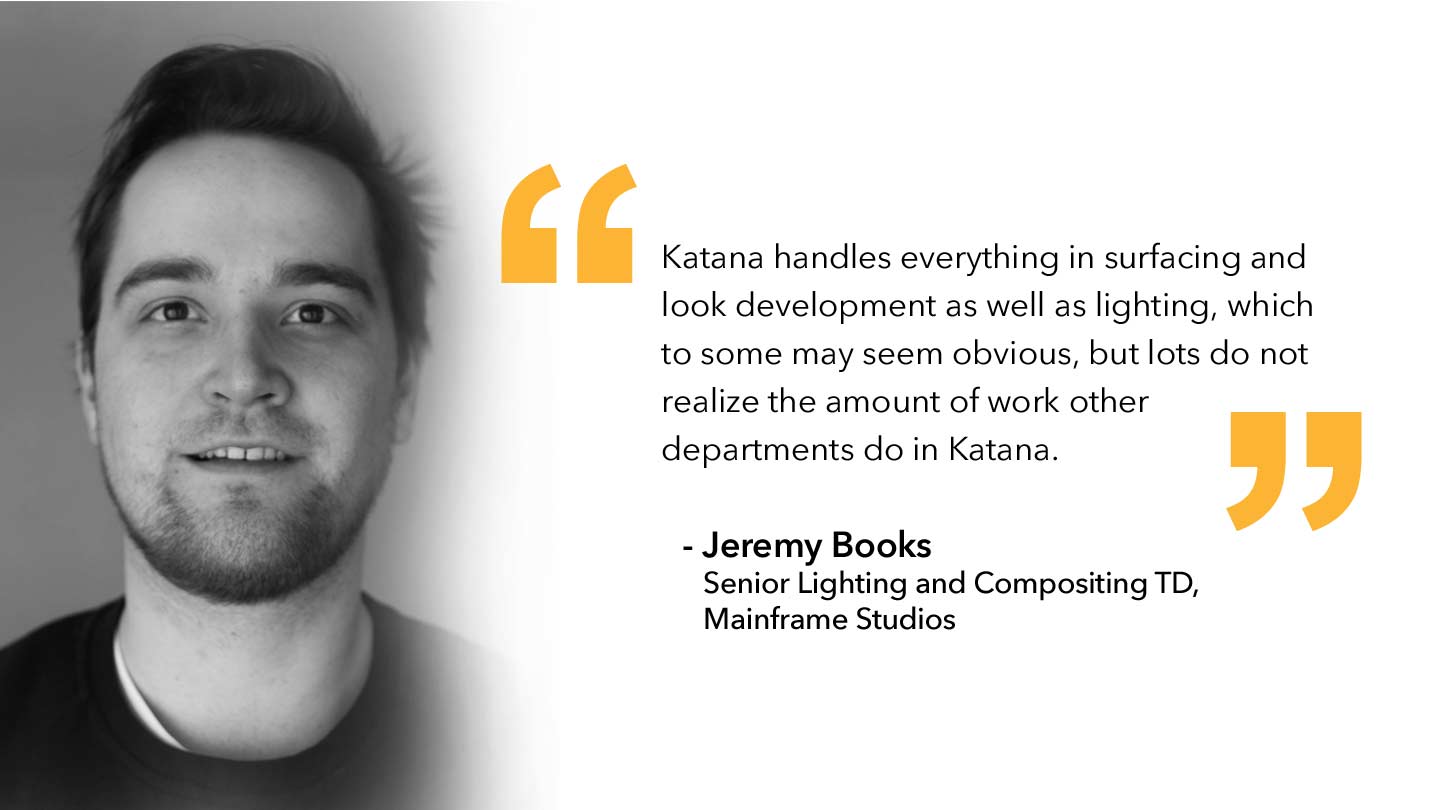 "Katana handles everything in surfacing and look development as well as lighting, which to some may seem obvious, but lots do not realize the amount of work other departments do in Katana," Jeremy tells us.
Speaking of the advice he'd give to other studios looking to potentially incorporate Katana into their pipeline, he continues: "Have an artist with a basic technical skillset from each department (shading/look dev and lighting) work alongside the development team from the very first day."
With its recent 4.0 release, Katana made waves with extensive, ground-breaking new features that studios like Mainframe can enjoy imminently. When asked what features he's keen to try as part of Katana 4.0, Jeremy's quick to lend his thoughts.
"The Artist-focused Lighting Tools, hands down," he comments. "The ability for an artist to work in fullscreen and have everything they need available in a clean and organized GUI is a game changer. This is looking as if Katana will act similar to a game engine when an artist is intaeracting with it, then produce results a game engine is just not capable of doing."
Experience Katana 4.0 today
Otherwise request a call back to discuss your Katana pipeline deployment options.