Artist Spotlight: Henrique Reginato
Emmy nominated Henrique Reginato on his career, Nuke Indie and striking out on his own during a pandemic.
Starting his career almost 15 years ago, Henrique Reginato has earned his stripes in the visual effects industry. Transitioning from motion graphics to on-set to post-production, he quickly found a love for compositing and Nuke.
Originally from Brazil, Henrique has worked his way up, from commercials in his home country to Emmy award-winning TV shows like Gotham—he himself was nominated for a Primetime Emmy in 2015 for his work on the show. 
Since then, Henrique has started his freelance business, NOX VFX. Born from the trials of 2020 and COVID-19, NOX VFX focuses on 2D work for commercials, web, TV and film. Last year, as he prepared himself to ask the bank for a loan to fund NOX VFX, the news dropped of Foundry's own Nuke Indie license and Henrique took the plunge. 
We caught up with him to discuss what the first few months of working with Nuke Indie have been like and whether his leap of faith paid off. 
Q: What made you want to work in the VFX industry?
A: From an early age, I developed an interest in photography and filmmaking. At age 12, I was shooting small little shorts with some friends from school, started editing, and fell in love with storytelling. VFX to me is not just about the visuals, but what the visual can contribute to the story we are trying to tell.
Q: What project are you most proud of, and why?
A: Hard to tell. While working on a project, I try to keep my emotions at bay so I can perform at my best. But, on the top of my list, I have to put Gotham because I was a huge Batman fan and helping to shape up Gotham City for that show always gave me a lot of pleasure. Of course, being nominated for an Emmy on that show was an incredible opportunity and it brings me lots of healthy pride.
Q: Can you tell us about your relationship with Nuke? 
A: I've been using Nuke since Nuke 6.1v3 in 2012. I used to work in layer-based systems before and I remember when we started learning Nuke, my mind went numb. Too many possibilities, only limited by what I knew about the tool. I love Nuke and have been using it daily for pretty much everything VFX-related for the last 8 years.
Q: Do you have a favorite feature of Nuke? 
A: I think my favorite feature is the node-based system. I can't stress enough how much more freedom an artist has with nodes vs. layers. It's like playing an open-world game compared to a 2D platform arcade. You can turn anywhere and do anything. Having that freedom and flexibility paired with an advanced color management system is what makes Nuke the standard software for all compositing-related tasks.
Q: Why did you choose Nuke Indie as the compositing package when setting up on your own?
A: When I decided to start my own VFX studio this summer, in the middle of a pandemic, I booked an appointment with my bank to get a loan and purchase a full license of Nuke Studio to start my small operations. Luckily for me, an hour before my meeting, Foundry announced the launch of Nuke Indie and even with some big limitations at launch, it was still extremely attractive to me, financially speaking. At its core, it offers the same functionality as Nuke Studio, so it was a no-brainer at fraction of the full price.
Q: Can you tell us how you use Nuke Indie?
A: I use Nuke Indie the same way I use Nuke Studio and NukeX. The biggest difference is that I'm not currently embedded in a big, deep, complex pipeline like I used to be when working at big studios. I love the fact that Nuke Indie is an all-in-one application. When you first open it, you are presented with the Nuke Studio layout so you can start importing and confirming a full project right away on a timeline. Then, you can just switch the layout and you are right into NukeX—it's pretty seamless and smooth. I've used the software to its full potential from small commercials to medium-sized movies.
Q: What projects have you used Nuke Indie on? Why?
A: At NOX VFX, Nuke Indie has been used on two commercials, a Disney TV series, a Hallmark movie and one independent feature film that is in post-production as we speak. With just over 100 shots delivered in the past five months, entirely on Nuke Indie. The freelance artists that we work with have their own computers and software, and when we teamed up with them on a project, they all purchased Nuke Indie. This enabled us to contribute on bigger projects, and collaborate smoothly from start to finish.
Q: What benefits does using Nuke Indie bring to your work?
A: I came from a Nuke compositing background, so the real benefit for me was the cost of the software. But, if you are coming from After Effects, Fusion, or any other compositing application, I believe the benefit is that you would be buying into the most advanced node-based system in the market, with tons of support from artists all over the world. It gives you a good edge since it's the industry standard for film and TV work around the world.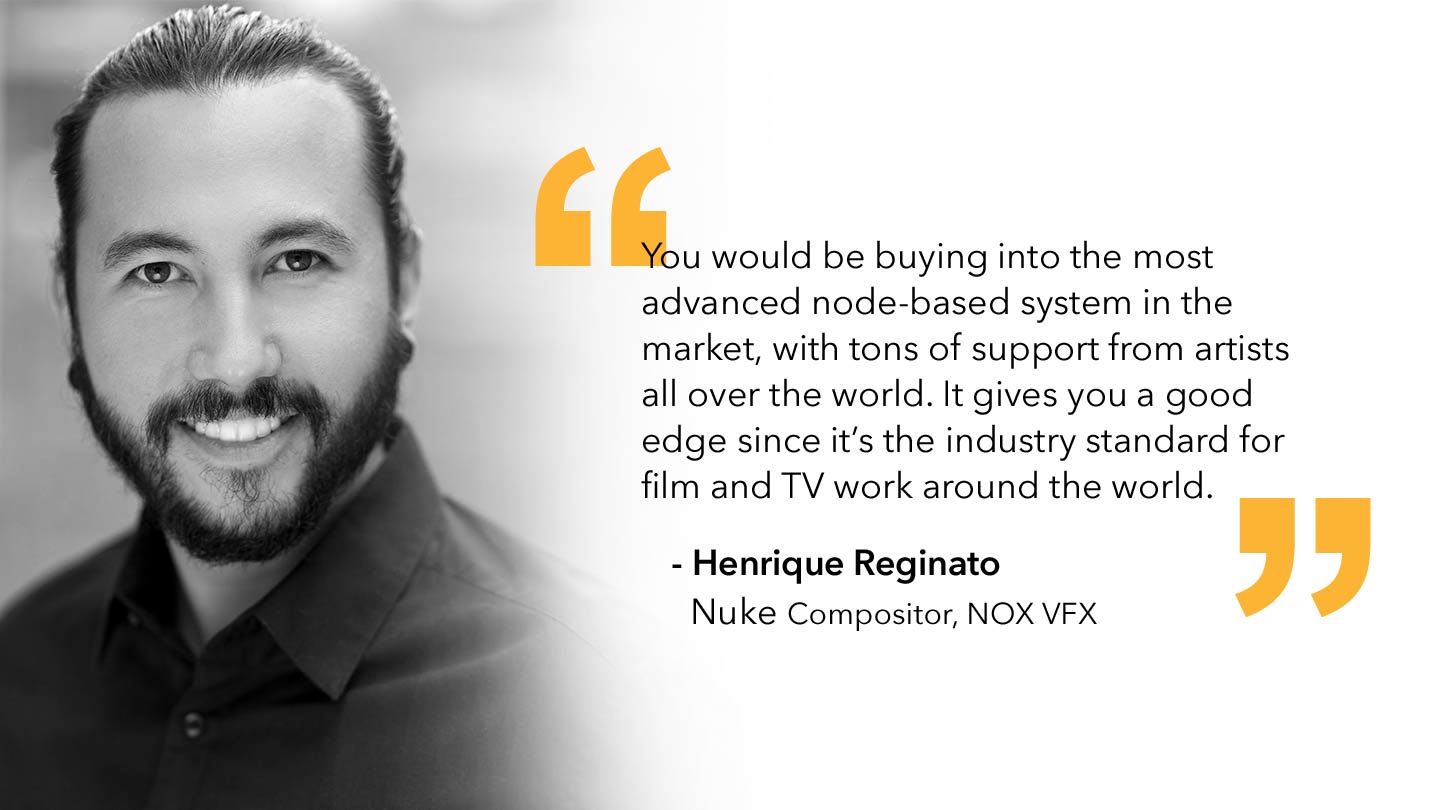 Q: What do you think of the most recent Nuke Indie update and the introduction of plug-in support?
A: I love that Foundry is listening to its customers and working to improve the Nuke Indie license. Having support for 3rd party plug-ins is amazing because it opens up the possibility to make Nuke even more powerful with the help of the minds that are developing tools for artists like KeenTools, Neat Video, etc.
Q: What would you like to see in Nuke Indie in the future?
A: There are two things that I'm craving a little. One is a bit more flexible when it comes to Python, so we could use more advanced (really, more automated) tools and workflows. I get why there is a limitation on Python, but I'd love to see a more flexible environment. Second, a longer grace/overlapping period for updating the build when a new one comes out. 
Q: Why do you think artists should invest in Nuke Indie?
A: I believe the more independent artists there are using Nuke Indie, the more we will be able to collaborate and work together around the world without the need for an enclosed pipeline. With a subscription price of $500USD, you only need a small amount of work to justify the price and you always get the latest updates.
Q: Do you have any advice for artists looking to get into compositing?
A: If you're coming from After Effects or other layer-based compositing systems, Nuke Indie will definitely handle all of your tasks as the best node-based system I have tried. 
For those starting their studies or career in compositing, Nuke Indie will serve you well. You can work with Nuke Indie in exactly the same way you would with Nuke if you didn't have a big pipeline and Python support. All the tools and functions are there, for a fraction of the price. In fact, that's my favorite feature of Nuke Indie—the simple fact that you are getting Nuke Studio and NukeX for a small fraction of the price. As a freelancer working from home, you can't go wrong with it.
For more of Henrique's work, explore his website
Are you a solo artist looking for affordable, industry-standard software?